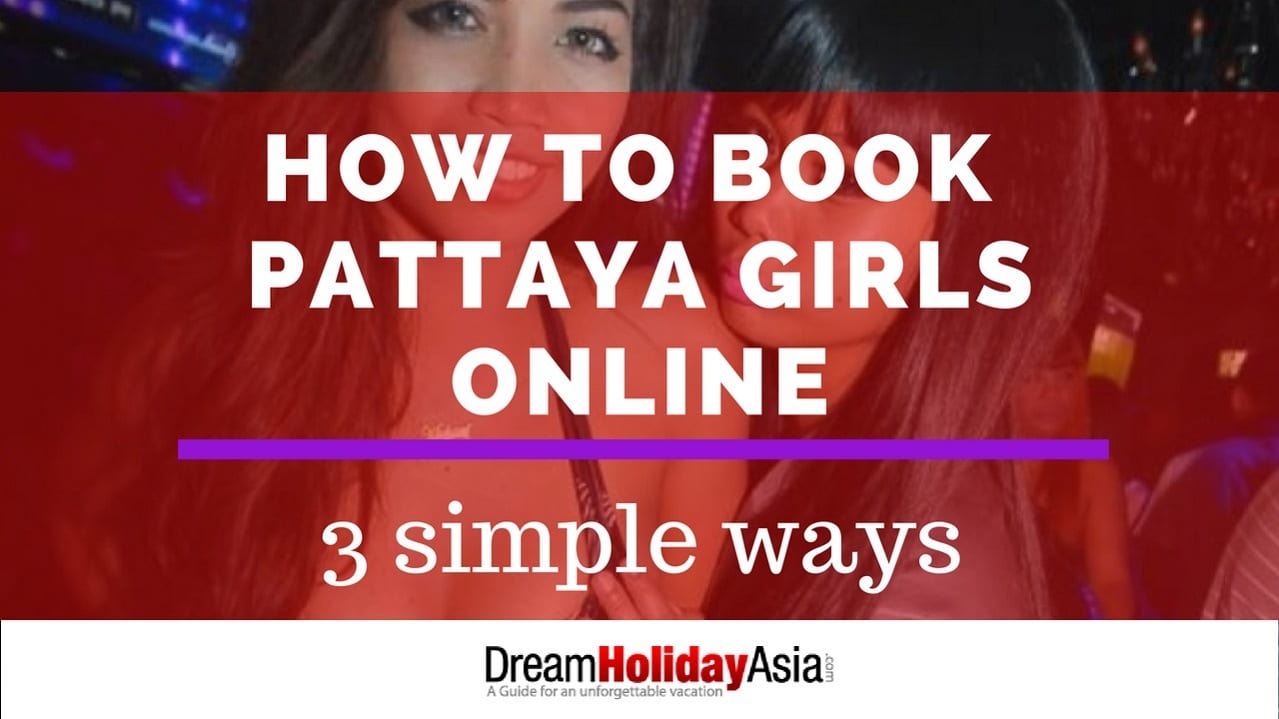 How To Book A Girl in Pattaya
Rocco is an avid traveler that love to date local girls wherever he goes. Rocco has helped thousands of men on their journey to meet Asian women for the last 9 years.
Are you wondering "How to book a sexy Pattaya girl"?
Maybe you are looking for a nightstand… Or maybe you need a sex buddy to stay with you during your holiday in Pattaya.
Whatever your reason, there are 3 simple ways to book a Pattaya girl.
The first way is by booking a…
1. Pattaya Call Girl With An Escort Agency
You can book a Pattaya girl directly online by using an escort agency or by visiting a Call girl's directory.
However, those services are small and insignificant.
There are two main reasons for the unsuccess of Pattaya call girls and escort agency:
The girl's look is average
Their price is over the moon
Well, you might say:
"Rocco, they are surely the finest call Pattaya girls out there".
Starting at 5.000 baht up to 10.000 baht for two hours (short-time), it's just a joke. For that amount of money, you can get the hottest girls in Walking Street… And for all night.
Don't take my word for it, just Google "Pattaya Escort" and see by yourself. Then, come back to this page and I will show you how to a HOT Pattaya girl at a fraction of the cost.
There is no doubt that call girls in Pattaya aren't doing much of business, besides the unfortunate few men who don't know any better.
If you still want to book a call girl from an escort agency, this is how:
1. Google "call girls in Pattaya" and pick any agency.
I can't help you in deciding which agency is best because I don't use their services.
2. Visit the site and pick a call girl
Click on the girl's photo that you like and note down her name.
3. Book the girl, making sure she is available in Pattaya. Sometime they travel to Bangkok.
You can call them or fill up the booking form.
The second way to book a Pattaya girl is on a…
2. Dating Site
With the explosion of smartphones, cheap access to the internet and dating applications, most Pattaya girls have a profile on a dating site.
Every time I log in on one of those applications, there are thousands of girls online…
How awesome is that!
There are even ladyboys…
Try to sign up a couple weeks before your trip so that you don't arrive empty handed.
With hundreds of girls in Pattaya using Thai Cupid and Thai Friendly, you will have plenty of options.
Those two websites are the best places to book girls for your stay in Pattaya.
Here the steps:
1. Register for the service – it's free
Just sign up and follow the simple procedure.
2. Fill in the general information
3. Write things about you that will attract the right kind of girls
Below two different profiles; One to attract hookers, the other to attract girlfriends material.
4. There are two more forms with general questions, just fill them up. 
5. Upload nice photos: 
One with only yourself, better if full or half body. One in a social setting. One with a pet if you have one, Thai girls love that kind of stuff.
6. Have Fun!
Search for girls in Pattaya, introduce yourself and ask to meet. That's simple.
You will find all types of women on Thai Friendly and Thai Cupid, some might want to enter a serious relationship but others will be on there just because they want to get laid.
And the last way is…
3. Book a Massage Girl
Pattaya is a massage paradise, there are hundreds of shops all around town where you can relax and get extra services.
If you're lazy to walk around, you can book a massage girl online, she will go to your room.
Of course, the price is going to be higher than visiting the shop by yourself.
At least you save time and taxi money.
For an hour massage with a happy ending, expect to shell out 1.500+ Baht.
It is a fair price in my opinion, definitely better than escort services.
However, on dating sites, you can get away with only 1.000 Baht if she is a working girl… Or free if a girl with a day job.
To book a massage girl, these are the steps:
1. Choose the massage shop
These are the 3 best massage parlors in Pattaya that offer outcall service:
Dream Teen Pattaya (Best Choice)
2. Add the shop's phone number to Line and WhatApps
Ask to send pictures of the girls.
Note; Some shop have photos on their website but sometimes they aren't updated quickly enough, so it's better to deal directly with the owner who stores the photos of a new arrival in the phone.
3. Have fun! She'll be there soon. 
To Conclude…
Ok, there are 3 ways to book a Pattaya girl online:
Escort services
Online dating sites
Massage services
The first option is to book an escort girl from an agency.
It's easy because you just have to pick the phone and book the girl.
However, the girls are average looking and are super expensive: 5.000+ bath for only 2 hours.
The second option is to pick a girl from a popular online dating site.
There are thousands of girls online that cover all type of needs.
You can get a freelancer or massage girls for as low as 1.000 baht or a girlfriend to stay with you for all the duration of your holiday.
The strong point here is the convenience and the huge selection of girls.
The third option is to book a girl from a massage shop that offers outcall services.
The price is reasonable around 1.500 Bath.
However, the selection of girls is limited and their look is just average.
Hot girls don't want to be massage girls because is hard work. They prefer freelancing.
This is all.
Now you can book a Pattaya girl easily and enjoy your holiday.
Take your time to pick the right girl, it's a make or break deal for your holiday.
Keep in mind that the best girls don't work for others because they don't need too.
Pattaya girls working in a shop or for an agency are there for a reason.
They can't make it on their own because of average looks or bad attitude.