Thailand Travel Guide For Single Men
The Ultimate Man's Travel Guide To Thailand
Thailand is well known to be one of the best sex travel destination in the world.
Travelling to Thailand is a breeze, as the country has a tourist-friendly policy as well as a vast network of infrastructure and hotels that cater to a diverse array of business and leisure travelers.
But before planning your next trip to Thailand, it's good to know all the essential information about the country.

When To Go Thailand?
The best time to visit Thailand is between November and February when the climate is relatively cool and dry (25-32°C).
While Bangkok usually sees an insignificant temperature drop, the northern and northeastern provinces can be rather cold. And if you plan to take a trip into the mountains, be sure to bring a sweater or warm jacket.
What About Sex In Thailand?
Sex tourism is huge in Thailand and millions of men go to Thailand each and every year for holidays that involve paying for sex. The men come from many different countries around the world, and there are all different age groups that come to Thailand for some action.
Men don't go to Thailand only to meet the beautiful Thai women, but to engage in relationships with lady-boys. In fact, Thai kathoey (another expression for ladyboy) are world famous for their beauty and no other country can compete with their beauty.
Even the media and public have taken interest in this phenomena and every yer in Pattaya, Miss Tiffany Universe take place and award the crown to the most beautiful transgender on stage.
One of Thailand's greatest attractions is the attitude of the ladies you meet. Most will treat you as their "boyfriend" from the time they meet you until the time you depart.
It is this experience that truly makes Thailand one of the most exceptional and exotic sex travel destinations in the world.
A Thailand sex vacation today is certainly a very different thing to what it was 30 years ago. Much of the difference is due to the ongoing development of the Thai economy in general.
Thailand is no longer the desperately poor country it once was, and it is catching up with the West all the time. This will inevitably change the nature of the pay-for-pleasure industry as time goes by, most notably in the form of higher prices.
These days, it's much harder for older men to get the real good lookers, but it's still possible. It all depends on how much you are willing to pay.
If you have enough cash, you can get any working girl to hang off you and as anyone who has been to Thailand knows, Thai women are happy while the money is flowing.
There are more and more younger guys now coming to Thailand.
These guys are spoiling the girls, offering fun and some adventure for younger girls.
Gone are the days of very cheap girls offering the ultimate girlfriend experience. To get this now, you have to dig deep and pay much more, and if you are older, you most often have to pay even more.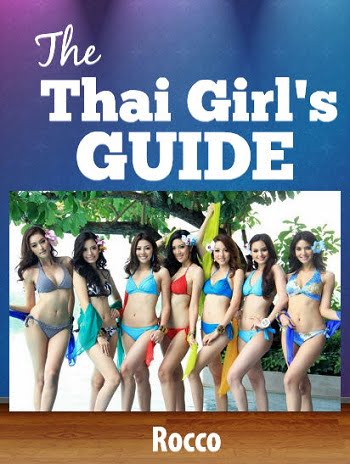 I've wrote the Thai's girl guide packed with useful info to clear some of your thoughts about Thai girls with tips how to pick up and get laid in Thailand.
I've visited Thailand multiple times over the years and date beautiful Thai women from the laziest bar girl in Nana Plaza to the curious university girl and executive office woman looking for some extra affair.
There is so much to learn about Thai culture, and these women are easy to approach if you understand their way of thinking, and you behave socially.
I never spent more time than necessary to get laid during my trip because there is always the next girl waiting for me.
Are you looking for the perfect Thai girl for you?
I've covered these points;
~ Thai Girls; 8 things you should know
~ Type of Thai Women
~ Where? Places to Meet Thai Girls
~ Other Pick Up Strategy That Work
There is only one way to find out; Click Here
No worries, IT'S FREE! You've nothing to lose
Typical Costs
Sex: There are so many red light districts in Thailand and the size of some of the biggest districts are larger than what you will find in just about any other country around the world. The most infamous and sexy street in Thailand is definitely Soi 6; where you can have sex for $30.

The prices for sexual services in Thailand is relatively cheap when compared to other countries and it's this reason as well as the availability of millions of working girls as to why so many men come here each year.

To take a girl out of a go-go bar, you will have to pay a bar fine, which will cost approx 500 baht (about $14 U.S.)!If you take a girl out of a drinking bar or Beer Bar, the bar fine can be as little as 300 baht and in some bars that we will show you, there is NO bar fine at all.

If you want a girl for a short time (approx. 2 hrs) this is negotiable with the girl. If you want 'long time' the girl of your choice will stay with you for the whole night, and she would expect you to give her 1,000 – 3,000 baht(33-100$)
Sex Activities: Most of the action will be found in Pattaya, Bangkok and Phuket. In other major cities there are some sex activities but usually they caterer to the Thai people that are pimp-controlled.

Thailand offer a broad range of sex entertainment as massage parlour, short time red light streets, beer bars, a go go bars and night clubs.
Accommodation: Most guesthouses have dorm room for between $2-4 dollars per night. Private rooms range from $6-10 USD per night. You can get comfortable hotels for $15 – 20 dollars with air con, TV and other amenities.

After that, the sky is the limit, but I've never needed to spend more than $20 USD per night for luxury in this country. Most of the accommodations are girl friendly.
Food: Speaking of street food, don't be afraid to eat it, it's safe. If it wasn't the Thais wouldn't be packing the stalls each day. You'll find the best of Thailand's food on the street, and it will cost you a fraction of what you pay at a restaurant.

Street food will cost you about $1-2 USD per meal and restaurant food will cost between $3-5 USD per meal.
Transportation: Local transportation is cheap, costing only a few dollars. You can get anywhere in the country for under $10 USD. Renting a driver for the day will cost you between $15-20 USD.
Negotiate Price: Always negotiate price before heading to your hotel with your lovely Thai lady.
Valuables in the safe. When you leave the room and while you are showering. Hear many times of girls stealing money and cameras.
Lady drinks. Cut down on them, they are useless to the purpose of good fun and sex.
Go local – The easiest way to save money in Thailand is to live simply like a local. Take local buses, eat street food, and drink local beer. The average Thai lives on a less than 7,000 baht per month in Bangkok, even less in the countryside. If you stay at cheap guesthouses and eat the street food, you can spend as little as $10 per day.
Runners (girls leaving early) have to be punished financially, otherwise you confirm you're stupid, and she can just do everything she wants without any consequence.
The legal age of consent is 18 and you are strongly advised to stay clear of anything younger than that.
GET INSTANT ACCESS TO
MY TRAVEL TIPS & LEARN HOW TO MEET LOCAL WOMEN
Sign up to receive FREE my mini guide; get your hands on my vacation SECRETS!
DATE THAI WOMEN
If you are looking for more than just a pop or bang, wish to meet a Thai girl to spend your holiday together, and why not, fall in love. I have the right and easy solution for you to date a local woman.
Thai girls love the idea to meet a foreign man, we look exotic as much they look exotic to us. We have white skin, are tall and look handsome to their eyes (much better than the typical Thai man that has dark skin and short body).
There are hundreds of university and office girls that would love to spend time with you to improve their English language skills. This can be mutually beneficial, and more interesting than bang just bar girls and hookers.
How to Meet Local Women in Thailand
When it comes to meeting Thai women you basically have three options.
Walk around the country looking for cute girls working in restaurants, shops, malls and so on. It is a bit like to flirt with women back to our western countries but much easier. Just smile, give a compliment and carry on the conversation till the right time to ask for a go out together. This approach works 30% of the time, thus every three girls, one will accept your offer. I have personally tested over and over again.
Visit discos and nightclubs. There are few type of girls in these clubs; educated girls, freelancers, and curious girls.

– The educated girls will be found mostly in Thai nightclubs which are packed with office and local women, and just a small percentage of hookers mixed with the crowd.

If you are young, dress smart and know how to flirt with Thai women (you need to have a basic of Thai language), this place might work out well for you.

– Freelancers are girls looking for money, but they can't bother to work in beer venues and Ago-go bars. You will find many in the clubs frequented by foreigner and tourist.

They will pretend to have a daily job, or study and tell you they are there just to have fun with friends, but it is a lie. You will recognize them by the way they dress (incredibly sexy) and makeup plus they can speak proper English.

They are a great companion if you are planning a sex holiday around Thailand and you need a tour guide with you.

– The "curious girls" are usually young, and they can speak little English, they work or study and they want to meet with Western men to learn more about our world.

These girls are rare to be found, but they are the perfect girlfriend experience with real feelings and dedication to you if you can hook up with one. I have met few on dating websites, and usually, they write on the profile things like "I am looking to meet men for friendship that are polite and kind".

Online Dating Sites in Thailand. With the rise of smartphone devices and internet, many Thai girls have taken this new approach to meet Western men.

It is convenient and easy enough, plus they avoid to face a stranger face to face for the first time.

Meeting Thai women on dating sites is the most convenient way because she will not feel shy to speak to you, both of you can take some time to know each other and at the same time build excitement for your first date.

Thai women love the idea of meeting first-time foreigners in Thailand (you are not a sex tourist in their mind). They get excited and if you ask them, they will meet you up even at the airport.

Great start for a holiday! Learn How to Date Asian Women Online

– Thai Cupid – It is the biggest dating site in Thailand with thousand of women looking for romance, relationship and why not, a night stand.

You can find girls to chat online anytime. The chat is easy to use, and you can talk with multiple girls at the same time because Thai women write very slow because sometimes they have to check the dictionary for words. This can maximize your time and effort to create multiple "relationships" at the same time.

By signing up with Thai Cupid you will access to thousand of Thai girls all around the country.

TIPS: You can meet sweet country side women looking for love, or some slut in the major tourist destinations for one night stand.
Make sure to complete your profile with some good picture of you (no naked) and a clear description of what you are looking for, what you can offer them and about yourself briefly. This will help you to get the right woman. Avoid to pretend to be a romantic man when in reality you love to get tied up to the bed and wiped by women in leather g-strings. Be yourself!



– Thai Friendly – Not as many women as in Thai Cupid dating website but definitely enough to get you started.

I have found some good girls here, however always watch out for women asking you for money. Good girls don't do that, and only fool men would wire money to a girl never met before.

I hear horror stories all the time from travelers being cheated by women online. I never have them with Thai Friendly. They do a good job in keeping their users in check, trying to remove scammers and fake accounts.

I've done a personal review on How to Easily Meet Thai Women With Thai Friendly after years of using this tool to date local Thai women.

TIPS: Same tips as above, make sure to spend some time to write a clear description about yourself and what you are looking for. Be yourself.
Upload at least three pictures of yourself in different situations, for example while playing tennis, with friends and having a dinner with papa and mama. Make sure to shave your face, look "clean" and dress properly. Asian women pay a lot of attention on appearance, this will make the difference to attract the cutest, most attractive Thai women that are genuine.
TOP LOCATIONS
Bangkok – The heart of Thailand, this crazy city is a must see. Most travelers don't like it right away but it grows on you. Explore temples, palaces, amazing markets, shops, one of the craziest nightlife scenes in the world, and of course, amazing Thai food. Now, i love this city.
Pattaya – Pattaya is a magical place, truly one of a kind. Sometimes it seems like Pattaya exists in a parallel universe, where none of the rules of the outside world apply. It's a city of lust, love and sometimes despair.
Phuket – Phuket is Thailand's largest island and the biggest destination for tourism in Thailand.
Phuket has to offer great white sand beaches as well and for the most adventures, the nearby Pi Pi Islands are worldwide known diving spot. No comprehensive and candid guide to the island of Phuket would be complete without mentioning bar girls and the established and sizable sex tourism industry that thrives within Thailand.
Tropical Islands – Thailand has a million and one beautiful tropical islands. Some are overdeveloped, some only have a bungalow on them. You'll find everything here. Some of the best islands here are: Ko Samet, Ko Taruato, Ko Lanta, Ko Chang, Ko Tao, Ko Jum, the Similian Islands, and Ko Samui.
Chiang Mai – is the largest and most culturally significant city in Northern Thailand.
There aren't much of nightlife activities, but the girls are gorgeous. Being near the Chinese border, the Thai girls there have unique features as white skin and beautiful eyes. The weather tends to be cooler between the months of December to March, so bring a jacket with you.
MUST TO DO
Visit the infamous soi 6 in Pattaya
Well away from Pattaya's nightlife central, Walking Street, is one of Sin City's more infamous naughty boy areas. It might only be a few hundred meters long, but soi 6 is home to more than 50 bars and perhaps 1,000 naughty girls.
On the back of Soi 6, you will find a small soi with few Khatoey happy to satisfy your curiosity in case you aren't into girls.
If you like partying, there's no better party in the world than the famous Full Moon Party. It's 20,000 people partying until sunrise on a beach on Haat Rin, Koh Phangan. Sure, it is super touristy but that doesn't mean it's not a lot of fun and it's as much a part of Thailand as anything else.
Thai massage is a long tradition, but the soapy massage is a new addition provided to tourist and residents looking for relaxation and an happy ending experience at the same time.
Bang a Kathoeys
Kathoeys are lady-boys that usually look much better than a real lady. In Thailand, you can find the most beautiful kathoey on earth, and for this reason is a must to do experience while in the kingdom.
Visit an Ago-go Bar
Thai Go-Go bars are unique, and the concept is something between a strip club and a bar. You will find girls dancing on a center stage, sometimes dressed or naked. Some a go-go bar will have sexy shows, shower shows and different type of activities that are unique. The best go-go bars are in Bangkok (Nana Plaza and Soi Cowboy) and Pattaya (Walking Street).
Help Me Help You
The blog is growing but I need your help to reach out more people so they can get useful info about traveling and meet women.
I put an awful lot of time into producing some of the best travel and dating advices on the web.
If you want to say thanks, then please share them with others. It takes less than a minute for you to;
Share on social media
Start a thread on a forum
Write on your blog about the articles
Share them with your list (your subscribers will love you)
Don't be shy to help, I love you.
RELATED ARTICLES