Best Hotels & Accommodation in Pattaya For Girls & Fun
Rocco is an avid traveler that love to date local girls wherever he goes. Rocco has helped thousands of men on their journey to meet Asian women for the last 9 years.
Going to Pattaya soon?
And you need a hotel or accommodation not only for showering and deposit your belonging but to be the center stage of your dream holiday where you can do all your kinky stuff while satisfying your fantasies.
If you're saying "Yes", then this article is what you were looking for.
This is the only hotel & accommodation Pattaya's guide specifically designed for men traveling to Pattaya to have FUN, meet girls and ultimately get laid.
But if you are a man traveling to meet your future girlfriend/wife or just looking for a date, I've got a list of special accommodations that will impress your love one.
No matter what your intentions are, since you've to stay somewhere for a few days or weeks, it's better to get the best out of it.
What I consider BEST is:
Suitable for an erotic experience.
Good value for money.
Safe & quite.
Easily accessible.
Friendly Staff
Suitable For an Erotic Experience
The hotel room is your playground. It's where the magic happens. It's where your sexual fantasies get fulfilled.
Yet, most travelers choose a room based only on value for money, location, and cleanness.
I don't doubt these are important factors, but when traveling for a sex holiday, there are certain aspects of a room that can't be overlooked.
The rooms need to have:
1# – A mirror in the bedroom and I don't mean the beauty table one. There is nothing more erotic and masculine than looking yourself in the mirror while banging that little "Asian Bunny".
2# – Color temperature-regulable led light or side bed's lamp to make the atmosphere more appropriate.
3# – A jacuzzi if you can afford one. I especially love the jacuzzi on the terrace as it takes the experience to a whole new level.
4# – A sofa to chill out before, during and after the deed.
5# – A terrace overlooking Pattaya Bay. Tourist love to send postcards of Pattaya Bay, and you will love to doggy that little Pattaya girl while enjoying the view.
Good Value For Money
From the dictionary:
"Best value for money is defined as the most advantageous combination of cost, quality, and sustainability to meet customer requirements."
For me, it means that the furniture is in good condition and the room isn't smelly. There is nothing that turns off more than a dirty, old and smelly room.
Also, the price needs to be a fair representation of overall services, amenities, and staff knowledge.
For example, there are many hotels near Walking Street that are overpriced just because of the location (walking distance from Walking Street).
Yet, if you bother to take a Tuk Tuk (public taxi van) with cost 10 Thai baht and 5 minutes of your time, you're going to pay 50% less for the same standard.
Safe & Quite
Nothing piss people off more than coming back to the room only to find out that something is been stolen.
In Pattaya happen a lot.
I mean, what would you expect from a room cleaner that makes $US10 per day?
When she sees a wallet with 1.000 bucks in it, it's like winning the lottery.
Next…
I like the place to be quite at ANY time of the day and night.
During a FUN holiday, you never know what time you're going to sleep, so the room must be quite 24/7.
Easily Accessible
Are you ever been in a hotel located nowhere just because the price was good?
Well, in Pattaya there are a lot of hotels and accommodations located in the "jungle" where there isn't any kind of transportation.
This is a problem while you're holidaying in Pattaya, you'll go out multiple times to meet girls… And here things get worst.
Not only you have to pay around 100 Thai Bath for each motorbike taxi, but double that when you have a girl with you.
Quality girls will not be happy to ride far away on a motorbike taxi to some crappy hotel located "nowhere". Tha's is a huge turn off for them.
You don't want that.
You want to keep the sexual momentum, that's why your accommodation shouldn't be more than 15 minutes away and easily accessible.
Friendly Staff
Usually, when checking in a hotel is being expected the staff to be friendly; things like greeting you, smile and being conversational.
However, Pattaya is a city built for fun and sex which is a totally a different reality than other conventional tourist places.
For me, a good hotel in Pattaya should have service staff overfriendly where they take their duties to the heart, ensuring your sex-satisfaction.
yeah, you got it right, you can bang that smiling receptionist that check you in.
These things happen only in Pattaya.
With that being said, I'm confident this guide can serve you well if you're looking for lust and love in Pattaya.
How To Use This Guide 
Most travelers visit Pattaya to meet girls, that's obvious, what is less known that every traveler has different expectations about their holidays.
Some man wants to have sex with as many girls as possible… Or maybe he wants to have a girlfriend experience… Or maybe he wants to flirt and pick up girls that aren't working as prostitutes.
I've created this Pattaya hotel and accommodation guide to accommodate each expectation based on your interest.
In short:
Best Pattaya Hotels Near Walking Street; If you're looking for lust and an easily accessible hotel near Walking Street, I got you covered.
Best Pattaya Hotels Near The Beach; Maybe you've met a nice girl on a Thai dating site… Or you're planning to hire a Pattaya freelancer to spend the entire holiday with you… Or you're revisiting an old flame… Whatever your reason, I've picked the best hotels where you can enjoy the beach while having a good time with your girlfriend.
Best Pattaya Service Apartments; If you want to pick up girls that have a regular job, you shouldn't be seen as a tourist because that screams "sex tourist".
Instead, you want to get a service apartment while stating that you're living in Thailand. Serious Thai girls, like most women anyway, want to marry and have a family, not to give away her p…y to a tourist.
Room Rate Guide
In each section, you can find a place for your budget.
$ – Under 50 USD
$$ – Between 50 to 100 USD 
$$$ – Between 100 to 150 USD 
$$$$ – Between 150 to 200 USD 
$$$$$ – Above 200 USD 
Best Pattaya Hotels Near Walking Street
Perfect For A Naughty Holiday
Hilton Pattaya is a stylish hotel, soaring 34 levels above Pattaya's Central Festival Shopping Centre, Southeast Asia's largest beachfront shopping complex.
You can have the best city facilities at your doorstep, walking distance to the best beer bars in Soi 7 and 10 minutes by Tuk Tuk to Walking Street.
They have got a rooftop called "Horizon" where you can meet high class Thai and Russian girls. It is all very discrete.
As per the room, Hilton being an international hotel chain have certain business standards to follow.
In fact, the rooms have a long mirror but not really to watch yourself playing with the girls.
Having said that, superior rooms have a bathtub in a bathroom with glasses wall where you can watch your girlfriend playing with the soap.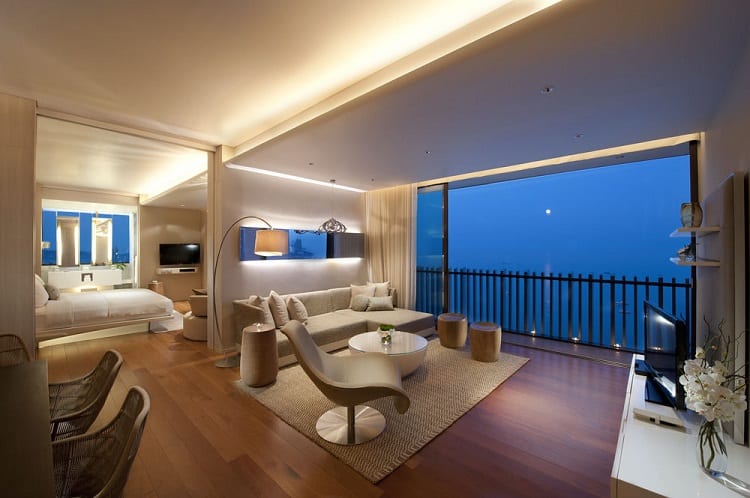 One interesting future that all the rooms have is a beautiful view overlooking Pattaya Bay and a small terrace, where you can bend over your girlfriend while smoking a cigar.
But here the real kicker; the jacuzzi room.
If you're a horny man that love orgies or having multiple girls for a night of fun, this room is a blast.
Totally in privacy overlooking Pattaya Bay on the side of Walking Street, the Jacuzzi can accommodate comfortably 6 people.
Guest Friendly policy for Hilton Pattaya
Just drop the ID cards to the reception. No problem.
---
Before was known as Marriott Hotel, now is been rebranded. This luxury hotel surrounded by lush tropical greenery located in the city center.
This hotel is a bit old, but what makes it special is the tropical garden surrounding the swimming pool.
The pool bar has a wide selection of cocktails and snacks, so you can spend countless hours watching your girlfriend in bikini. 
If you like top quality girls and you are custom to pick up in Walking Street, the location of this hotel is unbeatable and the staff is very professional.
Guest Friendly policy for Avani
I never bother to stop in reception, however, I recommend you to do so for your security.
---
This hotel is stylish has a good vibe.
The design is playful; it's striking pastel by day and vibrant neon by night.
The rooms are designed for a classy experience but at the same time very erotic one. I love the big mirror next to the bed.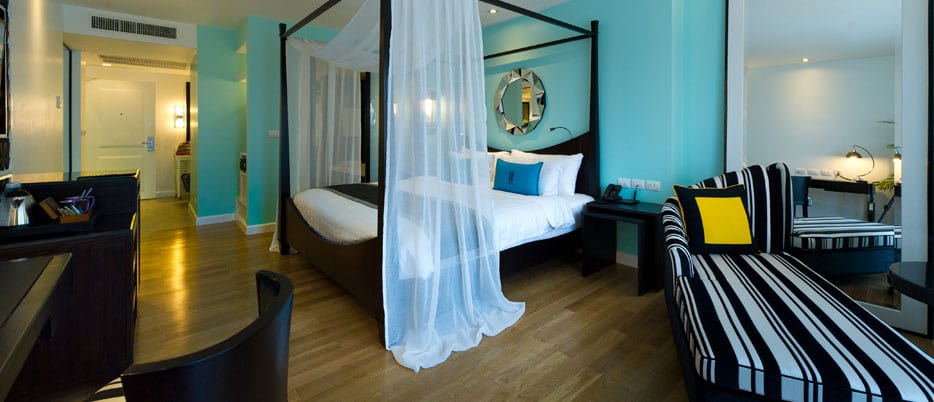 The location is excellent, 10 minutes walking from Walking Street.
Guest Friendly policy for Wave Hotel in Pattaya
The hotel welcomes you and your unregistered guests, no extra fee.
---
Located on the second road next to "The Avenue Pattaya", this hotel has excellent facilities and incredible surrounding.
You have transportation, bars, cinema, Villa supermarket and restaurants within walking distance.
Make sure walking down to Beach Road bypassing "Soi Post Office" where the best naughty massage parlors are.
You'll love the huge mirror next to the bed, it reflects all the bedroom.
Sometime this hotel organizes pool parties that are super FUN. Hopefully, you'll be there to attend one.
Guest Friendly policy for Hotel Baraquda in Pattaya
The staff is always smiling and happy to see you have company 🙂
---
Located near Beach Road, you can reach Walking Street in ten minutes by Tuk Tuk.
There are a lot of beer bar streets, massage parlors, and restaurant all around.
There is a glass between the bedroom and bathroom where you can watch your girlfriend showering.
Guest Friendly policy for Hotel Baraquda in Pattaya
Leave her ID card in reception.
---
Well located between Pratamnak and Thrappaya Road, you can get the Tuk Tuk bus to Walking Street in five minutes.
The spirit of this hotel is young and chic, suitable for a younger generation of travelers.
I like to book the so-called "suite" (it isn't a suite, only 27m) because of the bathtub in the room, so I can get a soapy massage by the girls.
The breakfast is good and all included with room price.
The area is quiet so you will not be disturbed if sleeping late in the afternoon.
Guest Friendly policy for Citrus Parc Hotel in Pattaya
I'm never being hassled by the reception, instead greeted and welcomed.
---
This hotel is pretty new and the location is incredibly close to Jomtien Beach.
I consider Neo Hotel the best value for money, considering the prime location and room quality.
There is even the swimming pool which for this money is unique. Unfortunately, its located in front of the building with little privacy.
You can go Walking Street by Tuk Tuk in 10 minutes.
Guest Friendly policy for Neo Hotel in Pattaya
Just drop the ID card at the reception and head straight to the elevator.
---
If you are looking for a hotel in the middle of one of the most infamous red light street in the world (Soi 6), Queen Victoria Inn will be paradise for you.
Queen Victoria Inn will be paradise for you.
However, the hotel is far from Walking Street.
The hotel offers excellent British food and there is also one of the best Pattaya's travel company office on the ground floor that can arrange for you trips to the border of Cambodia in the case you need to extend your visa.
Guest Friendly policy for Victoria Inn Pattaya
Bring in as many girls as you can manage from the bars all around.
---
Best Pattaya Hotel Near The Beach
Perfect For a Girlfriend Experience
Royal Cliff is one of the oldest and top luxury hotel in Pattaya. They have a wide selection of rooms and styles to accommodate any taste.
Here you can book some great rooms; they have got even one with Jacuzzi overlooking the cliff where you can throw in a party with a bunch of beautiful Thai girls (just an idea).
Guest Friendly policy for Royal Cliff Hotel in Pattaya
Bring girls in as you are pleased. Just drop her ID card to the front desk and go to enjoy the night.
---
Located nearby Royal Cliff hotel, Intercontinental is a beautiful hotel with a huge garden and few swimming pools. A wide selection of restaurants and all the comforts an International brand such Sheraton can offers.
A wide selection of restaurants and all the comforts an International brand such Intercont can offers.
This is my favorite upscale hotel for its charm and stylish modern interior design.
Upon my arrival, the bellmen and front desk were friendly and well mannered. One night I brought in four girls with me, and everyone was cool and didn't bother about it.
There is a feeling of class and prestige to stay in this hotel, with a professional staff and excellent service.
The rooms are cozy and comfortable, with executive bathroom overlooking the bedroom (see and don't see kind of thing).
Guest Friendly policy for Intercontinental Hotel in Pattaya
Their policy is guest friendly, no worries.
---
It is very French and can be seen in the interior design charm. The red and black rooms are perfect for erotic nights with your girlfriends.
You have a good French/Italian restaurant on the ground floor with massage shop and a swimming pool.
Guest Friendly policy for Cocco Resort in Pattaya
I felt always welcomed here alone or in the company of my guest.
---
Best Pattaya Villa & Service Apartment
Perfect If You Want To Pick Up Girls Or Have Orgy Style Parties
Two Private villas located in Phra Tamnak Hill with swimming pool.
I was very pleased with Arabella as it far exceeded my expectations. The rooms were clean, large and comfortable. The Private Pool was also a great added feature. The beach is just 5 minutes away.
The Private Pool was also a great added feature. The beach is just 5 minutes away.
These villas are most suitable for groups and bachelor parties. One house can guest up to six people.
Guest Friendly policy for Villa Arabella in Pattaya
Unregistered guests are welcome.
---
Ideally located in the heart of Jomtien Beach, Jomtien Beach Residence offers you luxurious service apartments only 60 meters from the beach and just a short walk to restaurants, shops, entertainment and nightlife venues.
This accommodation is perfect for travelers that want a home feeling instead of a classic hotel with too much staff hanging around.
We had a small naked party 3 in the morning in the main pool going unnoticed.
Guest Friendly policy for Jomtien Beach Residence in Pattaya
Walk in like at your home.
---
Next, I get a lot of emails asking about guest friendly hotels, so if you don't know what that means, here the definition:
What is a Pattaya Guest Friendly Hotel?
A hotel that is considered guest or girl friendly means allow you to bring your own guests back to the room without extra charges (no joiner fee), no walk of shame in the lobby and respecting your privacy.
A joiner fee can cost anywhere from US$20 up to US$50 a night depending on the hotel policy.
In Pattaya, this kind of policy is only present on a few five-star hotels.
I wish you an unforgettable holiday in Pattaya and don't forget to book the hotel in advance during the high season between November to April.