Best Way To Meet An Indonesian Girl
So you are going on holidays and want to meet a local Indonesian girl for a bit of fun or maybe even find a serious girlfriend.
Why wouldn't you want to meet an Indonesian girl?
They are some of the most beautiful girls in South East Asia. Petite girls with big brown eyes, soft skin with tight sexy bodies… But the best part is they love sex.
You can go to a bar or massage parlor all over Indonesia and find some easy sex if you have money to spend. However, girls that hang out in the bars and parlors usually do this all the time and the risk to get a disease is a huge turn-off.
So, what is the alternative? Get Indonesian girls who don't work in the sex industry.
One of the easiest ways to meet clean Indonesian girls is via online dating sites. You can plan ahead and chat with girls even before you arrive and have dates lined up for as soon as you arrive.
The best dating site at the moment is Indonesian Cupid. The examples written below are all from the experiences on Indonesian Cupid, but check the bottom of the page for a full list of dating sites in Indonesia.
To give you an idea of how popular Indonesian Cupid is, at any time of the day or night there are over 250 girls online. That doesn't include the thousands of girls offline.
I have used this site many times to meet a girl /girls on trips to Bali, Jakarta, Bandung or Batam.
You can simply do a filter search for the location you are going to, and start to chat with a local girl.
Most girls have profiles with several photos of themselves which is a good way to get a feel for how they look.
Of course, the girls post up their best photos but seeing several different pics is a good way to gauge how good looking they are. It also gives you an idea about how eager they are to please.
There are also freelancer girls trolling the dating sites. Freelancers are semi-pro prostitutes that occasionally get paid for sex…
They aren't like bar girls or street prostitutes or massage girls that do that as full-time work. Most times they are students struggling to pay the rent or girls with respectable jobs that need some extra for an emergency.
They will ask you for a gift or come straight out by naming their price. Generally, they will not ask for a lot of money, about 300k rupiah (around $US30) for a night of passion.
I had a girl from Jakarta ask me to just pay for their flight from Jakarta to Bali and spend a week holiday with me.
Here is an example of an email I received asking for a gift:
hy nice pic? i am good looking 32, tall local woman..like sex too
but this time i need some gift because in money trouble…
what do u prefer…whre do you stay.. i just want with caucasian..are u?
Here is another one after swapping a couple of nice hello messages and just came out and named her price:
me need 300.000, what do you need me do? I can help y relax 🙂
The majority of girls on dating sites are not so direct. Most are looking for a foreign boyfriend and some are just wanting a fling with a western guy.
Seeing the pics of the girls is one thing but as I mentioned above most put up their best model photos. However, when you upgrade the membership, you can have a video chat before you meet.
Most Indonesian girls are not shy. If you get a bit flirty and ask to see more pics, they will be happy to send you more photos.
Here are some examples of pictures I have received from girls chatting online…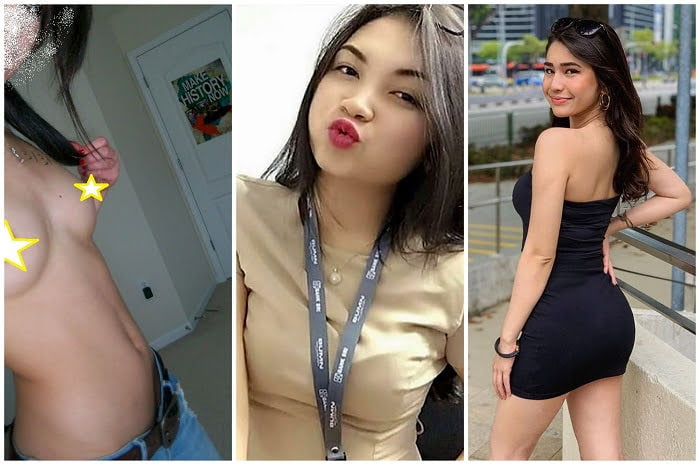 My Experiences With Girls From Dating Sites
Here are some examples of the experiences chatting with Indo girls on the dating sites.
I was going to Bali for a 10 days holiday, so I joined up on Indonesian Cupid to look for a holiday fling.
I was surprised by how many girls were online and how many sent an Interest or sent an email. Most were girls from Jakarta, even though my profile was set up for Bali. Later I learned that Jakarta girls love to go to Bali for hookups. 
I saw a very sexy girl and sent her a message. She said that she was from Kalimantan but was living and working in Bali. She said that she worked at Spider Bar in Legian, which is a pick-up bar with working girls. We exchanged a few messages and agreed for a video chat.
She was laying on her bed wearing a long t-shirt. After a bit of flirting, it was not long before she was lifting her t-shirt and showing me her panties and flashing her breasts. Very sexy indeed but turned out she was looking for some money, so I did not go to meet her.
Over a couple of nights, I swapped so many messages, had a bunch of video chats with girls in Bali and Jakarta. I ended up meeting two girls when I got to Bali.
The first girl I met was a real cutie from Bandung who had been living in Bali for 6 months. She worked as an office assistant and at no point hinted at money.
We chatted about what sort of things she likes and general life experiences. She came across as just a down to earth, good Indonesian girl.
She was just happy to go to a cheap Warung for something to eat, but we ended at a nice restaurant for a romantic evening. We ended the night under the sheets.
With the second girl, I didn't feel in a romantic mood. I was just plain horny.
I told her to visit me after 9 pm as I was busy working. I said it would be too late to go for dinner but she was happy to see me and have some drinks.
I told her to bring her bikini so we could go for a swim in the swimming pool. She didn't have a bikini, so I told her she doesn't need one as the pool is in a private villa. So she could swim naked.
She said that she never had done that before and was keen to try though but would need to have a couple of drinks first as she was nervous.
When she arrived, we chatted and drank for a while. As we opened the third beer, she said she wanted to go for a swim.
We stripped off and got in the pool. She had such a hot body and was not long before we were in the pool kissing with her legs wrapped around me.
She was a keeper. I saw her almost every evening until my departure. Never once she asked for money or gifts.
It is not hard to find a good Indonesian girl who is not just looking for money. There is a heap of Indonesian hotties online. Give it a go, I'm sure you will be surprised how easy it is.
Best Dating Sites In Indonesia
Indonesian Cupid is my favorite dating site because is an excellent balance between the number of members, quality, and affordability.
Some girl speaks better English than others, but in general, it's good practice to use simple phrases or concepts. Keep it simple and sweet.
This is the best Indonesian dating site out there, with an emphasis in detecting scammers. The platform is robust, friendly and easy to use.
They have got a translation service with their Gold package (US$24.99 per month) that can be handy if your English isn't so great. For higher search rankings and video messaging capability, go platinum for US$29.99 so you can jump ahead of the pack.
This site is popular in Asia, not particularly target to Indonesia so don't expect as many girls as on Indonesia Cupid.
It's easy to navigate, use and you can meet a wide range of girls of any age. This site doesn't have a detention system for scammers, so follow your guts when scanning the profiles.
When registering, don't insert your country but the country you are planning to visit. In this case, Indonesia.
Their gold membership is 27 Euro per month. It allows you to contact 300 members per month.