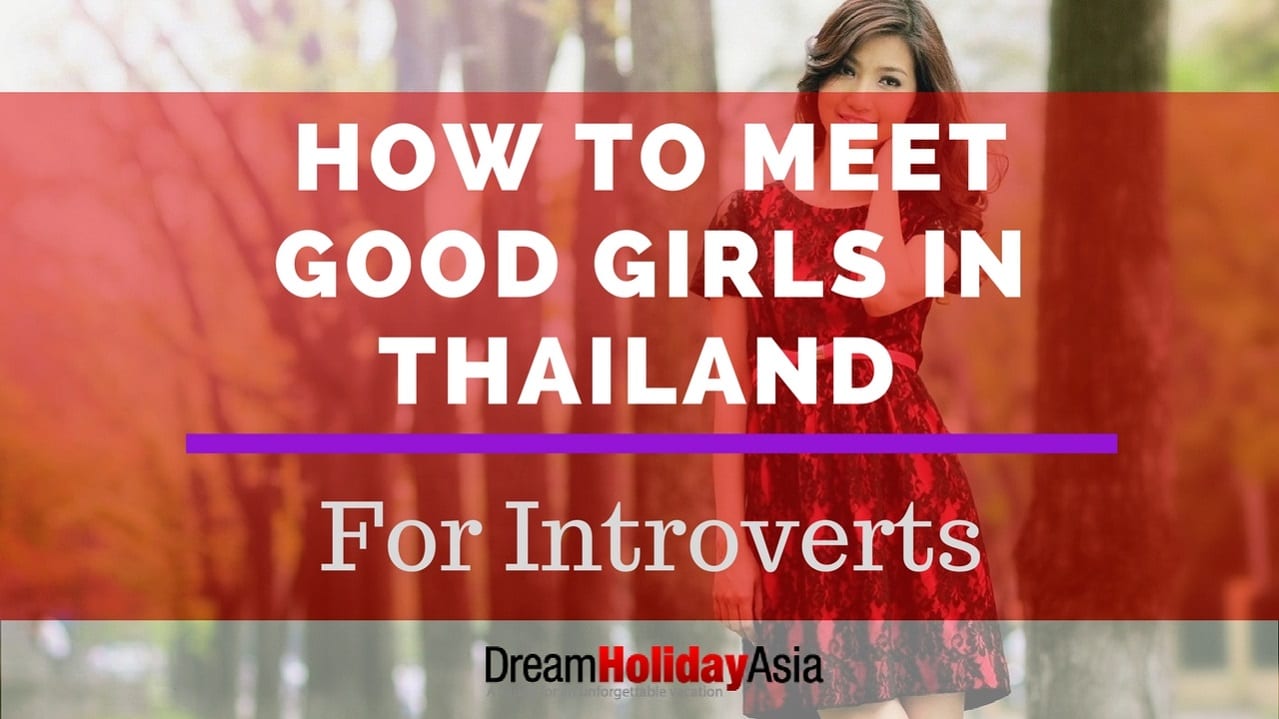 How To Meet Thai Girls Even When You Are An Introvert
You can meet Thai girls anywhere when in Thailand, and right now by using applications on your smartphone or by visiting dating websites.
However, if you want to meet "good" girls in Thailand, you need to search in the right places.
The guys who worship the red light district, have no clue or interest in how to meet a good girl in Thailand.
Before I lay down some useful tips for you, I've got one piece of advice: if you are serious to meet quality girls, stop visiting beer bars and get ready to go on dates.
Good Girls aren't working in the red light districts
Stop lying to yourself; that cute bar girl with innocent eyes looking for love but been unlucky to meet a "Thai men are no good," isn't what you're looking for.
Conventional girls have a normal job, or studying at university or stay at home with rich parents.
Alternatively, just think about where you would meet girls in your home country, the same applies to Thailand. Simple, no?
So Basically, How Do You Meet Attractive, Good, Datable Girls In Thailand?
Dating Thai girls and get a girlfriend is pretty simple if you know where to get started. That put you ahead of the game as you can approach women in Thailand that are emotionally ready to get into a relationship.
But before searching for your perfect woman, consider work on yourself first to make sure to attract them.
If you're a kind of shy guy, work on your confidence and just go for it.
Two major downsides of most FOREIGN MEN in Thailand are:
Style; dressing "poorly," typically in flip-flop or shorts. I understand you guys that Thailand is a hot country, but this isn't an excuse to dress like a beach boy.
Thai language; Thai isn't an easy language, but speak few words at least.
The first is pretty easy to fix.
Just visit a good shop to buy a shirt, pair of trousers and shoes. Don't have a clue about style? Then, check out the Be Stylish Guide.
I'm going to be brutally honest with you; Thai girls outside the bar scene speak little or no English at all. Put yourself in her shoes. This American guy walks up to her:
This American guy walk up to her: "What's up babe?" "You are so sweet; you're giving me a toothache."
Oh, what?
No wonders why she feels uncomfortable to speak to you, which is the biggest hurdle any expat will face.
Thai girls are very shy (I love that, do you?) and their command of English alone is enough to deter them from dating a foreigner.
The good NEWS is, you don't need to be a guru speaking Thai language. Learn small talks from a basic Thai language book. This alone will give you an edge in meeting good girls in Thailand.
Here are few more tips to help you find a nice Thai girlfriend or even a wife.
1# – Good Thai Girls Won't Talk To You First
No matter what, good Thai girls won't ever engage you in a conversation, and I mean NEVER.
Well brought up Thai girls are taught never to talk to men first, and definitely never approach one.
In Thai culture, many situations go unspoken.
For example, in the West, a girl that likes you might get into the conversation trying to make her noticed. But in Thailand, things work differently.
When she likes you, she'll look at you but never speak a word.
One time, I met a friend of mine with her girlfriend in the mall.
We went for a tea and quick conversation, which was between me and my friend as the other girl didn't speak a word beside revealing her name.
A few hours later, I got a message from my friend letting me know that her friend liked me. Go figure that out.
This bring us to the second point.
2# –

Gold Mine

; Friends Of Friend
This isn't going to work for first-time travelers to Thailand, but don't worry, below I've some good tips for you.
Having some local friends or co-workers, it's the best way to be introduced to conventional girls. Just let them know you're searching for a girlfriend.
Thais LOVE to set up their friends in a new relationship.
3# – The Sweeter, The Better
We all know that girls love sweet guys, this is a worldwide STANDARD. But it's particularly useful in Thailand. You see, Thai men are the master at being sweet (Bpàak Wăan).
Consequently, a Thai girl is going to expect you act the same.
Things they love to hear:
You are so cute (Ǹā rạk māk)
You are beautiful (Khuṇ s̄wy)
What makes your compliment apart from others is they way you say it. Don't sound too robotic or unnatural. Instead express it sincerely and with passion.
Only when you really mean it, she is going to get hooked.
A behavior Western men tend to have is to be too aggressive, which scare off sincere Thai girls.
Notice how softly and gently they speak. Just go to any restaurant crowded with Thai people, and soon you'll discover that you're the noisiest person in the dining room.
That is a big NO NO in Thailand. And any good girl will not want to go out with you.
4# – The Day Game
The most tactful way to approach a Thai girl is by complimenting her.
Just something simple: "I saw you, and WOW, you're so cute."
Just hand over your phone number and LINE's ID (Thais love LINE) on a piece of paper and ask her to message you.
It's tangible, indirect and discardable.
If she is interested in meeting, she'll contact you.
This is my favorite way to go whenever I'm in the BTS or shopping at the mall.
I always keep a piece of paper with my contact details to hand out in the pocket.
5# – Don't Expect To Have SEX At The First Date
This might shock you, but in Thailand, there are many girls in their 20s still VIRGIN. Ever happen in the West?
Truly good girls are saving themselves for marriage. That's is amazing!
Some even feel guilty don't be a virgin anymore, and she may confess this to you while dating her. She'll ask if you're still interested in her.
One more thing. Don't be surprised when she brings few friends or her aunt on the first date. Might be shocking, but it's a good sign she is a good girl.
The first time happens to me, I thought they were trying to get a FREE meal. But I soon realized that wasn't the case as they offer to split the cost of the food.
Holy Barbie Doll! That was a lot of writing. Ok, I know what you're saying:
"Rocco, all this how to stuff is great but where to meet good girls In Thailand?"
I hear you, bro, let's dig in, should we?
Best Places To Meet Good Girls In Thailand
The truth is, 90% of foreigner look into the wrong places to meet quality Thai girls. Yeap, you guess right; The Red Light Districts.
So, if you avoid these infamous places, you're already in the top 10% of the foreigners doing it right.
1# Dating Online
Ok, let's get started with the most friendly way for the introvert to meet Thai girls; online dating.
Thai girls feel comfortable to meet foreigners online. The reasons are simply:
They can write English with peace of mind.
Translate your messages if they don't understand without feel embarrassed.
Feel secure.
In the case you're an introvert or not so fluent in English, dating online is a practical way to build trust and start a relationship without fear of rejection. I
Keep in mind good Thai girls dress conservatively. Does she wear a bikini or a short skirt in her profile picture? Then she isn't a genuine girl.
Another warning sign is the girls being online frequently. They might use the dating website as a platform to sell their services.
RELATED; 3 Best Dating Sites To Meet Thai Girls Online
2# Public Transports
Once in Thailand, you're going to move around in taxi, tuk-tuk, metro and busses. To meet some quality girl on public transport, Bangkok is the best bet for you.
Whenever I'm in Bangkok, I move around mainly with the BTS. Not only is the fastest and cheapest way to go, but it's paradise for a single man in Bangkok.
Try getting on at the Thonburi BTS at 8 AM and you'll understand what I'm talking about. Amazing body to body with office girls, very easy to strike a conversation.
3# Shopping Malls
Bangkok is packed with shopping malls. And guess what? Thai girls love spend the day walking around with friends and why not, meet some handsome man.
This isn't suitable for the introvert guys but plays out very well for the confident Alpha male. One note of advice — as mention earlier Thai girls are super shy and can speak little or no English at all. If you don't want to scare them off, approach gently and talk softly.
I approach using simple phrases that are common in English and most girls can understand:
"Hi"
"Where is…"
"What's Your Name?"
"You look lovely" 🙂
"This is my number"
Keep it simple and to the point, smile and hand over your telephone number.
Repeat the system over and over again. In one hour, you'll hand out around ten numbers which will convert in 2-3 dates. It has worked for me, I'm confident is going to work for you too.
The first time you might feel awkward and tense. But practicing only for one hour will make you a more confident man. This system haS changed my life. No more FEELING depressed and lonely.
4# University Areas
Universities and campus are my favorite playground to meet young and super cute girls. Most of the girls studying at universities are quality Thai chicks.
Salaya Campus and Ramkhamhang University. So many girls willing to learn new things 🙂
These places are most suitable for men in their 20s who can speak basic Thai.
In other words, how can you relate to girls in their 20s if you are 40+ and don't speak a word of their language? I suppose not much.
Do you want to be a " Sugar Daddy"? In this case, you can meet girls online. Chris from Living Thai has done an excellent guide for aspiring Sugar Daddy in Thailand.
5# Bangkok Nightlife
Nightlife in Bangkok offer opportunities to meet good Thai office girls as it would be in your country.
I mention Bangkok because tourist places like Phuket and Pattaya aren't suitable to meet good girls, but only prostitutes.
Thong Lor, Ratchada and RCA are excellent nightlife spot where Thais and foreigner meet to have a good time together. If you've no idea how to pick up Bangkok girls, well, it might not be the place where to start. In this case, I recommend the online dating scene.
READ MORE: How To Meet Filipina Girls Even When You Are An Introvert
MAJOR high five to you, friend. I can tell that you're here because you're truly ready to meet a legitimate Thai girls instead of hitting the red light districts like 90% of foreigners in Thailand.
I warn you! By dating good Thai girls, you'll end up getting married soon.
Awaiting your wedding picture.