How To Meet Quality Filipino Women
"Not interested in the usual Filipino bar girl in the red light district? Get to meet genuine girls hungry to date foreign men instead"
I don't have to tell you that any Southeast Asian country is famous for beautiful women. The Philippines are no exception, with many HOT young girls choosing to work in bars and red light districts.
And if you're looking for the easiest and fastest way to get laid with Filipino women for a nightstand is by paying for playing… Which there's nothing wrong with.
Those girls don't care about you. They care about business, and their goal is to get money out of your wallet and into theirs… Not the kind of love story you want for yourself, right?
If you're looking for something more then a night stand, don't ignore the armies of single Pinay chicks ready to offer real love and affection in return for your companionship.
In this article, I'll explain why you should never mix business with pleasure in the Philippines – and why you should give "regular" Filipinas a chance.
Understand What Regular Girls Have to Offer
Okay, so first thing's first: bar girls and red light district workers are awesome.
If you want a night of unrestrained sex where you can do whatever you want with your personal hot, young, willing fuck machine… Then there's nothing wrong with a working girl.
However, if you want REAL affection… If you want a "good girl" who's only been with a few men – or none at all…
And you can see yourself waking up with a young, loving Filipina that starts the morning off with hot sex, then a hot continental breakfast, then showers you before going to work… Then you really need to give regular girls a chance.
I'll tell you exactly how to meet them in a second…
But first, let's take a look at 4 factors that make Filipinas perfect companion, starting with:
Filipinas Are Great Wives
In the Philippines, divorce is illegal and Filipinas are expected to dutifully serve their husbands.
They only get one man, and they're expected to keep him happy and productive by catering to his needs.
This means that in a Pinay girl, you can expect not only a loyal friend but also a partner that's going to say "Yes" to any of your needs. From cooking breakfast to dress up as a naughty nurse; a private nymphomaniac catering to your fantasies and needs.
I might be exaggerating a little, but the point is that Filipinas are very serious about being great wives, which makes them quite different from modern Western women. If you've married one, you know what I mean.
Filipinas are Family Oriented
Filipinas prioritize family, meaning they're happy to have children, meet your relatives and – of course – get married.
They're also Christian, which means their family values are a lot closer to yours than you might think.
Filipino Women Respect Their Husbands
I think it's safe to say one thing: "we're sick of Western women's bad attitude ".
It's normal to have misunderstandings and disagreements – but it's not right for you, as a man to deal with crap from the person you love.
Filipino women understand this, and make a great effort to always stay sweet and sunny. Even when profoundly upset, your Filipina wife or girlfriend will find a way to let you know without coming across as aggressive or pushy.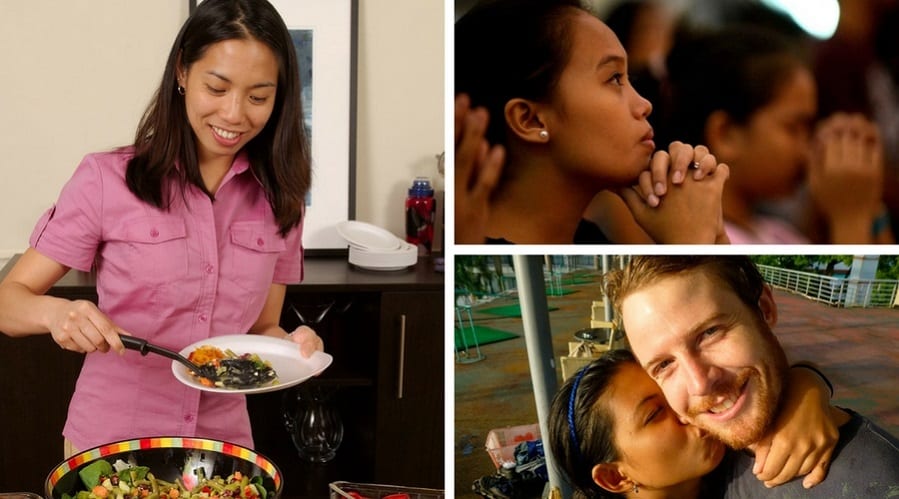 Filipino Women Do it All With a Smile
One of my girlfriends often used to say, "if you can't do it with a smile, then don't do it at all". I find that this encapsulates the Filipino way of thinking: either do something with sincerity and generosity, or don't bother.
In other words, your Filipina will never treat her duties as an annoying chore or an inconvenience. They will make themselves available to you first, serve you with a smile, and then express what's on their mind without getting passive aggressive or mean.
And what do you get when you put all these things together? Well, just imagine this…
The first thing you see in the morning is your beautiful Filipina. She's already been up for a while, made breakfast and hot drinks while taking care of the household.
But when she sees that you're awake, she lights up and comes to your side hurriedly to ask how you're feeling – and what you're in the mood for.
And if you're like me, a day can't start without some Bunga Bunga. Right, bro?
After having a passionate morning exercise, a quick shower and go off to work feeling ready for the hard day ahead. Completely secure in the fact that your woman is going to hold down the proverbial fort while you're gone, maintaining a cozy and comfortable home for you.
That's why you should meet Filipino women outside of red light districts, my friend! Only a real, loving woman can show you that kind of love or tenderness.
It doesn't matter if you want a one-week fling or a marriage that lasts a lifetime; there's an undeniable chemistry between Western men and Filipino women, and not experiencing these wonderful Asian girls is borderline criminal in my book!
You might be wondering: "How the heck can I meet these type of Filipinas?"
Well, in the old days I used to go walk around malls, restaurant or university campus picking up "good" girls. It's FUN if you're a smooth talker and feels confident to make conversation on the fly.
Having said that, some of the best girls in the Philippines will flat-out refuse to talk to foreigners they don't know – especially if you're in a small city… Because this is still a Christian, conservative country with traditional values – remember?
Instead, what many young women do to screen for serious-minded guys who aren't looking to smash-and-dash without so much as taking them on a date… Is go online.
That's great news for us, because meeting Filipino women online also work to our advantage in 3 ways:
By allowing us to talk to multiple women simultaneously.
By allowing us to screen women for seriousness/sexual intent, depending on what you want.
Allowing us to line up as many dates as we want – even if we're not in the Philippines at the moment.
Obviously, you've got to watch out for scammers online. Never give someone you don't know in real life money or your personal details; there's a small but active number of crooks out there, but so long as you use common sense, you'll find that you'll be just fine.
Another thing that helps avoid problems is using reputable Filipino dating sites that monitor the profiles for scammers. I'm sure you know this already, but it bears repeating; there are a few "bad" apples in the mix, looking to make a quick dollar. Fortunately, the majority of Filipina are serious to meet a good man.
Consider taking the time to check them out. It will give you an idea of the caliber of women you can expect to get in the Philippines.
Filipino women online are more outgoing and less shy than in real life, that make things much easier… a lot easier.