Thai Women Guide- From A To Z
The Ultimate Guide To Thai Women
Thai women are world known for their angelic beauty and feminine characteristic that make them appealing to men like bees to honey.
It isn't only about aesthetic beauty, but their charm with elegant manners will make you feel good to be next to a Thai woman.
They are an excellent wife, taking care of the house and you. Nothing similar can be found in the world, and this is the reason keep me coming back to Thai Women.
NOTE; This post is about Thai women living in Thailand. I like Thai women a lot, and this is the reason I'm writing this article and explaining why you should too.
I understand that someone might have a different opinions or thoughts about Thai women, if that is the case, I would love to discuss at the bottom of the page.
[bctt tweet="Thai Women Guide For Men Looking For a New Flavor"]
Everyone looking for marriage is after Filipino girls, because the superior English language skills and closer Western mentality (they were Portuguese colony for centuries).
So I thought I would give a go to Thai women. I've dated and banged Thai women for five years now so I want to pass on all the good things about women in Thailand and things you should know before date one.
Thai Women Features
An overview of the characteristic of Thai women which make them wanted by men all over the world.
They know to be beautiful and feminine, in fact, they use it to their advantage in attracting men and get whatever they want.
I see so many Thai women driving expensive cars, dress "a la moda" and enjoy the good life thanks to their ability to attract men.
Yes, it might sound weird but Thai women act like babies even in their 30's, sleep with teddy bears and dressing the bedroom like a six years old kid.
Don't be surprised once invited to her bedroom to see "Kitty" stuff (fictional character produced by the Japanese company Sanrio, very popular in Asia), sleep under "Pokemon" bed sheets… welcome to Thailand.
It's a different world, but this "cute" way of Thai women is very attractive, and because they seem naive, Thai women let the guy do what they want.
This "super cute" way of life, by the face, the way of dressing will make your adventure in this new world exciting.
Thai women are sweet and polite to those who treat them well – there isn't much bitchiness from them (like American women), though this can vary depending on where you are in Thailand… farmers are farmers, after all.
Looks Matter
[thrive_2step id='16353′]
If you visit Thailand before, you would have notice beauty saloon and products everywhere, the aesthetic industry is huge in Thailand because Thai women care about their beauty and in most cases, their beauty will land opportunity forward them.
Naturally, Thai women are stunning. I want to make my case in the poorest region of Thailand (Isaan) where people have barely enough money to eat and live in the dirt.
However, when the young girls move to the city and earn a better income, they can afford to dress up properly and pay a visit to the saloon, these girls transform them self in models.
Women from East Thailand are usually dark skinned, small and with a firm body shape. They are the lowest of society.
Instead, the north part, with the center in Chiang Mai, are tall and extremely delicate; their faces are similar to Chinese and the skin white.
Thailand has 77 provinces which everyone state they have got the most beautiful women, I would say Phetchabun women are the best, simply because;
~ They are tall, slim, and the skin is soft as silk
~ The area is rich in natural resources and heritage, making them playful and entertaining to talk
~ The body shape is sexy – in all the right spots – which drive me horny
Thailand women come in multi flavors, making your head spin around while traveling the country.
[bctt tweet="The sexiest Thai Women Are From Phetchabun"]
Attitude
Soft talked, Thai women will not make their presence feel, they tend to be in harmony with the world. They are always happy, no matter how hard life can be.
What I like the most is their patience and understanding, trying to avoid conflict at all the cost, it's refreshing in a relationship or marriage.
How often have you had fights with your partner? It's tiring and unproductive, but it's part of the Western society to deal with personal misunderstandings.
Thai women treat their boyfriend or husband very well, no matter what background they are from and are considerate. There are the exceptions but has a general rule; Thai women are caring and respectful forward the husband.
In Thai society women are raised under a strong influence from their parents, told what to do and rarely Thai women have time for free thinking or making their decision.
You can mold your Thai girlfriend as pleased, teach her what you like and she will ensure to satisfy your demands. This is the main reason, millions of men visit Thailand to experience sexual pleasure.
It's important to be clear and direct about what you want her to do and be patient because your way of thinking and doing things are different.
Thai women rarely speak their mind openly, so you'll be faced with unspoken expectations.
It's important to interact with her on a different level of communication to get to understand what she expects from you.
A Little Deeper Into Their Psyche
Something unique about Thai women is their non-confrontational attitude. In a world where women want to have the same men's rights, confrontation is the norm, but in Thailand is considered rude.
It's very rare to meet a Thai woman who is aggressive in relationships, business or even if it's just in everyday life.
You can have a peaceful relationship without the usual Yak Yak. Thai women bring harmony in the relationship, avoiding conflicts which are considered unacceptable in Thailand.
Thai society is still obsessed with class, status, and race, so it's your background that matters a lot here. You'll engage with local women of your status, so if you have a good job and able to provide for her, you can date a HiSo Bangkok woman with a good job, university degree and wealthy family.
In this regard, I recommend that foreign men interesting in dating Thai women invest some time in reading material on Thai culture and in particular real stories of Thai women marrying foreigners.
An excellent book on this subject is Thailand Fever by Vitada Vasant and Chris Pirazzi.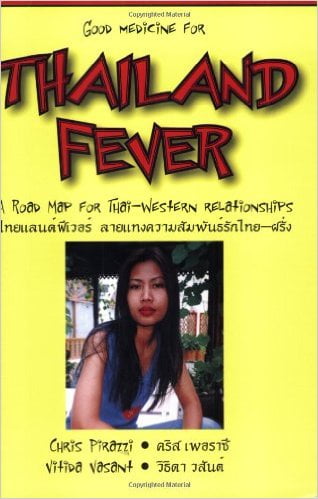 Thailand Fever is divided in two parts;
1# The first part is for "him" explaining in details about Thai culture, common problems having a relationship with Thai women and their view about sex.
The book is an easy read and clarify important concepts about having a relationship with a Thai woman. It's worth the investment before commit.
It's fundamental to have a preparation before getting hooked up in a long term relationship. In the beginning, everything seems magical, but with time the difference in culture might affect your daily life.
Did you know that Thais spend a lot of time thinking about food and enjoy spending a long time chatting with friends while having a meal?
Would you imagine her living in London or New York where life is super fast? She'll burn out very quickly and want to go back her home country. And don't expect to feed her with burgers and hot dogs, she need eat Thai rice daily.
Did you know Thai women are always ready to have sex with you? They want to please you.
2# The second part is for "her", written by a Thai woman explaining the common problems faced with a Western husband.
The text is in Thai language, and it's a great tool for your Thai girlfriend/wife to learn more about Western culture. Because is written by a Thai woman in the Thai language, will be easier for your companion to grasp most of the concepts.
5 Things That Keep Me Coming Back To Thai Women
Thai Women Are Super Sexy
In Thailand the cuisine is based on rice products, lot of vegetables and fruits. The weather is tropical, so the food intake is relative low compare to colder countries and has result, Thai women are slim, have a silk skin and are extremely sexy.
It's a strange fact, but Thai women are lazy when it comes to fitness and sports, but still they don't get fat and keep their beautiful bodies. Unfortunately, with the rise influence of fast food like KFC and McDonalds have been enthusiastically embraced in Thailand, the younger population is getting fatter.
However, nowadays only 17.1% of adult Thai population is obese, and this is what make me come back to Thai women, enjoying their slender bodies. Just have a look to Miss Thailand 2015 and you will understand why I'm so into Thai women.
The average Thai woman is attractive like the top Western women, in fact, once land in Thailand you'll be overwhelmed by the staggering amount of beauties all around you.
When I walk around, I constantly look at the local women and sometimes make my head spin around. I would love to have all of them but that is not possible.
I've been in other countries as Cambodia, Philippines and China. But the amount of sexy girls is far lower than Thailand.
So, as a matter of fact, the Pareto principle 80-20 rules is working well in Thailand, 80% of women are fuckable with a 20% effort compare to approach Western women.
Thai Women Are Easy To Approach
What is the point to have many beauties if the girls aren't approachable? It would decrease your chances to meet a beautiful woman and ultimately gets you laid.
But in Thailand, this isn't the case. Thai women are easily approachable, and they always smile at you and answer with kind to any of your inquiries.
This is an opportunity to open a conversation with any local woman, developing a conversation and ultimately get a date.
So often in Europe, women have refused my approach rudely but in Thailand, it's never the case. Instead, they are more than happy to engage in a conversation or help out with any information.
Awesome!
Before traveling to Thailand six years ago, I enrolled with The Tao of Badass program because I wanted to learn how to pick Thai girls in malls, shops and on the streets.
Back then I was inexperience and terrorized to approach beautiful women alone (without my friends), and my trip to Bangkok was only three months away.
I was drawn to learn more about The Tao of Badass after hearing about its excellent reputation – of it's 100,000 + online users, 95.7% have found success with women. I think all come done to Joshua's philosophy; "What attracts women has nothing to do with money and good looks, rather, pre-selection".
Thailand has been a fertile ground to train myself to approach women, having met hundreds of them and push my limits after realizing Thai women wanted to speak with me. I wasn't bothering them, I wasn't a creep and looked exotic to them.
If you think you must be young, handsome, tall or rich to meet attractive Thai women, think again. What Joshua said is all about pre-selection which means target the right women more likely up for dating or sex. If you target the right Thai women and use the tight approach, isn't unusual to get laid on the first date.
Forward to the next point.
Thai Women Are Open Minded About Sex
In Thailand, sex isn't taboo, actually is deeply in their culture.
The world famous reg-light districts of Bangkok, Pattaya and Phuket are the evidence Thailand is open minded about sex.
Back to the Thailand countryside, sexual services can be found in the form of karaoke bar where usually Thai men meet to sing together, get drunk and get laid.
If you didn't live under a rock, you know prostitution is widespread in Thailand, and the country is open to it. I'm not interested to talk about prostitution, red light districts or sexual services in this article, but if you want to learn more, read the Thailand sex guide and you will know all the about for a naughty vacation.
It's rude to touch a Thai woman or show affection in public, making Thailand a conservative country far away from the red light districts. Good girls with an education and a sound job aren't so experienced in the art of sex.
[bctt tweet="There are many Thai Women Vergin Till Marriage"]
Thankfully with Thai culture, most of what you see on the outside is just a mask while the inside is what's real. Meaning that behind closed doors Thai women are quite adventurous and interested in sex and all the dirty little things that can happen.
I've date girls on their late 20s and sex was just terrible because they never had the chance to learn with their only one Thai boyfriend.
A Western woman would be much more experience, having slept with multiple men starting as early as the college time. A Western woman in their 20s is sufficiently knowledgeable about sex.
What attracts me to Thai women in my personal experiences I've found that most Thai women are curious and willing to go all the way to experience sex with a foreigner because they are curious.
Thai women are open about many things, just lead them and they will be eager to learn and please.
Pleasing the men is a Thai woman duty, and I should expand on this being the pillar of Thai society and an excellent reason to date Thai women.
Thai Women Are Eager To Please
This is my favorite point. Thai women are so dedicated to pleasing their men in multiple ways.
She'll make sure you have eaten at least three times per day, buying and cooking your favorite food. I love food, for me having a woman taking care of my stomach is imperative.
This is just the beginning. You'll have your clothes cleaned and ready all the time, enjoy your favorite drink without being harassed by her.
You might wonder, and sex?
Well, whatever please you, she'll be up for it. You want to have sex every day, no problem, you want three times per day.
Their parents raise Thai women with a profound respect forward men, and Thai women are the bone of the family.
Be direct about what you expect from her and what you are going to give back, don't leave space for unspoken expectations. You are a foreigner, your culture is very different from hers, and you might discover along the way a unique world.
What most I enjoy about Thai women:
~ Massage me; Thai women are the master of sensual massage, and feel great to get the extra before going to sleep.
~ Cooking; Thai cuisine offer a variety of delicious dishes, I love curries.
~ Dress up; Thai women look so cute in high hill and college skirts, I buy and let her dress up for me before a pop.
~ Organize a threesome; other Thai women are easily convinced to join for a threesome if invited by my Thai girlfriend.
~ Take care the house; I find it very feminine watch a woman to clean the house with love and care.
There is more to add to the list, but I think you get the point. They will do anything for you if you treat them in the right way. No worries, you don't need to buy an expensive gift or pay for fine dining to please her, Thai women are pretty easy to get along.
Thai Women Are Always Happy
I love to see them smiling most of the time, make me feel wonderful. I had a relationship in the past with European and Russian women, and they lack this aspect.
They tend to complain most of the time, never happy about something (you or the weather) making the life miserable for a man. I was so happy when my ex-girlfriend had to go to work. It was a relief.
Thai girls are also much more optimistic in daily basis about anything. They never think too much about some bad thing that happened or a problem they have, they just go and try to make the best out of every situation without worrying too much.
How To Meet a Woman From Thailand
I hope by now I could convince you that meeting a Thai woman is well worth, if not, please go back to the beginning of this article and read it again.
There are so many reasons why you should date a Thai woman, and you can learn more about type of Thai women plus 8 things you should know in the Thai girl's guide.
I assume you are reading this article from the comfort of your home country, so I will start from there to teach you how you can meet a Thai woman online.
1 ~ Meet Thai Women Online
Thailand in the recent years had a boom of sale in smartphones with a standard internet connection allowing women to connect with the world like never before. Even women living in the countryside have access to the net, and it is estimated a rough 90 million cellphone are active with 67 million people.
Thai women are obsessed with Line, Facebook and Instagram. These platforms are great to engage Thai girls, especially Facebook and Line but take effort and time to get into their circle of friends. Besides the usual hookers, good Thai women will not friend you on Facebook.
They want to talk to you, but because they are worried about what their friends will think about her if she friends a Falang (white man).
2 ~ Meet Thai Women in Real Life
In the second phase, after have met few hundreds women online and cut down the selection to few favorite ones, it's time to plan an adult trip to Thailand and meet the girls in real life.
If you didn't bother to meet local Thai women online because you aren't interested in building a relationship but instead want to bang as you go, no worries, Thailand offer the best of adult entertainments like;
~ Ago-go and Beer Bars (Red Light Districts) in Bangkok & Ago-go and Beer Bars (Red Light Districts) in Pattaya
~ Gentleman Clubs
~ Street Hookers (Low Quality Freelancers)
~ Club Hookers ( High Quality Freelancers)
When your plan is to pick up Thai girls, you'll find useful the Thai's Girl Guide wherein the bottom of the page I explain how to approach Thai girls in universities, discos, wine bars, and malls. I've used these methods and got several dates. If I succeeded, you can too.
3 ~ Meet Thai Women and Visit Thailand in Tour
Not everyone has the time or is adventurous enough to experience Thailand by himself.
There are several complications such language barrier, first time traveling to Asia or some man is too shy to approach girls alone. These are just few main problems which my reader ask for help, but each individual case as his own issue.
I understand that and I've a solution for you.
LoveMe is a specialize tour company which focus in providing the best holidays and help you to meet local women. They have multiple tours worldwide, and they cover 3 main Asian destinations; Thailand, Philippines and China.
They offer a Thailand Tour every few months where beside meeting beautiful Thai women, you'll also experience Thailand nightlife, golfing, shopping and more.
You can find more information about their Thai Tour by Clicking Here.
Dating Thai Women
It's an exciting experience to date a Thai woman for the first time.
However, it comes with few complications considering the cultural difference between you and her.
Relationship
As spoken earlier, a relationship with a Thai woman is special and unique. Nowhere in the world you'll be taken care so well like in Thailand, Thai woman knows how to treat a man.
Thai women don't express their feelings openly to you, especially the negative one because they don't want to hurt you. So be ready to analyze her body language and read her actions to get a hint of how she feels about you.
It's important to understand when something is wrong. She'll not express herself immediately, and this can be a time bomb.
You don't want to be there when she'll be exploding in anger. Things might get messy very quickly.
Keep things simple and try to go with the flow.
For the older men, it's normal a big age gap between you and her as far as you take proper care.
Sex
Thai culture is open about sex, Thai people talk and joke about it all the time. However, Thai women are shy and prefer to keep their affairs behind closed doors.
Avoid in touching or kissing in public. She'll feel embarrassed.
Besides hookers and bar girls, don't expect your Thai woman will know much about sex, be patient and teach her everything, She'll be happy to learn how to satisfy your desires.
I'm always fascinated by the way Thai understand and view sex in their culture. I've put down in an article my humble knowledge on "How to Have Sex With Thai Women".
Preparations is important to improve your personal experiences and enjoy your sexual life with Thai women.
Common Problems
The are always problems in a relationship. fortunately much less with a Thai woman than a Western woman.
Let's get start with the biggest problem; money. Your financial disparity will be huge, and you are going to shell out most of the expenses.
That means, dinners, shopping, living expenses and sometimes when the Thai woman you are going to marry is from a poor background, you will be asked to pay a dowry.
Kaewmala posted an informative article on ThaiWomanTalk.com about money and Thai women, it's worth the reading to understand this concept from a Thai perspective.
As a farang myself, I can say the concept to give to your Thai partner money every month might sound weird at first, but considering the low wages they have got in Thailand, it's the only way to have a balanced relationship.
Give money to their family, in my mind is just a waste because will not help them to improve their status or condition of life. Only education and knowledge can improve the condition of poor people.
The second problem will be communication because you speak a different language than your Thai woman. You are "hungry" and she'll understand that you are "angry" with her, or you tell her to "fuck off" during an argument, and she'll take all her things and move out from the condo.
Things like this will be common and sometimes stressful, but if you approach the situation with an open mind, patience and positive attitude, everything will be OK.
The third problem is indulging in sex with your Thai woman, it can be addictive, seriously.
Thai women are extremely feminine and are eager to please while doing anything you ask. I get hooked up in this pleasure, and spending days in the bedroom to play with my Thai woman.
It's difficult to control your passion with a young and attractive Thai woman, something you couldn't have access back to Europe.
Thai Women Dating Tips
Dating a Thai woman isn't much different than dating any other ethnic woman. You need to be a confident man able to approach, talk and convert your targets in a sex experience, full stop.
There is a precise process to follow in selecting the right women ready to have a relationship with you, no secrets phrases or magical techniques.
A guy that I deeply respect is Joshua, it's philosophy is simple yet effective; "What attracts women have nothing to do with money and good looks, rather, pre-selection".
I have learned a lot from his program – The Tao of Badass which is a rejection-proof system that teaches you a step-by-step method to approach, attract, seduce, and take girls back home with you even the same day you met them. Not only it will work great in dating Thai women, but in dating any woman, even your neighbor.
Joshua is a much better teacher and communicator than myself, check out the 7 Simple Tricks to Have Any Woman You Want's Video to get started in picking up girls easily.
What You Should Know About Thai Women
By now I've given you so much information that you can meet a Thai woman immediately and date her like a pro. I've left some interesting curiosity about Thai women which will help you to understand her better, without thinking you've met a creep.
Know where she comes from, what matter for her and values, will help you to succeed in the relationship.
Food
Thai people love eating. Not only that but they take as long time as possible to eat and socialize with friends. You" wonder why every few hours she will want to eat or ask you about lunch and dinner all the time.
The funny thing is they don't plan in advance or have a regular time to eat, they just feel hungry and want to eat now. Make sure she get her rice daily, otherwise she is going to be mad. Mostly, don't like foreign food and can't stay away from their favorite dishes for too long.
Religion
Religion is centered around Buddhism with some Muslim minority. Good girls pray every evening before going to sleep and once per week pay a visit to the temple. It's a nice religion centered around peace and do good. You will not be forced to follow them, and in the case of a baby, you can decide which religion to follow.
Values
In Thailand family is important. They take care of each other, and if you get marry to a Thai woman, it's like to marry whole the family. Thailand women are also extremely domesticated. Pride in keeping their homes clean and well looked after.
They believe in take good care of their boyfriend/husband, so he will never leave her for another woman. Thai women are smart!
Background
In Thailand, family background matter. Thai society is structure in classes.
Usually, people between classes don't mix. Yes, your family, work and status matter a lot in Thailand, more than in the West.
Help Me Help YOU!
I would also be interested to hear your feedback on this blog and its direction.
In the comments can you tell me-
~ 1 thing you like about this blog
~ 1 thing you don't like about this blog
~ 1 thing you would change about this blog
This feedback is critical as I work to improve the blog so I can serve you all better!
Thank you very much to join me in this journey!