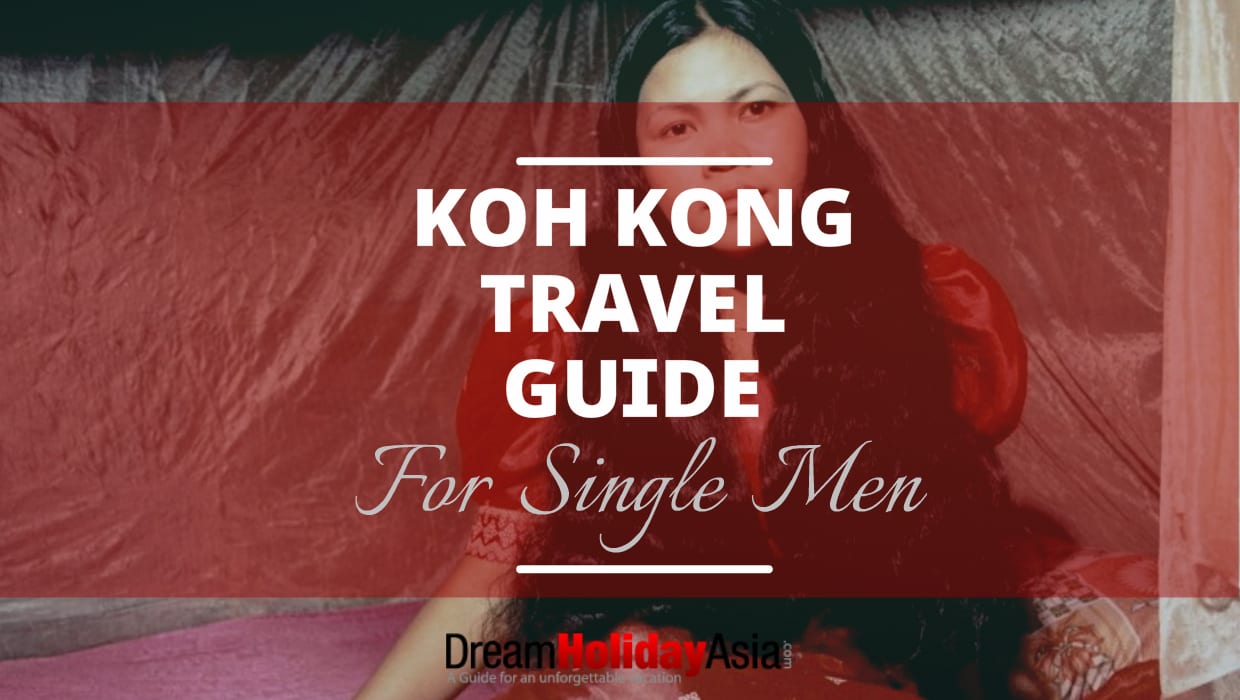 Koh Kong Travel Guide For Single Men
Once a remote, frontier town which as recently as 1998 saw Khmer Rouge fighting.
The sleepy river city, which until recently was overlooked by many tourists in transit from Thailand, sits on the doorstep of striking environmental Koh Kong emerges as an eco-tourism destination biodiversity and breathtaking beauty.
If you are a wildlife lover, I would recommend Koh Kong to you, but if you are a wild pussy lover, you better off to find a Cambodian girl on a popular dating site, then take with you to Koh Kong.
What About Sex And Girls In Koh Kong
Girl-wise there is almost no action, I don't recommend Koh Kong for a sex vacation. However, if you bring a Cambodian girlfriend with you, it's an awesome place to have romantic experiences and even longer nights of intense sex.
The reduced number of foreign-owned guesthouses and girlie bars prove that fewer foreigners bother to deal with the hassle on the border.
The virgin or whore paradigm is very strong in this socially conservative nation.
Men are expected to sleep with prostitutes, and women are required to remain virgins until marriage. Well, I don't understand how this is possible and in fact, it is only a paradox.
Typical Costs
Sex: the brothels are now located only in one spot " The Chicken Farm" outside of Koh Kong, and it is a very small area. The Chicken Farm only has about 5 or 6 brothels on each side of the red dirt road. All of the girls that work there are Cambodian and Vietnamese at around US$5 for a 'short time'.
Accommodation: Most guesthouses have dorms room for between $4-10 dollars per night. Private rooms range from $10-15 USD per night. You can get comfortable hotels for $15 – 20 dollars with air con, TV and other amenities. After that, the sky is the limit but I've never needed to spend more than $20 USD per night for luxury in this country. Most of the accommodations are girl friendly.
Food: is very cheap in Koh Kong. Street food will cost you about $1-2 USD per meal and restaurant food will cost between $3-5 USD per meal. Western meals at nice restaurants cost more, from $5-10 and upwards. You can get some real world class food in Phnom Phen these days and dishes start at around $8-10 USD. Fruit on the street will cost less than $1 USD.
Transportation: Local transportation is cheap, costing only a few dollars. You can get anywhere in the country for under $10 USD. Renting a driver for the day will cost you between $15-20 USD.
Tips & Tricks
Pay in the local currency. Usually, everything is priced in dollars but a dollar here and a dollar there really adds up. Paying in the local currency can save you more money since everything is not just "one dollar."
Yam Yam means BJ in Khmer language and asks the girls in advance if they are willing to perform it. Some will refuse while others will accept but later in the room, they will not do it.
Visit the chicken farm during the day for your safety and you can have a better look at the girls. The night may mislead you.
TOP VENUES
Koh Kong Safari World
The park has the usual zoo animals but it also puts on the sort of live-animal shows banned in most countries, with performances reminiscent of a 19th-century circus sideshow.
Every morning, and into the early afternoon, birds ride tiny bicycles, orang-utans dressed up as boxers throw punches and a man puts his head inside a crocodile's mouth.
Chi Phat Chi Phat is located in Koh Kong province, which is in the Southwest of Cambodia. Chi Phat is mainland South East Asia's largest remaining tract of rain forest situated directly in the heart of the Cardamom Mountains.
Kbal Chhay Waterfall Nature and Wildlife Reserve near Nengkok Village, Bakclong Commune, Mundol Seyma District, 24km (2h:15mn) from the Provincial Town.  
MUST TO DO
Chicken Farm Visit the world knows "chicken farm" considered a village of sex slaves on the Cambodian island of Koh Kong. UPDATE; It's been close down.
Visit Phnom Penh – Only a few hours away, Phnom Penh being the capital of Cambodia has much more to offer.
The nightlife is good fun, offering a wide selection of sexy Khmer girls and a variety of places from which to choose – dance clubs, sports bars, neighborhood pubs, karaoke, upscale clubs and more.
RELATED ARTICLES