Subic Bay Travel Guide For Single Men
If you want to make sure to get laid in Subic Bay, you should read this guide.
Subic Bay is a beach resort town with a small red light district with several girlie bars.
But there is also an abundance of everyday girls craving to find a foreign boyfriend. This means it isn't necessary to pay for sex if you prefer intimacy and companionship.
You can simply rent a holiday girlfriend for a few days or weeks. Or find a Filipina sugar baby if you're looking for a long-term arrangement.
You should enjoy your trip to Subic Bay instead of worrying about where to go, what to do and most importantly how to do it. And this guide will help you to achieve it.

This Subic Bay Sex Guide was last updated on 10 November 2021
***
Contents
Click a link to skip to that section. Don't skip any sections!
***
Intro To Girls & Sex In Subic Bay
General information about Subic Bay
Typical Costs +Tips
General prices in Subic Bay to help you budget your adventure
How To Get A Local Holiday Girlfriend In SB
How to meet and date Subic Bay women during your vacation
Things to Do With Your Subic Bay Girlfriend
Places to visit and activities to do in the company of a local girl
Subic Bay Nightlife & Top Venues
The best nightclubs and bars in Subic Bay to pick up girls
–
Whenever I visit Subic Bay, I feel like going back to the 80s. In fact, the place is underdeveloped and feels isolated from the modern world.
Subic Bay is a small resort town in the Philippines worth visiting. There are beaches and most importantly, HOT girls!
As you might know already, Filipina women are beautiful but there are many more reasons why they offer great girlfriend experiences.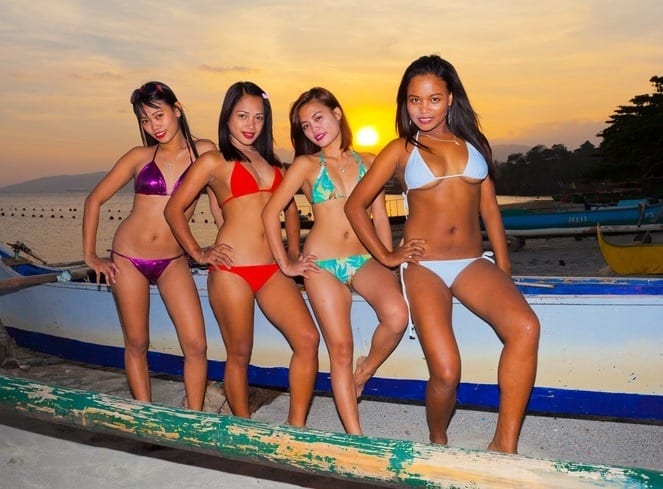 So, what Subic Bay has to offer?
NIGHTLIFE; A wide range of girly bars and nightclubs with HOT Filipina eager to meet you. Also,  "quality" office and student girls around the city;
SEA & SUN; Subic Bay has four beaches to relax and get tanned;
DIVING; Subic Bay has wreck–sites and several reef sites, suitable for both beginners and more advanced divers;
CHEAP; One of the cheapest resort town in the Philippines.
Subic Bay can't compare with Angeles City regarding girlie bars and nightlife.
However, being a resort town, there are a wide range of activities to keep you entertained during the day and enough bars for 2-3 naughty nights out.
What About Girls In Subic Bay?
The girls are genuinely interested in knowing you as a person, not as a walking ATM. Sure, most girls are in for the money but you'll not notice.
Subic Bay's atmosphere is laid back, with less pushy and easy-going bar girls. This translates to extra FUN.
Busy sex tourism destinations like Angeles City or Pattaya in Thailand, the girls are all about money, less about feelings and intimacy.
It's priceless the opportunity to meet "genuine" girls willing to please you. It's a rare treat nowadays, but still available in the few destinations like Subic Bay and Phnom Penh.
The reason is fewer tourists. The girls don't develop all the bad habits that MONEY brings, such as greed and lack of gratitude. On top of that local entertainments are cheaper than Angeles City and very economical compared to Manila. More on this in the next chapter.
If you aren't into bar girls, you can everyday girls on popular Philippine hook up apps. They are shy at first, but with patience and sweet messages, eventually, they open up.
To recap… Subic Bay a wonderful destination either for lust or romance. If you want a naughty holiday, the numerous girlie bars in Barrio Barretto provide plenty of young and sexy Filipina.
However, if you want to spend a relaxing time with a local girlfriend, Subic Bay has wonderful beaches and resorts to make your moments unforgettable.
Typical Costs in Subic Bay
If this is your first time traveling to Subic Bay, you might be wondering how much everything costs.
Let me tell you just this: "Subic Bay is cheap, very cheap". Below is a breakdown summary of what you should expect to pay in Subic Bay.
• Accommodation's Prices
You're going to be spoiled with the choice of hotel's rooms in Subic Bay. You can get cheap rooms near the red light district in Barretto or luxury accommodations by the sea.
Generally speaking, most of the time I stay in The Pub Hotel for 1.500 Pesos because is near the bars in Barretto and Baloy Long Beach.
When I travel there with a date, I go for a more romantic option in Mangrove Resort Hotel which has all the comfort of an upper scale hotel and a terrific view from the bar. Yes, the girls love it!
Most accommodations are guest friendly in Subic Bay, meaning you don't get charged extra for guests.
If you would like to learn more, check out the 8 Best Adult Hotels in Subic Bay to Bang Girls.
–
Tips & Tricks
• Carry Only Cash; Keep it simple – keep it safe. The Philippines is a third world country.
• Use The Hotel's Safe; Your hotel room has a safe, use it! Don't fall to sleep with your valuables easily reachable by your room guest.
• Minimum Legal Age Is 18; When the police get involved, be prepared to pay 100.000 Pesos in a bribe or get jailed. Just ask for an ID before taking a girl back to your room.
• Drugs; The last thing you want to do is buy drugs. Getting caught with drug possession is a big deal in the Philippines.
• Bribe; For whatever reason, when the police accuse you of wrongdoing, don't argue, but instead pay up. The $$$ talks if you get busted and is the best way to go.
–
How To Get A Holiday Girlfriend In Subic Bay
When was the last time you had a romantic holiday with a young and beautiful girl? Someone truly interested in you, not only your wallet?
Subic Bay isn't only a destination to meet bar girls or freelancers in nightclubs. There are many local girls eager to meet you.
That's the reason why I rarely visit red light areas nowadays. Instead, I prefer to date local girls met online for an intimate experience like only a girlfriend is capable of offering.
The best part is you can get to know them before visiting Subic Bay. It allows you to learn about her hobbies, personal preferences, and why not, intimate details about her fantasies.
Meeting attractive and love caring women is wonderful, but is only one benefit…
… Experience new locations, eating different dishes, and clash with a new culture are all common side effects of traveling.
The best way to get a girlfriend in Subic is by using popular dating sites.
Girls on dating sites are there because they want to meet a foreign man, and you want to meet a Bali girl. It's a Win-Win for both of you.
Note: When searching for Subic Bay girls on a dating site, select Zambales and then Olongapo City. Subic Bay is a location under the Olongapo City municipality.
To get started, upload a few good photos where you are groomed, well dressed and look at best. Not drunk, stoned or posing in front of a Maserati that isn't yours 
Feel up your profile with a realistic view of your life and what you are looking for in a  girl. Keep it brief.
Make sure to verify your profile as this put you straight up on the search and that "verified badge" is going to land you more attention and response from the girls.
Just search for your perfect match (Zambales, Olongapo City) and start the conversation with the girls. That's it!
Build your list of potential girlfriends, and once in Subic Bay, just meet up.
–
Things To Do With Your Subic Bay Girlfriend
• Zoobic Safari  – Who doesn't like wild animal and adventure?
There are plenty of opportunities to take memorable photos with your new girlfriend 🙂
• Baloy Beach – This is the best beach in Subic Bay to relax and spend time with your sexy girl.
Nothing is better than taking her to a bikini shop and trying a few of them before taking a few photos.
And don't forget to play in the water together when there aren't people around.
• Ocean Adventure – I love their dolphin shows. You get the opportunity to play and swim with them too, fantastic!
–
Subic Bay Nightlife & Top Venues

In recent years, Subic Bay nightlife improved a lot with the opening of two new nightclubs that cater to locals and foreigners.
In the old days, the only entertainments for travelers were Subic Bay bars in Barrio Barretto and KTVs (karaoke).
As said earlier, this is a small city of only 250K people, so the nightclubs are patronized by the same group of friends every weekend.
It's hard to mingle with the guys, let alone to pick up Subic Bay girls. However, freelancers are available in exchange for cash.
Best Girly Bars In Subic Bay (Barrio Baretto)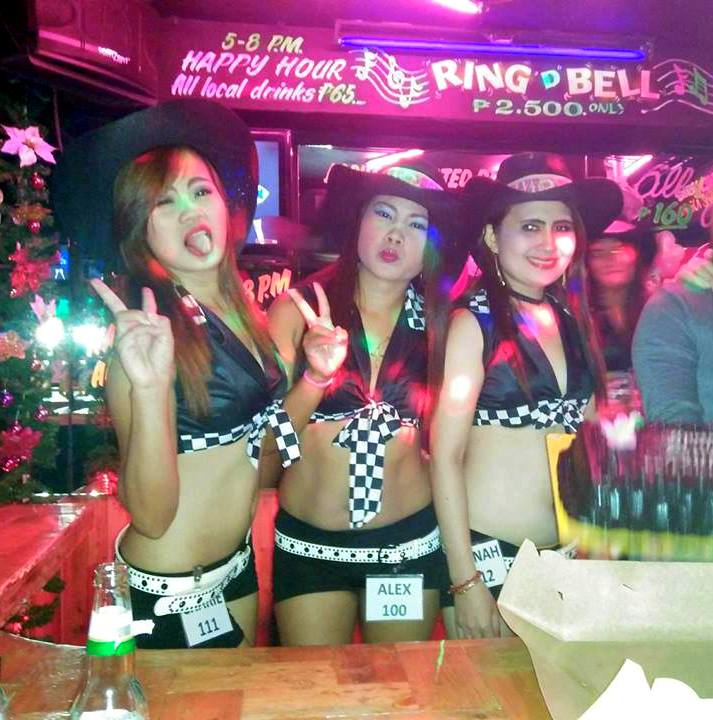 This destination has been underrated in recent years because after the US Navy personnel left, half the bars had to close. But Barrio Barretto strip has still 25 bars with girls eager to please you.
Every time I visit Subic Bay, not only do I enjoy the diving sites, but the bar girls are super FUN, while I get a better value for my money.
Why pay more for less?
Angeles City bars have more girls, but also more punters. That makes it harder to get the attention of the sexier girls.
You walk into a bar in Subic Bay and the girls "literally" jump on you. Not because you're a sexy man, but because the bars aren't busy with customers.
I enjoy the less "commercial" environment which translates in more FUN.
I notice most Subic bar girls are farm fresh (new to the bar scene), which offers an authentic Filipino experience with less bullshit and friendly time.
Unfortunately, nude shows have been outlawed, but no one is stopping you from meeting girls and having a good time.
Don't go too early – bars open at 6 pm.
The best girlie bars in Subic are:
• The Office Bar
A new addition to the naughty Subic Bay bar scene.
Young and quality spinners, it's a place of fun!
• Hot Zone Bar
This bar has a personal touch, very interactive for creativity, fun girls, games, and activities.
Not pushy in lady drinks, the girls aren't the most beautiful but definitely FUN.
• Club 20-20 Bar
Have been visiting this bar every time I have been in Subic since 2009.
One of the biggest bars in Barretto with 20 ladies on stage.
• Alaska Bar
Small, simple and intimate, this bar is run well, and it's noticeable by the fact that foreigners living permanently in Subic Bay are regular customers. Alaska's manager and girls make one feel at home.
The girl prices are similar in all the bars:
Beers for 90 Pesos;
Spirits 150 Pesos;
Lady drinks for 160 Pesos;
Bar fine is 2.000 Pesos all-inclusive.
If you would like to learn more, check out the full review of the best girlie bars in Subic Bay.
Best Nightclubs and Disco To Meet Local Girls
The nightclubs in Subic Bay are located in Olongapo, 6 Km from Barrio Barretto. Only two nightclubs are suitable for foreigners, called Club V and Nocturnal Disco.

The nightlife is casual and gets busy only during weekends.
If you are going alone, it might feel awkward considering the place has a larger number of Filipinos forming groups at tables.
You can find both freelancers and "regular" girls in the clubs, but It's hard to pick up good girls.
On the other hand, freelancers are easy to approach and getting laid for a fee.
So, it's a WIN-WIN.
• Club V
This nightclub is popular with locals, and gets busy only on weekends.
I visited this place early at night, trying to pick up local girls, but I must admit that is hard.
I usually get the phone number and meet the next day. The reason is local girls are there partying with friends, not interested in spending the night with you.
Don't look for hookers in Club V; you're better off at Nocturnal Disco.
• Nocturnal Disco
This club is a new addition to Subic Bay, much needed for many years. Nocturnal Disco has a big dance floor, a resident DJ, and sexy coyote dancers on weekends.
You've got a better chance to approach local girls, especially after they had a few drinks. The atmosphere is great, being international, while the girls are eager to talk to you.
Remember that the majority of the girls are hookers, so don't be surprised to be asked for money.
The girl prices are between 1.000 Pesos to 3.000 Pesos for all night deal. If you would like to learn more, check out Olongapo nightlife guide.
–
RELATED ARTICLES
KEEP SCOUTING
Philippines: Bohol | Boracay | Cebu | Makati | Manila | Angeles City
Asia: Cambodia | China | Indonesia | Japan | Kazakhstan | Malaysia | Mongolia | Singapore | South Korea | Thailand | Uzbekistan | Vietnam