Seoul Sex Guide For Single Men
If you would like to experience a sex holiday in Seoul, this sex guide has all the info you need. It makes your life easier to find sexy girls hot for action
Seoul is well known for having the finest Korean women in the country. Also, there are several red light districts to have fun.
Most of this guide focus on the play for pay scene. If you want to meet and date quality Korean girls, then use a popular Korean dating site instead.
This Seoul Sex Guide was last updated on 18 March 2020
***
Contents
Click a link to skip to that section. Don't skip any sections!
***
Intro to Sex in Seoul
General information about Seoul sex culture
Where to Find Sex in Seoul
An overview of the best places to get laid
Typical Prices For Sex
General prices for girls in Seoul to help you budget your adventure
How To Get A Holiday Girlfriend In Seoul
How to date and get laid with Seoul women during your vacation
Best Sex Hotels In Seoul
Love hotels for your erotic activities
–
Intro To Sex In Seoul
If you are visiting Seoul to have sex with the beautiful Korean women, it's possible but not easy.
Anything that offers full service with Koreans is notoriously hard to get into for foreigners. Put simply, Korean men do not want to see foreign guys with their women.
But there is a red light area only for foreigners to have fun. On top of that, you have a lively nightlife and dating scene where you can meet hot Korean girls.
In case you aren't much into Korean women, you can find other nationalities. There are Russian escorts as well as Filipina and Chinese ladies working in "juicy bars".
This is a good thing because Korea's prostitutes are not always willing to service foreigners (waygookin). Especially if you walk down on the red light area Korean eccentric. Instead, focus on foreign-friendly districts like Itaewon.
Here you can meet girls in clubs and bars interested in foreign men… Or you can engage the services of glass window girls on the street…
The sex scene in Seoul is pretty different from other Asian countries. For example, an unusual service is the kiss rooms. You can fool around with students for a fee.
Further, there are window girls exactly like in Amsterdam that offers a quick fack. I've never seen anything similar in Asia.
Just to give you a better idea of the different red light districts in Seoul:
In the red light areas, you can find different types of establishments selling sex, from the hostess bar to the massage parlors.
However, pay sex is only one way to get laid in Seoul, you can meet Korean girls online with a fetish for foreign men. From the student that needs extra cash to divorce woman that needs a good fuck.
Not only it is economical, but it's more fun and less risky then have sex with a prostitute.
What About Girls And Sex In Seoul
There is quite a lot of pretty, bright and beautiful girls with great bodies in Seoul. They know how to dress and look after themself.
Like in Japan, also in Korea the girls don't speak much English, especially the prettiest one. You might start a conversation but it's hard to keep going.
The best way is to talk with girls on dating sites and use the translator to communicate. That helps to learn about each other and create sexual attraction. That way when you meet up face to face you can get physical.
Girls in Korea are a kind of passive, they expect men to lead the conversation and everything else for that matter.
You are going to decide where to go, how to do it and when do it. That puts you in a position of advantage because you can get her in your room without resistance.
In fact, I never got refused when a Korean girl was in my room, I can't say the same with Western women.
If you want to get an easy laid, look for single women in their 30s. In Korea, girls who aren't married by the age of 30 are over the ripped age, but still, they need sexual satisfaction. Actually, they seem to be horny all the time.
The good news is that 30% of Korean women between 30 to 34 years old never got married. In other words, if you play your cards well with women in their 30s, you can be assured to get laid.
Many of these girls use sites like Seeking Arrangement to look for foreign men. Search for girls between 28-36 years old, there are some gems out there.
Where to Find Sex in Seoul
While visiting Seoul you might want to get laid, but you don't know where to get started. Here's my review of the best places to hook up with girls in Seoul, starting with…

1. Online
In recent years the internet has opened new opportunities to hook up with local girls. From the university girls that need extra cash to couples who are into threesomes.
When you are into your 40s+ and you want a much younger lady that isn't a pro, your only option is to sponsor a university girl. You can get a young Korean girl out of your league on sites like Seeking Arrangement.
Just meet up for dinner, and go to the bedroom later. If the chemistry is right, offer a monthly allowance stating clearly your conditions.
If you aren't that picky, and you only want to have sex, the best way is to use a kinky site like Asian Match Mate. Plenty of horny middle age women and couples interested in sex.

2. Nightclubs & Pick Up Bars
If you would like to party and meet Korean girls, you should consider hanging out at Itaewon. Seoul girls that go to Itaewon want to meet a foreign man…
Before clubbing, visit a pub-like Prost which is a casual meat market. Casual pubs/bars are the way to go because the girls are willing to socialize.
Avoid exclusive nightclubs and high-end bars. There are only stuck up psycho girls that don't want to fuck.
Having said that, the best pick up joints are:
3. Red Light Districts
There are several red light districts in Seoul but the most popular for expat and tourist is Hooker Hill in Itaewon. There are several juicy bars, clubs and window brothels.
In the bars and clubs most girls are from the Philippines or Thailand. The standard rate for sex is 50.000-100.000 wan. Buy them a drink for 20.000 won before proceeding to the bedroom, they will be a lot nicer.
If you fancy a Korean girl, head to the window brothels. Price starts at 120.000 wan for 30 minutes and one shot.

4. Erotic Massage Parlours – Anma
Like the rest of Asia, also Seoul has a good amount of massage parlors offering happy endings. They are known as Anma…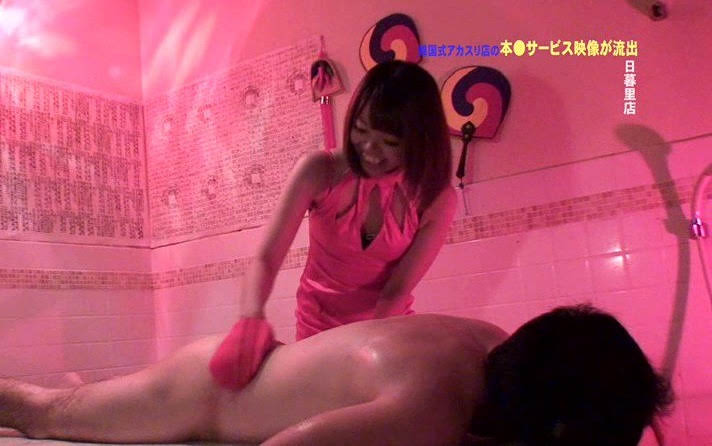 Unfortunately in most Korean Anma foreigners are denied admission. Here a comprehensive list of the most famous foreign-friendly Anma in Seoul:
Prices for an erotic massage start at 90.000 wan with handjob up to 450.000 wan for full service with two girls.

5. Escorts
Seoul has plenty of call girls. Just do a quick search online to find an infinite amount of escort sites like cityoflove.com.
It's easy to book a girl and wait for her to knock your door. But the downside is the stiff prices and the bait and switch tactics. You rarely get the girl you see in the photo. These reasons make Seoul escorts the least bang for your buck.
The cheapest Seoul escort charges 250.000 won per hour while top spinners want 400.000 won per hour.
Most of the escort girls business-oriented, not much space given to conversation and personal interaction. The service is rather mechanically, no really intimate.

6. Kiss Rooms
Also known as "kiss bang", these types of entrainment is unique to South Korea.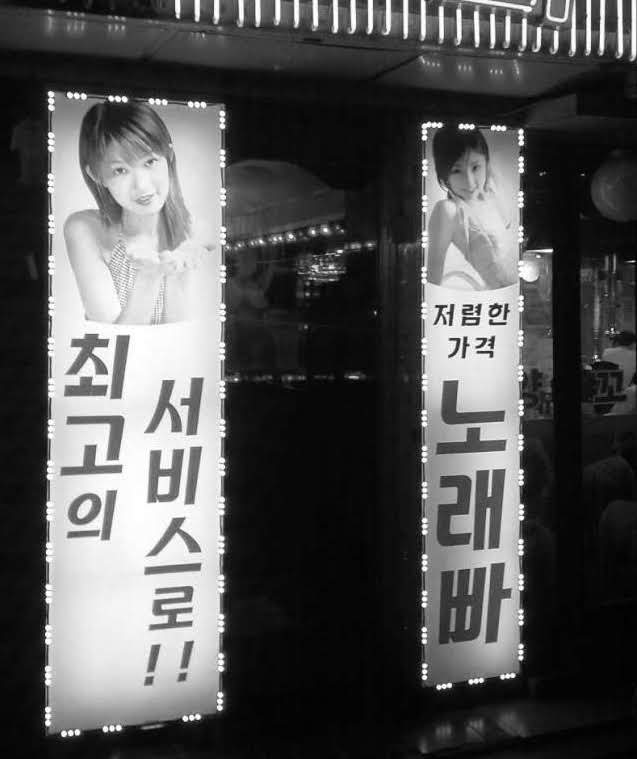 If you want to try this out, you need to be nearly fluent in Korean or the girls would be cold.
You get to sit down with a girl for 30 or 60 minutes and kiss her while playing with her tits and your dick. The girl might help you out and if she likes you, she might let you lick her nipples. That's all, no BJ or sex.
If it's something you might like to try, walk around university areas and pay attention to this sign: 키스방. The standard rate is 40.000 Won.
Typical Prices For Sex In Seoul
When visiting a business that sells sex, the prices are fixed and can't be negotiated.
Here a list of standard prices for each business type:
If paying a girl for sex isn't your thing, consider reading the next section where I explain how to get a vacation girlfriend in Seoul.
How To Get a Holiday Girlfriend in Seoul
Are you searching for a girlfriend in Seoul? But you don't know where to get started. Don't worry, I'm going to show you how to find one.
A girlfriend is the best way to enjoy your stay in Seoul and never to feel lonely. Enjoy each other company, visit places and get intimate are just a few of the benefits.
There are hot and fit women in their 30s and 40s craving to meet a foreign man. Not only they are great in bed, but they often pay for restaurants and drinks. It's a real treat.
They are aware of the stiff competition from younger girls, so they close the gap in other ways.
Find out a few of those horny girls before your trip. That's easily done by using any dating sites like Korean Cupid.
Visit Seoul without knowing the Korean language or using a dating site is just crazy because it helps you to get in contact with local girls before you arrive.
It doesn't take much to convince them to meet up, and they are ready for action on the first date. They know what it's all about.
If you prefer a young girlfriend who is out of your league, you can always sponsor a student.
Imagine have your own sugar baby… She is ready to do anything to please you. Expect all the good things only a girlfriend is capable of offering but without the drama.
That is a boost to your self-confidence, without mentioning how invidious your friends and colleagues will be.
Most men that visit Seoul have no idea how to access the top Korean girls. That's the reason why they end up with average women.
The best way to meet a top-notch girlfriend is to use a site like Seeking Arrangement. Plenty of hot ladies looking for a sugar daddy.
To get started, write a profile mentioning what you are looking for in a girl. Start a few conversations, and to the point. Once in Seoul, go for a date and have a good time.
Best Sex Hotels In Seoul
Sex hotels are commonly known as love hotels in Korea. They sound romantic but at all effect couples and single hunters go there to get laid with sexy Korean girls.
So, if you are planning to hunt down girls in Seoul, these are my favorite erotic hotels to stay:
This concludes this Seoul Sex Guide. Have fun!
RELATED ARTICLES