Pattaya Bars: A guide for a Beer and a Bang
Pattaya is the biggest bar scene in Thailand with beer and BJ bars opening as early as 11 am.
Despite the fact that the nightlife venues in Pattaya close very late in the morning, some Bars may continue till 4 am, if there is clientele but the bar owners have to first switch off the lights and music.
Beer and blow job bars in Pattaya are everywhere, you can't miss them.
 
Pattaya Bars Prices
In the red-light district, the price is dynamic. The tendency is up in average your drink will cost you baht 80.
Bar fine goes up to baht 500 inclusive of the short time rooms in their premises for some beer bar: short time (1-2 hours) girl fee will cost you baht 500-1000;
The Long Time (Overnight) girl fee will cost you between baht 1000 and baht 2000. This will ensure that you have a great time at an affordable cost, definitively cheaper than Bangkok.
It is noteworthy that in some beer bars, people will try getting more from you but always be sure to ask for the price before making any transaction.
The typical beer bars are found everywhere in Pattaya and mainly in Soi 6, Soi 7, Soi 8 and the famous Walking Street.
The more you move to the North of Pattaya the less action you will find, the closer you get to Walking Street, the more excitement you find.
Walking Street Beer Bars
Two beer bar girls having good time. The Walking Street beer bars get very busy these days with hot chicks and is fun to have a beer and play some Thai game.
Walking Street Beer Bars are very popular in Pattaya because of the view of the Walking Street from the bars since no vehicles are allowed in the street after 7 pm, hence its name.
The beer bars here as in many sex venues close at 3 am.
"Simon Bar" Complex is huge, with about 15/20 separate beer bars employing approx 15 girls in each bar. They seemed a bit on the youngish side. Can be quite a lively area.
Location: Same side as Marina Bar (see Marine Disco notes below) but a little further South, along Walking Street. Beer baht 70.
"Freelancer Bar" near Marine Complex/Disco (on the same side near the tree) has seen better days. Freelancer bar is found near Marine Disco is not very popular nowadays reportedly because of pushy girls.
"Sexy Hippo Bar" next to the ex Casino AGo-Go in Soi Diamond. This place is fun and the girls know how to entertain you. It is nice to sit outside and watch all the girls going to work in Walking Street. Best time is between 7-8 pm.
There are many other big and small Beer Bars in Walking Street and streets running off Walking St, at southern start of beach road itself, near large 'Walking St' archway.
Too many to mention and review all. I suggest to walk and explore them till you get pissed with beer, but don't fall from the chair.
Pattaya Blow Job Bars
Make sure bj is without condom, no extra room charge, and then ask "how much" before surrendering your dick for 'dry cleaning'.
Soi 13/2 (Soi Post Office)
This is a "Blow Job" street of sorts, where most bars open around 2pm on. Usually condoms are not requested.
Try these bars :
"Pump Station" is long established and well known. You can get a blow job under the table on the first floor. This place isn't suitable for shy men. This place was happening in the good old days, getting sucked off while having a cold beer in a party-like atmosphere of pure delight and debauchery. Now a day the atmosphere is changed, not so happening anymore but you can still get sucked off.
"Golden Girl" is fairly popular and just few meters away from the pump station.
This bar is ding too, and bit like everything in Soi Post Office beside the "happy massage parlors". Rarely there are any customers in the bar and the girls are just a few.
However, in my experience, the Golden Girls are pleasant and eager to please. The standard fee is baht 800 and you will be taken upstairs in a private room.
Third Road
"Bliss Lounge" is a restaurant and bar where you can have a beer, a sneak, play pool and get sucked dry.
The interior look like an English pub, it's clean and huge. They have got at the entrance around 6-10 girls dressed in cute uniforms.
Sometime you can find some real cuties and young too, wondering what she is doing in a blow job bar.
Soi Chaiyapoon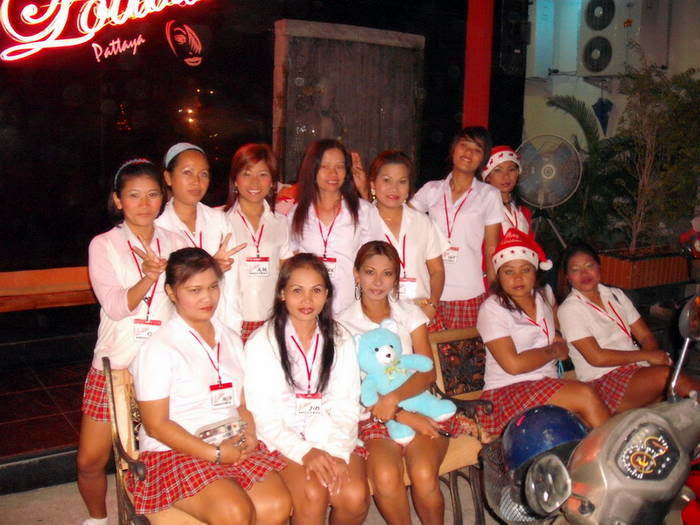 "Lolita's Bar" was previously located in LK Metro, but recently it relocated in Soi Chaiyapoon, not so far from LK Metro. This Soi is infamous for the cheapest "happy" massages in Pattaya.
Lolita's is customer friendly and very accessible. They have got always a handful of girls outside calling in customers and it is pretty standard to any other beer bars.
The best of Lolita's is the price, for baht 700 you get sucked off in a clean room upstair.
Check out my full review of blow job bars in Pattaya that get updated every year so you can't miss out the best blow job girls in Pattaya.
Gentleman Bars in Pattaya
"4 Bar" is a fantastic bar not only for BJs but for a full service short time.
The best part of this bar are the girls, well trained in the art of pleasure and the rooms, clean, well appointed and with a huge mirror next to the bed where you can watch yourself while banging.
You can have a go in the bar area, where the tables are separate by curtains and you can hear the table next having a good time too. Standard prices are Bath 800 for a blow job and Bath 1300 for full service.
"007 Bar" is the sister bar of "4", just 50 meters away.
The same owner builds the place after the success of 4 bar.
The concept is the same, BJ or fuck in the bar or upstairs in the room. Prices are the same.
What is the difference then?
The partitions in the bar are more exclusive that "4", more comfortable and private. You can choose the light power and you have got a huge mirror on the wall to watch your own actions.
"The Telephone Bar" is outside the tourist area, located near Sukhumvit Road.
The interior design is just beautiful, with deem red light and comfy sofas.
This bar is patronized by the local resident of Pattaya with a good appetite of naughty stuff.
You will blow away once inside, seeing old men getting sucked off and fucking in the entrance.
This place is perfect if you love to exhibit and look at others getting busy.
The prices are standard; baht 800 for BJ and baht 1300 for full service. You will get a free drink every time you get sucked or fucked.
INFO: Do not expect movie stars here or in any bj bar for that matter. Beware of the possibility that a katoey (transvestite) might be working in one of these or any other bj bar in Pattaya.
Average prices: There is some variation in respect of what is charged at these places. baht 500/700 for girl and I have heard they charge an additional baht 375 for a room. Most places room not necessary. baht 700 does the trick. Tip to girl, only if fully satisfied … baht 100. Do not accept 'with condom', that silliness must not be encouraged.
Basic question before agreeing: "How much?" Really BJ's are crazy price nowadays. Why not short time a babe from a beer bar for baht 500/700 making sure she agrees to bj and fuck, arranged before you pay the bar fine. Beer bar prices above.
Advantages of bj bars.. deed can be done in public area (for exhibitionists) and usually without condom.
Plus theoretically, these girls are better at bj cause they get a lot of practice : )
An additional tip of baht 100 for the girl is of course optional, depending if you were happy with her 'service' : )
In some cases the deed is done at cut outs in the Bar or on the Couches, in full view of others if that is what you like. Otherwise in private rooms on the premises.
Check out my full review of the gentleman clubs in Pattaya.
Beer Bars – Center Pattaya Streets
Soi 8  Beer Bar Street
On this street, there are numerous Beer bars with girls waiting for clients at the tables. Although it is way from the excitement of Walking Street, it is most ideal for you if you want to avoid the tourist-filled beer bars of the Walking Street.
Soi 7 Beer Bar Street
Also popular. If you have gone as far as Soi 8, might as well have a look at Soi 7 whilst in the area. Your sweetheart might be sitting there waiting for you.
Soi 6
In Soi 6 there are beer bars that are primarily meant to serve men looking for a quick enjoyment; from blow job to full sex is available from 1pm till late in night. After 12 midnight, fades.
Short time rooms on the premises, usually featuring mirror on wall and ceiling, red lights and sexy paintings.
I would not offer any more than baht 1000 for great sex. But hey, you can get that for 500 baht off Beach Road girls in Pattaya.
It is noteworthy that the names of these bars normally change with time. The average price is baht70 for the drink, baht 700 for the girl and baht 300 for a room, if you need to use one.
Do not expect movie stars in Soi 6 but blow jobs should be good cause they get a lot of practice.
ATTENTION: Before handing over any money;
1) make sure they can do whatever you like.
2) Make sure your choice is not a katoey (she-man), some places employ them.
Buffalo Bar
Although the bar nowadays gets negative reports, the place is famous for its high-class services. Check buffalobar.com for more information on the services offered as well as the directions.
BB is set back from the road and accompanying pollution/noise. Has a tropical hut look about it, surrounded by greenery. Inside the atmosphere is good, with about 30/40 or more girls were in employ.
The prices at the bar are higher than average. Short time bar fine is baht 600 and baht 1000 for the girl and Longtime bar fine is baht 600 and baht 1500 for the girl.
The girls here are very attractive and not pushy. The atmosphere at this bar is serene, away for the everyday hustles and pollution.
"Located between Soi Boengkoet & The Village on Pattaya 3rd Rd. See website: buffalobar.com and a map re its location.
The first motorcycle taxi driver I approached knew the place and took me there with no hassles.
On your first visit ask for calling card, which has directions written in Thai, for any motorcycle taxi driver/whoever, in the future, who might not know the place.
I give Bufalo Bar a 6 rating, which means, is falling behind of the better bars in Pattaya.
I liked the karma/atmosphere and the sexy girl.
Most seemed to have good vibes and were 'non-commercial', not pushy. But the real test is when you take them back to your room. Even so, worth a visit, just in case reports wrong.
Special Bars in Pattaya
The Castle
Located near the Buffalo Bar, the Castle Bar is described by some as a bondage place. It has an entrance fee of baht 900 and much more for the girls. For more details on what they offer, check out the-castle-pattaya.com.
Devils Den (near Lolita's)
Website: http://devilsdenthailand.com/
This is neither a BJ Bar nor a Beer Bar but it is famous for having girls who are experienced and fully satisfy their clients for threesome experiences. It is a bit expensive to take girls but you will find it worth it.
Two ladies for 90 minutes will cost you baht 3600. For overnight take out will cost you baht 3000.
Working hours are Monday to Saturday, 1 pm to 12 midnight.
Related Articles: