Phuket Sex Guide For Single Men
Do You Know How To Meet Girls In Phuket?
This is a 3.000+ words travel guide designed for single men traveling to Phuket with the goal to meet and date local Thai girls.
REAL EXPERIENCES – NO FLUFF – REAL GIRLS
This comprehensive article came because I wanted to share all the good things and places Phuket has to offer for the naughty travelers – all the tips and steps in one place to get you laid in Phuket, accessible for free for the rest of time.
So, if you're serious about banging Phuket's girls every day, please take 10 minutes of your time to digest the full article. It'll change your life!
***
Contents
Click a link to skip to that section. Don't skip any sections!
***
The Ultimate Men's Travel Guide to Phuket
General information about Phuket for first-time travelers
Typical Costs
An overview of general prices in Phuket
Safety Tips & Trick
A few pitfalls that I've experienced and you should avoid
Date Phuket Women
Here's the information you need on how to meet Phuket Girls
Phuket Top Venues & Nightlife
The best places for partying, meeting girls, and being the wolf you're
Must Do in Phuket
My favorite activities I consider a must-do for any single man visiting Phuket
–
The Ultimate Man's Travel Guide To Phuket
Phuket is Thailand's largest island and the biggest tourism destination.
Phuket has a lot to offer:
Wonderful white sand beaches; For the most adventures, the nearby Phi Phi islands are worldwide known diving spot.
A naughty nightlife with hundreds of beer bars and Agogo clubs.
Vibrant nightclubs with International DJs.
Luxury resorts and hotels.
Top notch restaurants.
No comprehensive and candid guide to the island of Phuket would be complete without mentioning: Thousands of sexy girls!
Great destination for sandy beaches and extreme sexual nightlife
Let's divide the whole island into two parts;
South-West; the most crowded part of the island including Patong and Bangla Road where the magic happens. This part is the center of the Phuket's nightlife, sex venues, and indisputable territory of hookers and freelancer. If you are a bad boy, you know this is the place for you.
South-East; not much happening in this part of the island. Mainly residential with few resorts where the good boys take their girlfriends for holidays to enjoy the beach.
However the rule is simple: more south – more girls, more west – more girls.
TIP; If you want to meet a Thai girl right away, I recommend to sign up with a Thai dating site. It's easy and busy with HOT girls.
When Go To Phuket?
There are two main seasons:
– High season is when (on average) you get the best weather – meaning more sun and less rain.
This is approximately November to April. It can rain anytime, but the prevailing winds at this time are from the North East, bringing little in the way of storms and rain.
Also, it means that the west-facing beaches in Phuket are sheltered and calm. So, this is when most of the tourists visit. It's also when all the hotels are more expensive!
– Low season; From May to October we enter the South West monsoon season, meaning prevailing winds are from the South West, coming across the Indian Ocean bringing (on average) more rain than the high season.
The winds also mean that the beaches are sometimes too rough for swimming.
Many guidebooks and travel agents will tell you the weather is always bad at this time of year and many people believe it. Of course, that's nonsense.

What About Girls In Phuket?
In a word… HOT… very HOT.
The first time I met a Thai girl in Phuket, I was blown away by their beauty, kindness and a deep desire to please.
You never know what may happen when you leave your room. It's simple as smiling at a girl, make small talks, and take it from there.
It may come to nothing or it may end up in nights with the best sex you ever had. You might have met your future wife, but you don't know it yet.
This is my dirty story:
Once I met a girl during the Songkran Festival (Thai New Year). We party together till 3 am having so much fun drinking Thai whiskey with her friends.
An hour later I was getting the best blowjob of my life. Terrific!
You can expect naughtiness with girls met in the red light districts. Anything does happen, and it's easy as calling McDonald for a burger, whatever you want it's on the menu for a price.
But there are also quality girls working in the numerous shops and restaurants in Phuket.
With small talks and some persuasion, you can date them after work.
If you don't feel comfortable approaching woman or fear rejection, meeting Phuket girls online is easy while less embarrassing.
Girls on dating sites are there because they want to meet a foreign man, and you want to meet a Phuket girl. A WIN-WIN situation.
RELATED: 3 Best Dating Sites To Meet Thai Girls Online

–
Useful info to clear some of your thoughts about Thai girls with tips how to pick up and get laid in Thailand.
I've visited Thailand multiple times over the years and met beautiful Thai women from the laziest bar girls to the curious university girl as well as executive office woman looking for some extra affair.
There is so much to learn about Thai women…
–
Typical Costs
Sex: The heart of the action is centered around Bangla Road, Patong.

This is where you need to be. Sure, it's sleazy but it's right by the beach, there's a ridiculous amount of women and the nightlife is insane. Lady drinks are about 120-220 baht (4-7$). Short time are about 500 to 1,500-baht (17-50$) and the price rise 1000 to 3000-baht (34-100$) for all night.

Read More: How Much to Pay For Girls in Phuket
Accommodation: Pretty much everywhere you go will be expensive. Here is where you will find most of the 5-star luxury resorts and spas too.

Typical a good hotel will charge 1500 baht(40$) upward. Make sure to ask if the accommodation is girl friendly. They may charge you extra for overnight guests.

– Hostel Prices: Dorm rooms in hostels can be as little as 85 baht (3$), and guesthouses start at around 125 baht (4$) per night. Private rooms cost from 400 baht (13$) per night, with shared accommodation costing 165 baht (5$).

– Budget Hotel Prices: A night in a budget hotel will usually start from 500 baht (13$).

Food: In Phuket, you can eat from the street vendors for as little as 20 baht(1$) per meal and eat in a nice restaurant for under 700 baht (22$) including a drink or two.

You have a wide choice of fine dining venues as well. Expect to pay between 1000 baht(33$) up to 3000 baths ($100) per person, especially if you drink wine.
Transportation:

Public Transport – A motorbike taxi will cost on average 50 baht (2$), with a tuk tuk costing about 300 baht (10$). Songtaews; These are converted pickup trucks are shared taxis that cost a lot less than a tuk tuk or a taxi, coming in at around 25 baht (1$).

Car rental – One of the best ways to see Phuket is to hire a car and drive around.

There are many scenic roads, particularly on the West Coast. It's fun, easy and best of all good value for money at around 800 baht (28$) per day.

Motorbike rental – There are many road side vendors that offer motor bikes for rent, from the zippy 100cc moped type to the 750cc road race variety.
ATTENTION:
My advice is to avoid renting bikes under any circumstance.
No motorbike is insurable, regardless of what the vendor tells you.
If you have an accident you will almost certainly be responsible for all bike repairs (or costly replacement), all medical bills for yourself and any other involved parties – regardless of who was to blame.
Safety Tips & Tricks
A Go Go's bills: Keep an eye on those bills that keep dropping into that 'cup' in front of you and do not pay with large denomination notes if you can avoid it.
ID cards: You can check her date of birth to be sure she is over 18 by subtracting 543 from the Thai year.
Negotiate Price: Always negotiate price before leaving with your lovely Thai lady (girls leaving early) have to be punished financially, otherwise you kind of confirm you're stupid and she can just do everything she wants without any consequence.
Valuables in the safe. When you leave the room and while you are showering. Hear many times of girls stealing money and cameras.
Take advantage of Happy Hour – Phuket's many happy hours have half-priced drinks and 2-for-1 specials.
–
DATE PHUKET GIRLS
Phuket girls are classy, sexy and know how to please a man.
So, if you're looking for quality local Thai girls to spend time together while having long conversations and even longer nights of intense sex, I have the right and easy solution for you.
Just imagine having a young and attractive woman next to you while visiting this beautiful island and its white beaches.
It might sound like a movie, but believe me; It's real, it's fantastic, it's unforgettable.
And while there are countless bars in the infamous red light districts with thousands of girls screaming for your attention, there are also quality girls looking to meet foreign men for a serious relationship.
If you would like dating in Phuket with loving caring women, you have plenty of options.
I don't visit the red light districts often, only when I'm up for a threesome or an orgy. Instead, I date local girls met online because the experience is more intimate.
We get to know each other before I fly to Phuket, creating a bond and sexual attraction for each other.
Just think this for a minute. You are at home chatting with this sweet girl awaiting the time you visit Phuket. She feels aroused by you, and you want to feel her so badly.
What will be once you meet in person in Phuket? Is she going to be HOT for you?
I bet… YES.
With the right guidance and expert advice, you'll have a wonderful holiday in the company of a woman that is interested in you.
Meeting attractive and love caring women is wonderful – but is only one benefit.
Experience new locations, eating different food, and clash with a new culture are all common side effects of traveling.
RELATED: 3 Best Dating Sites To Meet Thai Girls Online

How To Meet Local Women In Phuket
There are basically three option in meeting Phuket women:
Phuket Streets & Beaches; There are girls everywhere in Phuket.

You will be taken by surprise to see so much beauty all around you, so just a few steps out of your hotel room will land you a date.

Cute girls are working in restaurants, hotels, massage shops, malls and they are approachable. You need to have some basic knowledge of flirting, same as goes in western countries.

Just smile, give a compliment and start your conversation speaking slowly and clearly. Phuket girls can speak some English but they aren't pro.

Most girls are shy, and they will try to end the conversation as early as possible because they feel embarrassed about their English skills.

When this is the case, and you really like her, come back the next day to ask to go out together.

In my experience, every 3 girls I asked, one will accept my invitation.

Disco & Nightclubs; The usual meeting places where there are more freelancers (hookers) than anything else. It will be difficult to differentiate between the few "good" girls and gold diggers.

There are three types of women:

– The "Curious Girl" is usually a teenager with limited English speaking skills looking to discover the western world. She feels attracted to foreigners but scares to interact.

These type of girls are excellent for a local girlfriend experience with someone innocent, love caring and truly interested in you.

The unfortunate part is they are rare. I had the opportunity to meet "curious girls" in clubs by luck over the years and I can count them on one hand.

– Freelancers are the majority of the girls in Phuket clubs, a good 80%. They are young, outgoing, they love to party and having sex.

They are lazy to work in serious establishments having to report for duty on time and every day. So they prefer to hang out in clubs with friends looking for "sexy men" and money.

– Educated Phuket Girls (University degree with good jobs) can be found mostly in Thai discos. This type of woman is suitable for foreigners looking for a serious relationship and possible marriage.

The approach in a club is tough because they hang out in groups. However, if you are young, dress smart and know how to flirt with Thai women (you need to have a basic of Thai language), this place might work out well for you.

I find easier to approach educated girls on dating sites because I don't have to deal with the social embarrassment which holds them back in the clubs. Friends can't see who they go out with.

Online Dating Sites in Thailand. The growing popularity of dating sites offer a pool of attractive women that are easily approachable.

Even the shyest and reserved Thai women take the challenge to meet foreigner men online.

I've been very successful with online dating over the years, and it is my number one tool to meet new girls during my vacation.

The reason isn't that I'm handsome, tall or fit. Instead, I've taken the time to create an online profile that attracts girls.

I've heard stories of unsuccessful men on dating sites, saying;

"It's a scam!"
"The girls aren't real"!

Sorry for these guys not being able to meet honest girls, but they should think why they attract only gold diggers.

The biggest mistakes for first timers online is a weak personal profile that attracts scammers instead of honest girls.

I've created a mini guide to help you to date Asian women online; simple steps how to create a profile online, upgrade to members, send your first message and chat with the girls on Skype. This is a proven technique to get free sex during your holiday.
Do you feel lonely – and worry that you're doomed to a single life?
What if there was a way to meet 1, 3 – even 10 or more – attractive girls right now – even while you're on the other side of the planet.
Don't waste your life. There are hundreds of beautiful Thai girls ready to meet you.
I recommend: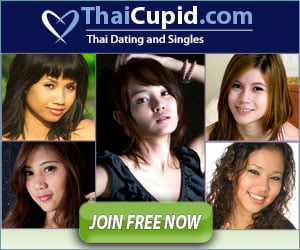 – Thai Cupid – It is the biggest dating site in Thailand with thousand of women looking for romance, relationship and why not, a night stand.
Hundreds of girls ready to chat day and night. Talk with multiple girls at the same time. You know, Thai women write very slow.
By signing up with Thai Cupid you will access at hundreds of Phuket girls and thousands of Thai women.
TIPS: You can meet sweet country side women looking for love, or some slut in the major tourist destinations for one night stand.

Make sure to complete your profile with some good picture of you (no naked) and a clear description of what you are looking for, what you offer and only talk briefly about yourself.
Avoid to pretend to be a romantic man when in reality you love to get tied up and pissed in the face. Be yourself!
– Thai Friendly – Not as many women as in Thai Cupid dating website but definitely enough to get you started.
I have found some good girls here. However, I always watch out from women asking you for money.
Good girls don't do that, and only fool men would wire money to a girl never met before.
I hear horror stories all the time from travelers being cheated by women online. I never had an issue with Thai Friendly.
They do a good job in keeping their users in check, trying to remove scammers and fake accounts.
You might find interesting my Thai friendly review.
–
PHUKET TOP VENUES & NIGHTLIFE
AGo-Go & Club
Suzy Wong's has already become an icon in Soi Sea dragon the hottest and most colorful street of Patong Beach and has been popular for more than a decade.
The girls love to spank the customers enthusiastically with harmless foam batons, which is a highly entertaining sight especially when it's done to some unsuspecting tourists. Go early for full selection , say 8/9pm.
23/17-18 Soi Sea Dragon, Bangla Road, Patong Beach, Phuket. Tel: 081 476 4700
Roxy A Go Go
Roxy A Go Go Bar Roxy is one of the largest and most popular venues with two stages on split levels. It features enthusiastic pole dancing by quite attractive girls, as well as regular shows. The girls are certainly sexier than in most bars and other a GoGo.
Soi Vegas, Patong
Rock Hard A Go-Go
Visible from the street on Bangla Road, the second floor Rock Hard is one of the longest running go-go bars with two stages. Nothing special, but the girls tend to be very attractive.
Bangla Road, Patong
The Secret
The Secret is an upscale and classy go-go bar that specializes in professional stage shows and features some very beautiful women. It's a bit pricey but the girls are much more attractive than at most bars. The nightly erotic shows include catwalk style parades and a convincing lesbian show.
Soi Easy, Patong
Devil's Playground A Go-Go
The first thing you'll notice about the ever popular Devil's Playground is the amazing cave themed entrance design, which extends to the interior decor with even more gargoyles and atmospheric lighting. It's much bigger than most go-go bars, with raised platforms and different levels. All the girls are appropriately dressed as either sexy devils or angels.
Soi Sea Dragon, Patong
Disco & Nightclub
Tiger
Is also a hot spot for the Thai girls, here they pump out a mixture of dance music from house to hip hop and electronic. Its big and gets a large crowd here, especially later on in the night. The women are mostly freelancers.
Soi Bangla, off Bangla Road, Patong
Hollywood
Plays mostly hip hop and commercial music every night and this is a favorite place for the Thai girls to have a dance and it is jam packed every night of the week.
Hollywood has quality lighting and a really good sound system and the management here know what they are doing as they put on ladies nights and prizes and extra free drinks to keep the women coming back every night.
Apparently, girls at Hollywood are less professional than Tiger Disco, but rarely get to the situation you will not pay for a fun night in your room. Hollywood is open till very late and it really gets going after 2 am.
Soi Bangla (Soi Easy) Tel: +66 (0) 82-799392 (for table reservation)
Seduction
Is more popular among the tourists but you will still see many Thai women here. Seduction often has well known international dj's playing and 2 floors of quality thumping sound systems pumping out hip hop and house.
Bangla Road, on the side of Tiger Disco
Famous
The newest club in Phuket which is located where Sound Club used to be. Some world class dj's have played here and it is the place to be if you are into dance music.
Famous has a beach club and a rooftop swimming pool which has a clear bottom which you can look up into from the nightclub or down into the nightclub. The club is very popular with Russian tourists.
JungCeylon shopping centre, 193 Rat-U-Thit Road, Patong Tel: +66 (0)76 366 717
White Room
The White Room is a stylish, modern nightclub in Soi Gonzo that's popular with a young and hip crowd. There are two bars and several VIP rooms, as well as two resident DJ's that play dance, house, hip-hop and Rn'B. Think white décor, ambient lights and some large glitter balls.
Soi Gonzo, off Bangla Road, Patong
Banana & Tai Pan


Not so popular nowadays and more suitable for older guys searching for older gals (over 30). The clubs has a mixture of djs and live bands with the bands playing early in the night and dj's later on in the night.
Beach Road, near Bangla Road intersection, 24 Thaweewong Road, Patong Tel:(0)76 340 306
MUST TO DO
The action is centered on the proliferation of bars and nightclubs along the world famous Bangla Road.
Here, you'll find thousands of Thai bar girls and ladyboys working in the hundreds of tiny bars.
If you want to meet Russian girls in Phuket, Bangla is the best place having a dedicated Russian strip club and many Russian tourists in the clubs.
Open air affairs with loud music and pink lights, with poles strategically placed around the bar, and a dozen or so attractive girls in skimpy outfits wiggling provocatively and shouting persuasive comments such as "handsome man!", "I like you!", "where you go?", and "I go with you!".
Swinger Activity
There are many swinger couples looking for guys and other couples to make their Thai partner happy. It's an interesting way to meet new people and have sex very horny Thai women.
I use AsianMatchDate for kinky hookup whenever I'm in Phuket.
RELATED ARTICLES