Bangkok Sex Travel Guide For Single Men
I love Bangkok!
By now, you should know that I travel only for one reason: girls!.
And let me tell you that "Bangkok girls are super cute, sweet and easy going".
What if you could meet beautiful girls willing to do anything and… never say "No" to you.
It that case: "Welcome to Bangkok"!
In this guide, I'm going to show the best places where to meet sexy Bangkok girls with tips to get laid. That way, you get instant action the second you land in Thailand.
And that means you don't have to run the streets like a hungry dog… Instead, you can fly in and immediately meet Bangkok girls HOT for action.

***
Contents
Click a link to skip to that section. Don't skip any sections!
***
The Ultimate Men's Travel Guide to Bangkok
General information about Bangkok for first-time travelers
Typical Costs + Tips
General prices in Indonesia to help you budget your adventure
Date Bangkok Women
Here's the information you need on how to meet Bangkok Girls
Bangkok Top Venues & Nightlife
The best places for partying, meeting girls, and being the wolf you're
Must Do in Bangkok
My favorite activities I consider a must-do for any single man visiting Bangkok
–
The Ultimate Man's Sex Guide To Bangkok
"The City of Angels"
Bangkok has it all:
Beautiful girls & hot ladyboys;
3 red light districts – Pay for play areas;
Trendy restaurants, bars and nightclubs to meet and date girls or ladyboys;
Huge shopping centers not only for shopping but also to pick university girls;
Cheap accommodations from bottom to top;
Delicious and healthy food;
It's a safe city.
Those are just a few of the good things Bangkok has to offer. It's truly a multipurpose city to live in, have fun and experience unforgettable holidays.
I guess this is what the end of a perfect day should look like for you: Sex with Bangkok Girl or ladyboy.
Whatever you are looking for – love, sex, party time – you will find it in Bangkok… And don't forget that the girls and ladyboys are just so sexy…
Now, if you're a shopping fanatic, you will find Bangkok be your paradise… However, if you're a womanizer, Bangkok shopping malls are your playground.
Yes, they are the best place to go for day games. You can easily chat up any HOT girls without fear of rejection.
Bangkok girls are just so receptive and respectful that they would never refuse to talk to you.
Aside from girls, ladyboys and nightlife in general, Bangkok offers great sightseeing.
If you are a gourmet guy or just prefer to eat with your eyes, Bangkok streets are harem on earth…
TIP – If you want to meet Thai women in Bangkok hot for action right away, I recommend using this site. It's easy and busy with sexy girls!
So, let's start to plan your unforgettable sex holiday to Bangkok…
When To Visit Bangkok?
Being a business city, any time of the year is a good time to visit Bangkok.
There are no high or low seasons like in other popular Thai destination like Pattaya or Phuket.
Having said that, you should avoid arriving in Bangkok on weekends because the good hotels are usually fully booked.
If you are landing on a Saturday or Sunday, make sure to book the hotel one month in advance to avoid disappointments.
What About Girls, Ladyboys & Sex In Bangkok…
Most of Thailand wealth is concentrated in Bangkok, this attracts many HOT girls and ladyboys to the city.
However, not everyone can make it or stay in Bangkok for the long run. Only the finest, sexier and horny women…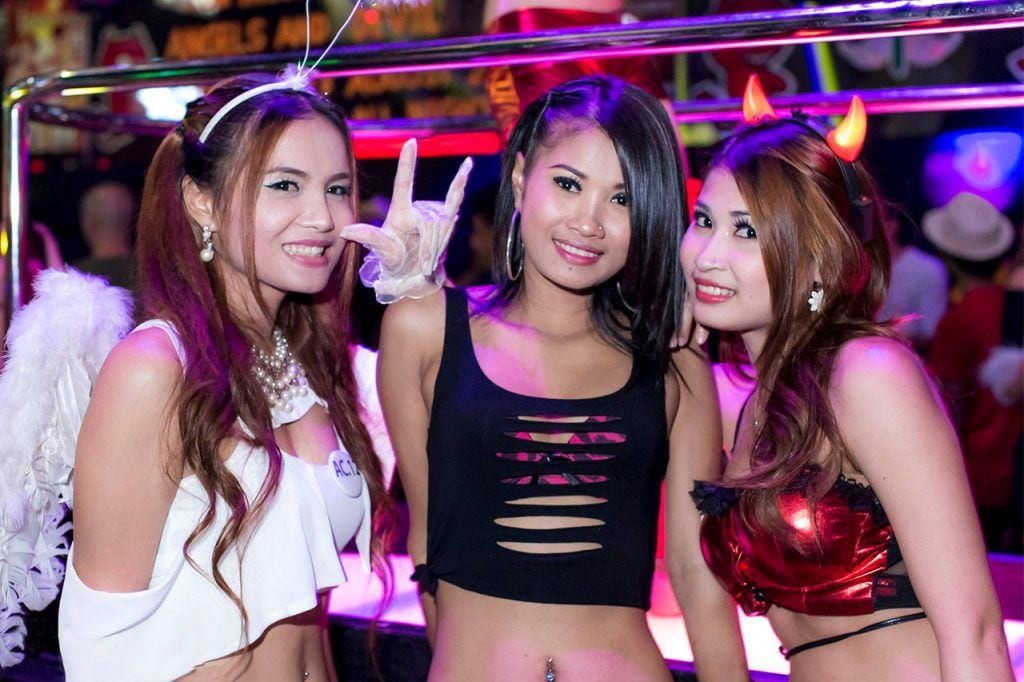 There are 3 major red light districts with thousands of girls easily available for sex. It's like ordering food in a restaurant, you check the menu, order and consume the meal.
That how easy is to have sex in Bangkok.
I can relate to my first time in Bangkok; I was walking down the street when a beautiful massage girls wave me with the most welcoming smile I've ever seen from a woman.
Twenty minutes later, I was getting the best sex of my life. Unforgettable!
You can expect terrific sexual experiences in a city where women and ladyboys know how to please. Having sex in soapy massage, see naked girls dancing in Go Go bars or even get call girls to your hotel doorsteps.
As you can see, there are an infinity of possibilities for sexual services.
However, Bangkok isn't only about pay sex and red light districts, but there are also quality girls and ladyboys working in the many offices around the city.
You can hook up with Bangkok girls and ladyboys in bars, restaurants, nightclubs, in the shopping center and even in the streets.
Basically, Bangkok is an open playground.
With small talks and some persuasion, you can date them easily.
If you don't feel comfortable approaching women or fear rejection, meeting Bangkok girls online is easy while less embarrassing.
Girls on dating sites are there because they want to meet a foreign man as you want to meet a Thai girl in Bangkok.
A WIN-WIN situation!
RELATED: 3 Best Dating Sites To Meet Thai Girls Online
–
Useful info to clear some of your thoughts about Thai girls with tips how to pick up and get laid in Thailand.
I've visited Thailand multiple times over the years and met beautiful Thai women from the laziest bar girls to the curious university girl as well as executive office woman looking for some extra affair.
There is so much to learn about Thai women…
–
Typical Costs
• Sex: In Bangkok sex is everywhere.
There are 3 main red light districts: Patong, Nana Plaza and Soi Cowboys. In there, you can meet girls working in Go Go Bars, massage shops and beer bars.
The amount of sexy girls is just insane, and they know how to please.
Lady drinks are about 120-220 baht. Total price for a short time girl is between 1.500-3.000 baht and the cost for all night ranges from 2.000 to 6.000 baht.
Read More: How Much to Pay For Girls in Bangkok
• Accommodation: There are a variety of hotels for all budget, from luxury five stars hotels in Sukhumvit Road to the cheap rooms in various part of the city.
Typically a good hotel cost at least 1.000 baht.
Below of that, you are going to sleep with crockeries, not girls, let alone having sex.
Make sure is the hotel is guest friendly, meaning they don't charge extras if you bring in unregistered guests.
In case you are into ladyboys, your options for guest friendly hotels are less. So you better send to the hotel an email and ask.
Read more: Best Guest Friendly Hotels in Bangkok to have sex.
• Food: In Bangkok, you can eat from the street vendors for as little as 40 baht per dish and eat in a nice restaurant for under 700 baht including a drink or two.
You have also a wide choice of fine dining venues as well. The prices ranges between 1000 baht up to 3000 baths ($100) per person when you drink wine.
• Transport: You can move around easily around Bangkok with a taxi, BTS Metro or on a bus.
A motorbike taxi is the best option for short distance costing less than 50 baht per kilometer.
For distance – more than a kilometer – take a street taxi or use the Grap Taxi service app from your phone.
A street taxi starts the fare at 35 baht for the first kilometer.
The BTS is a convenient way to move around the hot posts in the city like red light districts, nightlife area and shopping malls.
It's a great way to pick up Bangkok girls too. The price range from 18 baht to 100+ baht based on distance.
Tips & Tricks
Do not carry unnecessary valuables on your person, especially something that will catch attention as watches , bling, etc.
Patpong Scam – The good old Patpong scam still works just a smoothly as it did twenty years ago, taking advantage of the naughty curiosity of unsecured male tourists, especially (but not only) those with that obvious guilty look.
LD (Lady drinks) – Don't offer a drink as the girls sit with you. First, let her earn the drink by pleasing you.
Minimum legal age is 18 – Never forget this rule.
Avoid fighting – Thai people are peaceful. Avoid any type of confrontation, you are not going to win a fight.
Drugs on the street – If you get caught, you might face 20+ years in one of the worst prison in the world. Avoid at all cost any type of drugs, it isn't worth it.
DATE BANGKOK WOMEN
If you are looking for more than just a pop or bang, wish to meet a Thai girl to spend a romantic holiday together and why not, fall in love, I have the right and easy solution for you to date a local woman.
Bangkok girls love the idea to meet a foreign man. We look exotic as much they look exotic to us.
There are hundreds of university and office girls that would love to spend time with you.
Just imagine walking hand in hand with a young, attractive and cherish Thai girl.
It might sound like a dream, but trust me: It's real, it feels good, it's unforgettable.
And while there are hundreds of girls screaming for your attention in the red light districts, there are also quality girls looking to meet you for a serious relationship or an affair.
I don't visit the red light districts anymore, it doesn't feel right having a woman with a dry p…y.
Instead, I date with local girls met online because the experience is more intimate and the sex is better. Feeling her panties wet for me is a big thing.
We get to know before I fly to Bangkok, creating a bond of sexual attraction and desire.
Just think this for a moment. You are at home chatting with this cute Bangkok girl awaiting the time you visit her.
She feels aroused by you, and you want to feel her so badly.
What will be once you meet in Bangkok? Is she going to be WET for you?
I bet… YES.
Meeting attractive and love caring Thai women is wonderful – but is only one benefit.
Experiencing a new location, eating different food, and clash with a new culture are all common side effects of traveling.
RELATED: 3 Best Dating Sites To Meet Thai Girls Online
How to Meet Local Women in Bangkok
When it comes to meeting Thai women you basically have three options:
Walk around Bangkok looking for cute girls working in restaurants, shops, malls and so on. It is a bit like to flirt with women back to our western countries but much easier.

Just smile, give a compliment and carry on the conversation. Once the conversation is flowing and she feel comfortable, ask to have a coffee together.

This approach works 30% of the time, thus every three girls, one will accept your offer.

You can't lose, it's a number game.
Visit discos and nightclubs. There are few type of girls in these clubs; educated girls, freelancers and curious girls.

–

The educated girls

will be found mostly in Thai nightclubs which are packed with office and local women.

If you are young, dress smart and know how to flirt with Thai women (you need to have a basic of Thai language), this place might work out well for you.

– Freelancers are girls looking for money because they can't bother to work. They hang out in clubs frequented by foreigner and tourist.

Get ready to hear drama stories. "Me have job as nurse". "Me work in shop" "Me here with friends to have a good time".

It's a lie.

You will recognize them by the way they dress (extremely sexy) and make up, plus they can speak proper English.

These girls are excellent to take around the city or Thailand as companion and tour guide. They will help you to deal with local people, teach you some trick and ensure you've got a great time.

– The "curious girls" are usually young. Speak little English so making the conversation harder.

They want to meet with Western men to learn more about our world. It's fascinating to know about the "white man".

You will have a hard time to meet one, but if you do, she is the perfect girlfriend experience with real feelings and dedication to you.

I hooked up a few on dating sites. I notice them by their "funny" profile like "I am looking to meet men for friendship that are polite and kind". "Me good girl looking for love." You got the style.
Online Dating Sites in Thailand. With the rise of smartphone and internet, many Thai girls are meeting Western men online. It is convenient and easy enough, plus is less embarrassing to talk on chat.

Thai women are crap at English, probably the worst in Asia after Chinese.

Chatting on dating sites help to overcome the language barrier. Both of you can take the time to know each other, build trust and get ready for a face to face date.
Thai women love the idea of meeting first-time foreigners in Thailand (you are not a sex tourist in their mind).
They get excited, and if you ask, they will meet you up at the airport to welcome you to "The land of smiles." Great start for a holiday, isn't it? Learn How to Date Asian Women Online
Do you feel lonely – and worry that you're doomed to a single life?
What if there was a way to meet 1, 3 – even 10 or more – attractive girls right now – even while you're on the other side of the planet?
I recommend: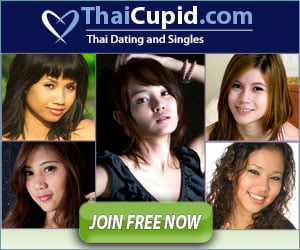 – Thai Cupid – It is the biggest dating site in Thailand with thousand of women looking for romance, relationship and why not, a night stand.
What I like about this dating site is:
#1. – There are hundreds of girls at any time of the day or night.
#2. – The chat is easy to use.
#3. – I can talk to girls of any age located all around Thailand. I love girls from Surin.
By signing up with Thai Cupid you will access to thousands of Thai girls.
– Thai Friendly – Not as many women as in Thai Cupid dating website but definitely enough to get you started.
I have found some good girls here, however always watch out for women asking you for money.
Good girls don't do that and only foul men would wire money to a girl never met before.
I hear horror stories all the time from travelers being cheated by women online. I never have them with Thai Friendly.
They do a good job in keeping their users in check, trying to remove scammers and fake accounts.
I've done a personal review on How to Easily Meet Thai Women With Thai Friendly after years of using this tool to date local Thai women.
–
Bangkok Nightlife & Top Venues
Bangkok's nightlife has a reputation for being wild and naughty.
There are 3 red light districts to have paid sex.
Alternatively, you can pick up Bangkok single girls in the numerous nightclubs and bars scattered around the City.
Whether your trip is for business or pleasure, Bangkok bursts with choices.
I've selected the best places for singles men to experience the nightlife in Bangkok.
Rapidly establishing itself as Asia's capital of "cool" — Bangkok's diverse nightlife scene features everything from excellent live music and good jazz clubs to ultra cool bars, trendy clubs and great restaurants. Go far beyond its once upon a time sleazy and naughty image.
Every night behind the neon scenes and the sounds of a bustling metropolis, thousands of sexy Thai women walk around looking for a Western man to have fun with… and why not, maybe love.
A movie which shows the craziness of this city is "Hangover 2"; it's been shot mostly in Bangkok, but the beginning and last scenes are in Phuket.
The most popular red light districts are:
Soi Cowboy
Patpong
Nana Plaza
For those looking to escape the nightlight of the red light districts, head down to Sukhumvit Soi 11 to visit the expat bars and clubs.
"Cheap Charlies" is an ex-pat institution and you will find people every night of the week.
Visit Thong Lor or RCA to hang out with the local Thais and get down to Thai bands and Thai whiskey.
If you aren't into Thai girls, no worries, Bangkok has a wide range of Western women from Russia, Kenya, Turkey, Europe just to name the most common nationalities.
Some are there for a holiday, some for business and some is living and working in Bangkok full time.
TIP; If you want to meet a Thai girl right away, I recommend to sign up with a Thai dating site. It's easy and busy with HOT girls.
–
Red Light Districts
Nana Plaza
As Bangkok's biggest red light district in terms of pay for play options, the area surrounding Nana Entertainment Plaza (NEP) is hard to compete against.
There are a lot of small beer bars, especially along Sukhumvit Soi 4 where you can pick up ladies. Nana Plaza's Courtyard Beer Garden is my favorite.
Ladyboys freelancing are all over Nana district too. Though it's a safer bet to bar fine one from a ladyboy Ago-go bar inside NEP for safety reasons. Mind the ladyboys working around Sukhumvit road and on Soi 4 with the intent of robbing and cheating.
Lady Boys AGo-Go Bars
Voodoo – The latest Ago-go bar with lady-boys. Just goes to show how popular this type of venue is in Nana. "Girls" working there are kind and cute.
There are twelve to fifteen "girls" on stage at any time. Ladyboys here are surprisingly educated and not pushy, which makes the experience relaxing.
They go ST for 2.000 baht. Talk about supply and demand!
Obsessions – Ladyboy Ago-go bar. A favorite for many and known for non-pushy lady-boys. The "girl"s that are not dancing move around the bar, chat with the customers, try to get a drink, etc.
They don't just sit down and look bored, like in some other Ago-go bars. As a result, it is very lively and you get to see all the girls standing and moving. What you see is what you get.
It is a fun place to visit but Obsession might not be a bar for beginners – The ladyboys there are hardcore and get very horny, which makes them aggressive.
Casanova – A mostly pre-op ladyboy Ago-go bar. This is a classic "Dude looks like a lady" Ago-go bar. There are some of the tallest katoeys in Bangkok in this small venue.
Be careful, they are aggressive and "masculine".
Temptations – Another ladyboy Ago-go bar. Walk past there and you just might get groped.
Girly AGo-Go Bars
Angel Witch – A popular bar with many girls inside and well known for its nightly shows. The atmosphere is like "cinema" style with nice comfortable seats and you're not too far off from the stage to get a better look at their lineup.
Spanky's – The bar looks like a giant dressing room. Girls are comfortable walking around topless and that is a thumb up for me. Check out the shows they put on at night too.
Bill Board Go G0 – A big bar with the girls wearing a sexy yellow uniform.
The shows are a good. The Billboard's carousel has an on-stage shower and water drain system.
Lollipop – A decent place to check out bar girls. A bit too aggressive on customers for drinks and bar fines, though.
Other Popular Bars: Hollywood , Rainbow, PlaySchool


I've done a full review of the 10 Best AGo-Go Club in Bangkok where I spend countless night enjoying myself with hundred of HOT AGo-Go dancers.
Book a guest friendly hotel in the area so you can bring in as many girls as you want without paying extra fees and avoid to use the short time rooms above the AGo-Go bars. These short time rooms are dirty, underwhelming and disappointing. Every detail counts.

Soi Cowboy
Soi Cowboy is popular with the expat community in Bangkok.
Going where the locals patronage is a good indication of quality and value for money.
The drinks in the Ago-go bars at Soi Cowboy have gone up in price. But don't worry, it's still not so bad.
The best thing of all is that most of the bars in Soi Cowboy do have Happy Hours or drink specials such as a 2 for 1 or cheap draft beers.

Girly AGo-Go Bars
Baccara – One of the most popular bar with a good quantity of cute bar girls. This bar is patronage mostly by Japanese, so if you are a Westerner, don't expect the girls jump on your arm.
Shark AGo-Go Bar – Has a reputation for employing the most attractive girls in Soi Cowboy. And they do deserve it.
Though I've only bar fined a few girls from Shark Bar, I must say they have the best attitude in the area.
Spice Girls – Mostly great looking girls, busy bar, but beware of expensive drinks too.
Doll House – One of the oldest bars in Bangkok. Dollhouse bar is a concept that has been adopted by many other night venues around the globe.
Quite a popular Ago-go bar renowned for large-breasted bar girls. Have specials on drinks starting at 9:30 pm.
–
Bangkok Freelancer Scene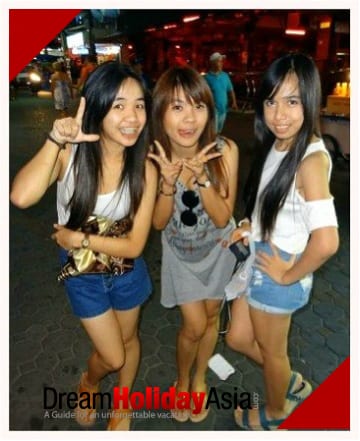 Bangkok freelancers, prostitutes, hookers or whatever you wish to call them, can be found in certain spots between Nana and Soi Cowboy.
Starting from Sukhumvit Soi 4 there are particularly more hookers, but as you walk down from Sukhumvit to Soi Cowboy there you will see less.
I recommend 5 different hot spots where usually freelancers hang out.
1. The Bus Stop – The bus stop is not the official name, but it's a name I made up because it's an area where you'll find a mixed group of freelancers. You'll find Africans, possibly Laos, Thai and ladyboy freelancers standing around right next to a public bus stop lane.
This location is between Sukhumvit Soi 5 and Soi 7.
2. Entrance of Nana Entertainment Plaza – This is a ladyboy's area (transvestites). Starting hanging out around 9 pm (they wake up late).
3. Nana Hotel Parking Lot – Located right on Sukhumvit Soi 4 at the Nana Hotel, and it's no coincidence the hotel has a no joiner fee policy. About 6 or 8 girls show up around 7 pm but once the night rolls, you'll find dozens more standing around.
Around 3 am, this area get busy with AGo-Go bar girls switching over to do some freelancing after Nana Entertainment Plaza shut down.
4. Rajah Hotel Coffee Shop – I mentioned African freelancers at the Bus Stop didn't I? It's not uncommon these days to find multinational sex workers in Bangkok.
But if you have an itch for ladies of the former Soviet Bloc check out the coffee shop inside of the Rajah Hotel, located right behind the Nana Hotel. Last time I checked, they were asking 2500 baht for short time.
5. Thermae Bar & Coffee Shop – Located by Sukhumvit Soi 15. As surreal as Bangkok may seem regarding the availability of women for hire, the Thermae takes the cake.
Russian & African
Bangkok is having a growing number of foreigner women entering the night scene, with nationalities from Russia, Uzbekistan, Kazakhstan, Turkish and the African women usually from Kenya and Nigeria.

You can meet them in the street, got delivered in your room (ask your hotel reception for help) or just contact the escort agency which will arrange everything for you.
If you want to know all the hot spots, prices and more about Russian and African hookers, read "Not only Thai girls; Meet western women in Bangkok".
However, not only foreign hookers are available in the city, but you can meet up with resident expatriate women that are looking for fun and companionship.
I have written a lengthy article about "Where and How to Meet Expat Women in Bangkok", that will help you to meet western women any day of the week.
–
Bangkok Nightclubs
The following is a list of the High-End Nightclubs and After Hours Nightclubs in Bangkok.
High-End Nightclubs are usually situated within an HI-SO hotel (Novotel, Hyatt, Sheraton, etc.) and are the expensive and trendy nightclubs of Bangkok. They usually close around 2 am.
After Hours nightclubs are cheap nightclubs (both by the entrance ticket price and by the way they look) that start late (around 2am, when other places close) and finish very late.
HI-SO Clubs
BarSu
Chic, funky and exciting, BarSu is one of Bangkok's leading night venues.
Designed for sophisticated fun-loving people who enjoy interesting wines and cocktails, creative fusion cuisine, and a diverse range of music, BarSu also features top international DJs.
Q-Bar Bangkok
Q Bar has for over a decade, set a new standard for bars and nightclubs in Thailand.
Located on Sukhumvit Road, Soi 11, since December of 1999, Q Bar hosts the largest selection of spirits and cocktails in Bangkok.
It is also the place which showcases many of the world's top international touring DJ's.
All this packed into a New York lounge style atmosphere.
What about Women? It's just paradise… The hottest and high-class Bangkok chicks all in one venue.
Please, make sure to dress properly for Q Bar, the standard bar is high.
Whenever I feel to meet a good looking Bangkok girl that have a taste for the good things in life, Q Bar is my place.
The girls are hard to get, but with some proper manner, talk and push, you'll get laid the same night.
Ready for the challenge?
After Hours Night Clubs
Mixx Discotheque Bangkok
This very popular after hours club is right behind the Intercontinental Bangkok Hotel by the Ploen Chit BTS station. It's one of the poshest hotels to stay in the city.
So you can kind of figure out for yourself that there are many high classed Thai hookers working the crowds of foreigners.
Spicy
That said, it's an institution in Bangkok's red light industry and has been around for god knows how long.
A vast majority of the girls working inside are full-time professionals. You'll also find a mix of Ago-go bar girls, perhaps some ladies from soapies that need to make some extra cash after hours.
Spicy is located a little past Pratunam, not far from Sukhumvit. Though even if I tell you the street address, you would still have a problem finding it since there are not a lot of landmarks or major hotels right next to this club.
Club Insanity
One of the main reasons why I love going to Insanity is the beautiful waitresses and bar staff.
And oh yeah, their club dancers are hot. It's a good thing the club is dark because I'm sure every single guy is popping a boner while the ladies work their magic on stage.
So there are also a lot of Thai freelancers inside as well though most of them are full-time professionals you will find some part-timers too.
–
Must Do In Bangkok
Best AGo-Go Clubs in Bangkok – An overview of the top AGo-Go bars and clubs where to meet sexy and friendly girls in Bangkok.
Blow Job Bars – If you're wondering where to go for some daytime action in Bangkok then blowjob bars are a good alternative.
Night in Patpong – Patpong is still a pure Agogo area and prostitution is at the forefront even when there are grandparents in the background sorting through souvenirs.
Kinky Hookups – There are couples and single Thai girls looking for sex.
Pick Up Bangkok Girls – Any place in Bangkok is a hunting ground; nightclubs, bars, streets, shopping malls, BTS, etc.
Soapy Massage Parlors – The best areas for a soapy massage with tips, prices and how to get out the best sex experience with your masseurs.
Best Restaurants in Bangkok – A guide to the best restaurants in town to spend a great evening with your sweetheart.

RELATED ARTICLES