Thailand Sex Guide For Single Men
If you are planning a sex holiday to Thailand and you want to know the best adult destinations where to find sexy girls, you are going to get all the info in this sex guide.
That way, you can focus all your energy on enjoying your Thailand sex vacation instead of worrying about where to go, what to do, and most importantly how to get laid.
This guide is going to focus for the most part on the P4P scene (Pay for Play scene) and help you get laid in Thailand.
If you don't want to spend your first few days in Thailand alone, start to contact girls/ladyboys online before you arrive. Simply create an account, upload a few images and tell a little about yourself.
Since your holiday time may be limited, get to know each other's desires beforehand so when you do meet, you can skip the awkward introductions and start having some real fun.
This Thailand Sex Guide's last update was 24 August 2023
Intro To Sex Tourism In Thailand
Thailand is well known to be one of the best sex travel destinations in the world.
The country has a tourist-friendly policy as well as a vast network of infrastructure and hotels that cater to a diverse array of business and leisure travelers.
However, what makes Thailand so popular for single travelers is the many red light districts with its GoGo bars, nightclubs, amazing nightlife, hot ladyboys, and sexy Thai girls.
Thailand's sex tourism increases year after year, probably because it's an easy destination to travel to where you can have fun all day and night!
Thailand has a lot to offer to travelers – no matter your budget or sexual orientation. You can get laid with girls, ladyboys, lesbians and even men if that is your kind of thing. The country has something for everybody.
Most tourists visit the red light districts in Thailand to get laid, but there are other places to meet sexy Thai girls without the need to pay a prostitute.
This Thailand sex travel guide will tell you how to travel the country like a pro, how to stay safe, how much things cost, the best places to find girls and ladyboys, and everything in between!
What About Girls & Sex In Thailand?
As I said earlier, sex tourism is huge and millions of men go to Thailand for a sex holiday to have fun with the girls.
And as you can see from the video, Thai girls are extremely sexy…
Yet, what I didn't mention is the intimacy part of the equation. Having sex with Thai girls is an incredible experience if you're into submissive and feminine women.
But before engaging in any sexual adventure I recommend learning everything you should know about the age of consent to avoid unnecessary troubles.
Don't expect the local girls to wear sexy lingerie or take control in the bedroom, that is extremely rare. And also don't expect people to talk about sex topics in public.
When you think about Thailand, you think about sexy girls wearing short skirts, ladyboys and red light districts…
But the reality is there many type of Thai girls eager to meet, hook up and date a foreign man. Not only girls working in the red light districts.
So be prepared and keep an open mind when visiting Thailand.
How To Get A Holiday Girlfriend – Thai Girlfriend Experience
Whether you are looking for a holiday Thai girlfriend for a week or two… Or a sugar baby in Thailand for a long term arrangement, I'm going to show you where to find her.
Thai girls dream to meet a decent foreign man to spend time together, have a conversation, caring you and be your girlfriend.
Just imagine spending your vacation with a young, attractive and beautiful woman while visiting Thailand.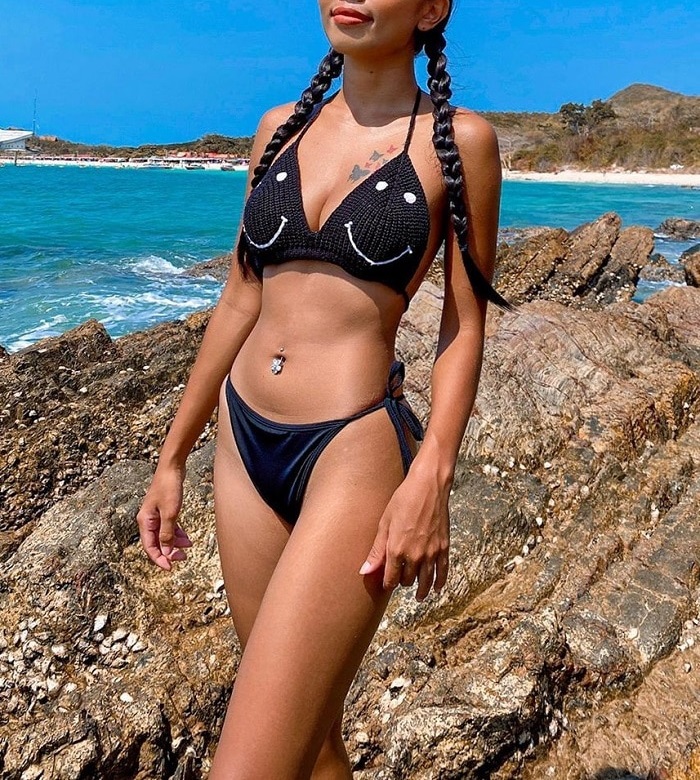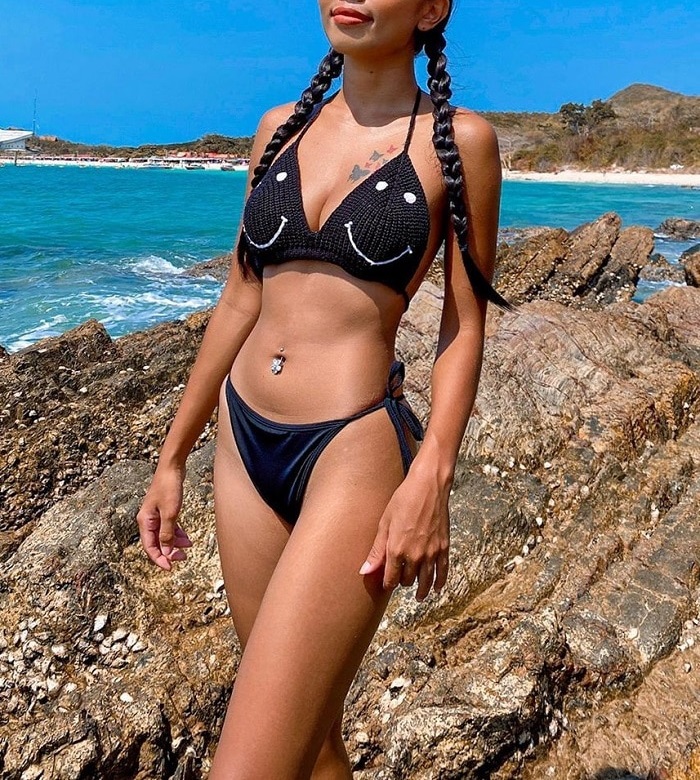 I usually meet girls from a dating site because they offer an intimate experience like only a girlfriend can offer. There is no point to pick up girls in clubs and bars, it isn't the same feeling.
In fact, before my trip to Thailand, I took my time to chat and talk with a girl to create that feeling of attraction and intimacy. I talk about things like hobbies, favorite food and why not, personal sexual preferences.
Think about this – you are at home chatting with this beautiful Thai girl waiting for the moment to spend a holiday together. She wants you as much as you want her.
Can you imagine the moment you finally meet in person? When you and she are behind closed doors.
And this is only one benefit of meeting beautiful women… Experience a different culture, see new locations and try exotic food are all side effects of traveling.
The best way to get a girlfriend in Thailand is to use a popular dating site in Thailand. There are girls from all over the country eager to meet foreign men.
To get started, feel up your profile with a realistic view of your life and what you are looking for in a Thai girl.
Upload a few good photos where you are dressed properly, groomed and look at best. Not drunk, stoned or posing in front of a Lamborghini that you don't own.
Just search for your perfect match and start the conversation with the girls. That's it!
Build a list of potential vacation girlfriends, and once in Thailand, meet up.
Read More: What You Should Know Before Getting A Thai Girlfriend
Tips
• Be direct: Thai girls are as much horny as you, so make your point immediately.
• Back-up plan: Sometimes a girl can't make it to the appointment. So keep 2-3 girls in reserve, just in case.
• Legal age: Stay clear of anybody younger than 18 years old.
• Get ready: Before visiting Thailand, talk to Thai girls online. That way you can find the right lady for your needs and get her turned on for you.
Where To Find Sex In Thailand
An overview of the best places where to find girls for sex in Thailand…
1. Online
If you walk anywhere in Thailand, you realize immediately how addicted people are to their smartphones… And they aren't just watching YouTube or play games but actively looking for sex partners.
There are several adult apps and sex sites in Thailand that help you to get in contact with horny girls and couples.
There are mature women that need a good fuck, student girls that want to explore their sexuality and couples looking for a bull to please the wife or other couples for an orgy.
2. Sex Parties
You won't find swinger clubs or sex clubs in Thailand. But plenty of sex parties behind closed doors.
There is a healthy resident community of swingers in Thailand with Thai couples and mixed-race couples. Also, there is a constant influx of couples and solo women and men who visit Thailand for a sex vacation.
If you would like to learn more about this underworld, I wrote an article on how to join a Thailand sex party that explains about sex parties and how to get invited.
3. Street Girls & Ladyboys – Thai Freelancers
This Thailand sex guide wouldn't be completed if I didn't mention the thousands of freelancers patrolling the red light districts and nearby areas.
You can recognize them because they stand on the border of the street waiting for customers…
The ladyboys are straightforward and they usually walk up to you offering sex. Instead, the girls expect you to do the first move.
Just say "Hi" – "How are you?" and other small talk until she asks you if you want her to go with you. Simple as that.
Street girls are only one type of freelancer, there are other types of freelancers in Thailand, and you don't need to wait for the dark to hook up with them.
4. Nightclubs & Pick Up Bars
Clubs and bars are great if you love to party and meet girls.
If you are into ladyboys, I'm sorry, they aren't allowed in most nightclubs and bars in Thailand.
There are pick up places exclusively filled with "non-working" girls, and if you want to score there, you need to dress sharp, be young, speak Thai and know how to approach girls.
Otherwise, there are plenty of mixed up nightclubs and bars where you can meet freelancers (another name for hooker) or "party girls" that happen to be into foreign men.
5. Go Go Bars (Bikini Bars)
Most red light districts in Thailand have a hand full of Go Go bars.
Cities like Bangkok, Phuket and Pattaya have the most and best Go Go Bars in Thailand.
They are close bars with a center stage where the girls dance, dressed or fully naked.
You can pick one and have a drink together. In some Go Go bar you can only talk to the girls, in others, you can touch them.
If you click with the girl, you can pay a bar fine to release her from the working duties. The sex price is extra to the bar fine and you deal it with the girl directly.
Bar fine price is between 800-1.500 bath and the girls want from 2.000-3.000 baht for a short time. Rarely they go for a long time.
There are also ladyboy's GoGo bars but not as many as girlie GoGo bars.
6. Beer Bars
The cheaper version of the Go-Go bars.
They are open bars located in clusters inside or outside the major red light districts.
The girls are usually less attractive and older than Go Go bar's ladies. But you can find a diamond in the rough from time to time.
The good thing is that the girls are as cheap as the beer and the free pool tables.
The bar fine is between 300-500 bath and the girls range from 1.000-2.000 baht.
7. Contact Onlyfans Models
The number of Thai Onlyfans models is increasing fast thanks to the popularity of the platform.
For a cheap monthly subscription, you can access the model's sexy photos and videos. But the best future is the possibility to contact her with your requests.
At first, you can ask a model on Onlyfans to send a personalized photo or videos for you. And once you've established a rapport, you can ask to meet in person.
Once she accepts to go out with you, it's pretty easy to get her in the sack.
8. Blow Job Bars
They are exactly as they are called: bars where you can have a drink while a girl sucks you off.
Most BJ bars offer two options: either you get sucked off in the main room with all other customers – there is a curtain that separates each table – or you go for the privacy of a bedroom.
If you go for the curtains, it's a fun experience because you can hear the girls sucking off the other guys.
Most blow job bars charge about 800 baht for a BJ, and a few places offer also full sex for 1.300 baht.
The only two destinations in Thailand with BJ bars are in Pattaya and Bangkok.
9. Soapy Massage Parlours
You can find pleasure and relaxation in a soapy massage. They are a unique tradition in Thailand and they are a must to do when visiting the country.
As opposed to the small massage shops that offer happy endings – I'm going to talk about them later – soapy massage parlours are located in massive buildings similar to five stars hotels.
You can't bargain the price or separate the services like in the small parlor, it's a set package.
If you want to know more, I've written down a step-by-step guide to a soapy massage in Thailand, and you'll find also helpful tips to enjoy the experience.
10. Happy Ending Massage Shops
On the contrary to the soapy massage parlours, these shops are small, intimate and the sex is cheap.
Besides sex, they offer services like any other Thai massage shop: oil massage and Thai massage.
The only problem most first-time travelers face is recognizing the traditional massage shop from the parlor that offers happy endings.
When the massage girls aren't wearing the Thai traditional massage uniform but wearing casual dresses, most probably they are offering massage and sex…
In doubt, just ask the massage girls if they offer any extras. Don't be shy, they are used to being asked this question quite often.
11. Escorts – Call Girls
Escort services are the most expensive way for companionship in Thailand. They are worth the money only if you have limited time at your disposal and deep pockets.
The escort girls are nothing special, just ordinary bar girls who cross-promote their services with an escort agency.
In other words, you pay escort girls double what you would pay if you take them directly from the red-light districts.
You pay extra for the convenience of having the girl come directly to your hotel room at a fixed time.
As said before, if you haven't much time they might be your only option to have sex in Thailand.
Typical Costs
• Entraitment And Companionship: Companionship in Thailand is relatively cheap and the availability of sexy girls is staggering.
Thailand girl prices vary according to your knowledge about the type of girls, the way you approach the matter and lastly the time of the year you are visiting.
But to keep things simple, these are the common prices for companionship in Thailand.
To take a girl out of Go-Go bar, you will have to pay a bar fine to let the bar release the girl from her duties which costs approximately 1.000-2.000 baht.
This doesn't include the fee for the girl as you need to bargain directly with the GoGo dancer. The standard rate is between 2.000-4.000 baht.
Instead, when you take a girl out of a beer bar, the bar fine is about 500 baht and 1.000-2.000 baht for her time.
If you don't want to waste money in bar fines, you can engage the services of Thai freelancers for 1.000-2.000 baht all-inclusive.
Those girls work on their own and don't have to share their earnings with the bar owners. In other words, you get the girl without having to pay a bar fine to the bar owner.
Yet, the cheapest option to get laid in Thailand is to contact Thai girls that love to fuck for free on popular sex apps and site in Thailand. There are plenty of horny women that need a good fuck and couples that are into threesomes and orgies.
• Sex Activities: Most of the action will be found in Pattaya, Bangkok and Phuket.
In other major cities, there are some sex activities but usually, they cater to the local Thai men.
Thailand offers a broad range of sex venues like erotic massage parlors, short-time bars, beer bars, go go bars and BJ bars.
• Accommodation: The cheapest hotel's rooms in Thailand go for between 500-1.500 baht per night.
You can get comfortable hotels for 1.500+ baht with air-con, TV and other amenities.
After that, the sky is the limit, but I've never needed to spend more than 2.000 baht per night for luxury in this country.
Most of the accommodations are guest-friendly, meaning they don't charge extra if you bring in a guest.
• Food: Speaking of street food, don't be afraid to eat it, it's safe.
You'll find the best of Thailand's food on the street, and it will cost you a fraction of what you pay at the restaurant.
Street food costs you about 100 baht per meal and restaurant food will cost between 300-1.500 baht per meal.
• Transportation: Local transportation is cheap, costing below 200 baht in most distances.
You can get anywhere in touristic town for less than 100 baht, except for Bangkok.
Renting a driver for the day will cost you between 1.000-2.000 baht per day
Best Thai Cities to Get Laid
I have already covered in depth the best Thai cities to get laid in with several tips about hooking up. It's been highlight the best cities for sex tourism and the ones to hook up with everyday girls.
But in short, these are the best destinations to get laid in Thailand…
Bangkok Sex Guide – The heart of Thailand, this crazy city is a must-see.
The nightlife scene is hot for action, in fact, picking up girls in Bangkok it's super easy. Don't get surprised to get laid after have just met.
Pattaya Sex Guide – Pattaya is a whore town. There are thousands of girls working in the 3 main red light districts, but all the city is a prostitution area.
Best destination in Thailand for cheap companionship and erotic massages.
Phuket Sex Guide – Phuket is Thailand's largest island and the biggest destination for sex tourism in Thailand.
Wonderful white-sand beaches, sexy Thai girls, and fun nightlife.
Chiang Mai Sex Guide – is the largest and most culturally significant city in Northern Thailand. There are many university girls interested in foreign men.
Koh Samui Sex Guide – The second biggest island in Thailand has a vibrant nightlife, white sand beaches and horny Thai girls craving to meet foreign men.
Krabi Sex Guide – Located in the coastal region of South-West Thailand, the province has miles of beaches and lush greenery to explore, and many sexy Thai girls, of course.
Hua Hin Sex Guide– A quiet town by the beach with a lively sex scene. It can be considered a smaller version of Pattaya.
Map of The Best Cities in Thailand For Hookups
Must To Do During a Thailand Sex Tour
• Visit Pattaya
Pattaya is a whore town and nightlife center in Thailand. It's hard to comparate it to any place in the world as it's unique.
There are so many sexy girls hot for action, that is considered a paradise on earth. And because there are so many girls freelancing in Pattaya, you can get laid on the cheap.
• Visit An Erotic Massage Parlor
In Thailand, you get spoiled by the choices of massage services offering happy endings.
If it's something of interest, I've written my experiences and thoughts about the happy ending massage in Bangkok.
• Meet Civilian Girls 
Paying to have sex can become boring very quickly. On the other hand, having sex with civilian girls is more intimate.
Get in contact with civilian girls on any dating sites before your trip. That way you don't arrive empty-handed in Thailand.
If you have enjoyed this sex guide, read more about Thailand.
RELATED ARTICLES
KEEP SCOUTING
Thailand: Bangkok | Chiang Mai | Hua Hin | Koh Samui | Krabi | Pattaya | Phuket
Asia: Cambodia | China | Indonesia | Japan | Kazakhstan | Malaysia | Mongolia | Singapore | South Korea | Philippines | Uzbekistan | Vietnam