Guide to Dating Filipino Women
If you would like to date a Filipina, you are going to find tips and answers in this guide.
Women in the Philippines are easy to please, but hard to convince to go out for a date, a bit because they are conservative, a bit because they feel shy to meet a foreigner.
Of course, I'm referring to respectful Filipinas with a day job or studying, not bar girls and hookers. The type of woman you want as a girlfriend or wife, that will love you for life without emptying your bank account.
First, I'll cover the dating scene in the Philipines so you can understand how things work in the country, which helps to avoid common problems and saves time. Then I talk about relationship and marriage, at last, you'll learn where to find singles in the Philippines.
Filipina Dating Foreigner
There are many Filipinas craving to date a foreigner, you look exotic in their eyes as much they look to you. You are going to have the upper hand because their number outsmart those of foreigners men seeking Filipinas.
It's like going inside a bar on a lady's night when the girls are way more than men, which gives you an instant better chance to score.
Now, don't expect to get dates by a snap of your fingers, it takes some working and convincing to meet a quality Filipina. But it isn't as hard as in other parts of Asia, especially where girls hardly speak any English.
When trying to date a girl, communication is a key ingredient to create that feeling of sexual attraction necessary to take the relationship to the next step. It's also much easier to pick up girls if they understand what you are saying.
In the Philippines, most women speak fluent English. Meaning you can easily connect and create a deep feeling of attraction not only with body language but also with verbal communication.
In fact, once you'll meet a Filipina, you'll notice how easy is to connect with her.
One more thing, not all the Filipinas are into foreign men, some prefer to date Filipino men. The same goes in your home country, some woman prefers black men other Asians.
So, to avoid disappointments and wasting time, go to places where you can find >Filipinas ready to date foreigners. No point trying to court women who never thought the possibility to have a man from abroad.
How Is Like Dating In The Philippines
The Filipino culture when comes to dating isn't much different from the rest of the world, but there are a few things that are worth highlighting.
You can meet the girls in different ways like on dating sites online, networking, in clubs, malls and so on. Usually, you approach the girls, talk for a bit and ask the phone number. Until here, it's pretty standard.
Where things get culturally different is early in the courtship: Filipino dating culture strongly revolves around the cell phone-calling and texting multiple times a day. That indicates that you are interested in them.
When you get 20 messages in a day, don't be surprised, it's the way she is going to tell you 'hey, I'm interested you can't you see'. Instead of being annoyed by it, be pleased to be at the center of her attention – it's flattering.
Here start the boyfriend/girlfriend stage when you are going to be in a honeymoon state…
Once the relationship gets serious, your girl will want to introduce you to her parents.
Things get awkward because according to Filipino dating protocol, it is expected that you hang out to her home to spend time with the family.
It's a good opportunity to learn about Filipino culture, how her parents live the marriage and how the Filipino family life work.
Now the interesting part, the proposal for her hand. You might expect to ask her to marry you with a ring during a romantic evening, but in the Philippines, it happens in front of all her family.
Bring your family and friends if possible, you are going to be on the hot seat during a long conversation about your plans as a couple including the wedding venue, and other generalities. Once everyone agrees to the marriage, you are all set.
A few tips and pieces of advice to navigate you during the dating process in the Philippines…
Dating Filipina Advices
If you misinterpret a Filipina sign of interest in you, you might miss out the opportunity to date her and possibly find the love of your life.
Most Filipinas are humble about showing openly their feelings, a bit because is a cultural thing and sometimes they are just too shy. They try hard to hide their feelings for you behind a smile…
Over the years, I've learned the signs that are most common when a Filipina is into you:
She asks you to meet;
She keeps contacting you;
She smiles and laughs around you;
She talks about the future;
Strong eye contact.
When interpreting correctly the signs a Filipina likes you, it's just a matter to escalate the friendly relationship to a sexual attraction, going from friends to boyfriend and girlfriend.
She is hoping that you notice and take action, she wants to be your partner.
Common Sign A Filipina Likes You
Filipinas mask their feelings very well, you never know if she is into you. It's part of their culture as they are been taught from an early age to don't show openly their feelings and to be reserved.
That's one of the reasons why they are less expressive than Westerners. In the West, a person grows up encouraged to express its own opinion whereas in the Philippines they are often judge and reprimanded for having the wrong opinion.
This especially applies to people of lower social status, Filipino culture makes sure people of less than high status cannot appear confident. Any sign of confidence is misinterpreted as arrogance.
So, you need carefully to listen and interpret non-verbal communication from a Filipina if you want to know her feeling for you.
I have put together the 5 most common signs a Filipina like you even if it's your first date with her.
Filipina Seeking Marriage
You want to marry a Filipina because they are beautiful, loving caring, they take great care of the household and know how to treat a man.
It's easy to find a good Filipina wife if you look in the right places. Where most foreign men are that they search for a girlfriend or wife in the red light districts, not a smart move.
If you don't want to get married to a gold digger, you better meet a Filipina for marriage by using reliable dating sites,  networking or striking conversations (if you are in the Philippines).
Don't expect to get out there and find the love of your life immediately, it takes time. So patience and perseverance are two of the most important skills when searching for a wife in the Philippines.
The good news is there are many quality Filipinas seeking marriage with a foreign man, a bit because you look exotic in their eyes as well as the opportunities for a better life.
However, before jumping in a long time commitment, you should a few common problems that arise between Filipino/Western couples.
Problems When Marrying A Filipina
When you think about marriage it comes naturally to think about troubles too, you know how the thing get started but not how is going to end.
You heard the stories of men married to a Filipina only to find themselves a few years later broke or with a woman sitting on their ass expecting the man to take care of everything.
It's not because Filipinas are bad in general, but like everywhere else in the world, there are good and bad people.
When you pick the right type of woman, you are unlikely to face any major problem besides the usual marriage annoyances.
The biggest issues when dealing with a Filipina wife are supporting her family if she is from a poor family and jealousy.
Girls coming from a poor background have very large families who need support for basic things like food and medicine. When someone needs help, for example, the father is sick, they will turn to you for money.
That isn't a big thing because most emergencies get resolved with a few dollars. However, once problems beginning it seems they never end. You might find yourself spending several hundreds of dollars every month.
The second big issue is having a jealous Filipina wife, it gets to drain your energy and pleasure for life. Having to hear her worries most days, it isn't fun at all.
Luckily, it's easy to solve most of those problems when marrying a Filipina by taking some time to know her well before going for the big step.
Meet Singles In The Philippines
There is an abundance of single Filipinas especially in Manila, where girls from all over the Philippines go to study and start their career.
In fact, if you happen to be in Manila for an extended period, you'll notice the share amount of young babes around. At night, the clubs are packed with singles, during the day the malls are a gold mind and online dating sites take the lead if looking for a relationship.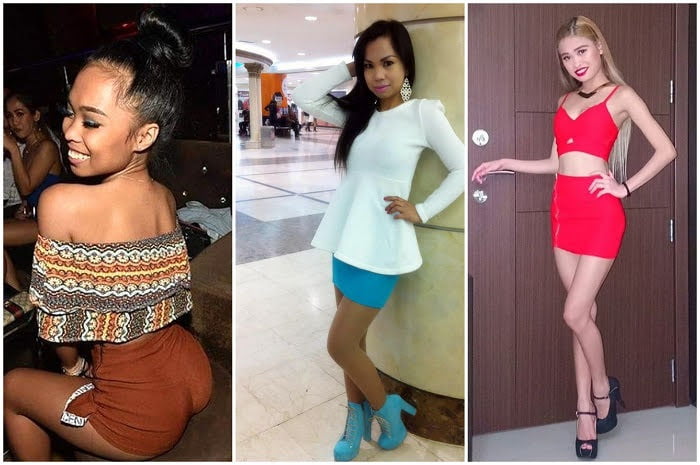 Yes, any of those places are perfect venues to meet singles in the Philippines, and each has its own pros and cons. Pick the one that suits best your style of approaching women to get the highest chances to score.
For example, if you are a night man that feels confident enough to walk up to any group of friends in a nightclub, you can get several phone numbers.
Not feeling shy to approach a girl while shopping and go for her contact or date her on the spot, so many coffee shops in the mall.
Maybe you don't feel comfortable approaching women directly, prefer a "less in the face" way to meet girl, meet girls online is for you.
As you can see, there is a way for any type of guy, from the confident man to the indirect guy.