Guide to Dating Bali Girls For Single Guys
If you need to know places where to meet single girls in Bali then you will get your answer in this guide. I'm going to show you how to hook up and date Bali women at any time of the day and night.
First, we'll check out the Bali nightlife and reveal the hottest nightclubs and bars to pick up girls on the Island. Then, we'll get into day game and talk about online dating.
Finally, I'll share some dating tips to get the moment going with your dates.
Bali Nightlife For Singles
Nightlife in Bali is just fun and packed with sexy Balinese singles with a fetish for foreign men. Though, there is almost a 100% chance that these places will be dotted by prostitutes as a result of the high rate of tourists in the Island.
Some might be tough to figure out that they are hooker freelancing because they look like normal party girls. But the key is to stay smart so you don't become an ATM to those girls.
The best way to uncover them is to see if they pay for their drinks or expect you to pay. Good girls are more likely to offer you drinks and expecting nothing in return.
The best areas for nightlife in Bali is Kuta and Seminyak where you can find tourists and locals partying in clubs and on the beach.
There are other less lively areas like Ubud where you can mix sightseeing with gaming. But we are going to focus on those two areas – Kuta and Seminyak – because is where you have the highest chances to hook up.
If you are older of 35, I recommend staying in Seminyak where you can find a more mature crowd.
The Island is pretty accessible regardless of which area you stay and transportation is dirt cheap. Although, the locals usually hassle foreigners with fee hikes.
Best Clubs And Bars To Pick Up Girls In Bali
It's always wise to start the night in the pick up bars to get into the party mood. It's also a good warm um to approach girls and having conversations without worrying too much about getting laid as the night is still long.
That way you feel and act more relax creating a good vibe.
So, the best bars and club in Bali are:
It's the hottest and probably the largest club in Bali with 8 pubs and clubs under one roof. There is a high chance of picking up locals and tourists here but a whole lot of hookers and freelancers too.  The ratio 2/1 for guys mainly under 25 years old.
A classic restobar in Seminyak that serves tasty food and fun parties. There are many hot foreign women and a few locals.
It's an exquisite club with great interior styling and a banging sound system pouring out disco beats from top DJs. Mostly locals and girls from Jakarta seeking some fun, they are very easy and attracted by good looking guys and money.
It's one of the most upscale places in Bali that mainly attract the rich, it's the number one spot to game high-class women in Bali. If you want to pick up, make sure to dress to impress. or at least to get in.
It's a striking restobar which is your go-to spot for a Sunday night with their "Splash" event. A diverse crowd of girls with many in thong bikinis and shorts and shirts.
A go-to club for you if you are under 25 and has a better turn up rate on the weekends. A great spot to pick up young Indonesians and has less prostitution rate.
A great weekend spot that plays mainly electronic music. Gaming is relatively easy here and you can find lots of local Javanese girls and westerners here. Though, there are lots of hookers around.
How To Meet Women During The Day
Not everyone feels comfortable picking up girls at night or just prefer to sleep. A great way to go about this is to meet Bali Women during the day.
Since the beach is a major attraction, there are many sexy girls having fun or chilling around. However, Indonesia is a Muslim country, and you might find most Bali women putting on shorts and shirts.
Yes, they don't look very sexy as they don't wear a bikini but regardless are horny.
If they wear a bikini, most probably they are Malaysian or Korean girls on holiday.
The women in shorts are more reserved and might be a little shy to talk to you while the bikini girls are easier to hook up with but some could be pros or working girls.
So, the only way to find it out is by talking to them.
The beach parties at 'Cocoon' at Double Six are super fun and plenty of gorgeous chicks. They do an excellent event 'Splash' during the day on Sundays.
Another day game option if the open beach isn't your thing is to meet girls at the bars and restaurants. Many girls usually hang out here during the day.
The best spots to hook up are:
Chat With Single Girls Online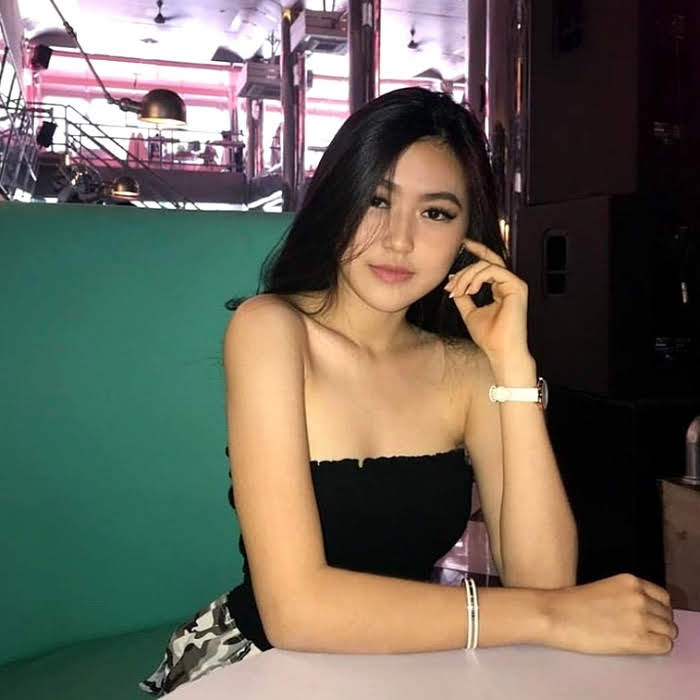 There are many guys who don't like approaching girls in public, especially in a foreign land. Girls might reject you or just don't feel comfortable talking to you, that isn't a good feeling that might break down your confidence.
To avoid awkward situations, you can simply meet girls on Indonesian dating sites where everyone is looking for the same thing: a partner.
Some just want to get laid with a foreigner, others want a relationship and a few want to get married. So just be clear in advance about what you are looking for in a match, to avoid disappointments and wasting time.
You can talk to as many girls as you want without feeling under pressure to carry on the conversation. It also gives you the chance to make contacts before you arrive in Bali, that way you can keep the ball rolling and hit the streets later if you need too.
A piece of advice, any profile with naked pics, that is a dude and in a few cases, a working girl. Just ignore them and move to the next.
Tips For Single Guys In Bali
I just covered the best ways to meet singles in Bali. Now, as promised, I'd share some tips that will put you in line for your first hook up.
If you like local Indo women there are plenty of chicks who come over for a weekend holiday from Jakarta as well as the local Balinese chicks.
When you get chatting to an Indonesian girl and tells you she is over here on holiday, you have struck gold my friend. Bali is 'girls on tour' for Jakarta chicks and trust me, from personal experience, they are up for anything.
Setting up dates and moving around won't be hard if you are in Kuta. You will find most bars, cafes and restaurants on the beach.
Seminyak is more expensive but it's worth to take your dates there as you don't get disturbed by drunken Aussie like in Kuta. Most local restaurants serve great food and Indonesian chicks love to eat.
There are many resorts and attractions in the area which are good places to go for a date. Some great sightseeing date spots to have a bit of fun will be Splash Water Park and Monkey Forest.
In general, it's a great Island for a single guy: good local food, great sights, decent accommodation and single women with a fetish for foreign men.
Enjoy Dating Bali Girls
This is the best beach destinations to visit in Indonesia where you can meet and date a variety of girls, and not only from Indonesia.
There are girls coming from Australia, Ukraine, Africa, French and more. For sure you'll have a memorable time even if you don't hook up with a Bali girl.
It's easy to meet Indonesia girls for a nightstand, but there are also easy ways to find a girlfriend in Bali.
The best way for dating in Bali is to get a few dates set up online before arriving on the island, and If that isn't enough, scout out the beaches and go out at night to hook up with girls.
I hope this guide to date in Bali has given you a clear idea of what to expect from the girls down there.
RELATED ARTICLES