Pattaya Girls, Sex & Prices Guide
If you would like to meet, hook up or date girls in Pattaya while having long nights of intense sex, this Pattaya girl guide has all the info you need.
You should enjoy your time in this sea town, instead of worrying about where to find girls and how don't get scammed.
I'm going to cover all the things you need to know to have fun and safe sex with girls in Pattaya.
This guide is focused on providing you with information about bar girls, freelancers, girls for casual sex and similar. If the red light scene does not interest you or if you intend to meet a lady that won't expect a payment in the morning … You should have a look at a popular dating site.
This Pattaya Girl Guide was last updated on 27 August 2019
***
Contents
Click a link to skip to that section. Don't skip any sections!
***
What About Sex & Girls In Pattaya 
General information about the sex scene in Pattaya
Where to Find Girls in Pattaya
An overview of the best places to meet Pattaya girls for sex
Pattaya Girl Prices
Standard prices for girls in Pattaya
How To Hire A Vacation Girlfriend In Pattaya
Best way to hire a Pattaya girl (girlfriend experience)
Where To Find Pattaya Girls For Sex
You pay and get laid
–
What About Sex & Girls In Pattaya
In general, girls in Pattaya are friendly, easy-going and love to have fun. This is the reason why this small town is a favorite holiday spot for single men visiting Thailand.
Pattaya girls offer the perfect girlfriend experience: it's just as it would be with a regular girlfriend, but without the drama. And the best part is they are cheap.
You could get a mistress or an escort on weekends in your city, and spend hundreds of dollars. In Pattaya, you can find a young and beautiful lady for as little as 1.000 baht (30$) per day and be treated like a superstar.
When hanging around with a Thai lady in Pattaya, you can expect the same sort of intimacy that you would receive from a genuine girlfriend back home. You'll be treated with the utmost care and respect too.
She'll bring fresh fruits for breakfast, massage your back, look after your sexual needs and be grateful for your attention. Most of them really do take care of any wishes you might have.
For example, if your dream is to have sex with two women, there are quite a few bisexual girls in Pattaya. Especially in the bars where the girls usually have a girlfriend working together…
It's weird, but remember this place is fantasy land. Once you step outside your hotel room, anything can happen.
You might meet a sweet girl and fall in love with her… Or find a nymphomaniac woman offering nights of intense sex… Or hook up with a Russian girl in Pattaya.
The possibilities are limitless!
Where to Find Girls in Pattaya
Pattaya is a giant market of girls, you'll be spoiled with opportunities to hook up. The best spots are:

Online
Modern technology is changing the way how you can meet Thai girls in Pattaya. Ten years ago the best way was to visit the bars in Walking Street, instead, today is to go online.
You can easily find good-looking girls for casual sex, couples or freelancers offering sex services on the cheap.
It's a naughty world online that connect you directly with local women even if you aren't in Pattaya yet. That gives you a significant advantage because you can build attraction and trust with the girls, and immediately get intimate when meeting in Pattaya.
If you prefer to meet horny singles and couples who love to have kinky sex, use a popular adult site like Asian Match Mate. But, if you prefer a slower pace and intimate way of meeting ladies, you might opt for Thai Friendly.

Nightclubs & Pick Up Bars
Pattaya nightlife is kicking, especially down Walking Street and Soi Buakhao.
You can buy girls in beer and gogo bars. Gogo bar girls are young and hot, but they are expensive and hardcore hookers while beer bar girls are less attractive but easy going.
If you feel comfortable to pick up girls in Pattaya at night and don't mind to party until late in the morning, you can visit a nightclub. Most girls clubbing in Pattaya are freelancers, meaning they expect you to pay for their drinks and a tip in the morning for sleeping with you.
The good thing about freelancers in Pattaya is their naive nature and willingness to please. They are also less expensive then bar girls.

Erotic Massage Parlors
If you don't mind having women in their late 20s, the massege girls might work out well for you.
You can have a body to body massage, oil massage with a happy ending or a private erotic massage directly in your room.
If it's something you might be interested, I talk about the erotic massage parlors and how to get a cheap massage + sex to your room in my Pattaya happy ending massage guide.

Gentleman Clubs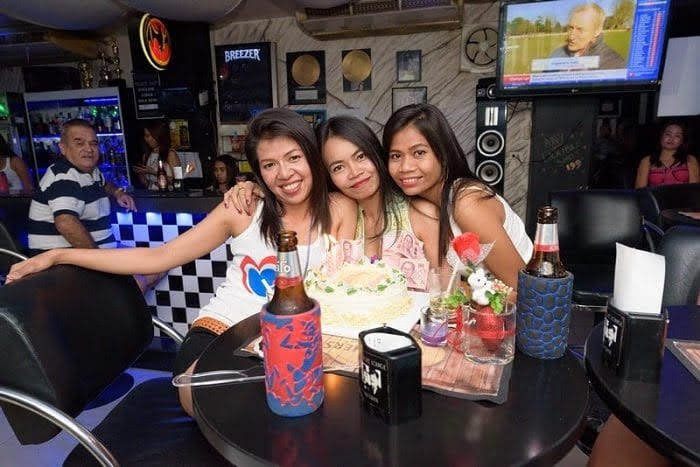 Only open in the afternoon from 3 pm until 7 pm, they are lounges where you can drink with the girls and then have sex if you feel like it.
For more information, consider reading my Pattaya gentleman club guide.
Pattaya Girl Prices
If you are wondering what is the cost for a Pattaya girl, so here's a rough guideline of Pattaya girl rates:
Bar girls working in beer bars – Pay 500 baht to the bar owner (bar fine), 1.300-1.500 baht to the girl for all night.
Bar girls working in gogo bars – Bar fine of 1.000-3.000 baht, 2.000-3.000 baht to the girl for a short time (2 hours) or 5.000+ baht for all night.
Girls in gentleman clubs – 1.300 baht for full service.
Masseur in erotic massage shops – 500 baht for massage and HJ, 800 baht for massage and BJ, 1.000+ baht for massage and sex.
Masseur in soapy massage parlor – 1.800 to 3.000 baht for full service (90 minutes).
Freelancers in the nightclubs: 1.000-2.000 baht depending timing of the year and her attractiveness.
Pattaya beach road girl price: 1.300 baht plus 300 baht for the sort time room.
The cheapest option is to meet girls on this site. Many girls are sideliners who are happy to get some tea money like 10US$.
How To Hire A Girlfriend In Pattaya
Pattaya girls are unique in the way they make you feel. They know how to please, say yes to any of your requests and are enthusiastic in the bedroom.
Imagine having all the benefits of a girlfriend but without the nagging and drama. You can expect the same sort of intimacy that you would have with a girlfriend back home.
On top of that, you'll be treated with the utmost care and respect too. They are the stuff of your dream if you want a casual holiday romance.
Most of the girls in Pattaya are petite, sweet, and soft-spoken. They are so feminine and erotic that is hard to hold your hands off them… amongst other things that you'll want to do with them.
Each moment she is thinking about how to please you, and if you really want something, she is going to say "yes" and give it to you. It's a cultural thing as Thai women have been thought to please their man and never say "no" to him.
Just imagine spending days and nights in the company of a young, attractive and horny woman while enjoying the beach and warm weather…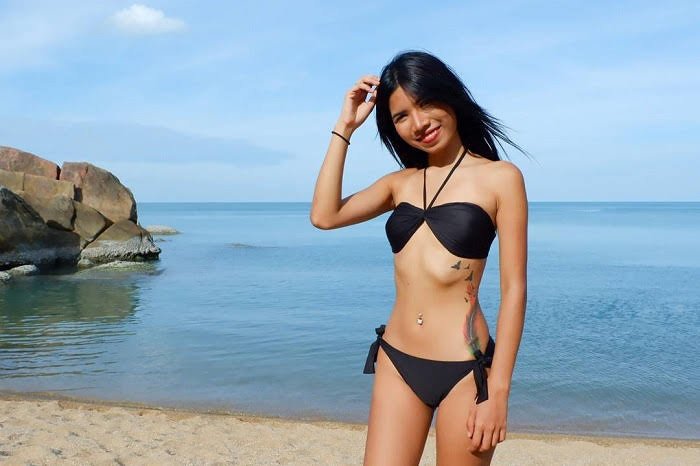 And while in Pattaya there are prostitutes in any corner of town trying to get money from you, there are also local girls that dream of meeting a foreign man. That's one of the reasons I rarely look for bar girls in Pattaya nowadays.
There are thousands of Thai girls searching for romantic adventures with western men online.
Just think about this: you are at home chatting with this lovely girl in Pattaya waiting for your holiday.
She wants you so badly, and you can't wait to be there. When the day comes and finally you are in Pattaya… How is going to be when you and she will be behind closed doors?
Having a beautiful and young girlfriend in Pattaya is wonderful, but only one benefit… Experience new places, eating different food, and clash with a new culture are all common side effects of traveling to meet girls.
The best way to find a girlfriend in Pattaya is by using a popular dating site like Thai Cupid. Thai girls use dating sites because they want to meet a foreign man, and you want to meet a lady in Pattaya. It's a Win-Win for both of you.
To get started, fill up your profile describing what you are looking for in a girl. Be honest, and it'll land you the right matches.
Then upload 2-3 photos at your best, not stoned or drunk posing in front a Ferrari that isn't yours 🙂
Make sure to verify your profile as this put you straight up on the search and that "verified badge" is going to land you more attention and messages from the girls. That's it!
Build your list of potential girlfriends, and once in Pattaya, just meet up.
Where To Find Pattaya Girls For Sex
If you are looking for an easy laid, the bar girls in the red light districts of Pattaya are your best option… If you prefer to get a lady delivered directly to your room, you can opt for an expensive call girl or a cheaper freelancer girl.
Let's see the different type of working girls in Pattaya…

Pattaya Call Girls
If you can't bother to talk with girls in bars, streets or clubs, you can use the services of a Pattaya call girl. It's a convenient way to have sex without the need to step outside your bedroom.
The only downsides are the stiff rates and the edited photos. Also, the escort agencies try to send you a different lady if the one you have booked isn't available.
A cheaper option to expensive escorts is to contact online freelancers in Pattaya.

Pattaya Bar Girls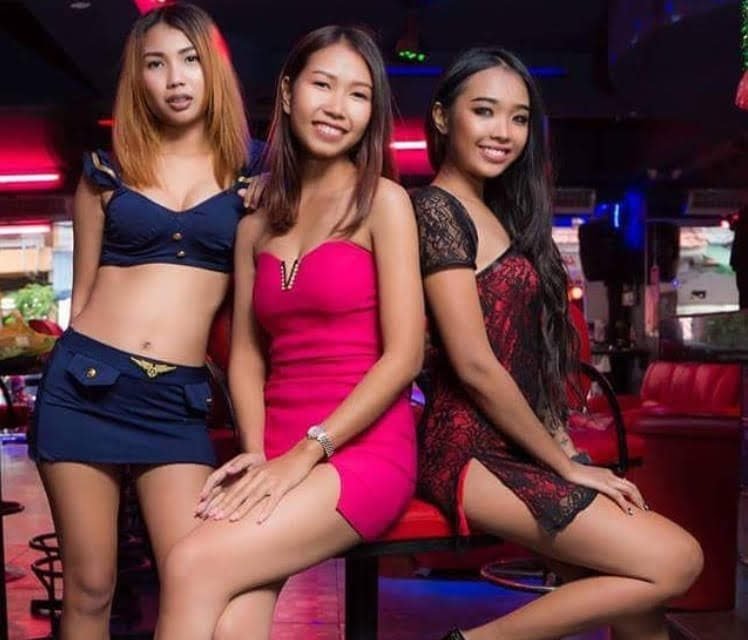 You'll find the bar girls in Pattaya to be a bunch of happy, friendly, fun-loving girls. It's like spending time with a lover rather than a working girl, they know how working their way into a man's affections.
Don't get romantically involved with Pattaya bar girls because is a sure way to go bankrupt and with a broken heart. They are company ladies good for sex, but not loyal.
As you might know already, loyalty is indispensable for a long-lasting relationship. So a bar girl in Pattaya doesn't fit in this type of relationship.
If you are searching for a loyal Thai girl in Pattaya, maybe because you are searching for a girlfriend or a wife, it's much safer to look for the right type of girls on Thai dating sites.

Online Girls In Pattaya
Technology has played a big part in moving the hottest girls away from the bars or any other type of sex venues. With mobile phone cameras everywhere, they are scared of being seen by someone back home and be shown to all the village.
Meanwhile, online dating sites have created opportunities to find a western customer without the need to work in a bar at all.
It's evident by their profile that they aren't everyday girls looking for a relationship…
You can recognize online freelancers simply because they wear bikinis, short skirts or any other sexy dresses. They usually expose their breast and ass in provocative ways, and they have tattoos.
In their description express interest in "generous guys" and mention that they love to party and have fun.
If you prefer a slow-pace and intimate way of meeting ladies in Pattaya instead of picking up girls in bars or clubs, the most used site is Thai Cupid.
Write a short description of what you are looking for, upload three of your best photos and start to chat with the girls.
Over the years, I've found that being upfront with girls online is the best way to enjoy casual sex and have fun times.
Girls online usually expect a tip of 1.000 baht for the whole day. But more often than not they don't ask for any money probably because they feel intimate with you and hope for more than just casual sex.
No need to hurry up things, just take your time and enjoy the ride.
Videos Of Girls In Pattaya
In these videos, you can see a few types of Pattaya girls:

Freelancers Girls In Walking Street
In this video, it's mostly about Pattaya girls at night. In the clubs and streets, there are hundreds of freelancers. As said earlier, Thai girls aren't able to say "no" to a man, at 0.38 pf the video, one of the girls don't want to go with him.
So he forces her to follow and she obeys.
Girlfriend Experience in Pattaya
This video shows an honest girlfriend experience in Pattaya…


RELATED ARTICLES