If you want to meet Asian women, the most logical step would be to move to Asia for a year.
Why a year?
It's easy to hook up with girls in Asia, it's not easy to date with Asian women because of their conservative nature.
Moving to Asia might not be possible for you, and honestly, it's a big first step to take not worth the risk of losing your life opportunities just for the sake to meet women in Asia.
The thing is, you don't need to go anywhere if you want to meet Asian girls.
When you can't go to Asia, let Asia come to you.
Sure, you could hook up with Asian girls in your own city, most probably there is an Asian population there.
Places like university, church or Asian restaurants are great places to meet Asia women.
The problem is those Asian chicks look exotic and attractive to you. But their personality and manners are totally the same as your country girls.
Probably you don't like to date women in your own country because of their bad behavior.
So, why to date a woman with only a different look but with the same bad attitude?
The only way to meet Asian girls with all their good personality treats – feminine, look after you and submissive – is to meet a girl living in Asia.
So, how to meet "original" Asian girls without going to Asia?
Date Asian Girls Online in Simple Steps
"Don't waste your time and money on dating sites before reading this article"
If you haven't been dating for a while, if you're new to dating or if you want to meet the Asian woman of your dream, online dating sites are an excellent step stone forward your intentions.
This article is representing my experience to meet Asian girls on dating sites.
These pieces of advice are based on what has worked for me when dating girls across Thailand, Malaysia, Philippines, Indonesia, China, Vietnam, Cambodia, and Singapore.
Before starting the actual process of subscribing to a dating site, I want to give you two facts that will help you to achieve success in dating Asian women online:
• First the good news – Asian women really love foreign men.
At first, I thought this would be something related to money only. But I was wrong.
We are as exotic to them as they are to us. I have been complimented on several body features (e.g. long nose, white skin, round eyes) which sound weird when you don't know about Asian culture.
Did you know Asian women don't mind date older men? Asians respect older people.
• The second fact. Most men on online dating sites are perverts. It puzzles why men ask girls for naked pictures, or the guy shows its dick.
That isn't going to work, it's just a huge waste of everybody time. No girl will respond to this approach.
This can be done later when you and she have build trust and intimacy.
Luckily, this plays in your favor. So, don't approach with "Hey Baby, let's have some fun".
With this simple tip in mind, you are already in the top 20% of men to be considered.
Get Started With Online Dating
I'm going to use AsianDating.com as an example for this tutorial, but you can apply it to any legitimate Asian dating sites.
Ready? Let's go!
1) Create A Profile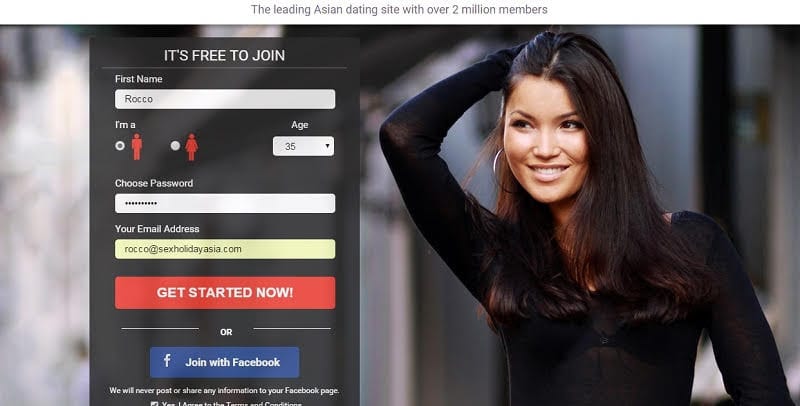 The process is standard, just add your real name, sex, age and email address. Alternatively, sign in with your Facebook account.
Use your real age, do not cheat on your age.
Being 50 years old is really not a problem, being ashamed of it is. People think that a few years less will help to attract younger females.
Wrong! Going back to the previous point, Asian women like and respect older men. Second, lying will not help you to build an honest relationship with any women.
2) Increase Your Chances To Meet Attractive Women
Now that you subscribe save your email address and password for your reference.
The second form is about to describe yourself (by the way: you can change all these informations later).
This is the first chance to separate yourself from the crowd. Most guys overlook this stage and rush to the NEXT step.
I have read many men's profiles over the years, and 90% of them are getting this part wrong. Don't be one of them!
Marital Status: All the options will work fine except for "Married". Asian women are well aware of the fact that many guys already married travel to Asia and just want to have a good time.
Most girls are looking for a serious relationship, and a married man can't provide this.
Conclusion: If you are indeed married – don't mention it. In fact, I would put in "Single or divorce" no matter what.
Occupation: All options work well except for "Non-occupation". Women don't like losers.
In Asia, your occupation will not matter much as in America where women target men based on their career = money.
Willing to relocate: Choose "Not sure about relocating" even if you are not willing to relocate. The search algorithm favors this option offering a wider target of women.
Anyway, one day you might decide to make the move to go live abroad, you don't know that yet, just keep the possibility open.
The next three points are the most important one and required a bit of effort from your side. While we don't care if a beautiful girl is not putting much energy in it, girls are caring about your description.
3) Make Her To Choose You
If you leave these three fields empty or just with the minimum info required, you will miss out to attract the best women online.
There are plenty of paying members with "zombie" profiles.
Your Profile Heading
So, what headline is most likely to get the attention?
The engagement starts with the headline.
If you leave this part empty, a miserable "Hi" is displayed. Other INFAMOUS headlines read something like this:
"Searching for a girlfriend."
"Looking for love."
"Are you the one?"
"I'm a gentleman."
Flaky!
Flaky! Flaky!
Flaky! Flaky! Flaky!
Flaky! Flaky! Flaky! Flaky!
"Please my friend, don't".
Now, put yourself in her shoes.
Would you ever click a profile with such flaky headline? So, what makes you think she'll?
There is a better way.
Headlines as questions are always good as we like to know the answers or want to answer them ourselves
My current headline, for example, is "Should I go Bangkok or Phuket?". I continue to explain that I'm planning to live in Thailand and these two destinations are possible town to live in.
I continue to explain that I'm planning to live in Thailand but unsure about the city.
This headline alone gets me a lot of attention without me doing one single thing. Let them come to YOU.
In conclusion; Get the girls interested in you. Don't waste time to chase them.
You can change the headline every week and see what work best
She Is Yours – Close The Deal With "A Little About Yourself"
Your headline is solid, which made her want to read more. CONGRATULATION!
So, what's next?
Indulge her to contact you.
Most men talk about themselves, and then again about themselves and then again about themselves. LOL.
It isn't their fault, the box says: "Talk about yourself".
The ugly truth is girls don't care about your job, how good you're or your sports achievements. They want to know what is in for them.
In my description, I state that I love wines and good dining. In her mind this translates as "He'll take me out in nice places to eat so I can take nice pictures to show my friends."
You see how girls think.
There are endless options here but keep it sharp and to the essential, 3-4 sentences will do.
I connect the text with my headline to make it as a flow. In my case, I just wrote about my plans to move to Thailand and what I would like to do in my free time.
So the girl read like: "He comes to Thailand, take me out for dinner so I can take nice pictures to show my friends and is going to be my boyfriend and take care me as he is going to work here."
Did you notice that I made clear that I'm a busy person, and I'm looking for serious women, not a time waster?
REMEMBER; You are the prize, not her!
At last, check out what other men are writing in their profiles, and just write the opposite.
Do you want to be another profile which states: "I am looking for a girl that I can grow old with" or "Just checking this site out".
"Dare to be different!"
What You're Looking For In A Partner
Just keep it simple and honest. She must be beautiful. Of course, they all feel beautiful, and they are going to challenge me.
I receive a lot of replies about it and sometimes are funny too; "Am I sexy enough for you?" 🙂
I love it!
"WELL DONE!"
Profile Photos – Make An Impact
You need to upload at least three pictures of yourself.
First, a portrait of you where you are shaved, look smart and clean.
Second, a picture of your family. Asian women value family at the highest, and you will seem like an excellent man doing this (no other men do it, so you stand out).
The third picture should be you with friends in a social setting, no drunk, please.
By showing that you are a social person, she will assume that you must be a good man. This is how Asian women think.
TIP: Use Facebook pictures that got you the most likes
4) Improve Your Chances By 200%
Turn your standard account into a premium account.
Premium accounts set you on the TOP search list and allow you to write and read the messages from other users.
It is well worth it. Imagine the potential to connect with hundreds of beautiful girls ready to date YOU.
Every day there are literally hundreds of new GIRLS (that is why I recommend the 12-month package, as you will get much more bang for your bucks).
If you don't behave like a total retard (more on this later), I assure you will be overwhelmed by girls that want to talk to you.
JD's experience with Asian dating sites:
Hi Rocco,

I got three of my best pictures online. I opened with a line like – "is that smile for me?" work 98% of the time. The feedback I get is "haha" or "yes".

When talking to them I usually just follow your advice which is to be yourself and smile while talking with confidence and let them do the talking. I showed my animals to them immediately try to make them laugh. Laughing for them is huge!.

Another method I use to open on them is to make a joke about anything they've written on their page, for example – if she says I don't like bad boys – my answer is "I am a bad boy, and they just laugh saying "no way you're a good guy."

I use Filipino Cupid, that site is just crazy. As soon as I made my page I had five interest and messages in less than 5 minutes.

After four days I narrowed down two girls from Manila and two from Cebu. These girls are 8-10s, and they are humble not stuck up.

I also have one from Makati, but she's a real freak sending naked pictures! The worst part – I searched her Facebook, and she has a husband!!

Best

-JD
*************
I hope these tips will help you to create an awesome profile while attracting the right girls.
I wish all the best in meeting your dream Asian woman.
RELATED ARTICLES