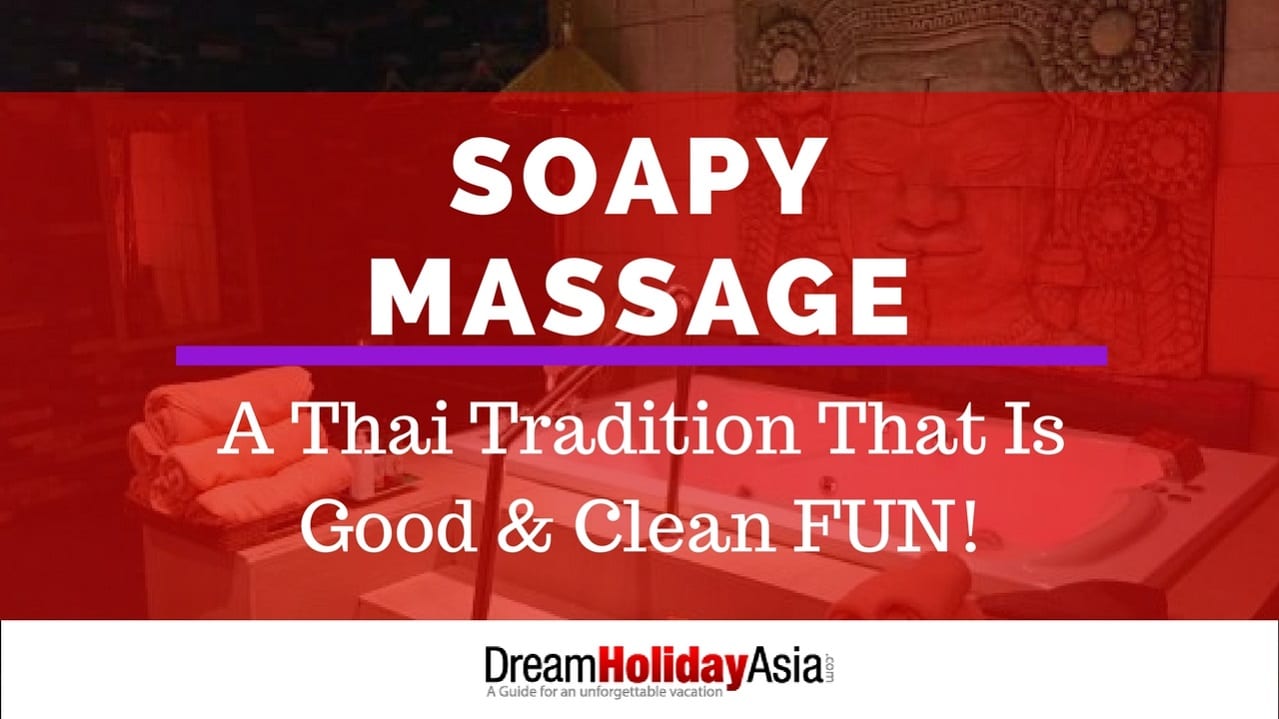 Soapy Massage: A Thai Tradition That Is Good & Clean Fun!
Thai Soapy Massage Revealed
"Numerous men describe a soapy massage the most delightful and sexual experience an individual can have during a holiday to Asia"
Recognizing that Thai massage is one of the foundations of 'Thai Wisdom', (the others being Thai boxing, cooking, and dialect), it appears to be just characteristic that sex and massage might be consolidated eventually.
Add to the main ingredients fun and water, and you get a "Soapy Massage".
I have to agree on this, and if you have never tried out an Asian soapy massage before, it will be on your "must to do" list during your next vacation.
What exactly is a Soapy Massage?
For frequent visitors to this site who already have perused prior articles discussing the many massage delights of the Orient; Thai oil massage and happy endings alike.
Your eyes have already been opened wide to the wondrous possibilities of sensual touch.
While you may have begun reading with innocent curiosity, you've now learned all sorts of things! You're undoubtedly happy to know that the mythical "happy massage" is neither myth nor legend but an easily obtainable Asian pleasure, common throughout the Far East!
But what, you wonder with curiosity anew, is this "Soapy Massage" you've heard whispers about?
More importantly, how and where can you get one the next time you're traveling to Thailand?
Where to get the best experience without break the wallet.
Relax, friend! As always, all questions will be answered.
First, a soapy massage is just about exactly what it sounds like: a sensuous and erotic massage that involves a whole lot of water, soap suds, and soft touch.
What makes a Thai soapy massage special, however, isn't really the soap and water – although the sweet slickness of the soapy water is the key component to releasing your tension and achieving the highest of pleasures!
What makes a soapy massage different is what exactly the masseuse uses to provide that pleasure.
She doesn't use her hands – or at least not JUST her hands.
She doesn't use her feet – or at least, not just her petite little Asian feet! No, in a correctly performed Asian soapy massage, the girl of your dreams uses EVERYTHING.
"And I do, in fact, mean everything!"
You see, that is the whole point of the soap: it provides a release of friction, and enables the masseuse to use every part of her body, in the direct skin on skin contact, to provide you with pleasure beyond anything you've imagined.
Hands and fingers, toes and feet, legs and arms wrapped around you, bare breasts rubbing every part of your slick body, even the whole length of her perfect nude form rubbing up and down on you until … Getting the idea now?
Related Articles:
How a Thai Soapy Massage is Performed?
Here's how it works in Thailand, and in most Asian countries, particularly those in South Asia: Thailand, the Philippines, Vietnam, and Laos. (Of course, keep in mind that it is the Thais who invented this pleasure and they remain the undisputed champions of its perfection!).
There are massage parlors everywhere in Thailand, especially in Bangkok, Phuket and Pattaya, and many of these parlors specialize specifically in soapy massage – and advertise their services openly.
Once you've selected the best soapy massage parlor in the city, you'll enter the establishment and be given a choice of many lovely ladies.
Choose your favorite lady.
She'll sit with you for a little while, perhaps share a drink with you, and get comfortable with each other. And then she'll take you gently by the hand and lead you through a curtain into a room in the back – and that's where the fun begins!
INFO: Oh, and by the way, keep in mind that in Thailand, most of the soapy massage parlors are actually well-run, well-managed, clean, and rather attractive establishments.
They are often compared to western casinos, with lots of big rooms, flashing lights, and many scantily clad pretty girls! These are not cheap or seedy places, and you will feel right at home luxuriating in the high-class settings.
Back to our story now!
So your sweet little Thai flower blossom leads you back to a sumptuously appointed room, in which you will often find both a comfortable massage table covered in clean linen, as well as a large bathtub, usually already filled with warm and soapy water.
Your new friend will help you disrobe – and yes, you will take off everything!
Once you're naked, she'll stand in front of you and slowly, sensually remove every shred of her own clothing. At which point she'll gently but firmly guide you to the bathtub.
Your lady will gently bathe you, every inch of you. As her hands rub every part of your body, she'll be pressing her bare, soapy, perky little tits against your back.
Soon, you'll notice that she's starting to concentrate quite heavily on one particular part of your anatomy!
You're now clean as a whistle but feeling rather naughty.
Sometimes the massage may start and end right there in the bathtub, but most of the time, your angel will eventually guide you over to the massage table or a waiting bed and have you lie down on your back.
This is where what is already very, very good becomes indescribably great!
She'll have a bucket of water and more soapy suds nearby, and she'll again begin rubbing you all over.
This time, however, she'll climb up on the table and start using her entire body, focusing most of her attention on your now rock hard cock.
She'll rub her breasts on your chest and face, then eventually slide down and slip you between her tits. She may also turn over use her tight little backside, slippery and wet, to rub your hardness. The pleasure is excruciating! And it can go on and on and on but surely, by this time, you are banging her already.
At this point, it's important to note that unlike traditional massage both in Asia and the West, a good soapy massage can take quite some time! The process often takes 1 to 2 hours.
TIPS: How the experience ends is usually up to you. It is understood in all Thai soapy massages that you will be having a wonderful orgasm … or two.
You are usually free to touch the girls, anywhere and everywhere you like. As with any happy ending massage, you are not supposed to specifically ask for sex in exchange for money, but all sides understand that sex is almost certainly going to happen … and all you have to do is lie there!
She will probably put you in her mouth and suck you, all the while rubbing her soapy breasts against you, and still massaging your chest and legs.
At some point, she'll mount you and rub your cock against her wet, moist, soapy pussy. Most of the time, it takes very little encouragement at that point to slide right into her tight warmth and completes the act! Just don't be shy.
She's an expert and knows exactly how to pleasure you, just lay back and enjoy the ride. If you want something, ask nicely and politely. For a smile and a generous tip, the world can be yours!
We won't spoil all the surprise, but you're certainly wondering the obvious question:
How Much Will a Soapy Massage Cost Me?
First, understand that like any other service, the price will vary with quality.
However, as a general rule, a "full service" soapy massage, with anything and everything you could want, will start at around 1800 baht (US$ 60).
The very highest end top of the line soapy massage parlors – and these are for girls that look like Asian supermodels, who will do anything for 2 hours – charge about 3000 baht(US$ 100).
That's it – and frankly, it is a good value for money. For the equivalent of $60-$100, you can have a hot Thai girl to play with and get on top a FREE body clean.