Best Full Moon Beach Party in Thailand
The Most Popular Beach Party in The World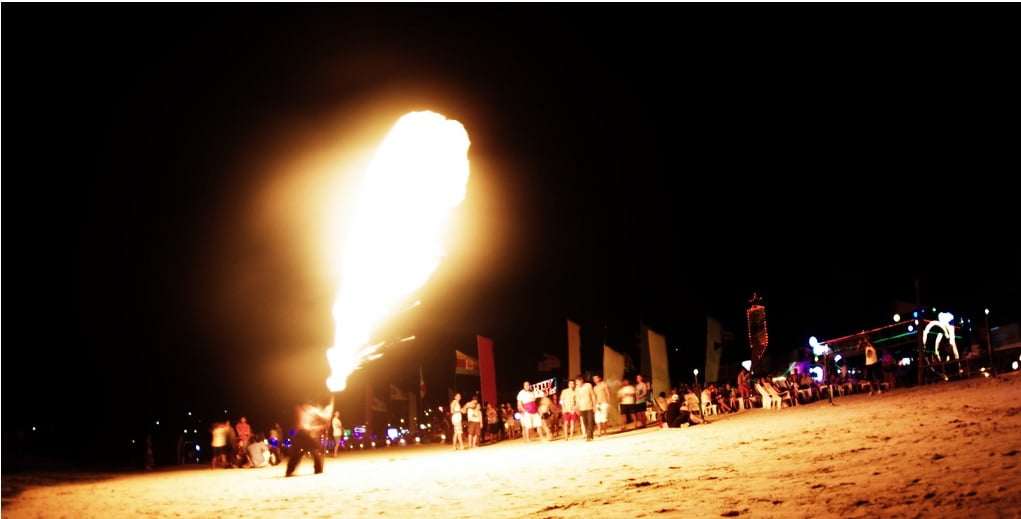 The first Full Moon Party was improvised at a wooden disco not far from the beach in 1985 for giving thanks to about 20-30 travelers.
The Full Moon Party gained fame quickly through word of mouth, and the event now draws a crowd about 20,000-30,000 every full moon evening.
The party carries on until the sun rises the next day. All the bars on the sunrise beach of Haad Rin town stay open and play music such as R&B, drum and bass, house, dance and reggae.
The modern event has become a part of the itinerary of many travelers to Asia.
It is characterized by unruly and potentially dangerous attractions such as fire skipping ropes, wildly variable alcohol strength 'buckets', and a drug culture.
It is indeed seen by many as the "ultimate party experience", although drug laws are still strict, and police enforcement is stepped up during the parties.
Perhaps among the most legendary aspects of a visit to Thailand for many young backpackers are the notorious party beaches dotted around the country.
Whether you're going to rave it up at one of the beach parties in Thailand, or simply want to know where they are, here we've provided you with a list of the best beach party scenes in Thailand.
Where can i find the best full moon beach parties in Thailand?
Beach Party in Phuket
Although Phuket has several quality beaches, by far the busiest and most active at night is Patong beach.
Patong beach itself isn't the largest or most beautiful beach in Phuket but the entire area surrounding the beach comes to life.
It's the main destination for single men who are looking for sex in Phuket.
Among the facilities on offer, there are nightclubs, ping pong shows as well as hundreds of girlie bars.
There are also a few nightclubs which are particularly popular with young visitors, ensuring a steady flow of human traffic along Patong beach into the early morning.
Although some parts of Patong may be a little too seedy for some visitors, the area surrounding the beach is generally safe.
Beach Party in Pattaya
Pattaya is the red light capital of Thailand which means it's especially popular with young single men and not so suitable for families with children.
Originally established as a resting spot for off duty US military personnel during the Vietnam War, Pattaya has remained a place for drinking and partying ever since.
There are literally hundreds of bars, go go bars and clubs all around Pattaya which means there should be something to suit the musical tastes of nearly everyone.
Beach Party in Ko Samui
Koh Samui is the main Tourist Island situated in the Gulf of Thailand.
Koh Samui receives hundreds of thousands of visitors every year who come to enjoy the idyllic tropical island surroundings.
Chawang Beach is the main center of partying and nightlife on the Island with the usual array of restaurants, bars and a few nightclubs comparable to Patong beach in Phuket.
Beach Party in Koh Phangan
Koh Phangnan is the smaller sister island of Koh Samui which although much smaller than Samui has one monthly attraction that pulls in thousands of young foreigners and Thais alike: The full moon party.
The full moon party has legendary status among backpackers from all over the world who come in the hundreds of thousands yearly to experience this massive party that takes place on the 15th of every lunar month.
The entire beach at Haad Rin is taken over by thousands of young people hoping between the dozens of bars each blaring out their own music from loudspeakers.