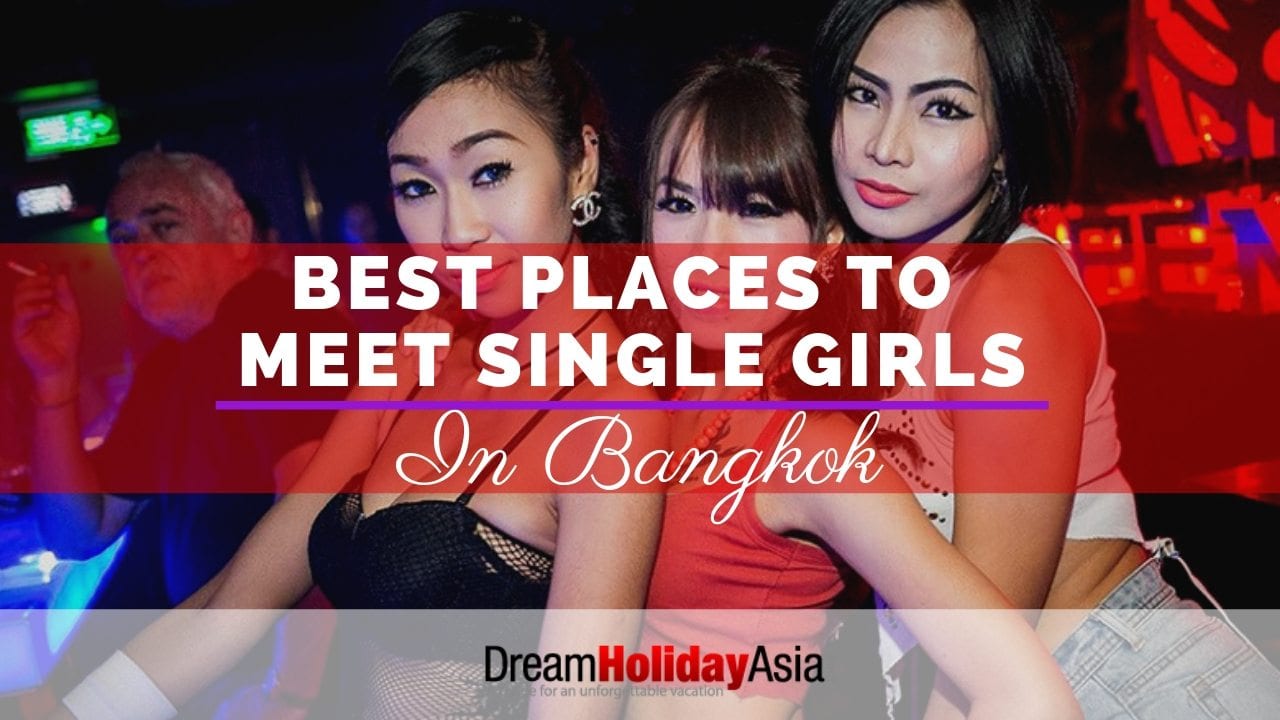 Best Places To Meet Single Girls In Bangkok
If you are wondering where to meet single girls in Bangkok, you will find the answer in this guide.
I'm going to show you the best hook ups to meet women during the day and at night.
First, we get into Bangkok nightlife covering the hottest nightclubs and bars to pick up girls in town. Then we move into day games and finally we talk about online dating.
That way you can choose the best style which suits you in meeting local girls. I'll also give dating tips to make your experience with Bangkok girls a success.
Let's start with…
Chat With Girls Online
When going around Bangkok, you will notice that the girls are glued to their phones. They call it the social media era, where girls hang out in a digital world.
For example, if you try to approach a hot girl in the metro while she is on her phone, you might freak her out.
You don't need to get into awkward situations, girls in Bangkok are hooking up in a different way. Actually, more than ever before, it just may not appear to be that way.
When you find your way onto many girl's phones, you are going to increase dramatically your chances to hook up.
The easiest way to do that is to use online dating sites and apps like Thai Friendly.
Dating online is where you can build your harem of hot girls, without worrying about public rejections or awkward situations.
It's also the best way to make contacts before you arrive in the city.
Just keep in mind that Bangkok has many hookers, and they also use online dating to looking for customers.
If you want to avoid prostitutes, ask if she's a hooker or not – in a nice way – while chatting.
There are slutty girls with the intention of sleeping with foreign men. But they don't want to be seen in public, so prefer the privacy of dating sites.
In my personal experience, there are only a handful of pros on those dating sites. The majority of girls are looking for a genuine relationship.
Bangkok Nightlife for Singles
Let's start with the best Bangkok pick up bars because they are usually the early night hook ups to meet single women.
Usually, office girls and independent women go out early between 6-9 pm.
Later, you will find mostly "party babes" and university students who don't have to wake up early the next morning to fulfill life commitment.
There are a few good areas for nightlife in Bangkok – like Silom Road and RCA – where you can find teenagers clubbing and hookers in the street.
However, we will focus only on those areas where you have higher chances to score without paying for it, like Khao San Road, Thonglor and Sukhumvit Soi 11.
Best Bars To Pick Up Bangkok Girls
1. Golf Bar
At this far bar, you will find The Khao San's girls who feature three main attributes: a party attitude, a love for the white guys, and sexual promiscuity.
2. Khao San 1986
1986 is another pretty damn easy bar where you can meet hot girls, and it usually opens until very late on the weekends, around 4 am.
3. Iron Fairies
Iron Fairies is a magical bar and the best one for picking up singles.
4. Above Eleven
Above Eleven is a rooftop bar situated 32 floors above the premier party street in Bangkok. It's located on Sukhumvit Soi 11.
5. Octave
The octave rooftop bar is more than a place for meeting sexy girls. They make super cocktails!
Best Nightclubs To Pick Up Girls in Bangkok
1. Levels
Levels club combines elements of a classy lounge, a box-like clubbing room, and a terrace bar. Here you can find the hottest girls in Bangkok.
2. Beam Nightclub
It is one of the latest clubs to open and the place to meet students, office girls, and even foreign women.
3. Demo and Funky Villa
It is one of the fashionable and coolest nightclubs in Bangkok.
4. Narz
Narz is a late night club housed inside a glass-fronted mansion. It's a cool place.
5. The Club
It opens until 4 am. Great for late hook-up.
6. Onyx
Onyx is one of the best nightclubs for Mondays.
Meet Bangkok Girls During The Day
Not everyone likes the nightclub or bar scene. But, this does not mean that they cannot meet Bangkok girls during the day.
Shopping malls are the hotbed places where you can chat up girls and give out phone numbers on the go.
The most popular ones are Union mall, MBK, and Central World.
Most of Bangkok women at MBK and Central world usually speak English, but you will defend yourself with your basic Thai at Union mall, where the majority of these girls will be speaking Thai.
Other HOT shopping malls are:
• Seacon Square in Srinakarin
• Terminal 21 at Asok
• Emporium and EmQuartier located at Phrom Phong
• Central Embassy at Ploenchit
• Pantip Plaza and Platinum Fashion at the Chidlom
Tips For First Timer In Bangkok
For setting updates, and having an excellent logistic moving around, stay on the BTS train line.
I just covered the best ways to meet singles in Bangkok and now I want to share some tips on how to set up your stay.
For setting updates and having an excellent logistic moving around, stay on the BTS train line.
Sukhumvit is the best place for nightlife in Bangkok for singles. Not the cheapest but the most convenient.
There are tons of hotels, malls and nightclubs where you can find Bangkok babes.
Keep in mind that this area has many freelances (self-employed prostitutes), so you need to pay attention "who is who".
There are excellent restaurants and it's easy to get around, making it the perfect place to hook up with local girls.
Keep in mind that Thai girls love their cuisine, so you better take your dates in a local eatery.
Don't try to impress them with a luxury restaurant; Even high class Bangkok women prefer humble places.
Consider staying in Thonglor for picking up university girls and near the Siam BTS station if you want to meet Bangkok business/independent women during the day.
Most of them have a fetish for foreign men.
Overall this is a wonderful city for a single guy. Good food, cheap accommodations, and many single women ready for action.
Enjoy Dating Bangkok Girls
This is one of the best South East Asia cities to visit and even if you don't hook up with a hot Bangkok girl, you will have an awesome time.
There are many nightlife hotspots to meet girls, but keep in mind that the tourist areas are full of prostitutes.
If you want to hook up with regular Thai girls, the best way is to use a popular dating site in Thailand. Plenty of Thai girls dreaming to meet a foreign man.
You can build a list of girls, and once in Bangkok just meet up. That way you can be sure to have a few dates set up and be confident to get laid.
That wraps up our best places to meet Bangkok girls. Have a blast of a holiday.
RELATED ARTICLES