How To Pick Up Bangkok Girls and Get Laid in 2019
Meet Attractive Girls in Bangkok and Get Laid
Bangkok has much more to offer than bar girls and red light districts
If you are wondering where to pick up girls in Bangkok, you'll find the answear here. The capital of Thailand is paradise on hearth when it comes to beautiful girls. Women in Bangkok are just HOT!
Most single men visiting the city realize immediately how easy is to hook up with girls in Bangkok. And I'm not referring to hookers and prostitutes but genuine singles…
The main difference between Thai and other Asian girls is a strong need to have sex.
Don't get surprised to get laid with a Bangkok girl met just a few hours before. When she likes you, the next natural step is to have sex.
It's like when you walk in front of a restaurant, you see a delicious meal and decide to have it.
Yes, my friend: "that is how easy is to get laid with Bangkok girls."
The relationship between Thai women and sex is an open mind forward the experience. This might be the reason Thai people smile all the time.
Bangkok is a unique place to pick up Thai girls. There are university girls, office women, hookers, freelancers and more.
Instead, in the popular resort towns like Pattaya and Phuket, the pool of girls to pick up is mostly restricted to prostitute and bar girls.
So, if you know what to say and how to connect with women, Bangkok is your holy land.
Is It Hard To Pick Up Bangkok Girls?
I've been all over the globe to meet local women, from the hardest countries like Lebanon to the easiest like Thailand.
I've found that Bangkok girls are a bit shy at first, but they've got a genuine interest in meeting a foreigner.
A bit because we look exotic to them and a bit to try a different flavor of the day.
I'm talking about regular girls here, the one you meet on dating sites, in malls, clubs, streets and nearby universities.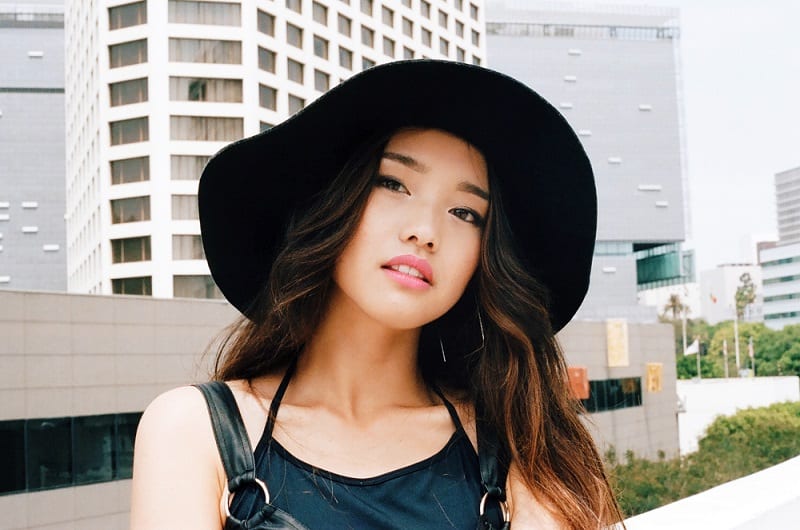 Bar girls or women in the red light districts are there waiting for men with open legs.
I've seen fat, bold and old men getting laid with cute, young and lovely bar girls. Sometimes even more than one.
There is the chance to get laid in Bangkok for any guy.
When you can't start a conversation with a Bangkok girl that means you are screwed.
I feel sorry to say this but: "If you can't get laid in Bangkok, you will never get laid anywhere else in the world".
I'm not saying that Bangkok girls are easy because they are sluts or need desperately money, but because Thai women can feel attraction for a man far behind his appearance, body shape or age.
How to Pick Up Bangkok Girls Anywhere
There aren't only online dating sites or Facebook to meet hot girls for a date. You can meet attractive Bangkok girls in real life too: streets, malls, clubs and so on.
I've got a few points of importance to be successful in picking up girls in Bangkok:
• Keep the conversation basic
Most Bangkok girls are just terrible in English language, so don't expect every Thai woman to understand you, even if they do, speak slowly and clearly.
• Ask for conversational questions
 You want to ask something which the conversation can open up, just to engage her. Please, don't ask about the nearest toilet.
• Close Her
Most girls in Bangkok, especially the one met in malls, don't have much to do for the day, so is good to ask her to show you around or take you to that special noodle shop she spoke about earlier in the conversation.
• Get her number
Most guys ask for the number just before say bye, this is no good practice because she'll feel like you are a kind of Playboy.
So, get her number between conversations just by saying "Do you have LINE? Would be nice to chat sometimes"…
• Follow Up
For the day, you are done, and you can say "bye" to her.
Just follow up after one hour with some message and plan your next meeting.
Can be the next day, in 3 days or during the weekend, however, the sooner the better.
• Go for the Bang
 In the next date, make sure to meet her nearby your hotel room for your convenience.
Meet her, have a coffee and a short conversation.
I usually take her to my bedroom by saying that I need to charge my phone or I want to take my camera.
Once in a room, she'll be up for some sex, after all in Bangkok is just the norm.
How Easy Is To Have Sex With Bangkok Girls
From my first trip to Bangkok, I quickly realized that it was very easy to meet single girls and get laid when scouting in the right places in Bangkok. More than I could ever handle.
To be clear once more, I'm not talking about bar girls or hookers. Instead, regular local women looking for genuine fun.
I'm not the typical six packs man, tall or handsome. When is so easy for me to get laid with quality Bangkok girls, it'll be easy for you too.
Interested? Carry on reading…
Typically for first-time guys in Bangkok will take few days to get laid with a Bangkok girl, mostly because they are unaware of how things develop quickly in Bangkok when meeting a girl.
I had dates with Bangkok girls that took only a few hours to get to a short time hotel room and have sex.
What is the trick? Be straightforward and decide what to do next.
Most guys let the girl decide. Wondering why a lot of caffe latte and movies is on the menu? If you let women take the lead, you'll never get laid.
It is your job as a confident man to make decisions, and Thai women will follow your desires.
Culturally speaking, Thai women are submissive and rarely disagree with a man. When you know "how to," you'll get laid every day during your vacation in Bangkok.
Let me tell you this one story how I banged a Bangkok girl in less than an hour.
I went for a date with a Thai girl met on Thai Cupid. She was cute, 22 years old and working for a brokerage company. The classic "good" office girl.
She arrived in a BMW car to the meeting, and here I was a bit confused. She was wearing high hills and a short dress, she looked gorgeous.
My first thought was she must be a PRO (professional hooker) and I would have to pay on dinner and fluffy things. My budget was a bit tight, and I couldn't offer more than a modest dinner.
We went for the usual coffee, chat her up for 30 minutes. Tired by the conversation and looking for some action, I told her is time to go her condo.
She seemed puzzled at first but eventually agreed. Well, the condo wasn't anything special, just a one bedroom in Rama but it looked comfortable and inviting.
I didn't care about the place, but how to drop my load inside her 🙂
No need to mention that I had a blasting time, right?
This is just one of the way you can get laid the same day. Do some homework searching for girls on Thai dating sites, and plan your meetings.
When a Bangkok girl likes you, there is no reason why she would refuse your proposal. Remember, just be straight to the point and show confidence. No more, no less.
Having sex in Bangkok is easy as going for a date, just meet the "right" girls and move forward with a clear strategy.
Top 3 Best Nightlife Areas to Pick Up Single Girls in Bangkok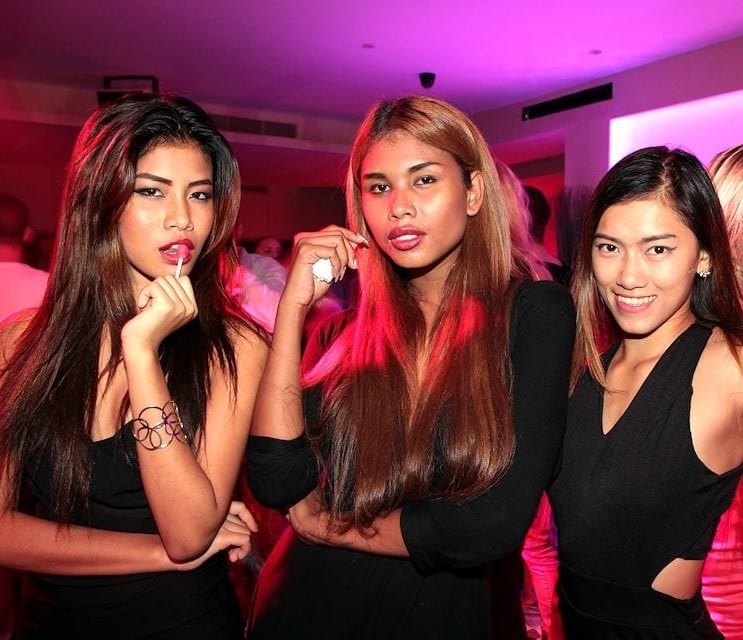 If you are new to the nightlife scene in Bangkok, you should know that is huge.
To avoid to be overwhelmed by the possibilities, I've chosen the 3 best nightlife destinations for single men to pick up girls in Bangkok:
1. Sukhumvit Road
This stretch of road passing inside most of Bangkok is the heart of Bangkok Nightlife which is interconnected with many Sois (small side road) which offer different entertainments.
Sukhumvit is great if you are looking for easy sex in Bangkok and you can even meet foreign women if you aren't into Thai girls.
It's pointless to name particular venues because they open and close business all the time but each Soi instead, stays true to its trend.
Sukhumvit Road attracts tourist and foreigners working for local companies, as well as wealthy Thais.
Soi 3 – Arab Area; If you are looking to pick up fat Thai girls, you can get some here. Most are freelancers and hooker which are looking for Arabs men, but they are into anyone, no worries.
Soi 4 – Nana Plaza; One of the three red light districts in Bangkok where you can meet hundreds of hookers and bar girls. You don't need any play game or pick up technique, just cash.
Soi 6 & 7; Low-class hookers with a lot of beer and BJ bars. If you need fast and immediate relief, this area is for you.
Soi 11; Top-notch nightlife with amazing bars, clubs and restaurants. Here you can lift your game and meet some attractive Bangkok girl.
Soi 22 and 23 – Asoke & Soi Cowboy; Another red light districts with Go-Go and beer bars. Pay For Play area.
Thong Lor; This district is where the hottest girls in Bangkok go for the weekend.
To approach these women, you need some basic Thai language skill and be confident in pulling a phone number.
I usually have a short conversation and try to get the number as fast as possible because girls don't want to be seen talking to a farang (foreign man).
Ekkamai; Located near Thong Lor, have some good bar and club where you can meet easy going single girls.
The best pick up joints for single guys are:
Levels Club
Insanity NightClub
EQ Late Night Club
2. Khao San Road
You will see many backpackers here, in fact there are many cheap restaurants, hotels, bars and clubs around here.
You can meet Bangkok girls as well as foreign women looking for fun and a good time. There are many hookers in this area, so if you searching for quality local women, you better go somewhere else.
When I feel for an easy going night, this is my place and most of the time I hook up with some "fun" chick for a night of party and sex.
The best pick up joints for single men are:
The Club
Lava Club
Gullivers Bar
3. RCA (Royal City Avenue)
RCA is the place for locals but in recent years is attracting a large expatriate community too.
Most of Bangkok girls in RCA are attractive and have decent jobs, rarely you will meet hookers or freelancers in this area.
You best to visit RCA with some friends (if Thais even better) because the girls will party in groups, and if you are alone will be very hard to pick up girls.
This area is entirely class, so make sure to dress up sharp or you'll not be able to get admitted in the clubs, and the Bangkok girls here will never give you a second chance.
I never let them know I'm on holiday but instead state that I'm new in Bangkok and working for an international company. This is the best way to get laid even if it isn't nice to lie.
The best pick up joints for single guys in Bangkok are:
Live RCA
Onyx Bangkok
Mansion Cocktail Bar
Meeting girls in nightclubs is relatively easy if you are young, good-looking and confident. For the rest of us, I recommend making some contacts online before going out.
Thai Cupid
works well because most girls there are looking to meet foreigners. Unlike on Tinder, many will not mind if you are not living in Bangkok.
For this reason, you can start chatting with girls even before you arrive in Thailand and set up a few dates while you are still in your home country.
It is free to register and to look at all the girls' profiles. If you match with them, it's also free to chat.
Hook Ups During The Day
If going out at night isn't your thing, but you still want to hook up with girls in Bangkok, you can just do that during the day.
The two easiest ways to go about it are:
Visit the shopping malls
Use online dating sites
I personally use both, and sometimes one thing leads to the another.
For example, when a Bangkok girl met online is reluctant to come directly to my room, and I like her a lot, then I suggest to meet in a shopping mall.
As Bangkok has horrible traffic and most Thai girls show up to the meeting late, I take the opportunity to pick up other girls.
This way, I pipeline girls contacts while I'm waiting for my date without wasting time.
If you do this day in and day out, in no time you'll have too many girls craving for your attention but not enough time to meet all of them.
The best girls to approach in the malls are the one working in the numerous shops for two simple reasons:
They have to talk to you as you are a customer;
Their English is good enough to have a conversation.
This way to pick up is far away more natural than hitting on girls walking around.
Below is a list of the most popular shopping malls to pick up or hook up with Bangkok women:
Siam Paragon – Not only Thai girls, but many foreign women too, especially Japanese and Korean.
Terminal 21 – Most girls hanging around here are students.
MBK Center – There are about 2.000 shops, meaning about 6.000 girls ready to be picked up.
My favorite mall to meet with girls is Siam Paragon as it has great logistic, great restaurants and coffee shops.
In this mall, I've successfully picked up several contacts of Korean and Japanese girls that led to sex.
If you prefer young or easy girls, visit Terminal 21 as it's located nearby the red light districts.
Many hookers go shopping or eating in there during the day.
I've given you two strategies in this post with a real life example plus a short overview of Bangkok's nightlife and day game to hook up with girls in Bangkok.
RELATED ARTICLES