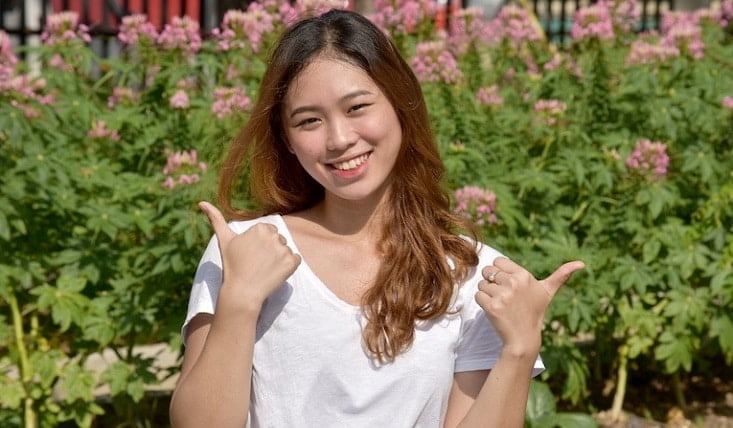 4 Best Dating Sites To Meet Filipino Girls Online
You know that Filipino girls online are an easy catch, but you don't know on which dating site to get started. After all, some dating site is better for senior men while others suit best younger guys.
Online dating is massive in the Philippines and unlike in the West, it does work. The girls are eager to have conversations with you and are up for dates, hookups and anything in between. There is no better ways to meet Filipinas.
You can find all sort of ladies from the office girl looking for a serious relationship to the college student that need support to pay for tuition…
But like most things, some site produces better results than others… That's why I'm reviewing only the best dating sites in the Philippines, so you can get a better idea of where to start looking for your dream Filipina:
–
–

Filipino Cupid is by far the biggest online dating site in the Philippines.
There are plenty of girls online to start a conversation at any time of the day and night. Don't be surprised to see more than three thousand members in the chat. Yeap, that's is like a small town full of girls craving to talk with you.
Remember, quality Filipino girls don't go out often, and when they do, don't visit nightclubs and venues patronize by foreigners. A bit because they are shy, and a bit because they don't want to mix with prostitutes.
I mostly use this site to meet Filipino girls before planning my trips to the Philippines because the selection of girls is huge…
The site is easy to use, does a good job to keep away spammers and the membership is cheap.
They have got a translation service with their gold plan (US$34.99 for a one-month subscription or US$11.67 per month for a year subscription) that can be handy if your English isn't so great.
But for higher search rankings and video messaging capability go platinum for US$39.99 for a one-month subscription or US$13.33 per month for a year subscription. It's well worth the investment because you get double the attention of a gold member.
–
–

Pina Love is the second biggest dating website in the Philippines. That said, there are more girls online then you can handle.
The concept is simple: sign up, create your profile, and you can send a message every ten minutes for free.
This site is the easiest to get started of all the three, but Pina Love is less strict than Filipino Cupid in managing scammers.
You can meet girls of all the ages, from the "inexperienced" student girl to the more settle down ladies in their 40s, and also ladyboys (transgender) if that is your thing…
You can search for ladyboys (transgender) separately from the girls so there is no confusion and second-guessing. Meaning Pina Love is the best dating site to search for transgenders in the Philippines.
If you can't stand the 10 minutes wait between messages because you want to build a list of girls pretty quickly, for a fee of US$24.95 per month you get unlimited messages. On top of that your profile show a VIP badge that helps to attract the hottest girls.
–
–

SA is a straightforward arrangement dating site to sponsor girls in the Philippines. There are thousands of girls available for all sort of arrangements from the college girl that needs money to pay tuitions to the model sugar baby looking for a gentleman that understands how to treat a hot woman.
If you are looking for a girl with benefits because you appreciate your freedom and don't like all the drama a traditional relationship brings, Seeking Arrangement is a gold mine.
It is also an incredible tool to get a lady who is out of your league…
The hottest Filipinas know their worth, and you aren't going to find them on traditional dating sites.
On SA, there are fewer fake profiles, and you don't have the problem to differentiate between working girls and civilians like on other dating sites.
You can sign up and see the profile girl's photo for free, but you can't see the private photos and can't send messages to the girls until you become a member. One month subscription is US$89.95 with automatic renewal or US$79.95 per month if you subscribe for three months.
–
–

A new website from Europe which is trying hard to get noticed. Compare to other dating sites in the Philippines, Filipino Kisses is an "intimate" place to hang out because the community is small.
There are around 150 members online at any time, 80% from the Philippines and the rest from other parts of the world.
What I like the most about this site is the "gallery function" which shows the new members. On top of that, you search either for women or ladyboys. Very versatile indeed.
The membership is a flat rate of 23 euros per month with unlimited messages and video chat plus a translation service.
RELATED: What I Have Learned by Dating Asian Women Online
My Thoughts About Dating Sites In Philippines
When I visited Angeles City in the Philippines for the first time, I was shocked to see a PC sitting in a two rooms apartment. The three girls living there had nothing besides a thin mattress where to sleep, but they had the internet to chat with their boyfriends abroad.
Filipino girls are internet savvy and well-rounded around conversations in English, but the most exciting aspect is they are down to meet foreign men.
Filipino dating sites are crowded with genuine girls looking for like-minded foreign men. It's definitely the fastest and easiest way to meet Filipino girls.
I often travel to the Philippine to meet local girls because in my opinion is one of the best Asian countries to have a good time.
If you're looking for a girlfriend experience, there are 3 good reasons why you should visit the Philippines.
Over the years, not only I had a great time traveling around the Philippines, but I've met wonderful women that truly gave their best to satisfy my needs as a man.
Well, my friend, I hope you feel ready to meet your dream girl in the Philippines… There are so many out there.
Tips To Use A Filipino Dating Site
When the first dating site came to the Philippines more than ten years ago, there weren't many girls like today. Interestingly enough, what was working back then is still applies today.
So, here my five hands-down best tips to use dating sites in the Philippines:
No money conversations – Many ladies in the Philippines need financial assistance, but no one is so desperate to ask a stranger online to wire cash. If a girl starts to talk about money on the chat, close the conversation.
Join early – Before booking your flight, you better sign up on a dating site and start to connect with the girls. The early you start, the more girls you can choose from.
Build a big list – Don't arrive in the Philippines with only a few girls on the list. There is always some girl that promises to be there when you arrive, but suddenly she is "out of town". No hard feelings, build a list with twenty girls at least.
New members – Every day there are new girls signing up. Contact them immediately before other men distract her. Be competitive.
Video chat – Smartphone's camera to incredible things making an average girl look like a model. Before meeting a girl in real life, it cost nothing to have a video chat to see if she look like a model.
Never underestimate those tips, and you'll have a great time on any Filipino dating site.
HELPFUL FEEDBACK FROM THE READERS
Hello Rocco,
Thanks for your help, tips, and above all your concern.
Since I have worked many years abroad with many different nationalities (I was a peacekeeper). I found out that Filipinas are great persons. And they act somewhat same like African girls.
I am on Filipino Cupid and have many girls interested in me.
I followed your tips, and I am in touch with girls from Makati, Cebu and Angeles.
The problem is that I did it too early. Actually I plan to visit (and maybe settle) Philippines by April or May only…. if the job allows.
So, the time being, I chat with some good looking girls from the above mentionned cities, but it starts to be tiring… hehehe.
What will I do, is that will connect on Filipino cupid, 2 weeks before my departure.
It's what all other guys should do, and I think you could mention that in your mails.
I'm impatient to go there.
Take care Rocco
–
If you would like to share your experience in meeting Filipinas online, send me an email at rocco@dreamholidayasia.com
RELATED ARTICLES