5 Best Soapy Massage in Bangkok
Bangkok Soapy Massage Parlors Are Erotic & Fun!
"Rocco has reviewed the best for you."
If you pass by Bangkok without experiencing a soapy massage, is like going to Paris and not visiting the "Eiffel Tower". It's a shame.
You might know that Thailand is a traditional country in many ways – well reputed for oil, aromatic and foot massages.
In contrast, the infamous soapy massage has nothing to do with therapy, but only pleasure for men enjoying water sports.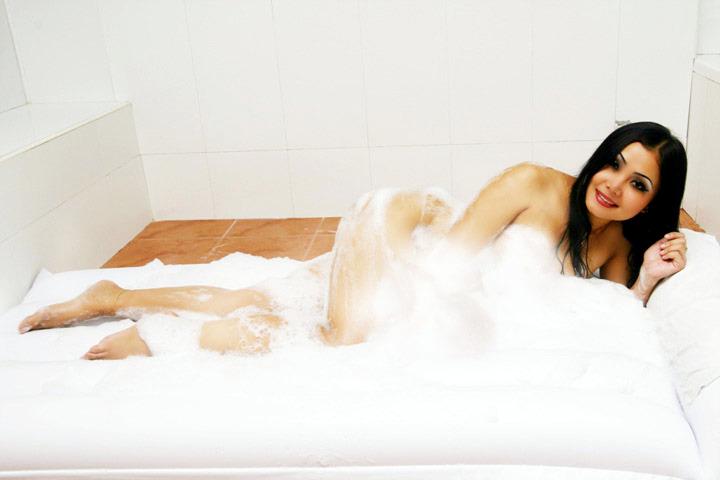 Yes, Bangkok masseurs are willing to go "extra mile" to make the massage experience unforgettable.
Some people argue that soapy massages are impersonal while too "mechanic".
While everyone opinion might vary, from my own personal experience, the soapy massage in Bangkok is FUN and well worth to give a try.
However, they come at a hefty price.
In fact, they are the most expensive sexual activity in Bangkok.
There are many other cheaper options if you are looking simply for sex in Bangkok.
In a minute I'm going to give you an overview of the best Bangkok soapy massage, but first, let me clarify a few important points so you can enjoy the experience without feeling tense.
What Is a Soapy Massage All About?
What that means for the unfamiliar is that Thai masseurs are available to soap you up, massage you up and then give you a "wet" ride until you get finish off.
All those shenanigans happen in the privacy of an appointed room which has a bathtub and a bed similar to a hotel room.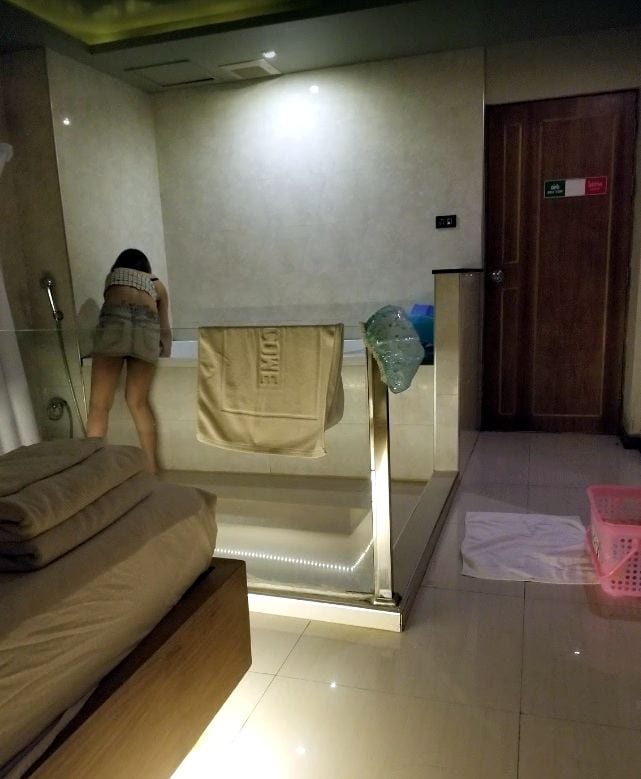 If it's your first time, you might find the process confusing, not really knowing what is going on. That's just normal.
So, to keep your mind free from worries, below I provide the main steps for a soapy massage…
From the time you arrive at the Bangkok soapy massage till you leave the premises, these are the steps:
1. Sit in The Girly Room
First, there isn't an entrance fee. You can enter and leave whenever you want.
Once inside, go for the lounge where the girls are sitting either on the sofas around the room or in a fishbowl (it's a glass room) on display.
2. Pick a Girl
If you have any requests, fantasies or simply you would like to know more about a girl, just ask the mamasang/manager in for help.
4. Pay and get Escorted to the Bedroom
She will take you to pay the full amount to the cashier and then proceed to the bedroom.
5. Preparation of the Bathtub
While she prepares the bathtub for you, get naked and ready to have fun.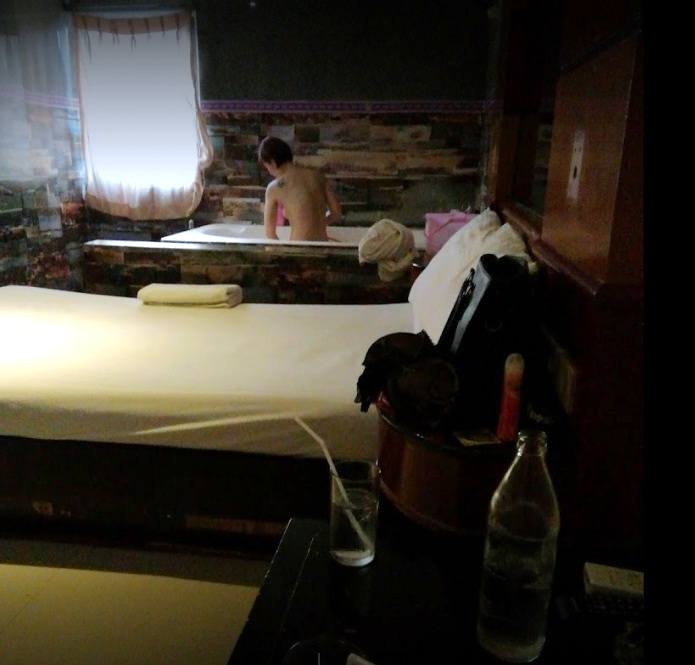 6. Have a Bath
She is going to clean you from head to toe.
7. Body to Body Massage
Finish the bath, you lie on an air mattress for a soapy body to body massage.
She will slip up and down her naked body all over you.
8. Happy Ending
When finished with the body to body massage, the girl will bath you again and dry with a towel.
At last, 15 minutes on the bed where she is going to give you a happy ending massage offering HJ, blow job or full sex service.
That's the end.
Yes, it's a longgggg process.
In fact, expect to spend more than an hour for a soapy massage experience in Bangkok.
By the way, talking about experiences, my first soapy massage was a memorable one.
Even Rocco had his "first-time"… a long time ago.
"Do you want I tell you about my experience?"
My Soapy Massage Experience in Bangkok
I guess the best way to inspire you to try the infamous soapy massage is to tell you my story.
It all started in the afternoon on my second day trip to Bangkok in 2010.
I visited Anna's soapy as per my friend recommendation, and it was an excellent tip.
I was shocked to see forty girls line up, eager to get my attention.
They looked all pretty hot and wondered which one would please me the most. But I didn't know who to choose.
So I asked the floor manager for help who was so kind to suggest a girl with huge tits.
I'm grateful to him still today 🙂
There I was, naked in a jacuzzi waiting for the girl to clean me up (hopefully from my sins). She got naked too to my surprise.
Her breast was huge!
She splashed with me in the Jacuzzi, cleaned my body with attention and love as a good girlfriend would do.
Finally, I could unload on her big breast.
That was my first, but not last soapy massage experience in Bangkok.
However, nowadays I don't go to the soapy massage parlors in Bangkok because the price is sky high and the quality of service not as good as it used to be.
I still enjoy watery massage experiences, but I organize them in private instead of going to the soapy massage parlors.
It's more intimate and you don't have limited time to enjoy yourself. That way, you can play with the girls for hours at a fraction of the price.
My system is pretty simple, but it works.
Two weeks before heading to Bangkok, I chat with Thai girls online, and during my conversations, I ask if they have a friend interested in doing some lesbian activities.
Every twenty girls, I find the special one eager to play with me and her "best friend"… perfect for a private soapy massage.
If you have deep pockets and you can't bother to recruit girls online, there are several soapy massages parlours to try out…
Review of the Best Soapy Massage Parlors
NOTE; The prices below are all-inclusive.
If the girl performs well, it's nice from you to give a tip for the extra effort.
1. Poseidon Entertainment Complex
Poseidon is a well-established soapy massage and extremely popular among Thai and foreigners.
It's a massive ten-storey building with restaurants, karaoke rooms and VIP suites.
There are two lobbies; On the second floor is the "Venus Showcase" with normal models, and at the third floor is the "Modelling Lobby" with the hottest models.
All in all, it is a luxury experience…
Previously, Poseidon used to have a lot of sideline girls (students who take part-time jobs) but the numbers have been significantly cut down.
The primary reason for this is it wants to concentrate on quality rather than quantity.
You can find them in the lounge of the Entertainment Complex.
If you are looking for experienced girls that don't rush the soapy massage, I recommend taking a look at the ladies in the model category or fishbowl.
Some of the models are ex-Penthouse cover magazine girls, a real treat.
Poseidon Prices:
Fishbowl girls anything between 2.200 – 2.600 – 2.800 Baht on the 2nd floor.
Sideliners 2.800 Bath
Models start at 3.200 Baht up to 10.000 Baht on the 3rd floor.
Small suites with Jacuzzi cost 400 Bath extra. Larger suites cost 1.700 Bath extra.
Address: Din Daeng, จังหวัดรุงเทพมหานคร Thailand
Nearest public transport: Sutthisan Station BTS
INFO: The parlor charges a surcharge 500 baht extra for foreigners if fishbowl girls and 1.000 Bath for Models
2. Emmanuelle Massage
Another impressive building offering soapy massage in Bangkok.
Once inside, you will be impressed by the size and luxury of this place. It looks like a five stars hotel.
The girls are sitting in a huge lobby on sofas and couches all over the place. This is what makes Emmanuelle different from the other soapy massage parlors, you can see the girls close up and talk to them.
There is even a live band playing music.
This joint has a wide selection of girls, the widest price range in Bangkok and the facilities are top notch.
If you like white skin girls with big boobs, this is the place for you.
Emmanuelle Massage Parlor also offers membership to those who are interested. The member registration is usually for 10 individuals and includes alcohol and use of suite rooms.
The alcohol bottles and using the suite rooms depend on the membership package that you opt for. The package starts at 25.000 Baht that is valid for six months and goes up to 100.000 Baht valid for a year.
Emmanuelle Prices: Anything between 2.800 Baht to 6.100 Baht for bath massage.
If you would like a soapy massage, you must pay another 600 Baht on top.
Address: 55 Ratchadapisek Rd. (Near The Emerald Hotel), Huaykhwang, Bangkok 10320
Nearest public transport: Huai Kwang Station BTS
INFO: The parlor charges a surcharge of 600 baht from its foreign customers
3. Labelle Bangkok
This place shows luxury with a modern design, it feels like to be in a fashion show.
It's worth to visit only to see the interior design.
There aren't so many girls during weekdays, so your best bet is to visit on weekends and afternoon time.
The girls are divided into 3 categories, and the best looking part-time girls are sitting on exclusive location next to the bar.
What's exciting is that those sideliners are young and cute, a real delicacy.
I recommend that you stay away from fishbowl girls, the reason being they are a bit older and rough in their behavior.
However, if that's what you're looking for, then there's no one stopping you.
The price is 3300-7500 baht by the rank of the girl
LaBelle Prices: It's between 3.300 to 7.500 Baht. They have 6 type of girls with different tag prices.
Address: 1765 New Petchaburi Road, near the corner with Asoke Road.
Nearest public transport: 100 Meters from Phetchaburi Station BTS
4. Utopia Massage
Utopia stands out for its amazing interiors and a peaceful ambiance.
The whole parlor is done up in expensive marbles and carpets. Quite obviously, this place is not cheap.
Along with soapy massages, this adult entertainment complex also offers a restaurant, bar, karaoke, and a lounge area.
There aren't many girls when I visited – about 15 – but they very HOT!
Because the venue is renowned for its exceptionally gorgeous girls, it's also become one of the most expensive adult entertainment playgrounds in town.
Apart from the pretty girls, Utopia offers sumptuous suites with a Jacuzzi. Better looking than most self-indulgent hotels in the city.
The clientele is mostly Asian, so the girls have white skin and small bodies.
Price: Fishbowl girls from 2.500-3.000 Bath. Sideline girls 3.000-7.000 Baht. Foreigners are charged 1.000 Baht extra.
Address: 69/1-3 Rama 9 Road, Huay Kwang Bangkok
Nearest public transport: Far away from Phra Ram 9 Station BTS. You need to take a taxi.
5. Hi Class Massage
The name is deceiving. The place isn't up to the greatness of places like Emmanuelle, La Belle or Poseidon.
The place is actually run down and small, but the rooms are still of decent size, clean and equipped with a bathtub.
The good thing is the lounge doesn't have a fish bowl set up. The girls are seated on sofas where you get the opportunity to interact and check them up close.
On the left side there are the models and on the right side the ordinary massage girls.
It's a place where you can have fun while saving some of your money since it's one of the cheapest massages in Bangkok.
They don't offer a body to body massage but a bed massage plus a bath massage before giving you a happy ending.
Hi Class Prices: All the girls are 2.200 Baht.
Address: 55/1 Ratchadaphisek Road.
Nearest public transport: 300 meters from Huai Khwang Station BTS
Other Parlors in Bangkok
Above, I've reviewed only the best soapy massage in Bangkok to make your decision easier.
However, there are many more parlors, mostly located in those two areas:
Huay Kwang Area/ Ratchadaphisek Road:
Poseidon Entertainment Complex
Colonize 2 Massage Parlour
La Defense Massage Parlour
Emmanuelle Entertainment Complex
Hi-Class Massage Club
Subway Entertainment Massage
Pretty Relax SPA
Petchaburi Road:
Embassy Entertain
Angara Halem Massage & Turkey Bath
Petch Siam –
Christina
Long Beach
La Belle
Saifon Massage & Entrainment –
นิว ฮาวาย (New Hawai) –
Cupidy Massage
Angelina Massage
Biwa Massage
Bangkok Cozy
Meree Massage
Nancy Massage –
Evita Massage
Sukhumvit Area:
Chrome Bar & Massage, Soi 7/1
Akane Fashion Massage, Soi 33 & Chitlom
Nyan Nyan Massage, Soi 33
Kochoran Massage, Soi 33
I wish you a great time in Bangkok while having your first soapy massage. It's a unique experience that is worth every penny.
If you are planning to visit the infamous "Sin City", check out the soapy massage in Pattaya.
RELATED ARTICLES