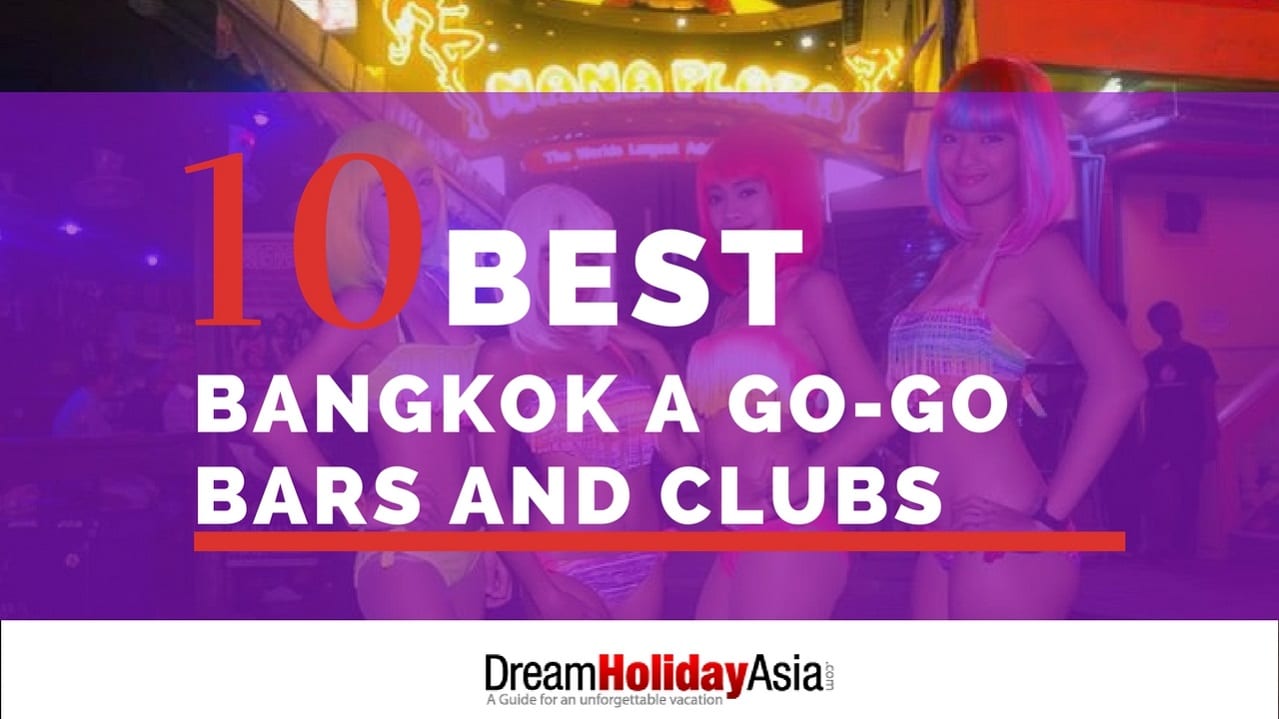 Best Bangkok GoGo Bars: Reviews & Prices
Bangkok isn't only the mother of the red light districts but also where the gogo bars are been invented for the pleasure of men.
There are dozens of gogo bars around Bangkok, but in this article, I'm going to expose some of the friendliest clubs with the sexiest gogo dancers in town.
Three areas are been designed for the red light districts:
Soi Cowboy
Nana Plaza
Patpong
Over the years I have spent countless hours in the red light districts having a great time.
Nowadays I am less of a regular, however, when I do go I only visit what I think are the best a GoGo bars in Bangkok.
If you are planning a trip to Pattaya as well, have a look at the best Pattaya GoGo bars guide.
Pattaya has better gogo bars than Bangkok, mostly because the party atmosphere in Pattaya is wilder.
The average gogo bar prices in Bangkok are:
your drink at THB 110
Lady's drink at THB 130
Short Time Girl at THB 1500
Long Time girl at THB 2000-3000
This Bangkok GoGo bar guide is been divided into areas for your convenience; Soi Cowboy, Nana Plaza & Patpong. 
Let's start with…
GoGo Bars in Soi Cowboy

Soi Cowboy is one of the three infamous red light districts in Bangkok.
This street is only long 150 meters but is the home of around 40 Go Go bars and hundreds of sexy Thai lady.
The Soi was given its "funny" name after the cowboy hat-wearing African-American who opened the first bar here in the early 70s.
Location; It is between Sukhumvit Soi 21 (also called Soi Asoke) and Soi 23. The easiest way to access is by BTS Skytrain's Asoke Station and the Bangkok Metro's Sukhumvit Station.
---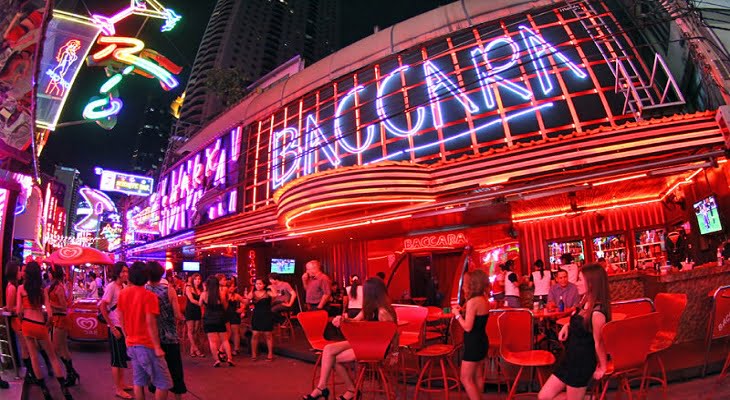 1. Baccara is the largest GoGo bar in the Soi split over two levels. This club is crowded with Korean and Japanese, thus expect the girls to focus their attention on the Asian men..
The two levels offer two type of entertainment; downstairs the GoGo dancers are dressed in full bikinis and some forget the bra in the changing room, instead upstairs it is like to go to school (the girls wear a short black skirt and white shirt.
Baccara doesn't only have the hottest dancers, it also seems to have the most dancers on the Soi which is part of its huge popularity.
This go-go bar is a must visit during your naughty tour, it is a landmark in Soi Cowboy.
INFO: Downstairs smoking isn't allowed, this make it more comfortable and enjoyable if you are not a smoker.
2. Shark is just next to Baccara and it is huge too with two levels of sexiness. Renew to have a great collection of cuties that will make your eyes pop, you will find your favorite girl for the night, guaranteed!
The interiors of the bar is almost identical to Baccara, with two central dancing stages surrounded by comfortable couches over two floors.
I have found the upstairs is the best place to be, not so crowded with customers so the girls can be all yours. Yummy!
3. Crazy House is totally a different club in the Soi where you can get the best view for your bucks. The girls downstairs mostly dance naked, this is how far this business goes to make the customer happy.
The girls are above average and they love to show off their sexy asses, boobs and p….
No customers will leave unsatisfied from the 3D experience offered in Crazy House. There is an upper floor with girls covered in oil and wax, excellent for fetish, I suppose.
4. Tilac worth a mention because it is been seen in the Hollywood movie "Hangover Part 2″.
If you can recall, in the movie scene Doug accidentally shoot in club's ceiling. Tilac interior is the most expensive in the Soi that give a feeling to be in an aquarium, being blu with lot of glasses.
The girls are young and cute, dancing on top the tables around the clubs.
Related Article:
GoGo Bars in Patpong
Patpong is where the "GoGo" culture all started decades ago, however, nowadays it has lost its shine.
It's a mixture of Go-Go bars, massage parlors and a marketplace for cheap souvenirs.
You see families walking around shopping souvenir with their kids, while the father gets a boner. It's so unreal.
You don't like women and you prefer to meet some handsome Thai boys, Patpong has several gay hotspots ranging from the rawness of Soi Twilight's gay go-go bars to chic style gay bars of Silom Soi 4.
ATTENTION: Patpong is mostly visited by tourists, thus be carefully the common cheats going around this are as inflated drink prices and souvenirs.
---
1. Black Pagoda is the new addition to this area and I personally think it is the number one because of the newly concept.
It isn't a classic gogo bar, but a bland with a gentleman's club and underground nightclub where you can have party, girls and booze.
It is a "different" club experience with great music and if you find the girl of your dream, the rooms are in the building.
GoGo Bars in Nana Plaza
As Bangkok's biggest red light district in terms of pay for play options, the areas surrounding Nana Entertainment Plaza (NEP) is hard to compete.
The center of Nana Entertainment is a three floors building packed with go-go bars and thousands of girls.
It is located on Sukhumvit Road Soi 4 across from the Nana Hotel, basically at the center of Bangkok nightlife.
---
1. Angel Witch is known to have the best live shows in Nana Plaza, and we have already mentioned it in the best Pattaya a Go-Go Bars Guide in Pattaya.
The show is a form of sexual art that is worth to watch, only last 15 minutes every hour.
In Angel Witch I get a feeling of fetish probability because the stage girls wear leather costumes and whips for the shows.
However, there are such a variety of shows besides the fetish one that features sexy ladies dresses in all sorts of fashion.
Apart from the shows, the professional go go dancers lineup is excellent; mostly tall and busty, not the usual petite Asian standard.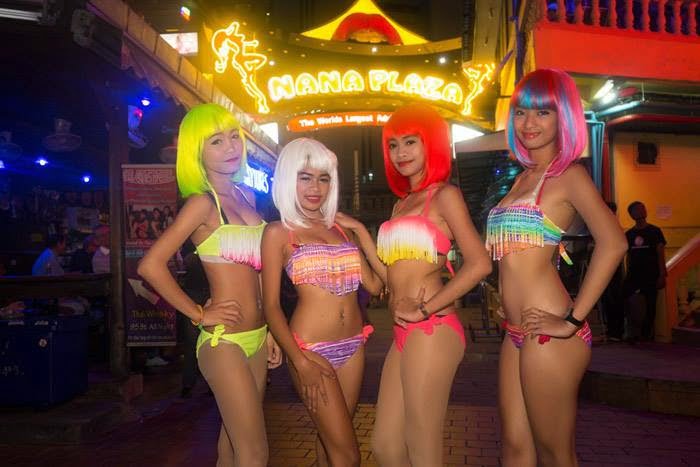 2. PlaySkool GoGo Bar is the second bar on the ground floor always packed with customer thanks to the strategic position.
The reason for visiting this club is simple – the girls are super cute, and they love to dance topless. Not enough?
Now the real deal, the girls in Playskool are hornier than in the most gogo bar in Nana Plaza.
Call them to your table and you will be impressed by their welcome approach with reciprocal kissing and even a massage under your trousers.
3. Billboard GoGo is a great club where a lot is happening inside.
You can sit watching the girls on the stage or accommodate yourself by the bath top, where the girls are bathing.
I found the girls in the shower to be much naughtier than regular dancers. Don't worry, you aren't going to get wet.
The music is well balanced and not too loud, this is a plus if you want to have a conversation with the girls.
RELATED ARTICLES