Best Go Go Bars in Pattaya: Reviews & Prices
A Guide for the Best gogo Bars in Pattaya…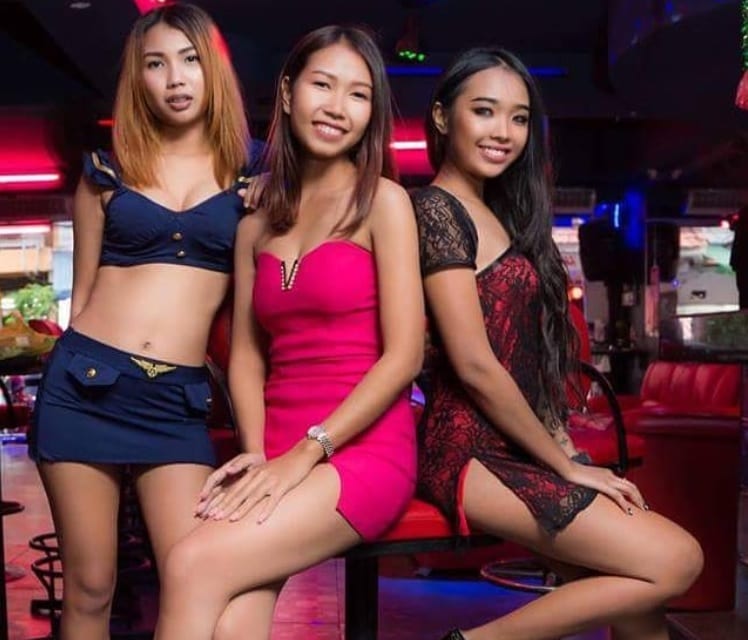 … Where you can meet sexy bar girls
There's a LOT of Go Go bars in Pattaya, keeping you busy for many nights, more likely weeks.
Before giving you an overview of the best Pattaya gogo bars, I would like to offer an overview of prices and some tips so you don't get ripped off.
Pattaya gogo bars prices are:
your drink at THB 110;
Lady's drink at THB 130;
Short Time Girl at THB 1500;
Long Time girl at THB 2000-3000.
Note that the A go go's girls prefer "short time" because they get more fee for less work.
It is also worth noting that the girls prefer the Japanese because of their polite nature so be sure to be as polite as possible.
The best time to visit an Ago-go Bar is between 8 pm and 10 pm.
You will most probably be encouraged to pay more than the above-mentioned prices.
Do not inflate for others, resist. Higher prices have got nothing to do with better service.
I recommend learning about how much to pay in Pattaya for girls, it'll save you money and disappointments.
I've learned over the years that in most cases, simply by paying less I get a better sexual experience.
So, why pay more?
Between 8pm and 10pm is the best time for full selection of the ladies. After 11pm you will be able to secure for above mentioned prices. Before that (11pm) management and girls prefer to be on the premises racking up drinks etc. That is when they might hold out for a higher price. Same technique for most Go-Go's anywhere.
We have divided Pattaya Ago-go bars into two major locations: Walking Street & LK Metro, so let's start with the gogo bars in Walking Street…
Best Pattaya Go Go Bars in Walking Street
Walking Street is the mother of the red light districts, not only in Pattaya but in the world. The amount of bars, clubs, girls is staggering while their naughtiness might be overwhelming to a Pattaya newcomer.
1. SugarBaby is the new addition to Walking Street. The same owner as Windmill, SugarBaby is more classy and having a modern outfit.
I personally consider Sugarbaby the best AGo-Go club in Pattaya because girls here are super cute, also every week arrive "farm fresh" girls Isaan.
Besides that, here I can get my hands busy to shower the girls, they are so willing to please and they love to have fun (Good attitude).
The shower is located on the back of the club with a sofa all around where can fit about ten people, great to have a private naughty party with friends.
Usually, there are two girls in the showers, but you can get more on request if you cash down some good tip.
There are two sections with girls performing erotic acts and is the perfect place to sit for "hungry men" looking to have a late dinner.
The drink prices are value for money considering that girls for a lady drink are willing to do anything.
2. Windmill Club is considered the naughtiest a go go in Pattaya. There is a good reason for it. Here the girls are into any type of performance and entertainment for the customers.
You can just look at them to dance in their student uniform (without wearing any underwear) on the stage or you can get some action near the shower and mattresses.
Here you can touch, leak and play with as many girls you can handle. When I get in Windmill, the fun is guarantee and is the naughtiest secret of Pattaya nightlife.

However, if you are new to Pattaya or the conservative type of guy, I highly recommend to avoid Windmill… you might get an heart attack.
3. Living Dolls Showcase is well known for its amazing shows. The line up of girls here is massive, hard to define but somewhere around 100 girls.
The center stage holds in around 30 girls anytime of the night and there are some real cuties in the group.
This place is perfect for the punters that are looking for good speaking English girls and they know how to party.
The price range of drinks is on the high side but is worth the visit considering the quality of girls.

2. Heaven Above is in Soi Diamond, a small Soi in the middle of Walking Street. 
This club is small and offers a sense of privacy. I most love to get into Heaven Above for the music perfectly coordinated with the lighting system and of course, they have got some cute girl.
The dancers tend to work in the club for a longer time than other clubs, even up to one year.
Heaven Above is active in parties and any time of the month they organize free barbecues and happy hours at 55 Bht for most drinks.
5. Angel Witch is well regarded. Worth a visit. I have witnessed first hand, kind of stuff that would entertain a newbie, not an experienced whore-monger.
The atmosphere here make you to think the girls are classy, in fact, they are classic sluts on the professional side.
This a Go Go's interior is tired, I think more than 10 years of activity but that doesn't matter because night wolfs come here to enjoy the shows.
I have to admit, the shows are very artistic and can be fun if you are the lucky one to be select to join in.
6. Baccara is a must visit, one beer at least. This is the favorite Japanese hang out in Walking Street. 
Baccara is the only a Go Go in Pattaya with two floors accessible to the public (all other a Go-Go's second floor is reserved for the dancers) with two distinct themes.
On the basement, the AGo-Go dancers are tall, long legs and model type of figure wearing bikinis.
Instead, on the second floors, you will find barbies type of Thai girls, shorter and with huge milky breast dressing in school uniforms.
The price range is on the average of Pattaya and the draft beer is the real deal for 65 Bht.
7. What's Up; top high class. Expensive but have the best and sexiest girls in Pattaya. The club outfit is totally white with two main section stage and a shower.
The shower girls are quite boring and I personally think it isn't fitting in this type of ambiance. The shows are super cool, especially the lesbian one.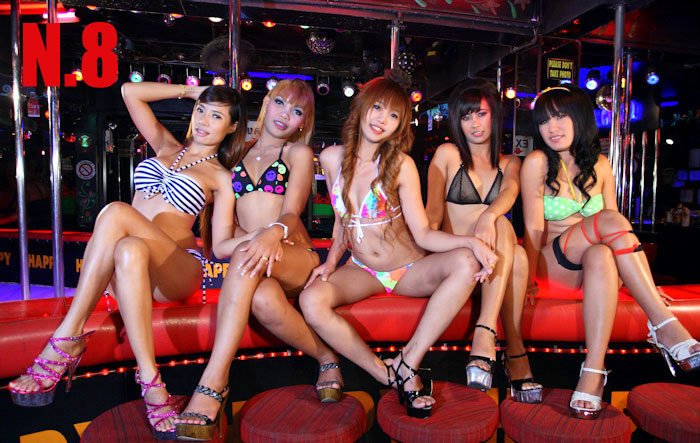 8. Happy A Go-Go; Good Lookers with 'attitude' and higher prices… not so popular nowadays as in the old days.
This a Go-Go is a legend in Walking Street open for more than 20 years. Most visitors are Japanese here reason been if you are a westerner, you will have a hard time to get attention from the girls.

Other Go-Go Bars in Walking Street
Out of Chart
Super Baby; Walking in a northerly direction, about 150/200mtrs up, you will see a "Diamond Hotel" sign hanging over Walking St. Stop, turn and face the bars in front of you (opposite side of the street to Marine bar). Small walkway to your right is the one with "Super Baby" in it. Well regarded in days of yore, and still popular.
Super Girls opposite is also popular but the interior is dated but the girls are hot. Good looking girls who might prefer to go with a Japanese.
For sure if you do not rush girl, your chances of bar fining her should be good. Japanese are very courteous and polite types, try and emulate them and you should be right.
"Shark" on the left side on the second floor is not worth to walk the stairs. Opposite, there are angelic stairs go up to "Heaven Above". Here the soi narrow down, forcing the passing throughout three lines up of girls representing "Gentleman Club" and "Spankys". They are trying very hard but unfortunately, the atmosphere isn't right even if there are some cute girls.
RELATED ARTICLES
If you are planning a trip to Bangkok as well, have a look to the Best Bangkok Go-Go Bars Guide.
I think Bangkok is a bit less party oriented than Pattaya, mostly because Pattaya wild atmosphere is unbeatable.

Best Pattaya a Go Go Bars in LK Metro
LK Metro Pattaya is an L-shaped road connecting Soi Diana to Soi Buakhao packed with go go bars, restaurants, hotels and the best happy ending massage parlors.
Lk Metro had an humble start back in 2005 with few bars and one A go go bar, nowadays it is a totally different story.
There are a handful of top-class Go Go bars (around 14), restaurants and beer bars.
This Soi is an alternative to the crowded Walking Street if you prefer to walk the short distance.
1. Champagne A Go-Go; This club plant the route to the flourishing LK Metro and deserve to be the number one Go-Go club in the Soi.
Champagne is been open for more than 10 years and been refurbished in 2014 to keep up competing with the new Ago-go in the Soi.
The atmosphere is always fun with some really good looker girls that love to have fun. Happy hours from 6pm with draft beer for 65 baht from 6pm till closing.
2. Bachelor Club; This club stand out from other a Go-Go clubs for its luxury interior and unusual shape.
This Club is suitable and best for a group of young people that love to party, given the small and intimate size of the venue.
When you enter, you have a feeling to be in "Las Vegas", probably because their light and sound system is the best in LK metro and the gold finishing offer a luxury experience unmatched in Pattaya.
Bachelor's girls are on the high-end side with drink prices follow suit. I love the girls here because they wear high hills shoes.
3. Crystal Club; worth a visit for at least few beers. This club is always crowded and is well designed offering to the visitors a good view of the center stage and the girls.
The girls are friendly and love to have fun, a bit pushy on drinks, however, if pushed back they will not leave you. The crowd is hard to define, but most of the customers are English speaking and tattooed in their forties up.
4. Queen Club; High-end club with the hottest girls in LK Metro. The club offers a wide selection of girls, around 30 to 50. They have special shows with professional Go-Go dancers.
This is the place for the big spenders that love model type of girls, if you are on a budget, girls here will not be interested in you.
CONCLUSION
Sometimes management might ask for bar-fine and girls fee to be paid upfront before you leave the bar. I would be very wary if that is the case. For sure if you paid for LT (all night) you would be in jeopardy.
Quite likely the girl doing a runner after one pop. So, if they are asking for all the money upfront, give it a pass, do not pay.
Pattaya offer one of the best nightlife in Asia with a wide selection of a Go-Go bars and clubs to spoil you.
RELATED ARTICLES