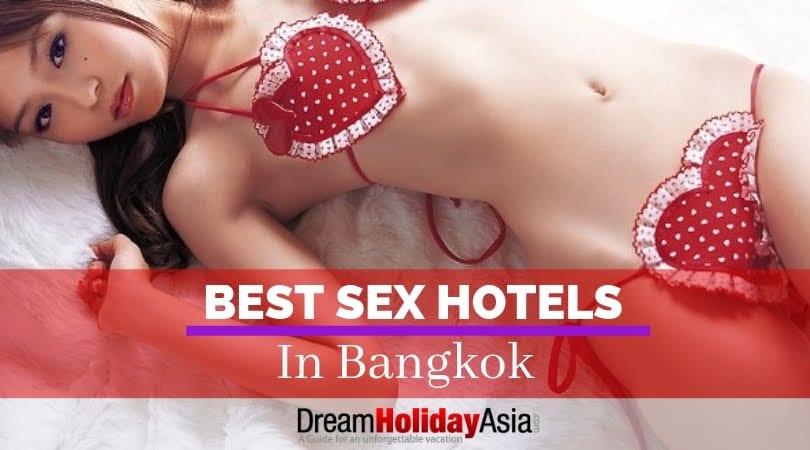 Best Sex Hotels in Bangkok Girl Friendly
If you are wondering where to stay in Bangkok for your naughty holiday, I'm going to tell you about my favorite sex hotels in Bangkok.
Most of the nights you will not sleep alone but have an unregistered guest staying with you.
Some time might be the same girl or ladyboy, sometimes a different one every day or a few guests at the same time.
This sex Bangkok hotel guide is specifically designed for men that want to have FUN, meet girls and ultimately get laid…
Before searching for the perfect accommodation for your need, you need to figure out what you are looking for during your sex holiday in Bangkok.
I'm sure you heard about the infamous red light districts of Bangkok (Nana Plaza, Soi Cowboy, and Patpong) where you can meet thousands of easily available Thai girls for sex.
But if you don't wish to meet bar girls and avoid red light areas altogether, there is a vibrant nightlife of nightclubs, pubs, and bars where you can hook up with single girls in Bangkok.
You can blend in with them and meet some student or office girl out for the weekend.
Before searching for your dates, it's important to choose the right hotel conveniently located near the action area so you can bring back girls to the room easily.
That's why I've put together a list of the best girl friendly hotels in Bangkok for sex:
***
Click a link to skip to that section
***
Upper Class Sex Hotels
Your fantasy hotel – Quality amenities, top service and luxury all around you.
Middle Class Sex Hotels
Best value for money with comfortable rooms with in house services such one restaurant, room service, 24 hours reception, free internet.
Low Budget Sex Hotels
Basic rooms in guesthouses or small hotels without in house services – You'll spend less than US$50 per day.
–
Upper Class Sex Hotels
JW Marriott Hotel is a five stars establishment where you can expect fantastic service and international standards.
Most five stars hotel in Bangkok wouldn't be happy see you passing in the lobby with some hooker, however, this hotel is open-minded and don't make you feel out of the place.
The facilities are excellent; sauna, spa, swimming pool, steam room, even a garden, restaurants and any secretarial services required.
From the window, you can enjoy the view of Nana Plaza from above.
You are walking distance from shopping malls, and the best of nightlife Bangkok can offer. You will love it if you can afford it.
Guest Friendly policy for JW Marriott in Bangkok
You can bring in up to 2 joiner without additional charge. This is great and I call it five stars service.
---
The Landmark Hotel is beautifully located 300 M from Nana Plaza red light district and have got excellent facilities with in and near by; restaurants, parking, 200 M from sky train, shopping malls, clubs and more.
JW Marriott is my favorite upscale hotel for its charm and stylish modern interior design. Upon my arrival, the bellmen and front desk were so friendly and organized.
There is a feeling of class and prestige to stay in this hotel, with a professional staff and excellent service.
The rooms are cozy and comfortable, with executive bathroom overlooking the bedroom (see and don't see kind of thing).
I recommend booking a room facing north. The view isn't amazing, but the sun doesn't hit that part of the building much. The club rooms are on the higher floors floor with great views.
This allowed you to take breakfast in the club room on the top floor, which also provided guests with complimentary snacks and drinks between 5.30pm and 7.30pm.
The hotel facilities are:
state of art business center
swimming pool with sunbed
9 food & beverage outlets
gym
24 room service
parking
Guest Friendly policy for The Landmark Hotel in Bangkok
You are welcome with any guests at anytime. Just drop of her/he ID and proceed to the elevator.
–
Middle Class Sex Hotels
Walking distance from Nana Plaza, this place is located conveniently to enjoy the best of Bangkok nightlife.
The rooms are modern, clean and all furnished with sofa where you can play some game with your guest.
Unfortunately no mirror in the bedroom, you will have to walk into the bathroom to look at your acts.
Guest Friendly policy for Phachara Suites Sukhumvit in Bangkok
This hotel is guest friendly for one joiner. If you bring more than one guest, they will charge you 30 USD per night.
---
Located between Asoke or Nana BTS stations and between the red light districts of Soi Cowboy and those of Nana Plaza, you will not walk more than 10 minutes.
Restaurants, clubs, bars, shopping mall are all around the Dream Hotel, the location is awesome and the strongest asset of this hotel.
This hotel is modern and trendy, suitable for the younger generation.
The rooms are well appointed, clean and with all the comfort.
I love the blue lights under the bed and on the ceiling, however, a red light would be more erotic.
In the morning head for breakfast in the main restaurant, the selection of food is wide, and you will not be disappointed.
They have got a "cool" bar which offers 3 hours "all you can drink" deal in the evening, don't miss it out.
On the rooftop, you have got the swimming pool and a bar where you can chill out during the day with your partner.
Guest Friendly policy for Dream Hotel in Bangkok
During my stay, I walked in and out with different girls without any problem. The staff was cool and friendly. This hotel is 100% guest friendly.
---
This is the hotel for travelers visiting Bangkok looking for a girlfriend experience.
Let me explain – The hotel is situated in Sukhumvit Soi 11 where the best nightclubs and after office hours joints are located.
The closest notable club/restaurant is Bed Supperclub, where the most attractive Bangkok women are usually found.
Q Bar is not too far up the Soi, about a 5-minute walk, another institution in Bangkok to meet cute and hi class Bangkok women.
Did I mention Club Climax? This is a great venue to pick up freelancers, located in the parking level of the Ambassador hotel (it's also guest friendly too).
If you aren't into flirting women, the nearby Lolitas (BJ bar) and the infamous Thermae Bar will satisfy your appetite.
And street walkers are just around the corner on Sukhumvit road too.
Guest Friendly policy for President Palace Hotel in Bangkok
The service desk staff is always helpful and polite. I just get my guest to drop her ID card and we carry on happily to the room.
---
Legacy Suites Sukhumvit


$$$ –

$$$

$$
Located in Soi 29, Legacy Suite is only a short walk from Soi Cowboy red light district, countless restaurants, shopping centers and the BTS train.
They have got a few types of rooms, but my recommendation is for the "Superior Premium" and the "One Bedroom Executive" for who can afford.
What I like about these two rooms, besides the size and comfortable sofas for play, they have got mirrors in the bedroom in some room (ask for it in the comment form).
The One Bedroom Executive is fantastic to have private or bachelor parties, including a bathtub that guest hold in at least two girls (excellent for soapy activities), two rooms (bedroom and lounge) plus and good size kitchen to prepare some snack and hold the beers for the party.
Guest Friendly policy for Legacy Suites Sukhumvit in Bangkok
Legacy Suites is completely guest friendly. No hassle and no question asked for unregistered guest brought into the hotel at anytime.
---
The hotel is in Soi 2 in Sukhumvit road, a quite road with few other hotels and restaurant but walk distance from Nana Plaza nightlife and BTS train.
Majestic Grande Hotel is four stars, with all the facilities and service of an international chain.
The hotel amenities include two restaurants & bar, excellent gym, Jacuzzi room, steam room, sauna and pool on 7th floor with sun loungers.
This hotel got an excellent reputation, well run from the management for more than twenty years.
I'm pleased on any occasion to stay in Majestic Grande: great location, clean and comfortable rooms (I love the big pillows), polite staff and value for money.
Guest Friendly policy for Majestic Grande Hotel in Bangkok
Brought back girls from Nana Plaza every night. Just drop her ID card at security guard's desk for guest safety. Non intrusive and fast service. No extra charges or questions asked.
---
Column Bangkok is referred to an adult playground, and for a good reason.
Conveniently located at the heart of the naughtiest Bangkok nightlife (only 500 meters from Soi Cowboy) and huge room size, you comfortably move around with more than one guest.
I would like to highlight the two bedroom suite laying on a 118 sq.m. This room is perfect for parties and to play with multiple lovers.
The price is unbeatable for only 200 USD per night. If you travel with a friend, both of you have privacy but at the same time can party together in the living room.
For 100 USD each, you can take advantage of an executive apartment with all the hotel services in the heart of Bangkok.
Facilities; restaurant, indoor pool and free airport transport.
Guest Friendly policy for Column Hotel in Bangkok
They look very happy every time I bring back some guest from Soi Cowboy, probably because the first night I had three girls with me. 100% guest friendly, safe and private.
---
$

$ – $

$$
This hotel is awesome. It's a small boutique hotel located on a quite road not so far from Soi Cowboy and Asok BTS station.
Those are red light areas where you can find the most blow job bars in Bangkok.
The rooms are very intimate, with a warm welcome yet high tech facilities. I always stay in the Jacuzzi room.
The bathtub is outside on the balcony but offers total privacy.
It is the best value in town, considering the quality of the room. From the bedroom, you can look into the bathroom by a glass wall.
Great to watch your guests taking a shower.
The room has a lightbox control, so you can custom the light in the room as pleased.
Breakfast is included, but with a limited offer of dishes. However, it is good.
Guest Friendly policy for The Fusion Suites Hotel in Bangkok
They are very guest friendly. No worries. However, if you bring more than one guest, they will charge extra 20 USD per person.
---
$

$ – $

$$
Located conveniently on Soi 6, Sukhumvit road only few meters from Nana Plaza Complex.
This location offer the best for nightlife seekers, with a good option to peak up freelancers in the street if you feel lazy to walk down Nana Plaza.
The rooms are clean and comfortable, modern living design and all come with a bathtub that is always useful to have a bubble bath with some girl.
The facilities are excellent, with a good sized swimming pool, gym and coffee shop that offer good breakfast.
Guest Friendly policy for Dynasty Grande Hotel in Bangkok
They welcome visitors and unregistered guest.
If you have a second guest, they will charge only 500 baht extra per night, it is a good value considering other hotels of the same category charge over 1000 baht.
---
$

$$
The Galleria 10 Sukhumvit (formerly Ramada Encore) is well located in the middle of Bangkok's naughty life.
Before reaching the hotel, you will pass by the popular Lollipop bar in the entrance of 10, this is a popular BJ bar.
Nearby there is Thermae Bar, great spot for picking up freelancers and Soi Cowboy's gogo bars are just a 10-minute walk. The area is a totally playboy ground.
You have got the swimming pool on the rooftop, great place to chill out.
Guest Friendly policy for Galleria 10 Hotel in Bangkok
Galleria 10 is completely guest friendly. No need to drop the ID of your guest but I advise to do so.
–
Budget Sex Hotels
$

$
Marmaide Hotel is the best of its category. It is modern, new and very intimate. It is a short walk distance from Soi CowBoy, and this help out to have a great night.
I love the Corner Suite with Balcony, unbeatable for this price.
You can sit out and have a cold beer having a balcony, and the room has plenty of light thanks to the corner window.
Now come the best part, the interior design has a tendency to bright colors (purple, orange and green), even the lights that make the atmosphere erotic and relaxing.
PS: when making your booking, specify your favorite color. I love purple.
Did I tell you about the bathroom?
The bathroom is spacious and a lovely bathtub where you can have your bubble massage. For this price range, other hotels offer a small shower, most of the time small too.
The hotel facilities are an outside pool (charming) and a very welcome restaurant with excellent wines.
Guest Friendly policy for Marmaide Hotel in Bangkok
You are welcome here with your unregistered guest anytime of the day or night.
---
$

$
This hotel is located right on one of the sleaziest streets in Nana area. In Sukhumvit Soi 7/1, you will find excellent establishment for single and couples.
Dr. BJ's salon (the name said it all) where you can have a good check up from the nurses here. Their costumes are cute, and the girls have excellent oral skills.
This road is the home of Eden Club, the most known club in Bangkok where you can have two bisexual girls together to satisfy your fantasy for single and couples.
But there is more in this Soi, beer bars and "happy" massage.
The atmosphere in this Soi is just great and feel good to check in this hotel.
About the hotel, the rooms are well furnished and offer all the modern comfort.
The bedroom is separated by the glass from the bathroom, excellent touch to give you a good view of your girl showering.
They haven't any services besides free coffee in the lobby and elevator.
Guest Friendly policy for ICheck Inn Nana in Bangkok
Bring in your guest at anytime, discreet and no problems.
---
$

$
This hotel is modern and trendy located near Soi CowBoy.
Park Plaza is sitting in a small side Soi located off busy Sukhumvit road but conveniently near eating establishments, street vendors, 7-11 or Family Mart, Terminal 21 mall, home of few massage parlors and Asoka BTS station.
Only 20 minutes from the airport with the MRT and Airlink at Makkhasan. The room is clean, facilities (pool and fitness on the rooftop) look great though haven't used them.
Guest Friendly policy for Park Plaza Soi 18 in Bangkok
I enjoyed the atmosphere and bring in my unregistered guests. Staff always welcoming and with a big smile.
---
$

$
This hotel is a part of a popular chain and so far the only property in the Nana red light district.
Ibis hotels are known for their standard business facilities with small rooms but compact furniture and design.
There is no swimming pool and no gym, but a restaurant good for breakfast. The Ibis offers 24 hours desk services.
It's a great budget hotel with Nana Entertainment Plaza just a 5-minute walk away, plus many smaller bars on the Soi.
Annie's Soapy Massage is on the corner of Soi 4, Annie's is the longest and most recognize massage parlors in Bangkok (must try).
Guest Friendly policy for Ibis Nana Hotel in Bangkok
All the Ibis Hotel in Bangkok are guest friendly, only leave your guest ID card at the desk.
$
There are no shortage of affordable guest friendly accommodation at Nana Plaza, Soi 4. [email protected] 4 get the top spot on the list with its funky interior design, affordable accommodation and great location.
After 7pm the area is alive with freelancers walking up and down the road, beer bars all around and cheap eatery.
In the afternoon, don't miss Annie's massage parlor on the corner, you will get the best happy ending of your life. After 12 pm stroll down for a cold beer in the numerous bars.
The rooms are modern and clean with all the necessary facilities for a naughty holiday.
So you can simply walk back to your room with no need to rent a short time room or pay for a taxi ride. It's in a great convenient location with plenty of action all around the hotel.
The junior suite doesn't have windows but instead a comfortable wall's sofa where you can experiment with new ways of pleasure.
Guest Friendly policy for [email protected] 4 Hotel in Bangkok
In this area no doubt this hotel is guest friendly. Thanks to the excellent location, you can use your hotel room for short time during the day and long time in the night.
---
$
Another budget hotel in Soi 4 in Nana Plaza. I recommend this place if you want to bar fine multiple time per day girls in the nearby bars.
Of course, you can use the rooms above the bars in Nana Plaza, but they are horrible and not intimate at all.
This budget hotel is the mecca for the real mongers looking to party like animals and enjoy the red light districts of Bangkok.
If you are planning to sleep at night, this hotel isn't suitable for you as it is noisy until 3 am.
The exterior and main areas of this accommodation are rough, but the rooms are modern.
Guest Friendly policy for Di Place Hotel in Bangkok
In this area no doubt this hotel is guest friendly. Thanks to the excellent location, you can use your hotel room for short time during the day and long time in the night.
What Is a Girl Friendly Hotel?
A hotel that is considered guest or girl friendly means to allow you to bring your guests back to the room without extra charges (no joiner fee), no walk of shame in the lobby and respecting your privacy.
A joiner fee can cost anywhere from US$20 up to US$50 a night depending on the hotel policy.
Just think about to take every day an unregistered guest to your room for a ten nights holiday, you will be faced with an extra bill of US$200 up to US$500 on the end of your stay.
THat's isn't fun – It's sucks!
This is the reason I've picked the best guest friendly hotels for you conventionality located near the action areas… saving you time, money and hassle.
RELATED ARTICLES