Guide To Blow Job Bars In Bangkok Without The Bullshit
Bangkok is a hub for sexual entertainments, and finding a place for a blow job isn't that difficult.
There are gogo bars, erotic massage parlors and hookers in the street ready to have sex with you.
But if all you need is pretty girl's face between your legs then a blow job bar is the way to go.
They are great spots to chill out during the day if you are tired of the hustle and bustle of the city.
There is nothing more relaxing than having a cold drink while a girl sucks you off.
So, how blow job bars in Bangkok operate? 
Pick one of the service girls at the entrance of the bar…
She'll escort you to a private room for the sucking service. At some of the other bars, it happens right there on your seat!
Better still, you can have a quickie for a few more hundred baht.
But here's a thing. Some of the girls working in the BJ bars might only give head and no sex. This usually comes from the younger girls.
Another thing is, most blow job bar girls are usually unattractive compared to the sexy coyote girls working in the gogo bars in Bangkok.
On the flip side, there are a few gems in the rough if you search in the right places.
That's why I've created this guide where I'm reviewing the best blow job bars in Bangkok saving you the stress of roaming the streets.
Also, to plan better, there is a map of the blow job bars at the end of this guide.
Blow Job Bars In Nana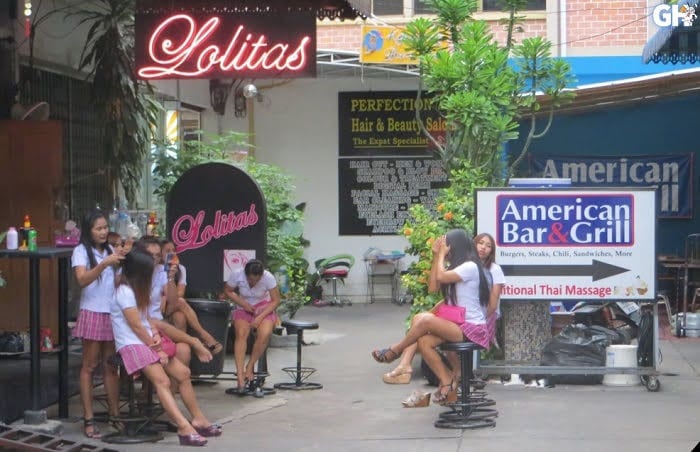 Nana is one of the three red light areas in Bangkok where you can find girls for a price.
Wood Bar – Previously Dr. BJ's Salon
It is probably the most famous blow job bar in Bangkok but had to change its name to Wood Bar.
There can be over a dozen girls at a time who line up to get picked as you enter.
They are categorized by their attractiveness into "consultants" and "nurses.
The "nurses", wear sexy white nurse costumes but are less attractive.
The majority, who are the sexy "consultants", wear black uniforms.
Your girl will blow you in a dentist's chair in one of the private rooms.
Prices:
Blow job: 700 baht (nurse) & 1000 baht (consultants)
Your drinks: 100 baht
Lady drink: 120-130 baht
Kasalong
The bar is clean and has girls who know their way around a dong.
It has one of the best looking girls dressed in skimpy school uniforms.
The service area has a comfy red sofa where you get all the action.
It is also the only blow job bar with a pool table to pass time while scouting the girls.
Prices:
Blow job: 800 baht
Short time: 1400-1700 baht
Your drinks: 105 baht
Lady drink: 105-150 baht
Lolitas
It's as popular and good as the one in Pattaya.
They have plenty of girls, with over a dozen usually sitting outside at a time.
Don't expect young spinner but rather old ducks that love to suck it.
Have to be your lucky day to find a sexy girl here like most of the other blow job bars.
But, one thing's for sure, the girls are good at their service.
Prices:
Blow jobs: 800 baht
Short time: 1.700 baht
Your drinks: 125 baht
Lady drink: 150 baht
Blow Job Bars In Soi Cowboy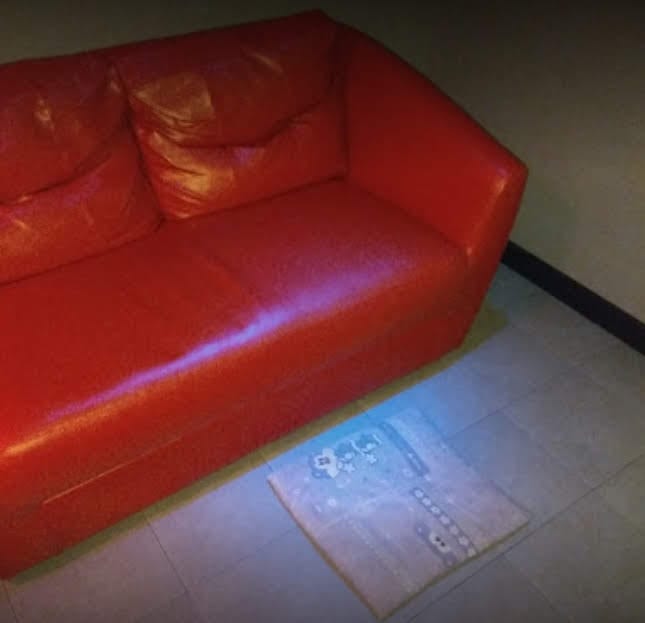 Most of the venues in this area are gogo bars. But there are a couple of places that offer blow jobs right in the bar.
Afterskool
It is basically an after-work bar where expats enjoy beers in its patio which gives a great view of the street.
The girls are really pushy on the lady drinks, especially after midnight.
If you decide to get a BJ, you will be serviced inside the bar. Sometimes, you will even find another guy getting sucked.
There aren't any private rooms, but you can sit on the corner of the bar counter where people can't see your panties 🙂
Prices:
Blow job: 1.000 baht
Lady drink: 150 baht
Your drinks: 80-130 baht
Moonshine Joint
It's another gogo bar with new girls introduced on a regular basis.
It is just a few steps away from Baccara – the most happening gogo bar Soi Cowboy.
It's not too big and only has a few bargirls that usually sit outside the bar.
The girls give hand jobs in the bar but you have to go upstairs to get a blow job.
This is the cheapest bar in Soi Cowboy.
Prices:
Hand Job: 500 baht
Blow job: 800 baht
Your drinks: 80/110 baht (happy hour until 9 pm)
Lady drink: 140 baht
Jungle Jim's
This bar is right next to moonshine and also has an outdoor seating area where you can drink and decide which girl to pick.
Once you buy your girl a lady drink, she will get you serviced right in the bar. If you'd like to go further, you'd have to pay 400 baht for a short time room upstairs.
This doesn't include the price you'd pay for sex, but just the room.
The coyote dancers (cute girls) can cost you as much as 3.000 baht in bar fine.
Prices:
Blow job: 800 baht
Short time: 1.000-1.200
Your drinks: 80-110 baht (happy hour until 9 pm)
Lady drinks: 150 baht
Blow Job Bars In Sukhumvit Road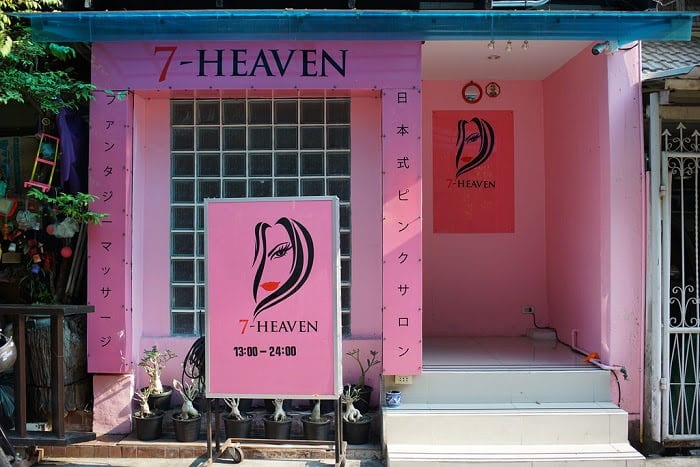 This is the main road that passes across most of Bangkok. Sukhumvit has many Soi (Street) and areas for nightlife, restaurants and hotels.
Of course, most of the blow job bars are along Sukhumvit Road.
7-Heaven
7-Heaven serves a mainly Japanese clientele but it definitely gives other people a happy ending.
This place might just be heaven on earth for single guys with a boner and sexual fantasies.
The menu contains services like COF, 69, handcuff, CIM and so on.
To top it, you can find some really attractive and young girls who are actually friendly.
But it comes at a price which is more expensive than other blow job bars.
Ha! They don't offer full service, only BJs.
Prices:
Handjob: 1.000 baht
Blow job: 1.300 baht
Blow job x2 girls: 2.500 baht
Blow job x32 girls: 3.500 baht
Kimochil
It is located off Soi 55 near Thong Lo Station.
It is not the typical BJ bar but more like a massage salon that offers blow job services too.
Instead of picking girls over a lady drink or two, you book at the reception then take your business upstairs.
Most of the girls are chubby and not attractive but there are a few exceptions.
Even the unattractive ones make for with a good head game.
And the girls offer various other services like 69 position or CIM.
The service area has a mattress on the floor with a big mirror that gives you a full view of the head action and the room.
Unlike other BJ bars, you get a few minutes of massage included in the price.
Perhaps the reason it's more expensive than typical BJ bars.
Prices:
Handjob: 1.000 baht
Blowjob: 1.400 baht
Short time: 2.500 baht (1 hour)
Duangporn's Heaven
This is the newest blow job bar in Bangkok that's really good. Not really new, but a reopening of the famous Som's Heaven.
It's just a short walk from the old location in Soi 14.
It is bigger and has a full bar, pool table, and seats that look like booths.
There aren't many girls yet, but there are attractive ones among the few.
The action takes place in the private rooms upstairs, so no head jobs in the bars.
Its discreet location and few customers at the moment makes it a nice spot for a shy guy.
Prices:
Blow job: 800 baht
Your drinks: 125 baht
Lady drinks: 150 baht
Map of Blow Job Bars in Bangkok
I've marked the BJ bars in Soi Bong Koch with the blue pin, in Soi Post Office with a yellow pin, those in Soi Buakhao with a green pin and the oldest Pattaya blow job bar with a red star. 
Videos of Girls Working in a Bangkok Blow Job Bar
If you head to the gogo bars for a BJ, make sure you discuss your terms with the girl over a lady drink so she doesn't disappoint you.
In all the BJ bars you pay after the service, except for the Wood bar. That way if you are unsatisfied with the service you can complain to the mamasang or manager.
If you want a better chance of getting better-looking girls, first don't go too early (before 3 pm) and second visit the bars that I recommend in this guide.
That way you save time and bad surprises.
Blow job bars are the only places in Bangkok where you can be sure of getting a BJ.
Sometimes, girls in gogo bars and even some hookers will tell you they don't give head.
RELATED ARTICLES