Thai Friendly Review: My Personal Experience To Date Thai Girls Online
One of the most popular dating sites in Thailand is Thai Friendly. There are more than 1 million members on this site making it an awesome tool to contact and date Thai girls.
Yet, the best future of Thaifriendly.com is that it's free to sign up and to use. You just need to create a profile, upload a photo and you're ready to go.
In my option, it's one of the best free dating sites in Thailand to find a Thai girlfriend, a wife or just a bedmate.
Below you'll find tips on how to use ThaiFriendly and maximize your success rate with Thai girls online. Also, you'll find dating tips
My Thai Friendly Review
ThaiFriendly is minimalistic and easy to use thanks to its search function that lets you filter out girls based on age, physical characteristics, education, and even filter automatically members nearby you if you're already in Thailand.
It also works great when using the Thai Friendly app on the smartphone.
Yet, the best future is the possibility to search for Thai girls who are online. Meaning you can see all the members log in to the site and ready to chat with you…
Girl's Profile Page
When you click on her profile, you'll get to see all her photos and the full bio. The bio has her personal info and a short description of what she is looking for on the site.
Some girls write general stuff like "I'm a cute girl that enjoys life" while others are very specific about who they are and what they are looking for.
This means that some girls don't know themself and what she wants in life while others have a clear idea.
In my personal experience, stick with the girls they know what they want unless you like to waste time. When a girl has no idea what she is looking for, she'll hesitate to meet you.
There is a "show interest" button under the main profile picture that lets her know your interest in her. I use it only when I want to know if the Thai girl is available to chat with me.
Yet, don't try this with the hot girls because they are bombarded with interests, so send her a message instead. A message lets her know that you're serious about getting to know her…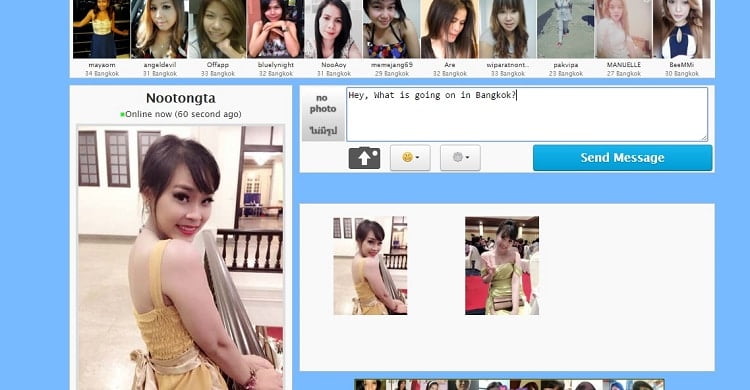 Keep in mind that hot Thai girls are less likely to answer you simply because they are overwhelmed by messages.
If you want to stand a chance, you need to upgrade the membership.
When upgrading, your messages get priority over all the non-sign up member's messages. Meaning your message has a higher chance of getting read by the girls.
Also, your profile gets a VIP status which helps to get the attention of the girls.
Next, there is the "add favorite" button that lets you create a list of your favorite girls. Useful to keep in contact with only the ladies you find the most interesting.
That big white space under the add favorite button is the private note space. Use it to write your thoughts about the girl, keep a note of her interests, and track the progress.
Your Thai Friendly Profile
Before contacting the girls, make sure your profile page is in order. Thai girls screen your profile carefully.
So, write a proper profile description without taking shortcuts. Girls notice the well-written profiles and admire men that know what they want in life…
Then upload at least 3 photos in different settings like work, with friends, traveling, and so on. The more, the better.
Thai girls pay attention to appearance, and not only online.
It doesn't matter if you have an MBA when you dress like a beach boy. Thai girls value more appearance over qualifications.
Contact The Girls
You can start a conversation by simply write a message like "Hey, what is going on in Bangkok?".
Write something simple, different, and that requires an answer from her.
Keep your conversation simple and smart, at least in the first few messages until you get an understanding of her language skill.
Some Thai girls are shy and not so confident writing in English, so they need to be praised and encourage.
I prefer to keep the messages short, to the point, and to build trust. This is necessary before asking her out for a date.
Write A Personal Message
Most guys on Thai Friendly can't bother to look at the girl's profile description and to write a message around her interests.
Instead, they copy and paste a general message and sent it out to several girls. No wonder they don't get any reply.
So, here a few examples of messages to get you started in the right direction:
If she lives in Bangkok, ask how is the weather in her city, not in Thailand.
If she likes to travel, let her know that you love to travel too. Ask where she is been.
If she is a student, ask what she studies.
If she like pop music, ask about her favorite pop band.
As you can see, it's all about showing interest in her. Once a girl answers your first message, most of the time she'll carry on the conversation.
How To Meet A Thai Girl For A Date
Once she replies to your first few messages, ask her "Line ID" or "What's Up" so you can carry on the conversation elsewhere.
That way she won't be distracted by other men on Thai Friendly. Also, she'll see you as an intimate friend because Line and What's up are chats for close friends.
Talk for a few days with her and then ask to meet for a date. You can go for a simple drink and chat, but I recommend taking her for a meal.
Thai girls love to eat, and they can feel closer to you when sharing food together. Don't do like in the West where everyone orders its own, but order a few dishes and share it with her.
Thai Friendly is an excellent tool to contact Thai girls and go for dates, and over the years I've learned a few tips.
Thai Friendly Tips To Get More Replies
I've some tips to get more replies and interests on Thai Friendly.

Contact The New Members First
New members aren't talking with anyone yet so get their attention before anyone else. If you can get her attention the moment she signs up, your chances to keep her interested in the conversation are very high.

Don't Write General And Short Messages
Most men write simple messages like "Hi, how are you?". That isn't going to land any attention from the girls.
Read her profile, write a message that acknowledges that, and start to build a conversation.

Upload Several Photos
The more photos you have, the better. And don't upload only face shots, but full-body photos too.
Another important thing if you want to get the attention of the girls is to use photos in different environments like work, personal life, nightlife, friend's life, and family life.

Write A Short Headline
When writing your Thai Friendly headline make it short and catchy. But most importantly it should indicate your intention.
Are you on ThaiFriendly looking for a holiday girlfriend, a long-term girlfriend, or a wife?
What's The Price For Thai Friendly Premium Membership?
There are four different options when upgrading membership:
~ 1 month for $24.95; Equal to $0.83 per day
~ 3 months for $49.95; Equal to $0.55 per day
~ 6 months for $69.95; Equal to $0.38 per day
~ 1 year for $99.95; Equal to $0.27 per day
When you upgrade, your profile gets a VIP status and your messages appear at the top of the girl's inbox.
You can use the free account first and if you feel like you don't want to wait 10 minutes between messages or you want to get in contact with girls in high demand, then you can always upgrade your account later.
I hope you found my review of Thai Friendly useful and if you want to sign up for it, here's the link again: www.thaifriendly.com
Keep in mind that Thai Friendly is to find a long-term girlfriend or wife. In other words, it's a dating site for serious relationships.
If you're after a holiday girlfriend or a friend with benefits, you can read my review of Seeking Arrangement. On this site, there are many students seeking all sorts of arrangements.
Instead, if you want to have a full sex holiday, you're better to check out my Asian Match Mate review.
RELATED ARTICLES