Happy Ending Massage In Batam
Are you looking for an erotic massage parlor in Batam that offers happy endings? If your answer is yes, you're in the right place.
I know how hard it is to get a quality dirty massage in Batam as I had my fair amount of disappointments along the way in searching for those "happy" places.
There are quite a few spas that offer erotic massages, but for some reason, they aren't upfront about their "extra" services.
For example, the "Majesty Spa" employs young and cute girls. But during the massage, it's shocking to learn that they don't offer any happy endings.
Batam isn't like Bangkok. You can't get a massage and sex in any area of the city. Most spas in Batam offer only regular massages.
However, there are a handful of dirty massage parlors which operate "extra" services undercover…  Meaning they are reluctant to promote their erotic massages openly.
And because the activity is illegal, you get to pay a premium price. But don't worry if you're on a budget, besides revealing the best Batam parlor offering happy endings, I'm going to tell you how I get private massages in my room at a fraction of cost.
That way, you can get two ladies for the same price as a masseur in a Spa…
3 Best Batam Spas Offering Happy Endings 
One of the most known "happy" massage parlors is…
1. Delta Spa
You get a massage that includes a happy ending. Unfortunately no intercourse but only a handjob.
The facility is top-notch, the girls are good looking and the price is 700k rupiah for the massage + HJ.
I know it's pretty expensive, but for the same amount of money, you can get two freelancers from the club. And you don't get only a handjob 🙂
As already mention earlier, spas that offer happy ending in Batam are expensive.
If you want to get a massage by a hot girl and get her candy, there are better options that I'm going to reveal at the end of this guide.
Anyway, I've to admit their massage service is pretty good and the facility is modern.
They offer these type of massages:
Hot Stone Massage
Ion Ozone Therapy
Mud Therapy
Wet Massage Hydrotherapy
Puri Combo Massage
Ear Candle Therapy
If you're looking for more than a handjob, consider visiting…
2. Octopus Spa
Octopus Spa is located inside Pacific Palace Hotel, a yacht shaped hotel that is pretty cool. Octopus Spa in Batam offers full service. Meaning you get a massage with sex at the end.
The massage is nothing to brag about; obviously, the girls are only experienced in extra services.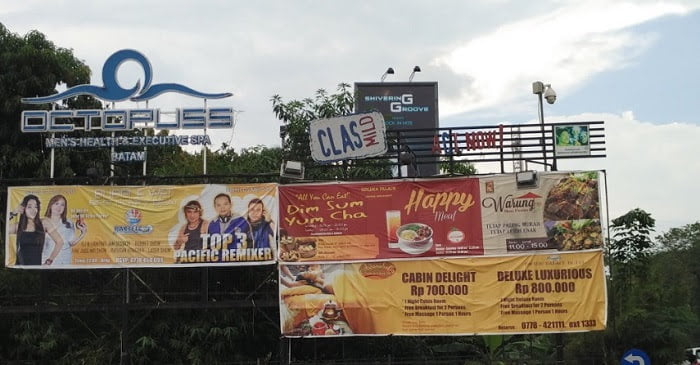 Walk in the reception and pick a girl. You need to pay upfront 500k for the massage. You only have the chance to bargain with her for extras once in the room.
Yeah, the girls have the upper hand because they can quote any price and also refuse to offer an extra (blow job is a common one).
Don't rush to pick a girl, take your time. The best way is to let her choose you, that way is more probable she is going to give you a good time.
At last…
3. Fame Spa & Lounge
Fame Spa is similar to Octopus Spa, you pay 500k at the reception, then you deal with the extras in private with the girl.
Also here you don't know how much you are going to pay for the girl. Expect the "plus plus service " to be around 1 million rupiahs.
It's a pain in the butt to go for a happy-ending massage without knowing how much the girl is going to charge you.
You might drop 500k rupiahs for a massage, only to find out her rate for a happy ending is too much. It is frustrating don't be able to unload after getting turned on.
If you are into this kind of unpredictable experience, visit Fames Spa, located in Jl. Raden Patah next to Bumi Nusantara Hotel.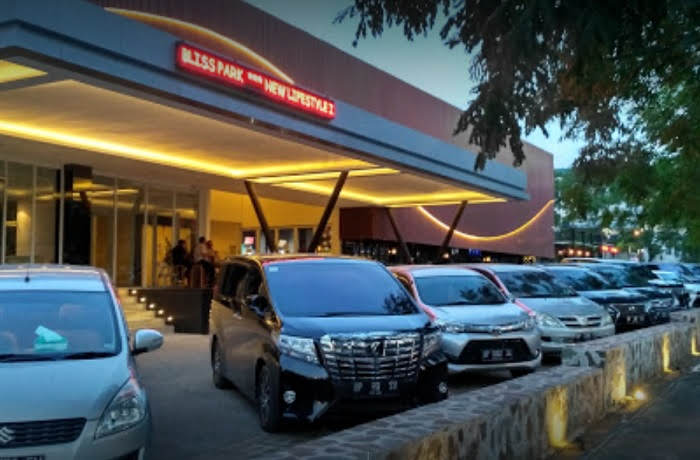 A Cheaper Alternative To Spas
If you want a massage and don't mind getting an amateur girl, you can engage the services of a freelancer girl for 300k rupiahs.
You can get a massage plus all the extra directly in your hotel room. No need to pay crazy money… Or to bother to take a taxi… Or waste time in useless shenanigans.
What can beat a happy ending massage from a cute girl?
Probably getting an erotic massage from two cute girls for the same price as a spa's masseur 😉
You can find girls on adult sites and apps that are into "pay for play" activities. Not only do they visit and massage you, but they offer all the extras.
While I was staying in Batam, I made a deal with a Riau girl met on an adult dating site.
Riau is the province of Batam and the only option available when searching for girls in Batam… And the deal was to get a massage with a happy ending one time per week for 250k rupiahs.
She was an eager girl willing to please. Over time her skills improved significantly, especially the boob massage.
At first, she was shy and embarrassed, but over the weeks she got used to the body to body massage fully naked. I still remember her big rack, watering mouth, and cute smile.
I'm so grateful for that experience and happy memories.
Erotic Massages In Batam For Everyone
In conclusion, you can get a happy massage in Batam even when on a budget.
If you can't afford the Spas, now you know where to go. Spa's services aren't so special to justify the price. Yes, the facilities are good but the girls are just average (6-7s).
If you are really into massage and sex, you are better off recruiting an Indonesian girl online at a fraction of the cost. Not only it's cheaper, but there are some real hotties out there.
RELATED ARTICLES