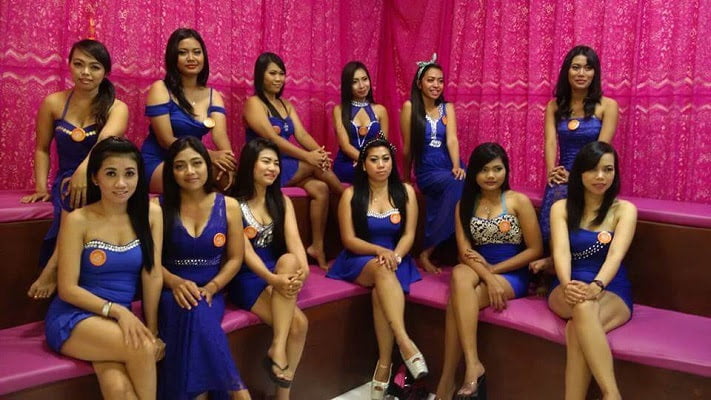 Prostitution In Bali: Girls, Sex & Prices
Prostitution in Bali is on the rise. You can find prostitutes in most parts of the island, not only in Kuta and Ubud.
Working girls get employed by local adult businesses like erotic massage parlors or self employ like streetwalkers.
There is a clear distinction between those two forms of prostitution. Girls working for a sex business are hardcore prostitutes whereas self-employed girls (freelancers) offer a girlfriend experience.
Both want money from you, but they offer a different sexual experience.
You'll find hardcore hookers in Bali to be highly trained in the sex part, but they are cold and mechanical when providing their services. While freelancers in Bali aren't much experienced in the sex part, but they are genuine and friendlier like a girlfriend (girlfriend experience).
For example, a Balinese prostitute working in a massage shop can massage you, suck you off like a rock star but hurry up to finish the session. On the other hand, a freelancer expects you to take the lead and she isn't going to rush things.
In this article, I'm going to expose all the different types of prostitutes in Bali and the relative prices (the going rates) that tourists pay for sex.
Anyway, if you want to get laid in Bali there aren't only prostitutes as explained in the Bali sex guide. But also everyday girls down to fuck a foreign man without compensation.
Let's start with a common question: is prostitution legal in Bali?
Is Prostitution Legal In Bali?
Prostitution in Bali is illegal although it is widely practiced and tolerated. In certain parts of Bali like Kuta prostitution is even regulated.
There aren't any formal red light districts in Bali, but certain areas have an active nightlife scene and several erotic massage parlors where you can easily find girls for sex…
So, as prostitution in Bali is tolerated and regulated, it's safe to engage the services of prostitutes without legal consequences.
Where To Find Prostitution in Bali?
The biggest prostitution area in Bali is Kuta and in particular the Legian section. Kuta prostitution is organized in the erotic spas while down to Sanur prostitution is organized in brothel houses.
But the majority of prostitution in Bali is not organized, and it takes a form of spontaneous prostitution. Let's have a look at the biggest forms of prostitution in Bali one by one…

1. Online Prostitution in Bali
Dating sites and hookup apps are been hijacked by self-employed prostitutes in Bali. The main reason is safety from regular police inspections.
Working girls have left the nightclubs and streets to join the online dating scene to find customers. It's pretty obvious by the naughtiness of profiles…
If you send out a bunch of messages asking to meet up for 300k, you'll find that 70% of the Bali girls online will jump on the deal. Even those girls that swear they are looking only for a serious relationship.

2. Prostitution In Erotic Spas
In Bali, there are many erotic massage places that provide girls, erotic massages and happy endings…
Erotic spas in Bali are luxurious, clean and well organized. The structure looks like a hotel, having a sauna, pool, massage area and short time room to have fun.
If you are into this kind of experience, consider to read the guide to erotic massages in Bali.

3. Bali Prostitution In Nightclubs
Like in most cities in Indonesia, you can find working girls freelancing in the nightclubs…
In recent years the number of Balinese working girls in clubs has dropped significantly. They moved to the safety of online dating sites and hookup apps. But you can still find freelancers in Seminyak and Kuta's nightclubs.
The most popular nightclubs to find prostitutes in Bali are:
Sky Garden – The biggest club in Bali with 6 different music rooms. The vibe is excellent, a great variety of music and youngsters in their 20s.
Pyramid Club – After hours clubs that get busy when all other discos close (after 3 pm).
La Favela – A nice place where you can find East Europe and Russian prostitutes.
Expect to find hotter and sophisticated prostitutes in Seminyak, but the rates start at 1 million rupiahs for a pop. Instead, prostitutes in Kuta start at 600k.

4. Escort Agency
There are escort agencies in Bali that provide Indonesian girls as well as foreign women, but the rates are very high as you can see on this escort site.
There are better ways to find an escort girl in Bali without spending a fortune. There are plenty of everyday girls struggling financially that won't mind spending time with you for some cash.
You just have to contact Indonesian girls online, have some small talks and meet up. There are plenty of eager girls eager to spend some intimate moments with a foreign man.
5. Street Prostitution in Bali
When walking around Bali in areas like Kuta, you'll see girls wearing sexy clothes and being over-friendly…
They are the lowest type of prostitutes in Bali, sleeping with any men willing to pay for sex. Several streetwalkers have drug problems and a tendency to create problems. Let alone the precarious health conditions.
If this is your cup of tea, you can patrol the area around Ground Zero Monument in Kuta. You can find prostitutes in the street starting at 8 pm.
RELATED ARTICLES