Phuket Freelancers: Best & Cheapest Sex In Phuket
It isn't that hard to find freelancers in Phuket.
Most girls you see in the streets, shops, restaurants, and even on dating sites are happy to be your holiday girlfriend.
Unfortunately, the vast majority of tourists have the impression that girls freelancing in Phuket are risky business only because they don't work in a bar or a massage parlor.
The major fear is the girl might disappear at night with their valuables or make some other problems.
Yet, the reality is freelancers prefer to work on their own simply because they don't want to share their earnings with the brothel's owner.
For example, a freelancer in Phuket charges 1.500 baht for all night whereas a bar girl asks for 3.000 baht – 1.500 baht for her and 1.500 baht for the owner.
It's obvious that it's harder to convince someone to pay 3.000 baht instead of 1.500 baht for the exact same service.
This is the reason why freelancers prefer to work as self-employed. They have more freedom to work whenever they please, make a similar amount of money of bar girls but with less effort.
It's just common business sense.
In this article, I'm going to explain about all the different types of freelancers in Phuket from the cheapest to the most expensive, starting with…
1. Phuket Freelancers Online
If you don't like clubbing or dislike freelancers in the street, then the best place to meet Phuket freelancers is on dating sites.
You might think that dating sites have only Thai girls looking for love, but in tourist destinations like Phuket, you can find many freelancers.
When you see a profile of a girl on a dating site wearing a bikini, or a short skirt, or pose provocative, you can bet she is a freelancer.
Everyday Thai girls looking for a serious relationship are too shy and conservative to upload revealing photos.
And when you read in their profiles things like "I want you" or "I'm looking for a generous man", that's pretty obvious what they are all about.
To get started, just send the girls a massage explaining what you're looking for. Be as honest and transparent as possible, it saves possible misunderstandings along the way.
2. Phuket Freelancers In The Streets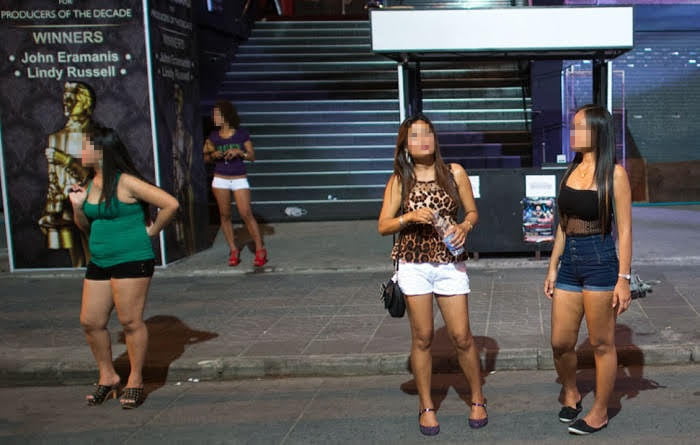 If you visit Patpong or Bangla Road at night, most girls walking there have a tag price.
So, don't be afraid to approach a girl and ask if she would like to go with you. Most probably she might be interested, for the right price.
But be careful, there are plenty of ladyboys (transgenders). When a girl looks too hot to be real and in a street at night all by herself, you can bet she is a ladyboy.
Having said that, here where you can find street freelancers in Phuket:
• Bangla Road Girls – After 7 pm the game is on. Thai girls walking around this area are freelancers. Bangla road girl price starts at 1.500 baht in the early hours or after 2 am. Pick time between 9 pm-2 am expects to pay at least 2.000 baht.
• Patong Beach Girls – At night is when you'll find most freelancers near Patong sing. However, also during the day, you can find some girls available, but they are usually old and unattractive.
Patong beach girls' price during the day is 1.300 baht for 2 hours. Instead at night expect to pay 1.500 baht.
If your hotel room isn't nearby, you should budget an extra 500 baht to rent a short-time hotel room.
3. Night Club Freelancers In Phuket
Walk-in most nightclubs in Patong and you'll find plenty of girls hot for action.
At first, the girls seem there just to have fun with friends, but in reality, they are on the watch out for customers.
Freelancers in nightclubs are normally "all night deal', and you rarely manage to get them out of the club before 2 am. Meaning you have to party with them, pay for the booze, and only later take her back to your place as you can see in this video…
It can be exhausting if you don't enjoy to party all night in a loud place. And definitely not your cup of tea if you can't afford to waste at least 2.000 baht in drinks.
The price for freelancers in the clubs is 2.000 baht+, depending on whether she is a looker and your appeal to the girl.
These girls aren't "hard freelancers" like street girls in Bangla Road, making them a better option if you are looking for a girlfriend experience.
The downside is that you need to be able to start a conversation and create a spark of attraction. Otherwise, you'll come off as a weirdo or predator… and the girls don't like that.
The most popular freelancer's clubs in Phuket are:
Tiger Club; The biggest club in Phuket with the most freelancer girls.
Thai Pan Club; Most girls are freelancers, and they are hot.
Illuzion Club; This club has higher class freelancers, but also many regular girls.
More Videos Of Freelancers In Phuket
In these videos, you can see Phuket freelancers in Bangla Road and Patong Beach…
RELATED ARTICLES