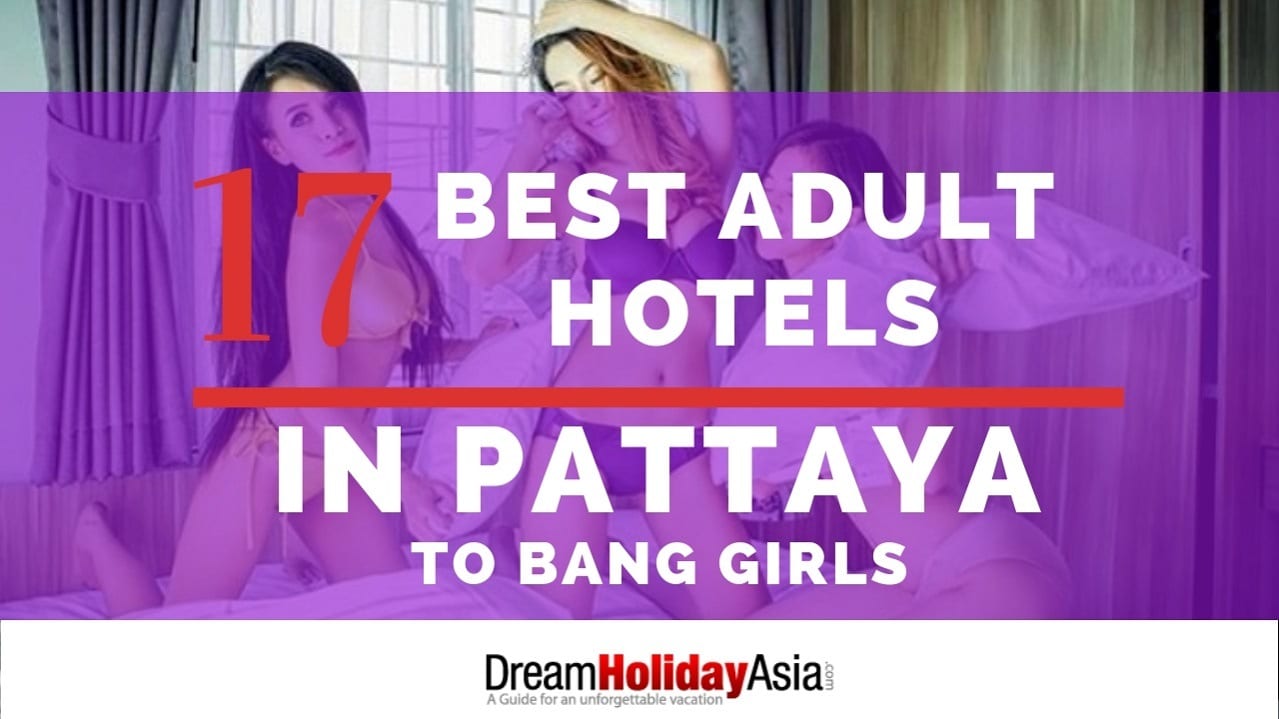 17 Best Adults Hotels In Pattaya to Bang Girls (And a Villa)
Best Hotels in Pattaya For Bachelors And Singles
If you're planning to visit Pattaya, most probably you're looking for hotels and accommodations where you can play with the girls. And if you don't have any contacts yet, check out my guide to meet girls in Pattaya.
Choosing the right place to stay during your holiday can make or break your intimate experiences. There is nothing worse than book a hotel in the wrong area of town or get a shitty room.
A classic is to book a hotel room "only" one kilometer away from Pattaya's main nightlife area: Walking Street.
When you get out of your room, you get there in only 10 minutes because there is plenty of transports available. However, when you try to get back at 4 in the morning with your new girlfriend, it gets frustrating to find transport.
The result is that your hot and horny girlfriend turns into a cold and bored lover. Do you think is she going to give you a pleasant time once behind closed doors?
What about if your accommodations were within walking distance instead? Definitely, things would have turn out differently.
So, in this small girlfriendly hotel's review, I'm going to recommend the best places to stay in Pattaya if you want to enjoy the nightlife, get laid and experience the ultimate vacation.
My selection is based on 3 factors:

1. Location
The hotel should be close to the action and have a good logistics. Now, that depends on what type of Pattaya girls you prefer.
If you want to bang hookers and freelancers during your stay, the best location is near Walking Street and LK Metro. Those areas are packed with the best Pattaya's Go Go bars and nightclubs in Pattaya.
On the other hand, if you prefer to pick up local girls or date quality girls met on a Thai dating site, you better book a hotel room in Central Pattaya.
This guide is divided by location to suit your taste.

2. Value for Money
Why pay more when you can pay less?
Pattaya has so many quality adults-only hotels low in price that has earned the top spot of the cheapest destination in Thailand.
Not only the hotels are cheap, but also the girls are a great deal.

3. The Hotel is Girl Friendly
Meaning that you can bring back girls without extra charges and without being looked at by the service staff like a weirdo… Some hotel is family-friendly, others are gay-friendly and others are patronized by ladyboys.
To avoid getting into the wrong hotel, you can either write an email before booking or you can just check out my following list of the 17 best girl friendly adult-only hotels in Pattaya…
Best Hotels in Pattaya For Nightlife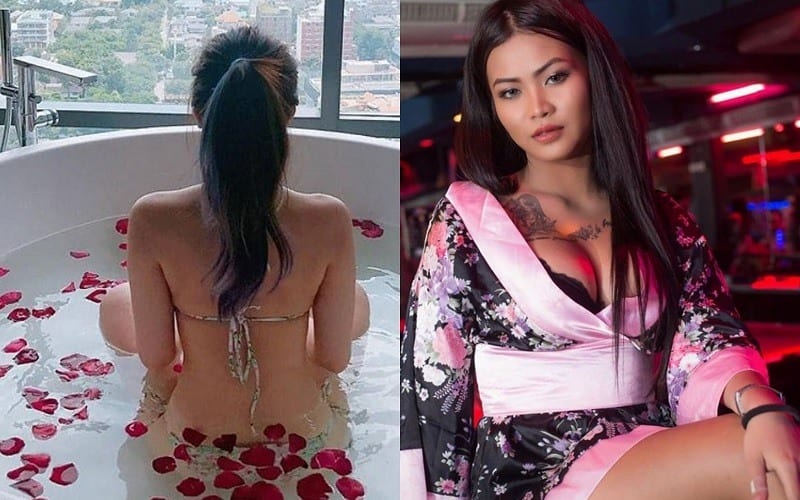 Hotels Near Walking Street – Guest Friendly
Walking Street is home of hundreds of beer bars, nightclubs, go go bars and restaurants.
It's the most touristic area and at the heart of Pattaya's nightlife where you can find freelancers, bar girls and ladyboys. Basically, it's a pay-for-play zone.
Below, the best hotels in Pattaya for nightlife:
Cheap Hotels Near Walking Street
• Mike Hotel; Just outside Walking Street, you're one step from Pattaya nightlife, but you can get a good night of sleep without the loud music.
• Galaxy Suite; Located above Heaven Above Go Go Bar, you've got the naughty night on the doorstep. I highly recommend the jacuzzi room.
• Grand Hotel Pattaya; Located inside Walking Street between two popular streets packed with go go bars. Best hotel in pattaya for nightlife.
Mid-Range Hotels Near Walking Street
• Aya Boutique Hotel; Located walking distance from Walking Street, next to a mall with facilities like hair salon, skin care shop and restaurants while on the beach front.
• Hard Rock Hotel; This property has sea view and an awesome pool. It's fun watching the girls showering throughout the wall glass between the bedroom and toilet.
• LK The Empress; Has a gym, a pool and the room's decor is an interesting Barocco's style. Take a Tuk Tuk for 10 Baht to Walking Street from the front door.
5 Stars Hotels Near Walking Street
All the below hotel are located on the beach road with a sea view. There are every 5 minutes Tuk-Tuk taxi going to Walking Street for only 10 Baht.
• Avani Pattaya Residence; Superb location, the closest five-star hotel to Walking Street. The staff is amazing and extremely professional. The breakfast buffet is one of the best in Pattaya.
• Hilton Pattaya Hotel; Above Central Pattaya Mall, it's centrally located on the beachfront. The girls go crazy about this hotel, so they'll be delighted to go back to your room with you once you tell them where you're staying.
They've got a rooftop with a fine dining restaurant and cocktail bar, perfect to take the girls for a relaxing evening. You can also pick up girls up there.
• Amari Ocean Hotel; The pool is big and beautiful, surrounded by a tropical garden. The rooms have huge perimeter wall glasses where you can bang girls while feeling like flying in the sky, a kind of extreme experience.
The only downside is the distance from Walking Street, 10 minutes by Tuk Tuk.
Hotels Near LK Metro – Guest Friendly
The second biggest red light districts in Pattaya. Less known, less touristic and more residential. Most expatriates prefer to hang out here than Walking Street.
Cheap Hotels Near LK Metro
• Sutus Court 3; Walking distance from LK Metro nightlife and nearby numerous massage parlors offering a happy ending service.
• Areca Lodge Hotel; Big rooms with a balcony overlooking a beautiful swimming pool. Perfect to get wet with the girls during the day.
Mid-Range Hotels Near LK Metro
• 247 Boutique Hotel; A new hotel building with a rooftop swimming pool overlooking Pattaya. A glass wall separates the toilet from the room, great for watching the girls showering.
• LK Residence; The rooms are spacious with a bathtub toilet. Ask to have the room on the other side of the street because at night it gets noisy.
Luxury Hotel Near LK Metro
• Dusit D2 Baraquda; This is the closest five stars hotel to LK Metro, about 10 minutes away by walk. In front, there is a road called "Post Office" where you can find the best happy ending massage parlors in Pattaya.
Also, you can send postcards at the post office 🙂
Best Adult Only Hotels in Pattaya For Day and Night Fun (Soi 6)
If you prefer to do your naughty stuff during the day but also sometimes enjoying going out at night, a hotel nearby Soi 6 is what you need…
Cheap Hotels Near Soi 6
• Centara Pattaya Hotel; It's five minutes from Soi 6, the infamous road home of the sleaziest short time bars in Pattaya. The fun starts as early as 2 pm till midnight.
Mid-Range Hotels Near Soi 6
• At Mind Serviced Residence; A 10 minutes walk from Soi 6 and just next to 3 Thai nightclubs where you can pick up local girls.
Luxury Hotel Near Soi 6
• Holiday Inn Pattaya; Located nearby the major soapy massage parlors in Pattaya and a short distance from Soi 6, a double daily pleasure. Also, only 10 minutes by Tuk Tuk to Walking Street.
Best Accommodation in Pattaya For a Girlfriendly Experience
If you're planning to visit Pattaya because you want to pick up local girls or you've met a cute Thai girl online, a hotel room isn't going to work for you.
Good girls aren't easy to get and much harder to undress. If they think you're a tourist, you get labeled immediately as "sex tourist" and you're going to miss the "shot".
The best way to get laid is to be considered a resident in Thailand.
How?
Rent a villa.
You might be thinking that renting a Villa is super expensive, but that isn't the case in Pattaya… You can rent a villa for only $150 per night. If you're 2 friends, for example, you can split the bills.
Imagine spending a week in a private pool villa where you can play with the girls without indiscrete eyes. Yes bro, that is a lot of FUN!
My favorite place to rent when I'm in Pattaya is Private Beach Pool Villa by All Villas.
Located in one of the best locations in Pattaya, this villa has a private beach. Yes, you heard me correctly, your own beach for swimming and sunbath. That's just insane.
Of course, there is a private swimming pool where you can swim naked with your girlfriends.
When the girls are going to step into this villa, they are going to melt for you. They'll think that you own a villa, you live in Pattaya and you're the prize.
They'll do anything to please you 🙂
RELATED ARTICLES