Pattaya Travel Guide For Single Men
Do You Know How To Meet Sexy Girls In Pattaya?
This travel guide is designed for single men traveling to Pattaya to meet local Thai girls. It gets UPDATED every 6 months.
REAL EXPERIENCES – NO FLUFF – REAL GIRLS
This comprehensive article came because I wanted to share all the good things and places Pattaya has to offer for the naughty travelers – all the tips and steps in one place to get you laid in Pattaya, accessible for free for the rest of time.
So, if you're serious about banging Pattaya's girls every day, please take 10 minutes of your time to digest the full article. 
It'll change your life!
***
Contents
Click a link to skip to that section. Don't skip any sections!
***
The Ultimate Men's Travel Guide to Pattaya
General information about Pattaya for single men and bachelor
Typical Costs
An overview of general prices in Pattaya to help you budget your adventure
Tips & Trick
A few pitfalls that I've experienced that you should avoid
Date Pattaya Girls
Here's the information you need on how to meet Pattaya Girls
Pattaya Nightlife & Top Venues
Best nightclubs and bars to meet local girls
Pattaya Naughty Massage Parlours
Best Happy & soapy massage parlours that offer relax and pleasure services
Meet Ladyboys (Transgender)
How to meet ladyboys in Pattaya for fun
Where to Stay in Pattaya for Nightlife
Top Places for single & bachelor guys
Things to Do in Pattaya for Adults
Places to visit and activities to do with your Thai girlfriend
–
The Ultimate Men's Travel Guide To Pattaya
Pattaya is a magical place, truly one of a kind. Sometimes it seems like Pattaya exists in a parallel universe, where none of the rules of the outside world apply.
Pattaya offers the ultimate sex vacation. It's a city of lust, love and sometimes despair. Whatever you are looking for – love, sex, party time – you will find it here.
I first visited Pattaya in 2008, after hearing all the good things this town has to offer:
Thousands of sexy Thai girls.
Easy going attitude (it's super easy to get laid).
Cheap holidays.
Super fun nightlife (It's called also the Disneyland for adults).
It was good back then as is today, the only difference is the quality of information online available today.
In fact, back then I didn't know the best girlfriendly hotel in Pattaya… Or where to get the naughtiest massage… Or the best way to meet sexy Pattaya girls.
Over the years, things have changed.
How?
I experienced Pattaya on my own skin, year after year, and I discovered a new world rarely spoken on forums.
As a result, for the last ten years, I've updated this Pattaya sex guide to help single men experiencing Pattaya to an all new level.
"Would you like to know more?"
If yes, then carry on reading…
What Is Pattaya?
Pattaya is the biggest red light town in the world. It's something that can't be compared to anything else, making Pattaya truly unique.
If you think Amsterdam is the place to go to experience lust and indulge in sex, then Pattaya will blow you away.
The reason is simply that Pattaya prostitution is just different…
I've been to Amsterdam, and let me tell you this: "the red light district is dirty, unfriendly and the interaction with the girls is nonexistent".
I didn't find exciting looking at women throw a window without the possibility to have an intimate conversation.
Sad, isn't it?
Amsterdam is a place for weirdo that enjoy paying for sex. In other words: A Mercenary City.
So, what makes Pattaya so different and unique?
There are 4 reasons:
• The Interaction With The Girls
Look, Pattaya is a brothel walking city with hundreds of bars, nightclubs, massage parlors, Go Go bars (strip clubs) and gentleman clubs.
Did someone say "brothel"? Don't feel like one.
In fact, wherever you go, there are girls willing to interact with you just because they love to interact with you. Not because they want only your money.
Yes, my friend, the playground is open minded while not business eccentric.
That's the main reason why so many men move for good from their home country. They choose Pattaya to enrich their sex life.
Just imagine to sit in a bar, talk to a girl, know her better, have a drink together, feel her (hands-on) and next take her to the bedroom.
I call it "girlfriend experience without commitment". It doesn't feel like to be in the company of a Pattaya prostitute, but a girlfriend.
• The Atmosphere
Pattaya, like the rest of Thailand, is easy going and girls love to have FUN. Everyone is having a very good time, from the party guys to the older men that prefer chilling on the beach.
Whatever your style of holiday, there is something suitable for you while you'll never be alone.
• It's Very Safe
I've been countless times in Pattaya, my friends too and never had any problem.
For example, you can walk drunk three in the morning, without fear to be robbed or assaulted.
That's is priceless.
• It's Cheap
Pattaya is one of the cheapest sex destinations not only in Thailand but in all South East Asia.
You can sleep with 10 dollars per night, have a girl for $30 and eat for less than $10.
"Does Pattaya sounds like your destination?"
If yes, consider spending 10 minutes to read this Pattaya sex guide.
Thanks for the tips! My wife and I are going back home after 10 incredible days in Pattaya.

This city is just crazy. We have been everywhere from Walking Street to Boys-Boys-Boys town. Everyone was so friendly, and sex was just great.

Thanks Rocco for all the great tips and help to plan our trip to Pattaya. – Charlotte & Ken
When To Visit Pattaya?
There are two main seasons in Pattaya: the dry-high season and wet-low season.
– Dry and High Season
From November to April.
During high season Pattaya is crowded and obviously hotel room rates will be higher and to a certain degree, girls rates too.
I would say the selection of girls in high season is much wider then low season and the party atmosphere is at its highest.
If you love the beach, between December to March the weather is at its best with sunny days and a light breeze from the sea.
– Wet and Low Season
From May to October.
If you think the girls are wet during the low season, you got me wrong. By wet, I meant that during this period it rains often.
Pattaya being on sea level, when raining it gets flooded creating discomfort.
The good thing is that everything gets cheaper, from the hotel room to the girl's price.
So, if you're on a budget, during low season you might save between 20-30%.
What About Girls, Ladyboys & Sex In Pattaya…
Thai girls and ladyboys flock to Pattaya in search of love, money and excitement. Most are from Isaan, an impoverished area on East Thailand.
Most of the girls and ladyboys who come to Pattaya are sincere in wanting to find a foreign boyfriend or husband.
Others like to play the game of love and lust for as long as possible.
Just like the men who go to Pattaya have different reasons for doing so, so it is with Thai girls and ladyboys who go to Pattaya.
I know many happy foreigner-Thai couples who met in Pattaya, but also many men who had a bitter experience marrying a Pattaya girl.
I've seen older men become young again, filled with a strong desire to live life again. Pattaya girls have that quality, to make you feel young and desired.
Girls and ladyboys in Pattaya know how to please, that's why Pattaya is so popular. If you're looking for lust and fun, Pattaya is the place for you.
However, if you want to find a good Thai girl to engage or marry, I would recommend Bangkok or Chiang Mai.
Having said that, there are a few good girls and ladyboys with non-hooker jobs in town working in restaurants, banks, and other services.
In this case, the best way is to meet them on a reputable Thai dating site for two specific reasons:
First, this eliminates most seasoned sex workers and boosts your chances of finding a "good girl" who actually likes you.
Second, this gives you instant options the second you arrive in Pattaya. You don't have to run the streets like a hungry dog.
One more thing. If you're into ladyboys, Pattaya has the best and widest selection in Thailand.
Every time I visit Pattaya I'm speechless about the number of ladyboys.
If you aren't into ladyboys, well, pay attention because it's easy to think to be with a girl when instead you're flirting with a ladyboy 🙂
–
I've written the Thai's girl guide packed with useful info to clear some of your thoughts about Thai girls with tips how to pick up and get laid in Thailand.
I've visited Thailand multiple times over the years and date beautiful Thai women from the laziest bar girl in Nana Plaza… to the curious university girl and executive office women looking for some extra affair.
There is so much to learn about Thai culture, and these women are easy to approach if you understand their way of thinking and you behave socially.
I never spent more time than necessary to get laid during my trip because there is always the next girl waiting for me.
–
Typical Costs in Pattaya
If this is your first time traveling to Pattaya, you might be wondering how much everything costs.
Below is a breakdown summary of what you should expect to pay while in Pattaya, helping you budgeting your vacation:
• Pattaya Accommodation's Prices
You're going to be spoiled with the choice of hotel's room in Pattaya. You can get cheap rooms near the red light districts or luxury accommodations by the sea.
The cost of a decent hotel's room start at 800 baht, the price doesn't include breakfast.
However, there are plenty of places where you can have a good breakfast for less than 100 baht or quality one for 250 baht.
Whenever I'm in Pattaya, there are three hotels where I usually stay:
There are either cheaper or more expensive options, it's all about who you're and your travel standards.
However, if you're serious to bang girls in Pattaya, stay away from the hostels. Do as Rocco do, stay in a girl friendly hotel…
Most accommodations are guest friendly in Pattaya, meaning you don't get charged extra for bringing back girls or ladyboys to your room.
If you would like to learn more, check out the 17 Best Adult Hotels in Pattaya to Bang Girls.
One more thing; Most hotels don't like to have customers bring in ladyboys (transgender) being a safety concern. Yes, Pattaya ladyboys like to steal things.
So, if you visit Pattaya because you want to experience ladyboys (transgenders), stay in hotels which are ladyboy friendly.
The popular ones are Page 10 Hotel and Penthouse Hotel.
• Food and Drink Prices
You can find exotic fruits on the street for as little as 20 bhat. Thai street food will cost you about 40-80 baht per meal and soft drink or local beer at 60-80baht.
If you prefer to taste local cuisine in a restaurant with aircon and better setting, the price can easily double from the street vendor.
There also plenty of Western eateries either run by expatriate or international chain restaurants.
The prices are similar to the one in your home country. A meal without drinks is about 400 baht which can reach easily 1.000 baht+ for fine dining experiences.
Wine is generally expensive in Thailand, starting at 500 baht per bottle, but cocktails are a better bargain and Thai girls love them…
• Cost of Transportation To/In Pattaya
There are many options for transportation in Pattaya:
From Bangkok Airport
Suvarnabhumi Airport offers a bus shuttle every hour from the basement floor for only 140 baht to Jomtien in Pattaya. It's comfortable, safe and reliable taking only 1 and 1/2 hour.
If you would like to speed up and reach Pattaya in less then an hour, take a private taxi starting at 1.500 baht up to 4 people.
There is also a VIP service offered by Devils Den consisting of a private van with two girls. You can drink and play while going to Pattaya for 14.000 baht.
From Bangkok City
The common transport is the bus leaving from Bangkok's Eastern Bus Terminal (Ekamai) every half hour and cost 142 baht.
Similarly priced aircon buses leaving the Northern Bus Terminal (Mochit) between 05:30 and 20:00.
If you would like to go by Van, ask the receptionist at your Bangkok hotel to arrange one for 400 baht.
A private taxi is 1.500 baht.
Inside Pattaya
A songthaew is a popular mode of transport in Thailand and will cost you 10 baht for a ride. They have fixed routes in and around Pattaya.
Use motorbike taxi only if necessary because they are expensive and a pain in the ass to deal with. Their rates are 50-140 baht, and remember to negotiate a price beforehand.
Yellow taxis use meters and are comfortable if traveling in groups of people and outside Pattaya.
• Cost For Entrainment; Bars, Nightclub and Massage Parlors

When going to Pattaya for an unforgettable holiday, you'll spend most of your time bars, nightclubs and massage places where you can meet girls and indulge in lust.
Below the standard Pattaya sex prices…
1. Pattaya Go Go Bars Prices
Go Go bars are one of the most popular Pattaya brothels.
They consist of a center stage where girls dance and show off their sexy bodies and cute faces.
You simply pick the one you want and buy her a drink to start the conversation. Then things can develop quickly…
The cheapest drinks are soft drinks and draft beers usually going for 80 baht. During happy hours, before 10 pm, you can get cheap local beer for as low as 40 baht.
Regular drinks between 140-180 baht. Lady drinks are 150-200 bath.
If you want to take a girl out of a Go Go bar, you must pay a bar fine of 800-1.000 bath.
You can negotiate the short and long time with the girl which is about 2.000 bath and 3.000+ baht respectively.
2. Pattaya Beer Bars Prices
Way cheaper than Go Go bars because the girls don't dance naked on the stage and there isn't aircon.
Also, the girls are less attractive and older then Go Go dancers, but they fill the void in naughtiness.
Beer bars in Pattaya offer cheap beverage all day along with beer and soft drinks at 40-60 baht.
Imported beers and whiskey is about 100-130 baht.
You can bar fine girls for 500 baht and negotiate a short time for 1.000 baht or 1.500 baht for all night.
3. Pattaya Nightclub Prices
Pattaya nightlife is growing in terms of nightclubs. Every year a new one opens its doors.
They are the place to meet freelancers and Pattaya girls for sex…
Drinks like beer, whiskey and similar stuff cost about 160 baht. Soft drinks below 100 baht and imported liquors around 200 baht.
It's common to buy a bottle of whiskey or vodka with mixer If you're with a few friends, costing between 1700-2500 baht.
Most girls in Pattaya nightclubs are freelancers (working girls) and asking for 1.000 baht for short time and 1.500-2.000 for long time.
Don't forget to negotiate the price before leaving to avoid drama later.
4. Pattaya Massage Prices With Happy Ending (Boom Boom)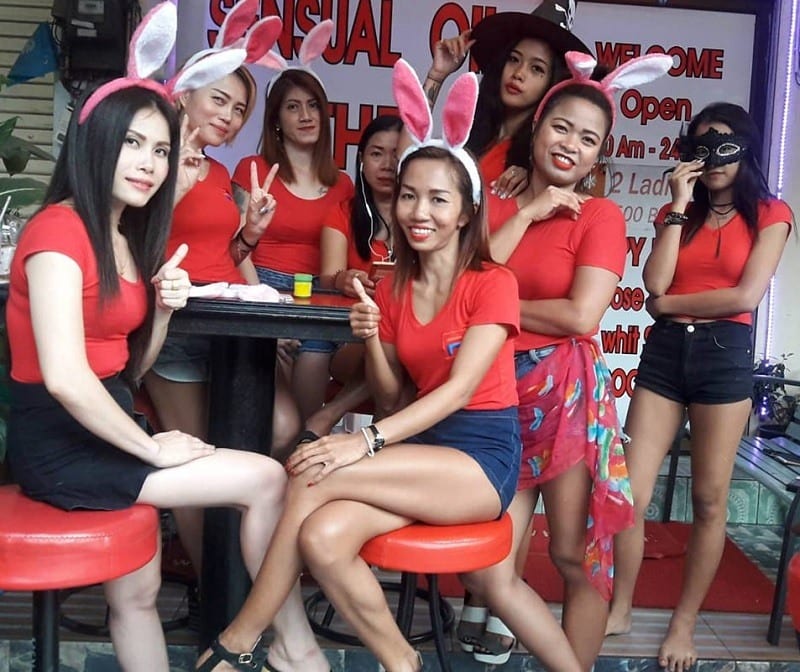 Sex massage in Pattaya is everywhere.
The most common forms of erotic massage in Pattaya are:
Happy" Ending Massage Shops
Most shops are located in Soi Honey and Soi Post Office. However, there are massage parlors that offer extras all over town.
You can easily recognize them because the girls dress casual and not in the traditional Thai massage uniform.
The standard prices for a happy ending massage are:
A handjob starts at 400 baht;
Blowjobs at 700 baht;
Full package costing 1.000-1.500 baht.
Before going for a massage, chat a few minutes with the girls working there and pick the one that sounds eager to please. Agree to a price upfront.
Soapy Body Massage Parlors
These places are more expensive, the rate is fixed and the girls are hotter.
There is a room called fishbowl where the girls wait for customers. The girls are divided into groups with different price's levels ranging from 2.000 baht up to 3.000+ baht.
The price is all-inclusive which offer a bath, body to body massage and sex.
Read More: Best Soapy Massage Parlors in Pattaya
• Pattaya Ladyboy And Girl Prices
Guys travel to Pattaya to meet girls and ladyboys, not to lay on the beach.
Below an overview of the general girl and ladyboy's prices, but remember to bargain as the initial price isn't always the best price…
1. Pattaya Freelancers Prices
Prostitution in Pattaya is rampant. Any girl that you see in Pattaya is ready to go with you for the right price.
Most girls are in Pattaya to make money with their p…y, and most guys in Pattaya are there to spend their money on p…y 🙂
That is a perfect transaction, in my humble opinion. But how much should you pay a Pattaya freelancer?
The price is influence from many variables because is a personal transaction, not a fix one.
In fact, you can pay as little as 800 baht per day as much as 3.000 baht for 2 hours.
If you want to learn more what factors influence Pattaya girls price, read: How Much To Pay For Girls in Pattaya
2. "Regular" Quality Girl's Prices In Pattaya
When I say regular and quality girls I mean those Thai women that are working in restaurants, shops, banks and other "serious" jobs.
In other words, those Pattaya girls that have sex with you because they like you, not because they want your money.
The bad news is that they are the minority in Pattaya. But the good news is that they exist and most of them are into foreign men.
So, where to get started?
You can stroll the malls, visit the temples or eating in restaurants and you can start a conversation with a local girl that would most luckily get on with you.
Also, you can meet Pattaya girls interested in foreign men on dating sites.
Whether you meet them in real life or online, keep in mind that they might speak little or no English at all.
So, speak simple English and take your time to communicate with them.
3. Ladyboys Prices In Pattaya
Pattaya is the city with the most beautiful ladyboys in Thailand. If you're into transgenders, you'll find paradise on earth here.
There are ladyboys freelancers all around Pattaya which cost the same as freelancer girls. Most of them hang out on the beachfront road, just 500 meters away from Walking Street.
Their asking price is 1.000 baht for short time.
Soi 6 has a few ladyboy's bars as well, where you can get a BJ for 500 baht and 1.000 baht for full service, plus a 300 baht for the room rental.
To give you a better idea, here the ladyboy pricing list in Pattaya:
• Ladyboys in Beer Bar's Price: 500 baht bar fine and 1.000 baht for short time. There are a few popular ladyboy's bars near LK Metro.
• Ladyboys Freelancer's Price: 1.000 – 2.000 bath. All over town.
• Ladyboys in Massage Shop's Price: 500 Baht for a handjob and 700-800 Baht for a blow job. The are ladyboys working in massage shops on the end of Soi Honey.
• Ladyboys on Dating Sites: Free if a ladyboy looking for a boyfriend or 1.000 baht if a freelancer ladyboys. Online at Thai Friendly.
In conclusion, you're going to spend on average 1,300 baht for accommodation, 400 baht for foods and drinks, 300 baht for transportation and 2,500 baht for entertainment.
All these figures add up to 4.500 baht per day.
This is only an average, you can spend much more by upgrading accommodation or much less by meeting with girls met on dating sites for free instead of working girls.
To get a better idea about Pattaya girl's price and their value, see the graphic below:
–
Safety Tips & Tricks
• Thai ID Cards; Always check that the person you will have sex with is over 18. Check their ID cards by subtracting 543 from the current Thai year.
• Negotiate Price; Always negotiate the price before to avoid drama later.
• Valuables in the safe; When you leave the room and while you are showering. Rarely girls steal belonging but ladyboys are notorious for it.
• Lady drinks; Cut down on them, they are useless to the purpose of good fun.
• Go local – The easiest way to save money in Pattaya and Thailand is to simply live like a local. Take local buses, eat street food, and drink local beer.
The average Thai lives on a less than 8.000 baht per month in Pattaya, even less in the countryside.
• Take advantage of Happy Hour; In Pattaya, there are so many happy hours that you can drink all day long for half the regular price.
• Monitor Your Bills; Make sure that you double check the bills and receipts to ensure that you are only paying for the items you have asked for.
You will sometimes find a rogue bill inserted to your tab when you are out drinking, especially in Go Go bars.

• Wrap Up; This one is very obvious, always use protection. I don't want to sound like your mother but I don't want you to get sick too.
–
DATE PATTAYA GIRLS
Pattaya Don't Have Only Hookers, But Also Girls For Rent Offering Real Girlfriend Experiences
If you are looking for more than just a pop or bang or meeting the right Thai girl to spend your holiday together… I have the right and easy solution for you.
When was the last time you had sex with a woman that truly felt HOT for you?
Just imagine spending your vacation with a young and beautiful local girl by sharing experiences, talking with someone interested in you while feeling her wet panties.
That's what make Pattaya a special place, where you can feel young again.
In Pattaya, you don't need to be tall, young or with a six pack to get laid with a beautiful woman.
You're a foreigner, and that's is enough.
There is nothing better in spending time with a beautiful and love caring Thai woman.
Meeting attractive and love caring women is wonderful – but is only one benefit.
Experience new locations, eating different food, and clash with a new culture are all common side effects of traveling.
RELATED: 3 Best Dating Sites To Meet Thai Girls Online
How to Meet Local Girls in Pattaya
There are basically three options to meet and date Pattaya girls:

• Online Dating
The growing popularity of dating sites offer a pool of attractive women that are easily approachable.
Because the girls don't have to face foreigners and engage in direct conversation, even the shyest and reserved women take the challenge to meet foreigner men online.
I've been very successful with online dating over the years, and it is my number one tool to meet Thai girls. I'm not handsome, tall or fit, but the secret to my success is a well crafted online profile.
Most men think that women are attracted to a guy by physical appearance or money, but in reality is the way you interact with women that can make or break your date.
The secret is to create sexual attraction, and with online dating, the attraction starts from your profile description.
I've heard stories of unsuccessful men on online dating sites, saying things like; "it is a scam" or "the girls aren't real."
I have analyzed what these men did wrong, and I realized the biggest mistakes the first-timers make is a weak personal profile that attracts scammers instead of serious women.
So, focus your energy on making an attractive profile before searching for girls.
If you're serious about dating a Thai girl, I recommend using these online platforms: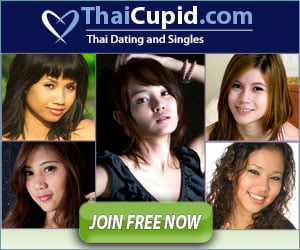 – Thai Cupid – It is the biggest dating site in Thailand with thousands of women looking for romance, relationship and why not, a night stand.
You can chat with girls online anytime. The chat is easy to use, and you can talk with multiple girls at the same time.
This is useful because Thai women write very slow, sometimes they have to check the dictionary for words. Try to maximize your time and effort to create multiple "relationships" at the same time.
By signing up with Thai Cupid, you will access hundreds of Pattaya girls and thousands of Thai women all around the country.

TIPS: You can meet sweet countryside women looking for love, or some slut in the major tourist destinations for one night stand.
Complete your profile with some good picture of you (no naked) and a clear description of what you are looking for, what you can offer them and about yourself briefly.
It will help by attracting the right women. Avoid pretending to be a romantic man when in reality you love to get tied up to the bed and wiped by women in leather's g-strings. Be yourself!
– Thai Friendly – Not as many women as in Thai Cupid dating website but definitely enough to get you started.
I have found some good girls here. Having said that, watch out for women asking for money. Good girls don't do that, and only a fool would wire money to a girl never met before.
I hear horror stories all the time from travelers being cheated by women online. I never had an issue with Thai Friendly. They do a good job in keeping their users in check, trying to remove scammers and fake accounts.
You might find useful my personal review about Thai Friendly after years using it.
The second option to meet quality Pattaya women is to…

• Walk Around Pattaya
Once arrived in Pattaya after a long flight journey and settled in the hotel, get out on the street looking for your date.
Cute girls are working in restaurants, hotels, massage shops, malls and they are approachable. You need to have some basic knowledge of flirting, same as goes in western countries.
Just smile, give a compliment and start your conversation speaking slowly and clearly. Pattaya girls can speak some English but they aren't pro, so make it easy to understand you.
Most girls are shy, and they will try to end the conversation as early as possible because they feel embarrassed about their English skills. When this is the case, and you really like her, come back the next day to ask to go out together.
In my experience, every 3 girls I ask, one accept my invitation.
If all else fails, the next option might be for you…

• Visit Nightclubs and Discos
Meeting girls in entertainment venues is common as in western countries. The only problem with this approach is that you never know what type of girl you are going to meet.
There are three types of women:
– The "curious girl" is usually a teenager with limited English speaking skills looking to discover the western world. She feels attracted to foreigners but also feels scared to interact.
These type of girls are excellent for a local girlfriend experience with someone innocent, love caring and truly interested in you.
The unfortunate part is they are rare. I had the opportunity to meet "curious girls" in clubs by luck over the years, and I can count them on the one hand.
– Freelancers are the majority of the girls in Pattaya clubs, a good 80%. They are young and very outgoing because they love to party.
They are lazy to work in serious establishments having to report on duty in time and every day. So they prefer to hang out in clubs with friends looking for "sexy men" and money.
– Educated Pattaya girls (University degree with good jobs) can be found mostly in Thai discos. These type of women are suitable for foreigners looking for a serious relationship and possible marriage.
Approach one of them in clubs is tough because they hang out in groups but if you are young, dress smart and know how to flirt with Thai women (you need to have a basic of Thai language), this place might work out well for you.
I find easier to approach educated girls on dating sites because I don't have to deal with the social embarrassment which holds them back in the clubs.
–
PATTAYA NIGHTLIFE & TOP VENUES
Pattaya nightlife in one word: wild!
The number of entrainments is infinite with hundreds of beer bars, nightclubs, go go bars, massage parlors and more.
Whatever the places you visit, fun is always guaranteed!
It's so easy to pick up Pattaya girls that can become boring at times. Your list of girls grows and grows, that you can't physically handle them all even if you are a stallion.
The most known area for nightlife in Pattaya is Walking Street, but there are other areas like LK Metro, Soi 6 and Central Pattaya where you can have fun.
The best part is that Pattaya is relatively small and well organized in terms of transportation so you can move around its nightlife easily.
To save you time and hustle, consider booking a room between the city center and Walking Street where most of the restaurants, bars, nightclubs and sex venues are located.
Best Beer Bars In Pattaya
Pattaya is flooded with beer bars. In fact, you'll see one in every corner of town.
The beer bars are mostly open-air bars with a handful of ladies serving drink and ready to go with you.
Pros of beer bars:
Cheap drinks;
Open as early as 1 pm and closing as late as 3 am;
Some have a pool table and board games so you can play with the girls;
You can watch sports events on TV.
Cons of beer bars:
Most ladies aren't attractive and tend to be on their late 20s;
No aircon.
Like I already said, there are beer bars all over Pattaya, but the best areas where the booze is cheap and where you can find sexy girls are:
Walking Street
The most popular night street in Pattaya don't have only go go bars and nightclubs, but many beer bars too.
Actually, there are two beer bar's complex with about 20 bars each: Pattaya Beer Garden and Simon Beer Bar Complex.
Pattaya Beer Garden is at the entrance of Walking Street and gets busy after 8 pm. There are many cute bar girls in there with a good attitude, I recommend to pay a visit before visiting the Go Go bars in Walking Street.
Simon Complex is halfway into Walking Street and I've found the girls to be less attractive.
However, the first bar on the left has some hot girl and a pool on the counter where the girls dance.
The best beer bars in Walking Street are:
• Frog Bar
Considered the best beer bar in Simon Complex, this bar is difficult to miss because of their beautiful girls.
The girls are friendly, fun and welcoming. That's the reason Frog Bar is always busy.
If you're looking for a great place to start your night before hitting the Go Go bars in Walking Street, I recommend starting from Frog Bar.
It might sound confusing but at the end of all Pattaya Ber Garden's bars, there is a huge restaurant overlooking the sea with a massive bar counter called Beer Garden Bar.
Not only you can eat excellent Thai and foreigner food cheaply, but you can meet freelancer girls sitting nearby the bar counter.
Basically, if you like one of the girls, you don't need to pay any bar fine because the girls aren't employed by the bar.
Soi 7 & 8
From Walking Street, you can take a songthaew for 10 baht until Soi 7 & 8 where most of the best beer bars in Pattaya are located.
This area doesn't only offer a great beer and girl experience, but there are also good restaurants and value for money accommodations.
Whenever I stay in Pattaya for a short break, I usually stay in Studio Central Pattaya by iCheck Inn which is at the entrance of the road.
By doing so, I can easily bar fine girls in the many beer bars in this street and go back to my hotel room.
The beer bars in Soi 7 & 8 open as early as 2 pm till 3 am, some bar even till sunrise if they've got customers.
The interesting thing is these streets change atmosphere as the hours go; Till 8 pm the atmosphere is chilled and relax, after that it gets crazy with sexy girls dancing on the street.
Located in Soi 7, the name of the bar says it all.
They've many hot ladies working there who dress in short panties uniform. The good thing is that you can sit outside or stay in the big aircon room drinking beer, playing pool and watching sports events.
The best part is that there are several pool bars for dancing so you can bribe the girls to dance for you.
They have a 10-hour Happy Hour from 8:00 a.m. until 6:00 p.m. which is insane. Also, you can rent rooms upstairs 🙂
Another great bar always in Soi 7 just next to my favorite accommodation (ICheck Inn) in this area.
This isn't only a beer bar, but a coyote bar as well as a Go Go bar. Yeah, the concept is unique and probably what makes this place so successful.
The girls are hot, hot, hot! And there are always events and happy hours rotations that make the place entertaining any day of the week.
They've also rooms upstairs for 1.000 baht per night if you would like to be one set of stairs away from the action.
Soi 6
A street with the naughtiest bars in Pattaya where you can have sex for a few dollars any time of the day.
In fact, it's the best red light district to visit if you are serious about a Pattaya sex tour…
The busy hours are between 3 pm and 11 pm, but there are a few girls also in the morning, obviously not the most attractive.
What makes Soi 6 different than other areas in Pattaya is that each bar has his own room upstairs. 
If you like a bar girl, just pay 300 baht and go upstairs for an hour of pleasure. No need to pay any bar fine.
In fact, this makes Soi 6 the cheapest beer bars area to bang girls. The usual rate is 1.000 baht for short time + 300 baht for the room. That's all.
Like all bars in Soi 6, Wicked bar has nice girls, free pool, cold beer and it's fun to sit and watch what's happening on the street.
If you go early or are a group of people, you can ask to play your favorite music.
What I love the most is the outfit of the girls, someday is "maid play" and some other day is "nurse play".
Ruby is a lively place where you can enjoy the company of a sexy girl while having a drink. The girls and the management aren't pushy on lady drinks which help to relax and have a good time.
I love their rooms because there is a huge mirror that takes most of the wall. You can imagine how fun is to watch yourself playing with girls.
Soi Buakhao
Less known by tourist, this area is well known by expatriate living in Pattaya and regular guys visiting town.
This area is a little gem offering because besides many beer bars, you can find BJ bars, massage places, go go bars and even ladyboys.
It's a small naughty town on its own.
If you love Mods, Scooters, Motown, Northern soul and Ska music, then this is the place for you.
The music, the excellent service and the beautiful hostesses make this beer bar one of the most successful in Pattaya. In fact, they've opened another bar in Soi 6 too.
Best Go Go Bars In Pattaya
Go Go bars are the easiest venues where to find sex. Not only in Pattaya, but everywhere in Thailand.
The only two area where you can find Go Go bars are Walking Street and LK Metro.
Pros of Go Go bars:
Hot and young girls;
Close late at 3 am;
Some girl dance naked;
Cons of Go Go bars:
Expensive drinks and bar fine;
The girls are more mercenary style and less fun to play.
If you would like to know more, consider reading my full review of the best go go bars in Pattaya.
Best Nightclub & Disco In Pattaya
The popularity of nightclubs is growing in Pattaya, attracting a younger International crowd.
Those clubs are growing rapidly at the expenses of Go Go bars.
In other words, Pattaya is moving from an old tourist crowd based used to Go Go bars forward young guys that love clubbing and party girls.
Pros of nightclubs:
Free entrance;
Hundreds of Thai girls looking for foreign men;
Sexy girls as in Go Go bars, but half the price;
Open till 6 am.
Cons of nightclubs:
You need to attract girls because they are free to decide if go with you;
Difficult differentiate between hookers and regular girls;
If you want to bang hot girls, you need to party with them till late;
High younger male competition, especially if you're over 30s.
The best nightclubs catering to foreigners are located in Walking Street:
Walking Street Nightclubs
The most popular nightclub in Pattaya for the last decade. Every night is party time and packed with freelancers.
Yes, 90%of the girls in Insomnia want to go home with you but they want money.
If you want to get a table in IBar on the ground floor, you better be there before 11 pm. Instead, for a table in the nightclub upstairs, 12 am is a good time to arrive.
1.30 am to 3.30 am is a key time to recruits willing girls.
Nashaa is a Bollywood themed club at the end of Walking Street, which is popular with Indian tourist.
The entry is free to the club, but the drinks are expensive. They've got an in-house Indian Dj that play great Indian songs, the only downside is the music is loud and there are weirdo dancers.
I recommend to buy a full bottle with mixers and get a VIP table without extra charge or you would just be pushed around in the crowd.
For those who are looking to score some average girl, there are Thai girls asking 1.500 baht for a pop.
Always talked about, always popular. I have seen many honeys enter Lucifer.
It's home of Hip-Hop music where local Thai girls are mostly into black men, but if you're white, you can still score.
11 pm to 2 am is your best chance to get a sexy girl home before they move to Club Insomnia. Drinks are expensive, especially the bottles.
Most of the night they have a live band performing alongside in-house DJ.
Most girls are freelancers, but sometimes you can see a group of girls from Bangkok. The only downside of this place is the low light, which makes it difficult to see how sexy is a girl.
Note.. These very late closing places sometimes get raided by police and folks, including foreigners, are tested for drugs, etc".
–
PATTAYA SEX MASSAGE PARLOURS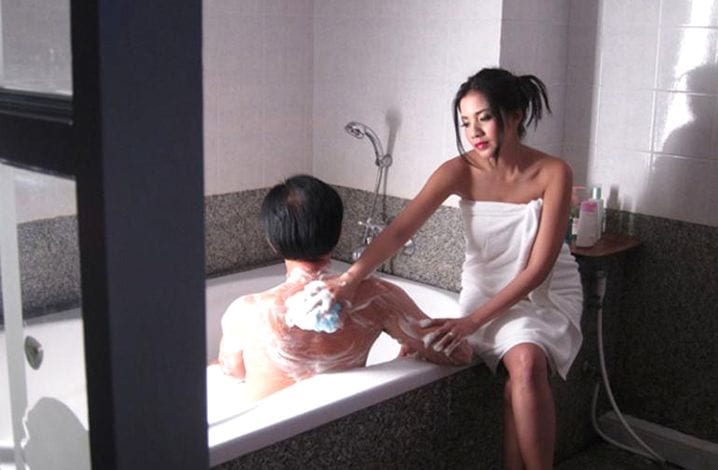 Sex massage parlours in Pattaya are simply the best in South East Asia.
If you haven't visited one, then take my word for it, you are missing out a lot of fun!
I love them so much that I've written a full article about how to get the ultimate sensual massage without embarrassment and breaking your bank.
You need to read it if you're planning to visit one of the numerous happy ending massage shops in Pattaya.
Pattaya is so naughty that has its own streets packed only with "happy" massage parlors. The most known are Soi Honey and Soi Post Office.
Best Happy Ending Massage Shops In Pattaya
Small shops usually are run by an older freelancer now become a mamasang. You'll notice that most of the girls are coming from the same area in Thailand as the mamasang.
Pros of Happy Ending Massage Shops:
The cheapest sexual massage available;
Thai girls working on these places know how to touch you;
The atmosphere is traditional, yet you can hear the neighbor having pleasure;
Many girls are new to this line of work.
It's intimate;
You can bargain down the price directly with the girls.
Cons of Happy Ending Massage Shops:
If you feel shy, you might get embarrassed to be naked with a masseur;
BJ is expensive compared to full service;
Whenever you want a traditional Thai massage with a happy ending, I recommend to visit:
Soi Honey
There are about 10 naughty massage shops on this street which offer all-inclusive services for 1.000 baht or HJ for 500 baht.
Don't expect a traditional Thai massage here because the girls want only boom-boom. If you ask me, they are a bit lazy.
There are two massage shops with ladyboys if you want to try something different.
The best massage parlors are:
• Paradise Massage
This massage shop is the first one on the left when walking from Soi Buakhao and LK Metro.
There are many hot girls working there, any time of the day at least 10 sitting outside. They're forward to business having a sign that clearly states their service with the price.
They have a big room upstairs which is noise (too many men mooning), so ask your girl to go for the quite rooms.
Don't expect a massage, but a full blow.
• Up To You Massage
next to Paradise Massage is basically the same. I think the owner is the same because the places are similar and the girls look like being trained the same.
Best Soapy Body to Body Massage In Pattaya
Soapy massage is a Thai tradition that is clean and fun!
If you visit Pattaya for the first time, you must try out a soapy and body to body massage.
Basically, in this kind of parlour you can only get a full sex massage for a fixed price.
They offer an all-inclusive service offering a bath, body to body massage and boom boom.
Pros of Soapy Body to Body Massage Parlours:
Fix price;
It's fun to feel the girl's body massaging you;
Take 90 minutes to complete.
Cons of Soapy Body to Body Massage Parlours:
The atmosphere is mercenary and controlled;
It's expensive;
The girls are trained to follow instructions resulting in little intimacy between you and her;
Can't talk to girls before selecting one.
If you would like to learn more, check out the list off best soapy massage parlors in Pattaya.
–
BEST PLACES TO MEET LADYBOYS IN PATTAYA
Ladyboys are transgender. They look like women, actually they are more beautiful than women but with a small difference, they have a dick.
Having said that, a few ladyboys went throw out full surgery and have a pussy.
Pattaya has a big ladyboy population and so there are many ways to meet one for fun. You might try just for the experience, or maybe it's just your thing.
Ladyboys Bars in Pattaya
There are quite a few ladyboys bars in town, the only downside is that they are scattered around Pattaya.
The best ladyboy's bars are:
The one and only Gogo-Ladyboy-Bar in Pattaya.
Located in Soi Diamond nearby Walking Street, this a Go Go bar has some good looking ladyboys. All in all this a Go Go function like a girl Go Go bar with dancers, shows and bar fine.
The staff is direct and a bit pushy with drink, but after all is a ladyboy bar, right?
• Lita Bar
Discreet ladyboy bar in Soi Post Office.
The bar is small and cozy and offers a discreet environment to relax and enjoy. They look after you, play with you and want to get you to satisfy because they are horny.
If they come to know that you're there only for a beer, they're going to leave you alone.
Ladyboys Massage Parlor in Pattaya
By walking around Pattaya it's almost impossible don't get offered a massage by a ladyboy.
Many of them work in regular massage shops alongside girls, which make it confusing. However, this type of ladyboy masseurs aren't the finest one.
The sexiest ladyboy masseurs work in dedicated only ladyboys massage parlors, and the best areas to get a happy ending massage :
Soi Chaloem Phrakiat 25
Just off Soi Buakhao, this small road is packed with only happy ending massage parlors. There are about 15 shops, and in the middle, there is an only ladyboy massage shop.
Those ladyboys are hot and have lovely boobs job, great for a body to body massage.
The good think about this area is that massage services are way cheaper than other touristic busier places.
The typical rates are:
HJ 400 baht;
BJ 800 baht;
Full service 1.000 baht.
Soi 13/1
This lively street not only is home of the famous La Bamba Bar which is a ladyboy bar,  but has two massage parlors with ladyboys.
The shops are near Starbucks on the end with beach road.
The prices are 20% more expensive than Soi Chaloem Phrakiat 25.
Soi 6 in South Pattaya
Alongside beach road, there is a small street with a 6 sign. In there, there are 3 busy happy ending massage parlors that offer boom boom service.
The first massage shop has only ladyboy masseurs.
The prices are similar to Soi 13/1, but don't forget to negotiate before getting the massage.
Ladyboys On Dating Sites
If you would like to have a serious relationship with a ladyboy or just have fun during your holiday, you can meet ladyboys on Thai Friendly.
This dating site has a section dedicated for the search of ladyboys. There are about 60 ladyboys registered in Pattaya ready to meet you.
–
WHERE TO STAY IN PATTAYA FOR NIGHTLIFE
Looking for the best place to stay in Pattaya to enjoy its crazy nightlife?
Whether you enjoy partying in nightclubs… Or pick up street hookers… Or get drunk in a Go Go bar with a HOT spinner, you need a place to play out your fantasies.
Best Hotel Near Walking Street
Walking Street is at the center of Pattaya nightlife: nightclubs, Go Go Bars and beer bars where you can pick up Thai, Russian and African girls.
• Aya Boutique Hotel – This hotel not only is located minutes away from Walking Street, but has awesome facilities:
A roof terrace where you can take your dates for a romantic evening.
Rooms with jacuzzi where you can do soapy games with the girls.
Next to Royal Garden where you can pick up local girls during the day.
Do you fancy an happy ending massage? 5 minutes away from one of the best naughty massage street in Pattaya: Soi Post Office.
What can you ask more?
Best Hotel Near LK Metro
The second red light district in Pattaya with Go Go bars, beer bars and happy ending massage places where you can pick up local Thai girls.
•  LK Residence – Stylish hotel with an awesome swimming pool to dress up your girls in bikini. You've all the comfort of an upscale accommodation with comfortable and big beds, great for play.
Best Hotel Near Soi 6
This infamous street is home of a dozen short-time hotels. The girls are hot and always ready to party.
• Holiday Inn Pattaya – Besides being minutes away from Soi 6, this hotel is closed to the major soapy massage parlors in Pattaya.
You can also pick up Bangkok girls in the nearby biggest mall in Pattaya: Terminal 21.
The hotel has a wellness center with swimming pool and sauna. Furthermore, a deli restaurant with excellent Italian food and a good selection of wines.
The rooftop terrace is a great place to watch the sunset or you can enjoy the beach view from your balcony…
If katoeys are your thing, don't book the wrong hotel.
Find a ladyboy friendly hotel in Pattaya that doesn't charge joiner fees… or worst… deny you access to the hotel's room because in the company of a ladyboy.
–
THINGS TO DO IN PATTAYA FOR ADULTS (WITH A LOCAL GIRL)
• Alcazar Cabaret  – The most famous theater performance in Pattaya where the actors are all ladyboys.
Not only is a must to see for you, but your Thai girlfriend is going to love it too because is funny and entertaining.
Finish the show you have the opportunity to take a photo with the beautiful ladyboys while wearing their costumes.
• Elephant Jungle Sanctuary – You're going to spend a day in the jungle riding an elephant and doing interesting activities like feeding them.
A wonderful experience to have with your loved one and get memorable pictures together.

• Meet Girls Online – While relaxing in your hotel room, seduce Thai girls on Thai Friendly. This is a good habit to pipeline girls on the go.
• Kohlan Island – As you might know, Pattaya beaches are very dirty. So, if you want to swim you must go somewhere else.
Just offshore Pattaya there is an island with clean beaches where you can swim and play with your girlfriend.
Take the boat from the Pier and have a day relaxing on white sand beaches.