Full Moon Party: Sex, Drug, Rock & Roll
The Most Popular Beach Party In The World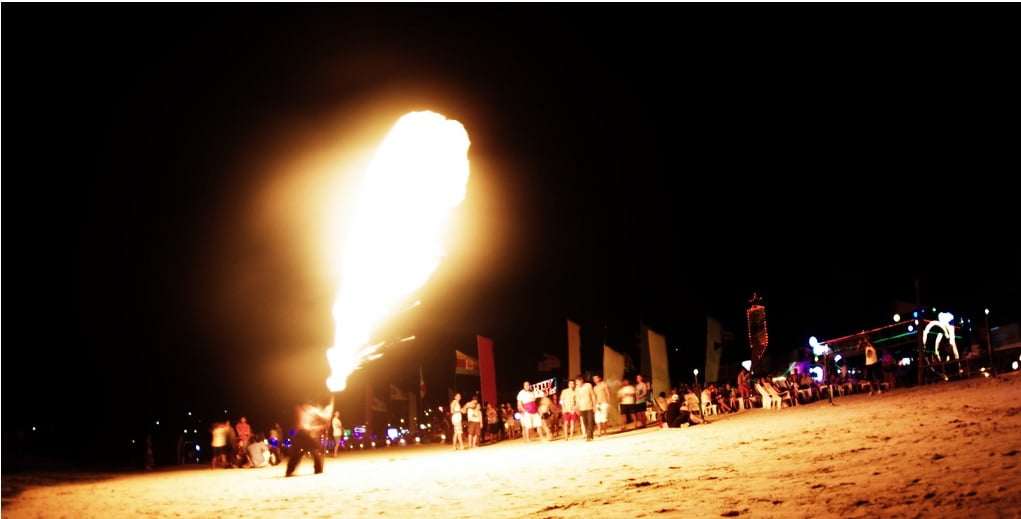 I love Full Moon Parties!
Get totally fucked up with alcohol and pussy while dancing like a drunk zebra, it's the ultimate way to relieve yourself of all the stress in your body.
Some people might think that these events are massive orgies on the beach, but it isn't like that at all.
If you're searching for a sex party in Thailand, you should understand that they happen behind closed doors.
I don't mean that there isn't any sex during a full moon party, but don't expect to get invited into the action.
Hey, do you want to know how it all started?
The first Full Moon Party was improvised on the island of Koh Phangan at a wooden disco not far from the beach in 1985 for giving thanks to about 20-30 travelers.
What Is Thailand's Full Moon Party?
At first, it was like a small house party on the beach – a few hippies and backpackers playing guitars, smoking weed, and having a few beers. But as word spread and more people showed up, it changed.
The 1990s brought the rave scene and all the drugs that went along with it.
By 2000, this party was squarely on the travel map and hordes of young people inspired by the movie "The Beach" flocked to Ko Phangan (where the party is held) and, since then, the Thai Full Moon Party has only gotten bigger.
Today, the Full Moon Party is a giant festival with rivers of alcohol, dancing, drugs, and sex. It's definitely the best way to meet sexy Thai girls.
Each bar has its own sound system so you'll hear different music loudly blasting onto the beach every few feet.
The beach itself is lined with people selling alcohol, fire dancers putting on shows, and little booths selling glow-in-the-dark face paint.
By the end of the night, you'll see people passed out on the beach, the odd couple having sex, and lost flip-flops littering the beach looking for new owners.
The Full Moon Party gained fame quickly through word of mouth, and the event now draws a crowd about 20,000-30,000 every full moon evening.
That is a lot of pussy!
The party carries on until the sun rises the next day.
All the bars on the sunrise beach of Haad Rin town stay open and play music such as R&B, drum and bass, house, and reggae.
The modern event has become a part of the itinerary of many travelers to Asia. It is characterized by unruly and potentially dangerous attractions such as fire skipping ropes, wildly variable alcohol strength 'buckets', and a drug culture.
It is indeed seen by many as the "ultimate party experience," although drug laws are still strict, and police enforcement is stepped up in recent years.
Don't do drugs!
Do like me, do pussy instead. FREE and LEGAL.
Whether you're going to rave it up at one of the beach parties in Thailand, or simply want to know where they are, here we've provided you with a list of the best beach party scenes in Thailand.
Sex & Girls
I have been to a lot of parties in the past but nothing like at a full moon party in Thailand.
What started as a great, fantastic party turned out to be one of the craziest and wildest "rave" I have ever attended.
I forget about the drugs and drunk people all around me, instead, I focus on the horny "white" girls.
No Thai girls for me during a Full Moon Party. So many foreign women to pick up, from Australia to England and the United States.
The party mood makes the girls super horny, willing to have sex on the beach without much fuss. The atmosphere, the alcohol, and techno music make it a perfect mix for an erotic night.
During my last visit, there were a couple of girls who removed their tops and what happen next was just a dream; I approached, had a chat and few drinks together, to find myself on top of her actually having sex on the beach, to the delight of the entire partying crowd.
I couldn't bother about applause and boooooos but I was so much "into her", it just felt so amazing.
"So, what is there for you?"
You have access to thousands of drunk girls, willing to have a go with the first confident guy able to bang her. I mean "able," because most guys are too drunk to get an erection.
My advice; control your drinks, smile and approach girls with confidence to get laid before the sun set.
Party Survival Tips
They will come handy before find yourself into troubles. Remember that you are in a foreign country with rules and law.
Thailand might give the wrong impression that anything is allowed thanks to the easy-going attitude of Thai people. That's why tourists get into trouble – they overdue.
Bucket Drinks
Alcohol is served in bucket during the full moon parties. Seriously?
There is a wide selection of combination to get you drunk, and party hard till morning. It's an original way to serve cheap cocktails on the beach.
Total cost: 200 baht/ $US 6 (and that's expensive for Thailand).
Because they're cheap, the tendency is to get loaded and start to share with friends and girls the pleasure of having fun together.
In few hours, you will have no idea of just how much alcohol you had, and let me put it this way:
After just one, heaven forbids, two of these notorious buckets, chances are you won't remember what happened during the night, never mind your name or where you came from!
Drugs are Illegal (big time)
All drugs in Thailand are illegal, and police is serious about it. If you get caught, you will spend the rest of your life in jail. Thailand's prison is horrible.; Just imagine wearing orange pajama, chains while the inmate "do you".
Thai police love to crack down on dumb foreigners. It is an easy bribe for cops and the guy selling drugs.
When exposed, get ready $US 1000 to get out of trouble. Can't you pay? Jail forever.
Avoid The Jump Rope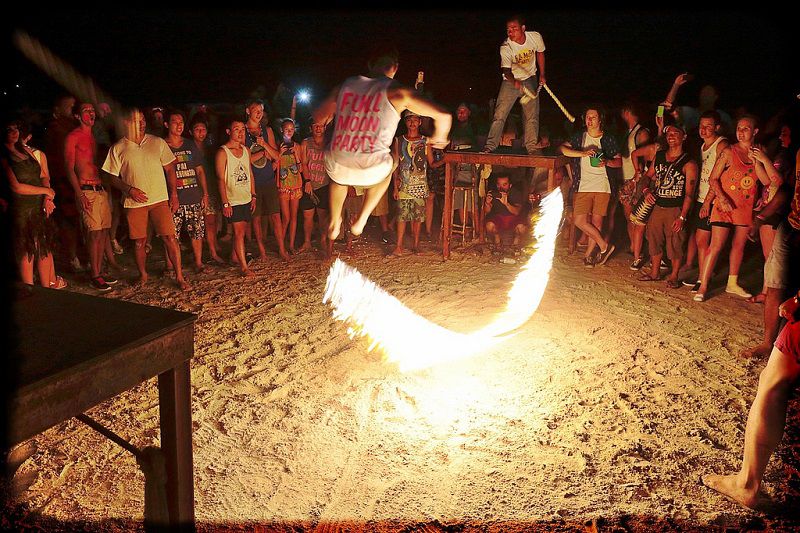 While been drunk, it is fun watching people jump the rope in fire and see people getting burn.
Do you want to have a go, hero? When by accident, the soaked rope in gasoline gets around your neck. You bet the the party is over for you.
Believe me, in Thailand accidents happen, and often.
Going for a swim? Think Again
After hours of wild party, drinking and get wasted, having a bath in the sea sound like a good idea.
It's NOT!
First, you risk drowning, and no one would bother to risk you.
Second, the sea is the main public toilet.
Third, the salt in the sea water is just annoying when the swim is over.
Thief Are Vigilant; Party Time!
Phone and cameras during the moon parties have a habit of "disappearing." Gangs are joining the parties, and an easy opportunity to get your belonging.
Bring enough money for drinks and your room key. You don't need anything else.
When The Full Moon Party is Happening?
As the name would suggest, the party is on the night of the full moon.
When you miss it, there's always the half-moon party, quarter moon party, and black moon party.
You can check out the Fullmoonparty.com website to schedule your next trip, find accommodations and events.
Where Are The Best Full Moon Parties?
Full Moon Party In Phuket
Although Phuket has several quality beaches, by far the busiest and most active at night is Patong beach.
Patong beach itself isn't the largest or most beautiful beach in Phuket but the entire area surrounding the beach comes to life at night. Among the facilities on offer are a plethora of restaurants, both Thai and foreign, as well as hundreds of bars.
There are also a few nightclubs which are particularly popular with young visitors, ensuring a steady flow of sexy Thai girls to make the nightlife in Phuket one of the most exciting in Thailand.
Although some parts of Patong may be a little too seedy for some visitors, the area surrounding the beach is generally safe.
Pattaya Parties In The Beach
Pattaya is the red light capital of Thailand which means it's especially popular with young single men and not so suitable for families with children.
Originally established as a resting spot for off-duty US military personnel during the Vietnam War, Pattaya has remained a place for drinking and partying ever since.
There are literally hundreds or bars, Ago-go bars and clubs all around Pattaya which means there should be something to suit the musical tastes of nearly everyone.
Beach parties here are the exception, mostly organized by hotels or special events by the local authorities.
Full moon parties aren't available, but there is much more nightlife excitement than you can handle.
Full Moon Party In Koh Samui
Koh Samui is the main Tourist Island situated in the Gulf of Thailand. Koh Samui receives hundreds of thousands of visitors every year who come to enjoy the idyllic tropical island surroundings.
Chawang Beach is the main center of partying and nightlife on the Island with the usual array of restaurants, bars and a few nightclubs comparable to Patong beach in Phuket.
The Original Full Moon Party Is In Koh Phangan
Koh Phangnan is the smaller sister island of Koh Samui which although much smaller than Samui has one monthly attraction that pulls in thousands of excited young foreigners and Thais alike: The LEGENDARY & ORIGINAL Full Moon Party.
The full moon party has legendary status among backpackers from all over the world who come in the hundreds of thousands yearly to experience this massive party that takes place on the 15th of every lunar month.
The entire beach at Haad Rin is taken over by thousands of young people hoping between the dozens of bars each blaring out their own music from loudspeakers.
RELATED ARTICLES

Going somewhere in Thailand? Read DreamHolidayAsia's guides to: