How To Rent A Holiday Girlfriend In Cambodia
If you move to Cambodia or just visit for a holiday, you can enjoy the company of a beautiful Cambodian lady.
She can provide companionship, intimate moments, help you touring the country and many more things. She is a travel companion or holiday girlfriend or whatever you want to call her.
The majority of single men that arrive in Cambodia, end up hiring a bar girl as a girlfriend. Not the best move if ask me because bar girls tend to make trouble.
There are so many good ladies dreaming to have a foreign man, that doesn't make much sense to visit the red light areas unless you want only sex. And in a country where the basic salary is $100 US, it's pretty easy to rent a quality girlfriend.
The civilians you see working in shops, massage parlors and restaurants, struggle to make ends meet. If you offer to help with finances, she is more than happy to be your girlfriend…
The best part when renting a Cambodian girlfriend is their naive nature. She does whatever you want without any drama. But keep in mind that things can work out between the two only if there is genuine affection.
In this article, I'm going to show you how to find a girlfriend in Cambodia and how much is going to cost you. That way you can budget for it and find your beauty as soon as possible.
How Much Is A Cambodian Girlfriend?
It depends. There are several factors like age, beauty, etc… But the strongest indicators are her knowledge of English and where she works or study.
For example, bar girls are way more expensive than university girls. The reason is bar girls have access to men with higher monetary power than students.
So, when you pay a university girl $150 US in monthly allowance, she'll be grateful and a caring partner. With that amount of money, a bar girl wouldn't consider spending more than a few days with you.
You see, bar girls are focus to extract as much money they can while students focus on their studies. It's a different attitude.
Anyway, let's get an idea about the general prices to rent a girl in Cambodia.
A Cambodian bar girl would cost $30 US per day. If you want to hire a Cambodia girlfriend for a week, expect to pay $120 US. The best deal of all is to rent a girlfriend with a monthly allowance like a university girl for $150-300 US.
Where To Find Cambodian Girls For Rent
First, you need to decide if you want a girl for short or long term. For example, you can rent girls by the hours in the red-light areas.
But if you want a long term relationship, the best way is to search for your dream Cambodiangirlfriend online.
Hire For A Short Time
When searching for a girl by the hours or for the night, good sex is the main concern.
That type of girl can be found in pick up bars located in the red light areas around the country. Also, working girls (freelancers) in the nightclubs are an option.
There isn't much difference between bar girls and freelancers, the latter is slightly cheaper. So in short, if you want just sex, pay a pro and have fun.
Long Term Rental
Here things get more complicated. Not only you want to get a hot girl, but you want to have a special connection. It isn't only about sex, but feelings too.
Forget the red light areas, they are filled with liars and scammers… And the nightlife girls have bad habits like drugs and alcohol.
Civilian girls are the way to go. There are many nice Khmer women that work in restaurants, shops, clinics and hope to find a decent man.
Some brave man walks up to civilian girls offering money or help. Only to get rejected and causing a lot of embarrassment for himself and the girl.
Civilians are conservative and proud, so don't make them feel like a bar girl.
So, what to do?
Search for civilian girls mentally ready to accept your offer. The best way is to use an arrangement site. There is all sort of girls looking for all sort of arrangements.
Just imagine having a Cambodian girlfriend on your terms…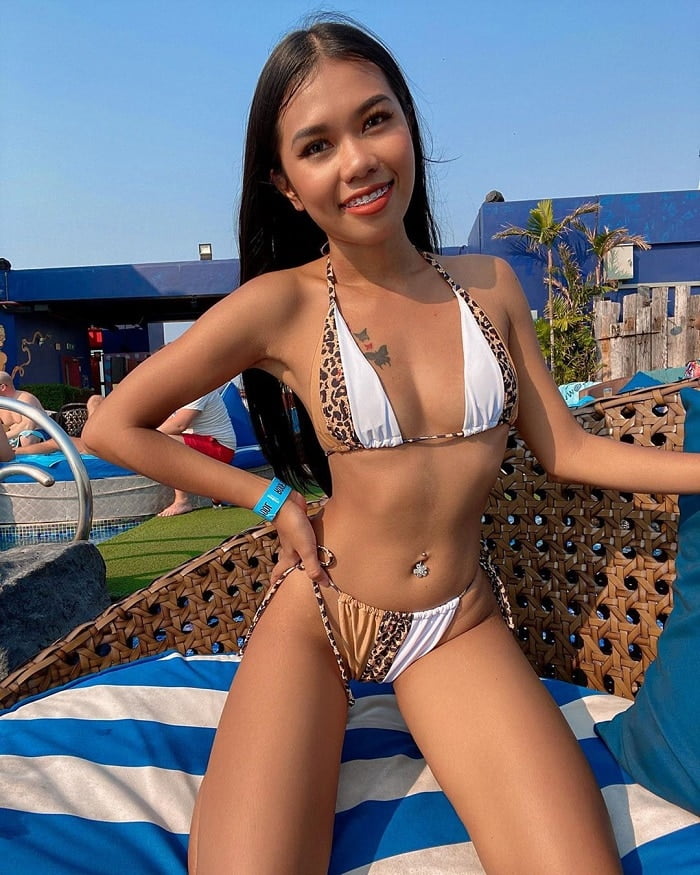 She does whatever you want without any drama or naggings.
And because the conditions of the relationship are clear, she isn't going to be jealous like a regular girlfriend. In simple words, you get the best of the two worlds: a love caring girlfriend without drama and nagging.
Remember to set clear expectations at the beginning of the relationship. Things like what you offer and what she must do for you. That way, no one gets hurt.
I explain more in detail about how to use an arrangement site so you get a clearer picture.
Best & Worst Cambodia Girls To Sponsor
The best girls to sponsor in Cambodia are university girls and massage ladies.
Students are naive and inexperienced, and it takes some effort to teach them things. If you are in your 20s or 30s and you still like to party, it's fun to have a university girl around. But for older men, it can get tiring.
Men 40+ would benefit from hiring a massage girl or a mature lady in her 30+.
Mature ladies understand better the needs of a man. Expect them to cook delicious food, massage you, and have great sex.
Both are good hire options, it all depends on what your needs are. If you want to feel young again, go for a student. If you value more relaxation and connection, get a mature lady.
As said earlier, the worst Cambodian girls to sponsor are bar girls and freelancers.
They are expensive, demanding and usually have bad habits like drugs or alcohol… And don't expect them to be faithful or keep their word because they are liers.
In conclusion, visit the red light districts only to rent girls by the hours. If you want to hire a Cambodia girlfriend, search online. Be a nice guy and you will encounter nice women.
RELATED ARTICLES