Cambodia Sex Guide For Single Men
If you want to know the best adult destinations in Cambodia where to find sexy Cambodian girls, this sex guide is full of info.
That way, you can focus on enjoying your adult vacation instead of worrying about where to go, what do and most importantly how to get laid.
This guide is going to focus on P4P scene (Pay for Play). If you prefer to meet and date "everyday" Cambodian girls, the one working regular jobs in hotels, restaurants or shops, then use a popular Cambodian dating site instead.

This Cambodian Sex Guide was last updated: 18 September 2020
Spoiler Alert: If you want to visit Cambodia this year, the bad news is you need to deposit US$3000 for the COVID-19 service charges at the airport upon arrival. On top of that, you need to have insurance and medical certificate.
On the bright side, this gives you an excellent excuse to jump into a sexy webcam site and start to interact and do naughty things with Cambodian ladies online.
Alternatively, you can try your luck with some local ladies in your area on this adult dating site. You won't find love, but probably that isn't what you're looking for anyway. 
***
Contents
Click a link to skip to that section. Don't skip any sections!
***
Intro to Sex Tourism in Cambodia
General information about Cambodian sex culture
Where to Find Sex in Cambodia
An overview of the best places to get laid
Typical Costs + Tips
General prices in Cambodia to help you budget your adventure
How To Get A Holiday Girlfriend in Cambodia
How to date Cambodia women during your vacation
Top Cambodian Sex Tourism Destination
Best red light district's destinations
Must to Do During a Cambodia Sex Tour
Mongering activities in Cambodia
–
Intro To Sex Tourism In Cambodia
Cambodia is a rising start for sex tourism in Asia. The reasons are the sexy Khmer girls, cheap prices and a layback atmosphere less chaotic compared to Thailand, Vietnam or the Philippines.
Single travelers going to Cambodia aren't going to be lonely for too long. Cambodian girls love to hang out with foreigners and they aren't money-oriented as their Thai sisters. It's a win-win situation.
However, don't expect to find red light districts as exciting as in Thailand. Prostitution is widespread, but most of the shenanigans are happening underground.
The good thing about visiting Cambodia for a sex holiday is the cheap prices. For example, when visiting a girlie bar your drinks, lady drinks, bar fines and sex with the girls cost less than other sex destinations in South East Asia.
When thinking about prostitution, you would expect women forced into the trade with a pimp kind of ambiance; Unhappy girls and business eccentric.
That isn't the case in Cambodia. The girls are relaxed and having fun doing what they do. You will feel to be with a girlfriend rather than a prostitute, making it a truly Cambodian girlfriend experience.
In fact, if you would like to have a sex vacation with a charming and love caring Asian woman, Cambodia should be on your list…
The main sex destination in Cambodia is Phnom Penh, the capital, where sex tourism is alive and kicking.
Most of the tourists are retired folks searching for a fresh start in life. But there are also backpackers and adventure seekers interested in seeing things like the Angkor Temple Complex in Siem Reap.
With this guide, I'm going to show you how to travel the country as a pro and how to plan your next naughty trip. I'll also show you the and practical tips to experience an unforgettable adult holiday.
What About Girls & Sex In Cambodia?
Haaaa, the girls. They are the gold keeper who makes this country so beautiful and worth the time to visit. Khmer girls are welcoming, not much demanding as the Thai sisters and always happy to please you.
If you're tired of the money-minded Thais and are looking for a change, Cambodia is an interesting budget alternative.
Cambodia girls – also known as Khmer girls – are small, rounded and most have tan skin.
Not as sexy as the Thais or Filipinas, but with big breasts. Making Cambodia the top Asian country with the highest percentage of busty girls, second only to Indonesia…
Do you prefer white skin girls?
Don't despair, there are Vietnamese girls with fair skin plying the trade in Cambodia. Cambodian men prefer Vietnamese girls because of their white skin.
They have their unique look, and they usually work in different red light districts alongside the Cambodian girls.
The nightlife and bar scene in Cambodia isn't much developed, having red light districts only in Phnom Penh. These areas have a bunch of bars and few "hundreds" girls working there. However, the bar scene is improving and growing.
The local government and various NGOs are more relaxed in recent years about prostitution. But don't expect to walk in any bars and see naked women dancing on the stage. Expect a friendly atmosphere where you can connect with the girls.
Most beautiful Cambodian girls that can speak English are prostitutes or are from well off family and extremely conservative. But there are a handful of open-minded Cambodians that are into foreign men.
Most open-minded Cambodian girls interested in foreign men go online to hook up or to find a serious relationship. I'll tell you about it at the end of this article.
Where to Find Sex in Cambodia
If you want to get laid in Cambodia, the best places to meet girls hot for action are…

1. Online
Cambodia is trying to catch up on many things, but smartphones and the internet are well spread across the country. Yes, even in the rural countryside.
I have found the best opportunities that present themselves to hook up with girls is by using popular dating sites in Cambodia.
Sign up on a dating site a few weeks before your trip, set up dates. Be polite and kind, and you'll have an awsome time.

2. Nightclubs & Pick Up Bars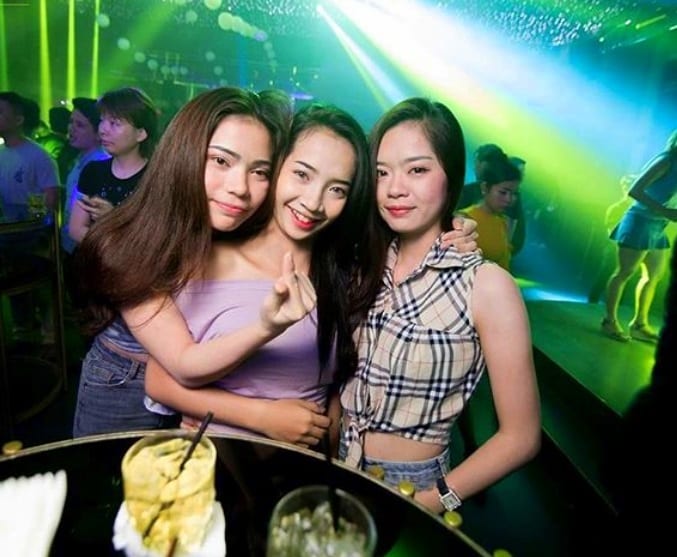 The next best alternative to find girls on the cheap is by visiting nightclubs and pick up bars where freelancers hang out.
They are usually young, hot and love to have fun. Don't mind to have sex with you as far as you pay for it.
However, you cannot just walk up to a girl and say: "Hey, I like you, let's fuck?".
Even thoughts they are hookers working for themselves, they don't act like one. So you need to have some manners and able to get a conversation going.
Most Khmer girls out at night are shy, especially the young ones, partly because they can't speak English very well and partly because of their Buddhist culture.
Take your time and speak to different girls, have a drink together until you find one who is responsive.
Not all the girls are into P4P, some are genuine girls just hanging out with friends for fun. So pay attention to who you are dealing with.
Expect to pay about 40-60 US$ for all night with a freelancer, plus all her drinks on your bill.
If you can't bother spending hours trying to peak up girls in bars and nightclubs, the next option is straightforward…

3. Hostess Bars
Also known as girlie bars, you can find them in any red light district in Cambodia.
Those bars offer drinks, girls and sex are on the menu as well.
The good thing is that you can walk in, have a drink, choose your girl, pay and have sex with her.
It's a straightforward business transaction and the girls can't refuse to go with you like in the nightclubs or pick up bars.
The downside is that hostess bars are the most expensive option to find girls for sex in Cambodia.
Expect to pay about 50-80US$ for a session, plus lady drinks and your drinks.
For that money, I would rather pay for a three months membership on Asian Dating and get a different girl each night straight to my hotel room for a couple of dollars.

4. Happy Ending Massage Saloon
While traveling around Cambodia, you will come across small massage shops.
Most of them offer traditional massages, but in some, you can get extra services like a handjob and if you are lucky, full sex.
It's a hit and miss kind of thing, and that can quickly become frustrating. There is nothing worst to get hard, ask for an extra service only to get this reply: "sorry sir, I don't do that".
The best way to make sure a massage girl is going to give sex beside the massage, it's to ask in advance.
If you see a saloon girl smiling at you, have a conversation for a few minutes, and then ask if she can do that extra service for you.
Expect to pay 10US$ for an HJ or 40US$ for sex.

5. Escorts – Call Girls
It's shocking to learn that there aren't any escort agencies in Cambodian. Even in Phnom Penh, there aren't any call girls online to contact for a quick fuck.
Anyway, you can rent Cambodian escort girls in other less traditional ways, and don't have to be necessarily a working girl.

6. Street Hookers
The most common form of prostitution in the world, street hookers can be found also in Cambodia.
In destinations other than Phnom Penh, it's hard to spot them.
In fact, most street hookers can be found in the Riverside in Phnom Penh, just standing around waiting for customers.
The ongoing rate is about 30US$, but negotiable.
Typical Costs
• Entraitments and Companionship: Cambodia is one of the cheapest countries in South East Asia.
Hostess bars charge 50-60US$ for a short time, besides lady drinks. All night generally will cost you 60-80US$.
Freelancers girls in nightclubs and pick up bars ask for 40-60US$ for all night. If you want to save a few bucks, in Phnom Penh you can pick up street girls for 30US$, it's negotiable.
The cheapest option is to contact girls on a dating site and meet up. It'll cost you a subscription of $30 per month on the site, and offer the opportunity to meet many Cambodian girls.
• Accommodation: Most guesthouses have a dorm room for between 6-10US$ per night. Private rooms range from 10-18US$ per night.
You can get comfortable hotel rooms for 15-25US$ with air-con, TV and other amenities.
After that, the sky is the limit but I've never needed to spend more than 40US$ per night for luxury in this country. Most of the accommodations are girl friendly.
• Food: is cheap in Cambodia.
Street food will cost you about 1-2US$ per meal and restaurant food will cost between 3-5US$.
Western meals at nice restaurants cost more, from 10-25US$ and upwards.
You can get some real world-class food in the Phnom Phen 5 stars hotel's restaurants these days and dishes start at around 15US$.
If you are into healthy food, visit the numerous street markets where you can find most fruits and vegetables for less than a dollar per kilo.
• Transportation: Local transportation is cheap, costing only a few dollars.
You can get anywhere within town/city for less than 10US$. Renting a driver for the day will cost you between 15-25US$.
Tips & Tricks
• Pay in the local currency: Usually, everything is priced in dollars but using the local currency turn out always cheaper.
• Yam Yam means BJ in the Khmer language. Ask the girls in advance if they are willing to perform it because many don't do it.
• Girls have to turn off their mobile phones once in the room and be instructed to leave them turned off; they are the major source of disruption.
• Valuables in the safe. When you leave the room and while you are showering. Hear many times of girls stealing money and cameras.
• Lady drinks. Cut down on them, they are useless to the purpose of good fun and sex.
• The legal age of consent is 15 in Cambodia, but paying for sex the girls should be over 18 years old.  Strongly advised staying clear of anything younger than that.
How To Get a Holiday Girlfriend in Cambodia
If you are wondering how to find a girlfriend in Cambodia, you'll find the answer here.
Having a temporary Cambodian girlfriend to spoil you with attention and intimate experiences, it's the best way to enjoy the country.
She can cook for you, clean and help you to plan activities. During the day she is going to be your best friend while at night an eager lover.
Just imagine having an attractive and young Cambodian girlfriend…
Girls in Cambodia are easy going and love to have a good time. The only hardship you have is to find a Cambodian girl that can speak decent English and is attracted to foreign men.
In this case, the best way to find girls that can speak English and crave to meet a foreign man is to use the online game. Meaning use sites that Cambodian girls use to meet foreign men.
At the moment these dating sites are great to meet Cambodian girls and to find a girlfriend.
There isn't the need to visit the red light areas in Cambodia when you can easily meet civilian ladies on a dating site.
Just upload your best photos, message a few girls and meet up once you are in Cambodia. That is how easy is to meet Cambodian girls online.
If you can't bother the traditional way of dating, you can always rent a girlfriend in Cambodia. Practical if you have the budget, and you can get yourself a hot girlfriend 20 years your junior.
Top Cambodian Sex Tourism Destinations
Sihanoukville – Empty white sand beaches, great diving, amazing seafood, and a heavy nightlife make this spot a favorite among travelers.
This was once a very seedy spot and while its past is still around, the arrival of lots of backpackers has cleaned it up a bit.
Phnom Phen Sex Guide – The capital of Cambodia, this place has a wild west atmosphere with dusty streets and a devil may care atmosphere.
There are a few good sites to see and the lake is a wonderful place to relax. What keeps people here is usually a relaxed way of life and the sexy Khmer girls.
Siem Reap Sex Guide – If you are into temples and girls, you should visit Siem Reap.
The main attraction is Angkor Wat, one of the largest religious monuments in the world. The second attraction is the nightlife of Siem Reap, a small yet inviting adventure.
Koh Kong Sex Guide– Is a small town near the Thai border. The best sex tour is to the Koh Kong Chicken Village where several shacks sell sex.
For gamblers, there is also a casino in town.
Best Cities For Sex In Cambodia
Must To Do During a Sex Tour in Cambodia
• Visit The Red Light Districts in Phnom Penh
There are a couple of red light streets in Phnom Penh where you can find bar hostess girls, freelancers and everything between.
You can get laid easily, have a few drinks a lot of fun.
The most known areas are Street 130 and Street 136.
• Visit The Hooker's Beach Town
If you like holidaying near the sea and have fun with girls, there is no better place than Sihanoukville
You can find three different red light areas with bars and hot Khmer girls: Victory Hill, Golden Lion Plaza & Sihanoukville Square.
• Visit a Cambodian Sex Massage Parlour
Cambodia doesn't have many places that offer happy ending massages. And the few ones that exist are operating underground so most of the foreigners don't know about it.
But there is a place in Street 252, 500 meters northwest of the Independence Monument in Phnom Penh that offers exclusively sex massages; It's called Massa.
The girls are extremely hot, and I swear that they are the sexiest girls that you can find in Phnom Penh.
RELATED ARTICLES