Best Girlie Bars in Manila to Pick Up Girls
Manila is a big, polluted and chaotic city… And the only reason to visit is for the girls.
I totally dislike to stay in cities but I can't stay away from; There are too many sexy girls. Besides, Manila nightlife is one of the best in South East Asia.
There are posh clubs and bars filled almost every night with easy girls and considerably cheaper booze compared to other Asian cities.
I've mentioned already the best nightclubs and pick up bars in Manila before, but today I'm going to talk about a totally different type of night venue: girlie bars.
These bars serve drinks, food, entrainment like any other type of bar, the only difference is that you can get laid with any girls for a price.
In fact, girlie bars are one of the places where to find easy sex in Manila.
The 3 types if girlie bars in Manila are:
Bikini bars – have girls dancing in bikinis or sexy uniforms. However, it is not like a strip club as the girls usually don't go nude.
Freelancer bars – hookups joints with self-employed prostitutes that don't work for the bar.
This guide will give a quick overview of the 5 best girly bars in Manila where you can pick up girls for sex, starting with…
Cotton Club 
It's located in EDSA Entertainment Complex where there are six (6) other girly bars in its building.
Cotton Club has a big stage with the girls on display. Don't expect them to dance or perform any sexy move as they stand there waiting to be picked up by customers.
The most attractive girls don't come on stage until later in the night around 9 pm. Although the bar doesn't close till around 3 am, it's best to visit early.
This is because most of the cute girls are usually picked up by Koreans who also give them better tips.
If you do come out early, you can enjoy the "happy hour" and buy beer for 70 pesos till 8 pm. They also have great food.
The layout of the bar is similar to a KTV having VIP rooms where you can spend time privately with the girls. The room price is 3.500 pesos, including drinks.
Now, unlike other bars in the complex, Cotton Club girls are less pushy with lady drinks and are some of the hottest in the complex.
Price of lady drinks are quite high – 300 pesos. Bar fine is a standard 2.000 pesos, plus the price for sex that is negotiated directly with the girls: short time for 1.500-2.500 pesos and all night for 3.000-4.000 pesos.
Cotton Club like the other girlie bars in the complex are the cheapest bikini bars in Manila
The location isn't close to the city center and there is always traffic to get there, even late at night.
So, if you can't bother to take the girl to your hotel, Queensland motel is nearby.
La Café
This bar is the hottest spot in Manila to pick up freelancers.
It's a big bar housed on two floors where you can enjoy a couple of drinks, play pool, listen to a live band and of course, with an abundance of girls.
Any given night there are about 100 girls during pick hours between 11 pm and 2 am.
The good thing about girls here is they aren't employed by the bar, so you don't have to pay any bar fine to take them in your room.
Actually, you don't have to buy any lady drink either, just walk in and get out with the girl.
But it's easier said than done because the girls are pushy for drinks, probably because if they don't get customers to buy drinks, the next time they might not be allowed in.
Unlike other girly bars, it is also a great pick up spot during the day, even as early as 12 pm.
So, while you are shopping in Robinson mall, don't forget to stop by for a coffee 🙂
Plan B
It is another girly bar in P Burgos Street with girls dancing in bikinis or erotic outfits. This is probably what you'd find in all the bars in P Burgos Street but what makes it special is it has the most number of girls.
The bar has up to 80 girls every night. The girls are very friendly even though they can be a bit pushy when you first walk into the bar.
Many of them are stunning and the rest will only pass as average looking. They don't go topless, but their thongs and see-through tops will be enough to buy one lady drinks.
Lady drinks cost 400 pesos.
Bar fine is around 2500 pesos not including another 3.000-4.000 negotiated with the bar girl.
With so many girls, you can even bar fine two girls for a threesome in the hotel above the bar.
The only issue with this bar is that they have a cash only policy.
Bottoms Bar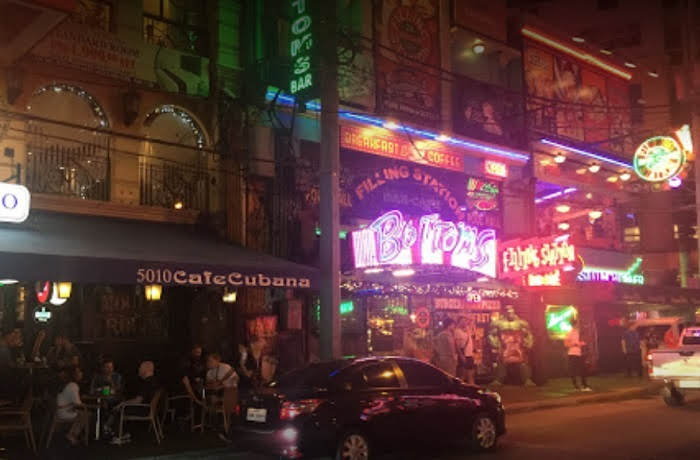 Located at a prime spot in the center of P Burgos Street is Bottoms Bar, this is the only place in Manila with girls going topless.
As a result of its location and the nice titty, it's crowded with tourists.
This, coupled with being the first bar on the strip makes them try to live up to their hype by having the hottest of girls.
They have two stages set up for the bargirls to dance on which even has a pole. A bunch of girls still hang around the bar hoping to get a client.
It also doubles as a blowjob bar where girls can go down on you in one of the semi-private booths. But not all the girls in the bar do this.
The prices are a bit higher than other girlie bars in P. Burgos Street: Lady drinks for 400 pesos, bar fine 4.000 pesos and another 3.000-4.000 pesos negotiated directly with the girl.
G-String Bar & Club 
It is one of the countless girly bars on P Burgos Street right next to Bourbon which is another great bar.
That said, it operates pretty much like the other bikini bars with lady drink and bar fine service.
One thing about this place is that, despite the number of girls, they remain friendly even if you don't buy them drinks. That is unusual and pretty cool if you ask me.
There are usually around 5-7 girls in sexy uniforms dancing on stage on rotation and up to 50 girls in the bar.
These girls are quite cute and sexy but not the youngest you will find around – 25-30 years old.
To compensate for their age, they are very experienced in sex.
For side activities, they have a pool table that is usually busy. Many expats come here to chill regularly.
Lady drinks cost around 400 pesos. Bar fines are on the high side and can cost as much as 4000 pesos.
The girls negotiate between 3.000-4.000 pesos for short time or a long time.
Map of the Best Girlie Bars in Manila
I've marked the best girlie bars in Manila with the star pin. As you can see in Makati there are 3 top girlie bars, this suggests that is a good idea to get a girl-friendly hotel around that area. 
You most definitely will find hot girls to pick up in any of the girlie bars in Manila.
But you should be careful about your drinks bill as some bar tends to rip off customers, especially when they are drunk.
Stay sharp and don't buy drugs from any person offering to sell if you don't want any form of trouble.
This is all for this review of the best pick up bars in Manila, have fun!
RELATED ARTICLES