3 Types of Freelancing Prostitutes in Manila & Prices
Manila has four main red light districts with sex venues, prostitutes and it's easy to get laid if you have deep pockets.
But those places are overpriced from all sort of things from drinks to having sex with the girls.
Instead, you can easily get laid with Manila prostitutes at a fraction of the cost and avoid the expensive hookers working in girlie bars and massage places.
What is the point to pay more for the same service?
The thing is most first time travelers in Manila don't know where to hook up with girls, so they head to the red light districts.
Unaware they get charged extras for everything.
There are three types of freelancer prostitutes in Manila that works outside the sex venues: street prostitutes, nightclub prostitutes and online prostitutes.
I'm going to explain where to find them, their rates and how to deal with them…
Street Prostitutes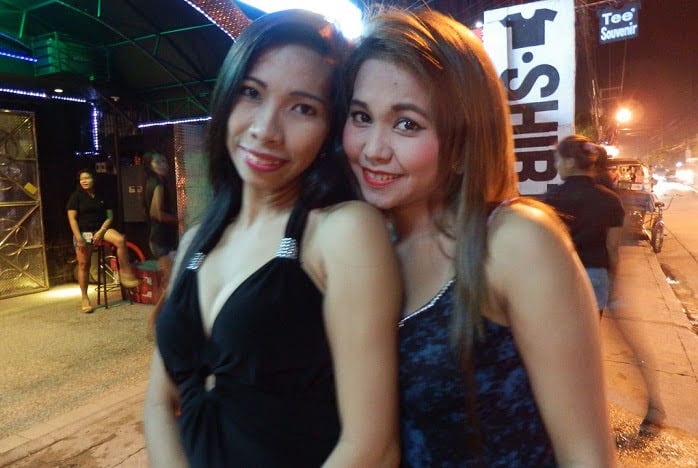 Street prostitutes in Manila are mostly in and nearby the red light districts but they can be found in most parts of the city.
Most men think that street prostitutes work in a ghetto or certain streets but that isn't the case in Manila.
You can walk to a mall like Greenbelt and find prostitutes freelancing on the third floor in the late afternoon… Or having a coffee in La Café to meet girls for sex.
Those are just a few of the many pickup joints around Manila.
If we talk about the best area to hook up with freelancer prostitutes, Makati is the place to go.
Being a business area with an exciting nightlife, you can be assured to meet sexy girls ready to spend the night with you for some cash.
Hang outside Chaos nightclub and you are going to be spoiled with choices.
Don't be worried to approach girls or be approached by them, they want some cash to support their family and it's how things work in the Philippines.
The only thing to keep in mind when dealing with street prostitutes is to check their age. You don't want anything to do with any minors.
The common prices for sex are between 1.500 to 2.500 pesos depending on the quality of the girls and the time of the day or night.
It's all negotiable, so don't accept the first price but bargain hard.
Night Club Prostitutes
If you are looking for young spinners, the nightclubs are the best Manila hookup.
Most young and hot girls can't bother to go work in girlie bars where they have to share their earning with a pimp. But they prefer to hang out in nightclubs with friends and have fun.
The only downside is that you need to be comfortable approaching girls while you are competing with young guys.
Not only that, but you need to spend money on drinks while spending a few hours in the club with her before going home.
Yes, it's a lot of work and only worth if you genuinely love clubbing.
The cost can be pretty high as you need to buy booze for you and the girls while in the morning you have to pay her at least 1.000 pesos.
If you prefer a cheaper and more direct way to get laid with a hot girl in Manila, your next option is…
Online Prostitutes
I wish there were ways to meet girls online when I first visited Manila 15 years ago instead of running the streets and clubs.
Not only is cheap and easy to meet girls online for sex nowadays, but the hottest prostitutes hang out there.
Yes, technology and the internet has changed the way how prostitutes in Manila hook up with foreign men.
It's good for them because they don't have to spend all day in a bar or running the streets searching for customers.
It's good for you because you can scroll over hundreds of girls in minutes and hand pick your favorite. Don't need to visit clubs or walking around seedy streets in Manila to find a girl for the night.
Actually, you don't even need to be in Manila. You can search for the right girls a few weeks before your trip so you don't land empty-handed.
You can even ask the girls to meet you at the airport in Manila. That way you can start making out in the taxi while reaching your hotel room.
Just imagine feeling her wet panties the moment you land.
Isn't that the best way to start a holiday in Manila?
I've reviewed the best dating apps in the Philippines to get laid so you can immediately hook up with a hot Filipina in Manila.
Now, while most of the girls are everyday women with regular day jobs who don't ask for any money, you can also find plenty of freelancers there.
It's quite obvious who is and who isn't if you look at their pictures or profile descriptions.
The freelancer prostitutes online usually ask for a 1.000 pesos. That is good considering they come straight to your room.
Video of Manila Prostitutes
RELATED ARTICLES