Bangkok Red Light Districts Guide – They are 5 not 3
Bangkok has officially three red light districts, but in reality, they are five.
The 3 most prominent red light districts in Bangkok are Nana Plaza, Soi Cowboy, and Patpong. These are the most patrol by tourists visiting the city for the first time.
There are other 2 red light areas that are less known like Huay Kwang and Phrom Phong where many soapy massage spas, happy ending salons and BJ bars (blow job bars) are concentrated.
You might think the red light areas in Bangkok are all the same – to some degree that is true as all of them have sexy Thai girls easy available for sex – but in reality, each red light area has a specialty.
Even better, most of the bars and nightclubs in these districts are not shady establishments with underage girls or forced workers…
But only sexy Thai women willing to please you.
In this guide, I'm going to show you where to find them, what each red light district has to offer and how don't get scammed or ripped off.
Nana Plaza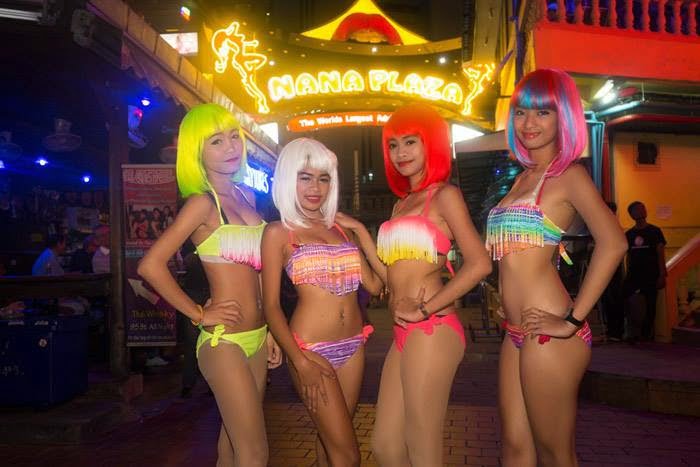 You can find the three-story complex of the 'World's Largest Adult Playground" on Sukhumvit Soi 4. That what the sign at the entrance says.
This title isn't just for show but as a result of its 30+ go-go bars coupled with a large flock of hot girls, with most of them working as hostesses in the bars.
To make the adult scene more complete, there are a few ladyboy bars with sexy transgenders looking to fulfill the desires of those who crave for them (or not).
Most of them are located on the eastern side of the complex.
If you can find one up to your standard or you are simply on a budget, there are ladyboy street hookers lurking around to pick up.
The gogo bars are filled with girls dancing semi-naked and ready to leave with you after buying a drink.
Pay the bar fine (600-1.000 baht) and negotiate the price for sex directly with the girl, a short-time (2 hours) is typically 2.000 baht while 3.000+ baht for all night deal.
Nana Plaza is also the best place to see ping pong shows without the fear of being ripped off by the staff.
Angelwitch is a must-try having sex shows running daily from around 10:30 pm.
Other gogo bars in Nana Plaza worth visiting are:
Billboard Agogo
PlaySkool
I've written a full review of the best gogo bars in Bangkok with the sexiest girls and good service.
Patpong
It is located in the upscale Silom district and is known as the oldest red light area in Bangkok and still remains a major attraction to tourists and locals alike till today.
The two parallel streets housing the many sex-oriented establishments is surrounded by a busy night market.
Yes, this is known as the "Bangkok girls market" because you can pick up freelancer prostitutes in the area.
Giving you the thrill to hook up and pay far less money for sex than in the red light area.
To give you a heads-up, don't go to Patpong if you want to see a ping pong show.
Most bars are notorious to rip off tourists on drinks and try to force pay hidden charges using burly security guys.
Now, this area has a bunch of girly bars but it's better known to be a gay-friendly area with several ladyboy and gay bars.
King's Castle I and King Castle II are the most prominent ladyboy bars and King's Corner has the largest post-op transsexuals in Bangkok.
The best girly bars in Patpong  to pick up girls are:
Beer prices range from 120 baht to 150 baht. Bar fines are usually about 600-1200 baht.
The price for sex is around 1500 – 3.000 baht for short-time and up to 6.000 baht for long-time.
All prices are negotiable.
Soi Cowboy
This is an example of leaving the best for the last.
It is located in the Asoke district on Sukhumvit Soi 23 and Ratchadapisek Road.
It gets its famous name from the owner of the first bar who always wore a cowboy hat.
Despite being more laid back and the smallest of the red light districts, it is gaining popularity as the best in recent times.
As one of Bangkok's most famous streets, the whole scene starts buzzing from around 7 pm until around 2 am.
Beer prices will range from 110 baht to 180 baht.
Bar fines to take girls out usually costs 600-1000 baht. The girls will negotiate around 1500 to 2500 baht for short-time and up to 5.000 baht for long-time.
Here are the best girlie bars in Soi Cowboy:
Huay Kwang
This area is just north of Sukhumvit, where most massage parlors in Bangkok are located.
You can get a body to body massage on a soapy mattress that leads to a happy ending.
No need to pay bar fines or for the room as it is an all-inclusive fix price. 
The average price starts at 2.000 baht for this sensual experience that lasts for 90 minutes.
Phrom Phong
It's just a stone throw away from Soi Cowboy and is home to the majority of erotic massage shops and BJ bars.
The happy ending massage shops here are well known for their oily massage service with special options of HJ, BJ or sex.
However, there are many other things the girls can do to you that will make you want more.
Full-service oil massage for 1 hour starts at 1.800 baht on an average.
Although most of its clientele are Korean and Japanese, other nationalities are welcome too.
These best erotic massage in Phrom Phong are :
Bangkok Red Light District Map
These are the 5 most popular red light areas in Bangkok where you can satisfy any of your erotic fantasies: threesome, golden showers and more.
Keep in mind that the first 3 Bangkok red light districts get started after 6 pm. So they are play zones for nightlife people.
If you prefer to play with Bangkok girls during the day, you better visit Huay Kwang or Phrom Phong for a soapy massage or experience a BJ bar.
I hope this guide helps you enjoy your stay one way or another.
RELATED ARTICLES