There are brothels all around Bangkok, from the city center to the outskirt of the city.
Each area is specialized in certain sexual services like body-to-body massages, blow job bars, private hotels with girls offering full service, and so on.
So it's important to learn about the different areas and what they offer. That way, you can make an informed decision about where to stay in Bangkok to indulge in your preferred sexual experiences.
Where Are The Brothels Located in Bangkok?
Most brothel areas are tucked away in small alleys away from indiscreet eyes. Also, many activities occur in hotels around the city that act as brothels and sell rooms to tourists.
Unless you know where they are, you won't find or hear about them.
Everyone knows about Nana Plaza, Soy Cowboys, and Patpong. But no one talk about Ratchada or Onnut Soi 10.
But with this breakdown of the most popular brothel neighborhoods in Bangkok, you'll be in the know.
Lat Phrao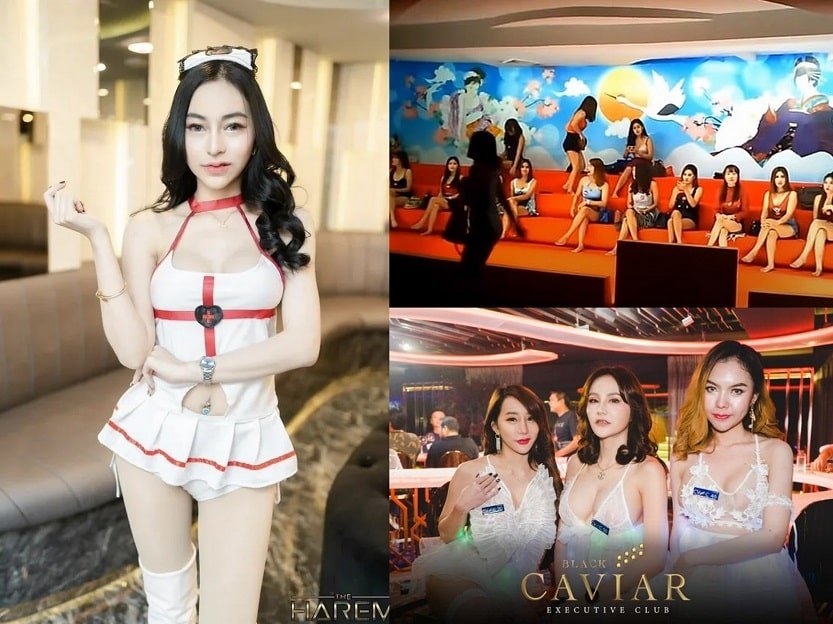 Lat Phrao area has many brothels that come in all sorts of forms, from gentleman's clubs to soapy massage parlors to KTVs. There is something for everyone.
This area is popular among Thais and not so much with tourists and expats. The reason is working girls and staff rarely speak and understand English. Go only if you can understand and speak Thai.
Keep in mind that Rachada Road in Lat Phrao District is the home of several luxury soapy massage parlors in Bangkok. So if you're into this type of sexual service don't miss it out. 
Let's start reviewing the brothels in Lat Pharao with a gentleman club:
The Harem – located on Prasert-Manukitch Road this nightclub opens at 8 pm and acts as a regular nightclub. The only difference from regular nightclubs is they employ many sexy Thai girls that offer companionship as well as sex services to their customers.
Several girls are students and come here when they need to earn some extra money. The downside of this place is you've to become a member and blow 10.000 Baht to get access.
If you're into students, I recommend finding a young Thai girlfriend and having a good time for a fraction of the cost.
Emmanuelle Entertainment – Emmanuelle is a large parlor on Ratchadaphisek Road, close to Huay Kwang Junction.
The girls aren't that pushy like in other brothels.
The venue's main offer is Nuru oil massage, which lasts for 90 minutes and costs upward of 2,000 baht, with some girls asking for 5,000 baht. They charge you a small "Westerner" fee on top of that price.
Black Caviar Executive Club – Located in Ratchada Soi 7, Black Caviar Executive Club is one of the highest-rated brothels in the area.
It offers the classic Asian KTV experience offering private karaoke rooms with drinks, food and many beautiful girls. You can also have a soapy massage that cost from 6,000 to 40,000 baht.
Merci Massage – Located on Ratchadaphisek Road, has changed its name several times, going from Subway Massage to Madame Massage. The venue is relatively inconspicuous, especially compared to a club such as Black Caviar.
The cost of a soapy massage goes from approximately 2,000 to 4,000 baht.
Poseidon Entertainment Complex – Operating since 1999, Poseidon is one of the oldest brothels on Ratchadaphisek Road.
Initially conceptualized only as a massage parlor, the place had to be turned into a full-fledged hotel for financial reasons.
The girls are located on the hotel's 3rd floor, and they have price badges on their chests, so you always know what you're buying. The rate starts at 3,200 baht.
Maria Entertainment – Maria Entertainment is an upper-scale hotel and spa. Although the place tries to act classy, most of the girls are spread around the larger halls like all other brothels.
The prices are a bit too high for the service, ranging from 6,200 to 20,000 baht.
So, if you're in the neighborhood, it's much better to visit Black Caviar (if you're looking for luxury) or Poseidon (if you're looking for a lower price).
Nana
Nana area is the biggest open brothel in Bangkok, where you'll find go-go bars, massage parlors offering happy endings, beer bars with girls, and even stalls selling sex toys.
Every girl on the street is for hire, so you can basically approach anyone you like. And that isn't limited to Thai girls, there are also African and Russian ladies trading sex for money.
This video offers an excellent tour of the Nana area showing some brothels as well as street hookers…
The most notorious brothels in the Nana area are:
Nana Plaza
This ex-shopping mall is been turned into a brothel building. There you'll find around 50 gogo bars with hundreds of ladies and ladyboys waiting to be chosen by customers.
For those who want to experiment, the Ladyboy venues are on the first floor.
The ladies/ladyboys wear bikinis and dance on the stage displaying their assets. If you like a lady, call her over, offer a drink, and flirt with her. At any time you can ask her to have sex outside the bar.
Lady drinks are about 200 Baht, while one hour of sex is 2.000 Baht and for all night between 3.000-5.000 Baht.
Sukhumvit 4 Alley
This street goes from Nana Plaza to the south and is filled with brothels, street hookers, and beer bars with girls freelancing. 
Any girl you see in this street is up for hire, so don't hesitate to stop someone that you find attractive. It's all about offering the right price.
I explain all that you need to know about freelancers in Bangkok, from price to how to approach them.
And don't miss out on Hillary Bars. There are two of them in Sukhumvit 4 Alley where you can pick up freelancers.
Sukhumvit Soi 3
On this street not far from Nana Plaza, there is an infamous hotel acting as a brothel called Grace Hotel. There you can find African, Arab, and Russian prostitutes.
Sukhumvit 6 Alley
On this road near the Nana metro, there is Analisa Massage.
The thing that separates this whorehouse from the rest is the emphasis on tantric massage.
The prices fluctuate with the diversity, where you'll have to pay 1,000 baht for a handjob massage to 7,500 for a six-hand tantra massage. Like many other places in Bangkok, Analisa does outcalls.
Sukhumvit 7/1 Alley
On this road, there are two interesting happy-ending massage places worth mentioning:
The World-Famous Annie's – It's an old and well-known brothel that offers soapy massage for 2.000 Baht. Not too many girls on-premises, but the service is good.
Dr. Bj's Nuru – This brothel is a few meters from Annie's and is spread on two floors, with the ground floor serving as a bar, while the upper sections are reserved for Nuru massages.
Sex services cost 2,000 baht for 1 hour and 3,000 baht for 2 hours. You can also get your groove on with two ladies simultaneously, which would cost you 5,000 baht.
No more blowjobs at the bar, unfortunately.
Sukhumvit 8 Alley
Just outside Nana BTS on Soi Sukhumvit 8, there is a hidden erotic massage parlor called Bamboo Massage
The place offers quick blowjobs (a few girls give excellent deepthroats) for 800 baht, and for longer enjoyment, you can try oil and lotion massages.
The massages will cost you from 2,000 to 2,500 baht, and you can choose between 1, 1.5, and 2-hour sessions. You can also go with all-nighters and 2-girl packages that are approximately 5,000 baht.
Asoke
From Nana to Asoke metro there are brothels as well as many freelancers in the street. Not only CIS women but also ladyboys.
In the middle between the Nana and Asoke BTS, you'll come across the infamous Café Thermae. This "Café" is the biggest self-serving brothel in Bangkok. 
By self-serving I mean that this place isn't managed as a brothel, but it's a place for hookers to meet with customers. So you've to do the dealing all by yourself.
As you can see in this video, the number of girls is staggering…
And the best part is that every night this place is packed with hookers.
The girls ask for 3.000 Baht for a quickly, but you can bargain on the price. Usually, the price can get down to 2.000 Baht and even 1.500 Baht on quiet nights.
Then you have the infamous Soi Cowboy which is one of the most popular red light districts in Bangkok. The street is rather short but packed with gogo bars.
Like in Nana Plaza, you can pick up any girls in those gogo bars and have sex for a fee.
Just outside Soi Cowboy, there is Soi Sukhumvit 23 which has several massage parlors offering happy endings as you can see in this video…
For some upscale brothels in the Asoke area, check out:
It's an upscale place that offers Gel and Nuru massages. There is even a luxurious Jacuzzi experience in the rooftop room.
Girls are willing to go the distance by offering regular sex, foot jobs, and blowjobs. Most services range from 2,000 to 3,000 baht, lasting for up to an hour and a half.
The rooftop experience is a bit pricier and can cost up to 10,000 baht for 2 hours, and features 3 ladies.
Aya is a beautiful parlor located just northeast of Soi Cowboy. The place only offers Nuru and soapy massages, lasting for 40, 60, 90, and 120 minutes.
A basic, 40-minute soapy relaxation will cost you 2,000 baht, but you can also experiment with other services, including 4-hand massage (from 5,500 to 10,000 baht), couples massage (5,000 to 8,000 baht) and ultra VIP massage (contact for info).
Phrom Phong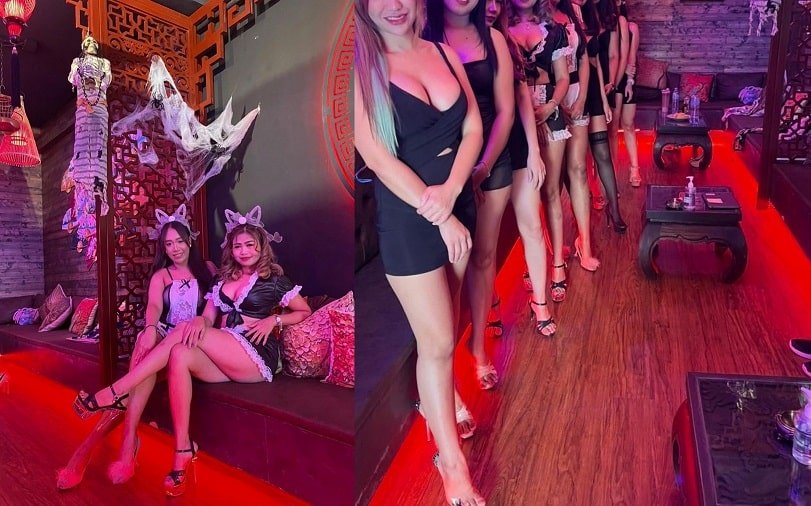 Some of the best brothels in the city are located within the Phrom Phong district on Sukhumvit Road, and surrounding streets and alleys.
There are lots of micro-locations that serve as designated areas for whorehouses. To avoid any confusion, I'll categorize Phrom Phong brothels based on notable streets.
Sukhumvit 22 Alley
All the brothels are packed closely together, offering similar services at similar prices. So let's check out only the most famous brothels:
Kiss Bangkok Massage – It offers yoni, Nuru, soapy, and lingam massages. The girls are willing to please their customers any way they can, finishing them off with handjobs and blowjobs.
Four-hand service is a once-in-a-lifetime experience, while toys and uniforms will get your kink on. The place features 15 girls ranging from 20 to 35 years.
Honey Bee Massage – Honey Bee Massage is another place that provides a variety of services, including yoni, Nuru gel, lingam, soapy and bathing massage, and foot and stocking massage. Even better, the venue offers these services to both sexes and couples.
The popular erotic bathing will cost you 1,500 baht (handjob) to 1,700 baht (blowjob). Other basic massages cost 1,200 (handjob), 1,500 (blowjob), 1,800 (full service), and 2,000 baht (full service Jacuzzi).
Bangkok Passion Massage – The place offers various services, including body-to-body massage with handjob or blowjob, Nuru gel massage, soapy Jacuzzi massage, 4-hands and couples' Jacuzzi massage, and foot fetish service.
All services last either 30 or 60 minutes, with prices from 1,200 baht for a handjob massage to 4,000 baht for one-hour Jacuzzi services.
Sukhumvit 24/1 Alley
This Alley is within walking distance from Phrom Phong BTS and EmQuartier Mall. It's littered with small brothels where girls sit outside…
The only downside compared to the Alley 22 is if you start to talk to a girl, the mamasan immediately pulls you in to choose a girl.
So don't expect any interaction but be ready to pick a girl based on her look.
Here are some of my favorites:
Boss Massage – The place is relatively new and very clean, having a much better interior than most small street parlors.
Sessions last for 40, 60, and 90 minutes, and visitors get to choose between oil, thai, Nuru, and lotion massages. Depending on the length, you'll have to pay 1,800, 2,000, or 2,200 baht. Visitors can also add another girl or enjoy a massage in a Jacuzzi.
Angel Massage – Angel Massage is a relatively new parlor with an enormous selection of girls.
Unfortunately, the same can't be said for their services (they only have oil and lotion massages). Officially, the prices range from 400 to 800 baht, but I guess they charge you much more for happy endings.
Cherry Massage – The venue doesn't offer that many options, as visitors have to choose between oil, lotion, and Nuru massages. For some extra kick, you can go with 4-hand or 6-hand alternatives.
Regular massages cost from 1,700 baht to 2,700 baht, lasting from 40 minutes to 2 hours. A sleepover will cost you 6,000 baht, while outcalls go for 3,000 baht for 2 hours.
Sukhumvit 33 Street
Sukhumvit 33 Street is just north of Benchasiri Park with brothels gear forward a Japanese clientele. The majority of whorehouse are massage places in disguise.
A few well-known establishments are:
Demonia Fetish and BDSM Club – This is the only BDSM brothel in Bangkok where you can satisfy your kinks and fetish. Make sure to wear black clothes as this is the standard dress code.
Drinks are pricey at 1.000 baht for non-members, and the same goes for ladies' drinks at 300 Baht. For a BDSM session with a mistress is 3.000 Baht.
Daisy Dream – A high-end parlor located in Sukhumvit 33, Daisy Dream offers soapy and Nuru massages.
It's best to visit between 2pm-4pm as the place later gets really busy. The prices are in line with the quality environment: a basic forty minutes massage is 2000 Baht, for 90 minutes is 5000 Bhat and for a two-hour massage from two girls in the jacuzzi room is 10000 Baht.
Hunny Bunny – This venue offers VIP Jacuzzi service, full massage, body-to-body, Nuru gel massages, and party rooms.
One of the cooler things about the venue is its fantasy service, where you spend time in themed rooms with cosplaying girls (costs from 3,500 to 5,500 baht for one girl and up to 10,800 baht for two girls). VVIP suite is another attraction that features 4 girls for up to four customers (costs 29,900 baht).
Casanova – While Casanova is a relatively new place compared to other parlors in the street, it has a fantastic rep. The visitors can choose between shower, bathrooms, nuru, and Jacuzzi service.
You can choose between 45, 60, and 90-minute service with one or two girls. Depending on what kind of action you're looking for, you'll have to pay between 2,000 baht and 3,700 baht.
Khlong Tan
Although Khlong Tan is far from the city center, there are a few awesome spots on Phetchabury Road that are worth a visit.
Here's a short breakdown of the best brothels, AKA massage parlors, in the area:
Angelina Massage – Angelina Massage offers its visitors traditional and soapy massages. They have a nice selection of girls that cost from 1,300 to 2,600 baht, making this brothel one of the cheaper, quality venues in the Khlong Tan area.
Colonze and Nancy – Located on Rama IX Rd, Colonze and Nancy is one of the biggest, fanciest joints in this part of the city.
Different girls have different price tags, with a starting price of 2,100 baht and up. Although the place isn't that creative with its sex offer, Colonze and Nancy are very clean, with a great interior, food, and drinks.
The Bank Massage Club – The Bank Massage Club is a bit different from most parlors in Bangkok as it organizes karaoke and serves food and drinks.
The basic "service" will cost you 2,300 baht and can go all the way up to 8,900 baht. The venue has a few VIP offers, including the Premium package that costs 100,000.
Thonglor
The rich and famous live in Thonglor, and with all the concentration of wealth popped up several brothels.
Let's start with the biggest one:
Elite Thonglor 13 – This place is a 5 floors gentleman club that offers live performances, themed shows, and hundreds of hot girls. Get into a VIP room, order a bottle, and pick your favorite girls.
You can have sex right there for 2.500 baht or take the girl out for 6.000 Baht.
Momo and Pretty Massage – Just outside the Thonglor BTS on Sukhumvit 53/1 Alley you'll find these massage parlors offering happy endings. One hour massage is 2.400 Baht and with an extra 300 Baht, you can enjoy the VIP room with Jacuzzi.
How Much Cost To Visit a Brothel In Bangkok?
The brothel prices can vary significantly depending on numerous factors.
If I were to generalize, you have to pay between 1,500 to 2,000 baht for a shorter, 30 to 45-minute massage with a blowjob. Massage with a handjob will cost you around 1,100 to 1,300 baht in smaller brothels.
Keep in mind that the prices tend to shoot up when visiting more luxurious venues. In these spots, you'll have to pay at least 2,500 for basic sex.
The prices might also vary from freelancer to freelancer, with some of them taking up to 5,000 baht per intercourse.
These places often offer luxury packages where you get expensive bottles, a few ladies, and a VIP room with a Jacuzzi. Such a service can cost from 10,000 baht all the way to 30,000 baht.
Most brothels allow you to get an extra girl for just below double the price (i.e., if the regular price is 2,500 for one prostitute, two girls will cost 4,800 baht for the same service).
Brothels might also charge you extra if you're a Westerner, so don't be alarmed if something like this happens.
Better Alternatives to Bangkok Brothels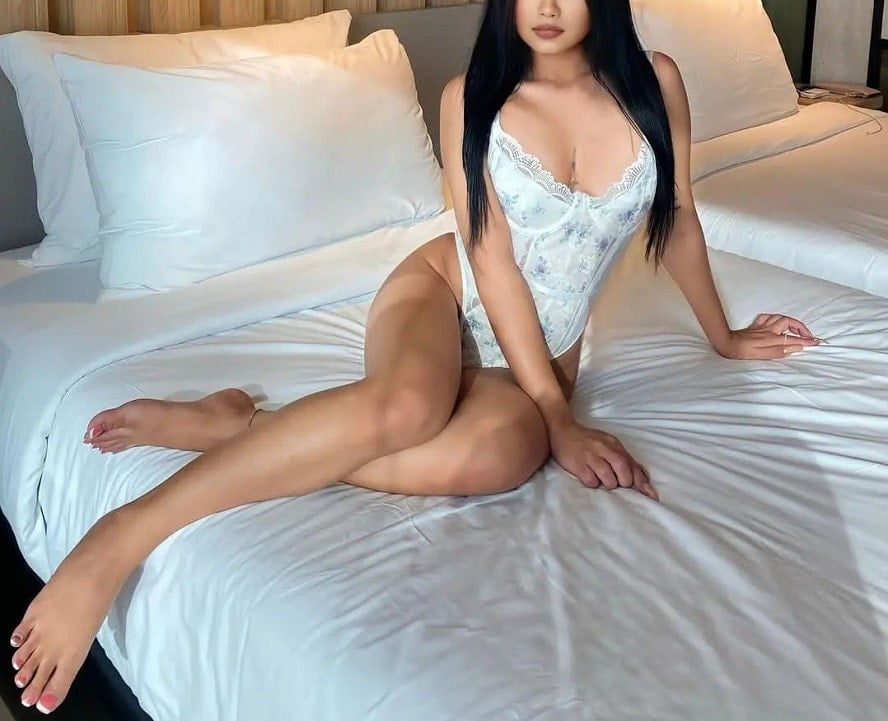 Visiting brothels in Bangkok can become boring very quickly because it's only about sex, nothing else. Also, you're facing health risks as sexually transmitted diseases are a real concern.
To have engaging sexual experiences with women and couples is better to use adult dating sites like Asian Match Mate. People using such sites are looking for no-string-attached sex for the fun of it.
If you're a night lover you can also visit the nightclubs around Sukhumvit 11 or night venues in Khao San Road. There you'll find girls eager to hook up for the fun of it.
You can learn more by checking out my article on how to hook up in Bangkok and get laid.
FAQs About Whorehouses in Bangkok
Where is the Bangkok red-light district located?
Unlike most other cities, Bangkok has several red-light districts that offer great nighttime fun. Tourists can visit the renowned Nana Plaza, Soi Cowboy, and Patpong.
Is escorting legal in Bangkok?
Any form of prostitution is illegal in Bangkok. However, the city officials turn a blind eye to this business and will only get involved if they don't have another choice.
Where is the best place to pick up freelancers in Bangkok?
The best places for hooking up with freelancers are Nana Plaza and Soi Cowboy. If I had to choose between the two, I would go with Nana Plaza as the better option.
RELATED ARTICLES