Guide To Blow Job Bars In Pattaya Without The Bullshit
Pattaya is a man's paradise with so many options to enjoy the "Pay for Play" fun without getting bored… And blow jobs bars are the cream of the cake.
What makes the BJ bars so popular besides their services is that you can spend a "different" afternoon instead of visiting the beaches or the gentleman clubs.
Their service is quite straightforward. There a few girls in the bars and you pick anyone you like. Then, she gives you a BJ or has sex with you for a short time.
Nothing is more exciting than a girl on her knees ready to…
And most of the blow jobs bars offer full sex beside the standard BJ. But there is a catch – most girls working in blow jobs bars are not that pretty. Their best years are over that's the reason they can get employed only in the sucking bars.
If you're after good looking and young girls, you better off recruiting Pattaya freelancers for a suck and fuck. They charge the same money of blow job bar girls, but they look much hotter. Meaning you get a better value for your money.
In this guide, I'm going to give you a detailed overview of the best blow job bars in Pattaya to save you from getting a sloppy service.
At the end of this guide, there is a map of the blow job bars in Pattaya for your convenience. 
Blow Job Bars In Soi Bong Koch
There are 4 blow job bars in this street and they are next to each other.
So you can tour them before deciding where to get serviced.
Club 4
The design of this bar is just cool and relaxing.
The theme is white with laser dots all over the place, but the best future is the couches that look like mattresses and with curtains for privacy.
Yes, you get sucked off at the table while having a drink. Upstairs, there are rooms with big wal\\\l mirrors so you can look from different angles.
The girls are young and attractive, probably the best you'd find in any blow job bar in Pattaya.
Prices
Blow job: 800 baht
Short time: 1300 baht
Your drinks: 80-130 baht
Lady Drinks: 130 baht
007 Bar & Club
What I like most about 007 bar is that the girls wear a different uniform every day. Sometimes it's a military uniform, another day is a nurse uniform and so on.
It's pretty kinky if you ask me.
There is a bar counter at the entrance where the girls welcome you.
You pick one of the girls, go to a booth with a curtain for a drink with her. You can get serviced right there or go upstairs where there are rooms with a shower to refresh.
Prices
Blow job: 800 baht
Short time: 1300 baht
Your drinks: 80-130 baht
Lady Drinks: 130 baht
Pirates Bar
Next to Club 4, there is Pirate Bar that is styled like an Irish pub.
Pirates bar is pretty dark and gloomy, the total opposite of club 4.
They have about 5-10 girls every day who are ready to make you happy.
The deed takes place in a back room with curtained booths. There aren't any private rooms with a shower like Club 4.
Prices
Blow job: 800 baht
Short time: 1300 baht
Your drinks: 80-130 baht
Lady Drinks: 130 baht
Carre Blanc
It is one of the raunchiest bars in Pattaya. A girl here can give you head right in the club while others are watching.
But they have service areas in the back with push sofas if you aren't that naughty.
The girls are not the youngest but they make up for it with sexual experience that gets you amazing BJ and sex.
Prices
Blow job: 800 baht
Short time: 1300 baht
Your drinks: 80-130 baht
Lady Drinks: 130 baht
Blow Job Bars In Soi Post Office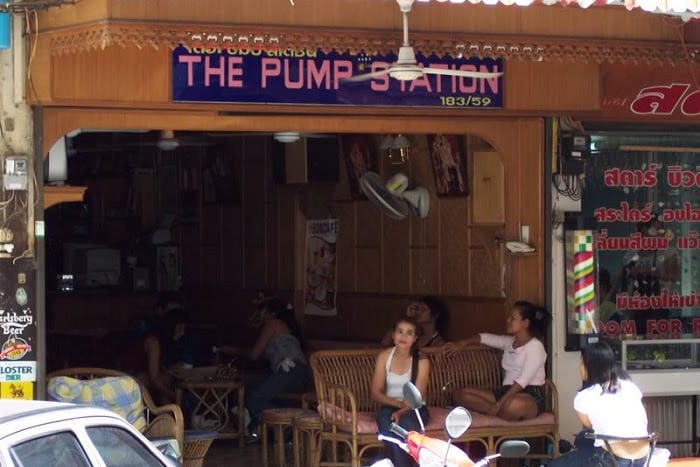 Soi post office is a small street known as Soi 13/2 just 500 meters from Walking Street and connected to the Beach road.
In Beach road, you can find the cheapest prostitutes in Pattaya – 24/7.
Kittens Bar
It's a modern blow job bar located in Soi 13/2, not far away from Walking Street.
That aside, the girls are young, pretty and above blow job bar standards.
The bar makes it compulsory to go upstairs to get blown in one of the rooms even though it has some comfy red sofas in the bar.
Prices
Blow job: 850 baht
Short time: 1350 baht
Your drinks: 90-150 baht
Lady Drinks: 150 baht
The Pump Station Bar
Opposite Kittens bar, this place has a long history of service.
Initially, you could be given head under the table while having a drink. But nowadays, you are forced to take it into the room upstairs.
The bar is quiet, not many ladies and the quality is pretty low.
Prices
Blow job: 900 baht
Short time: 1.500 baht
Your drinks: 70-130 baht
Lady Drinks: 140 baht
Blow Job Bars In Soi Buakhao
Excite Club
It's a small and intimate blow job bar with girls hot for action.
I would say it's one of the naughtiest bars in this category.
Even though the girls are naughty, you can't do naughty staff in the bar area. You need to go upstairs in the private rooms.
The girls are not pushy and will be relaxed until you pick which one to buy a lady drink.
Here, I had the best experiences in Pattaya. In fact, Exite Club my favorite blow job bar in Pattaya and I make sure to visit at least once when I'm there.
It's not easy to find, so use the map on the bottom of this guide.
Blow job: 800 baht
Short time: 1.300 baht
Your drinks: 70-130 baht
Lady Drinks: 130 baht
Lolita's Bar
Just a Walking distance from Excite Club is Lolita's and it's worth visiting both on the same time.
It has been one of the favorite spots for a very long time. There is a sister bar in Bangkok too which is good.
The girls here are average looking, but they know how to suck.
If you don't want a blowjob right away, you can have a drink or play pool in the bar inside.
Once you are ready, your girl will take you to a small private room to get the job done.
However, if you want sex, they also have a short time room with a bathroom where you can take a shower.
Prices
Blow job: 700 baht
Short time: 1200 baht
Your drinks: 80-140 baht
Lady Drinks: 135 baht
La Poste Bar
In the next street, you have Bar De La Poste.
This is the newest version of Telephone bar that I'm going to review soon.
For a period, it has been one of the wildest blow jobs bars in Pattaya. But that is past glory and is now a bit quiet.
However, it doesn't compromise with the service offered. You can still get a good blow job.
The girls are in their 30s, know how to suck but not so good for anything else.
The ambiance is nice and deem but nothing to brag about it.
The bar is big and round, has a set of couches hidden behind a wall panel where you can get a blow job.
Prices
Blow job: 800 baht
Short time: 1.300 baht
Your drinks: 80-140 baht
Lady Drinks: 140 baht
Bliss Lounge
On the edge of Soi Buakhao but already on the Third Road, Bliss Lounge is at an unusual location.
It's surrounded by printer shops, restaurants, and guesthouses.
This bar is old and tired. There is a pool table in the center that no one plays, there aren't customers most of the time.
All the girls sit outside in their sexy mini skirt and polo uniform. I've to admit that they offer a good service, but the ambiance is a real turn off.
If you go upstairs, it's even worse.
Prices
Blow job: 800 baht
Short time: 1.300 baht
Your drinks: 70-120 baht
Lady Drinks: 110 baht
Historic Blow Job Bar in Pattaya
Telephone Bar
Telephone bar is the oldest blow job bar in Pattaya, but it's somewhat dying.
That said, it's a quite unique blow job bar with the way it operates.
First, you have to ring a bell and walk through a door that looks like a payphone box to get in.
Second, you can have a blow job right there in the bar even if there are other customers (don't worry, no one is going to look at you).
Third, the girls don't wear any panties. If they do, buy them a drink and ask to remove them.
It's one of the dirties BJ bars in Pattaya. You'll find cougars in their 30s that are willing to do anything to please you.
If you want a quickie, they also have small short time rooms upstairs.
Prices
Blow job: 800 baht
Short time: 1300 baht
Your drinks: 80-140 baht
Lady Drinks: 150 baht
Map of Blow Job Bars in Pattaya
I've marked the BJ bars in Soi Bong Koch with the blue pin, in Soi Post Office with a yellow pin, those in Soi Buakhao with a green pin and the oldest Pattaya blow job bar with a red star. 
If you are looking for more than a BJ in these bars, you better ask the girl before you pick her… Perhaps over a lady drink or with a tip.
In conclusion, Excite Club has the most talented girls, Club 4 has an awesome ambiance and Lolita's offers a BJ for half the price if you are their first customer of the day.
Keep in mind that blow job bars are only one of the many places where you can find girls for sex in Pattaya.
The possibilities are almost limitless as this small town is the "Disney Land for Adults".
Common Questions

What's The Cost For A Blow Job In Pattaya?
A blow job in Pattaya cost 800 Baht.
The Blow job Is With Or Without Condom?
Generally is without a condom.
Can I Get More Than A Blow Job?
If it is only a blow job bar then you can get only blow jobs. But if they have rooms upstairs you can have also sex for an extra fee.
Is It Possible To Cum In Her Face?
Generally yes but ask before blow in her face.
Can I get A Blow Job From A Ladyboy in Pattaya?
Sure! But keep in mind that you need to visit a ladyboy blow job bars.
There Are Any Blow Job Bars In Jomtien?
None.
RELATED ARTICLES