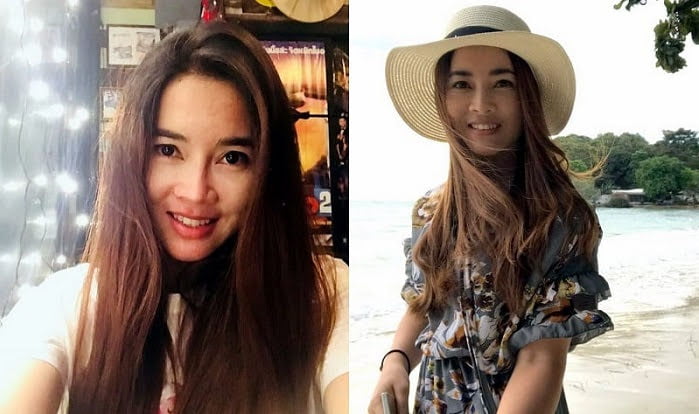 How To Find A Female Thai Travel Companion
Traveling is more fun when in the company of a sexy Thai girl. There are so many reasons why having a female travel buddy is a great way to explore Thailand:
You have someone to share the experience with.
She is going to be your tour guide.
She is going to play the part of a girlfriend without string attached.
Wonderful intimate moments.
It's more fun not to be alone.
Less frustrating because she is going to deal with the locals.
Most Thai women looking to travel the country are young, energetic and love to have fun but they don't have the money to do so.
When a generous guy shows up offering the opportunity to travel together, they are excited to take the offer.
I'm talking about regular girls here, like university and office girls, not hookers — everyday Thais with the dream of a multi-country trip but limited funds to achieve it.
The good thing about everyday girls in Thailand is their naive nature and tendency to say yes to any of your requests…
It's truly a lifetime experience spending a holiday together with a young and innocent Thai girl.
However, before all the good things can happen during a holiday with a Thai lady, you need to be able to find and attract one from the other side of the ocean.
When a guy meets a woman in person, he will be able to attract her based on his confidence and personality.
However, if he is trying to meet her online, she can't experience that side of him, so she has to judge him on his looks, likeability, and lifestyle.
Look Like A Fun Travel Buddy
Most men worry about their age or other stuff when it's time to recruit a sexy Thai girl to travel together, but she is going to judge him only on his looks, likeability and lifestyle. The other factors are less relevant.
Thai, for the most part, are very used to the idea to go around with an older man, they don't feel ashamed for that.
If you are 10-20 years older then her, it doesn't really matter. What matter is the way you portrait yourself. Thai women that are into traveling love to be around people that are fun, friendly and outgoing.
No woman wants to travel with a creepy guy, even if he promises her to go around Thailand on a private yacht. It's important to be seen as a cool guy, that love to have fun and eager to explore.

As you know, the first impression matter a lot.
If you look handsome and in good shape, that is the first good reason for her to go on holiday with you. She can rationalize to herself "Oh, it is handsome, I would like to go on holiday with him".
However, if you aren't so handsome or your belly is oversize, then you need to give her a reason strong enough to be your travel companion by showing that you are a friendly and outgoing man.
Yes, it's superficial but it's how Thai girls think.
Are You A Sex Tourist?
She might not ask you directly the question, but you can bet that she is thinking about it.
When you'll visit Thailand, you'll notice many tourists hanging around with prostitutes. Not only in popular resort places like Pattaya, but also in Bangkok and Chiang Mai.
Local girls aren't blind, they see more often than not foreign men buying the service of prostitutes, instead of pursuing dates with quality Thai girls.
Normally, she feels hesitant about you because she doesn't have any references regarding your lifestyle. You want to prove her upfront that you are a nice and well-intentioned man who wants only a female travel companion during his trip to Thailand.
So, how to do that?
Upload a few pictures of yourself traveling around the world with other people, even better if with women, that state that you are a friendly traveler that love people.
If you haven't any travel photos, you can always post pictures of yourself with family and friends back home, better if doing entertaining activities like birthday parties or similar. Don't shy away from the possibility to render yourself vulnerable, it's the best way to get her trust.
When you show them immediately that you don't reassemble the image of a creepy sex tourist, they are more luckily to open up at the possibility to go on a holiday with you.
Best Ways To Find A Thai Travel Companion
As mention earlier, if you are looking for nice girls to join you during your holiday in Thailand, online is the place to scout for girls with a fetish for foreign men.
You can always hook up with bar girls once in Thailand as your last resort. I consider it the last resort option for two reasons:
Bar girls are untrustworthy.
They are expensive.
Unless you have 2 noses and 3 eyes, don't worry too much about meeting somebody, you'll get lots of attention. No need to risk it with a bar girl.
Meet Girls On Facebook
If you are young, good looking and with an interesting lifestyle, I recommend using Facebook to find Thai girls that are into traveling.
Facebook is a very superficial platform. It's pretty much all about looks, lifestyle and likeability. If you don't have at least two of these elements, most Thai ladies aren't going to be the least interested. But if you do, you have good chances to hook up with a travel buddy.
So, how to get started on Facebook.
Find a cute girl who seems fun, single, preferably lives close to the area you want to visit.
Next, you want to look at her Facebook profile and get somewhat familiar with her page. Learn about her interests, find out what she's about and the food that she enjoys eating, etc.
That helps you to learn about her personality so you will be able to build an emotional connection. Send a message related to her interest and hobby that she mentioned on her profile page. Obviously better if they match with yours.
Photography is a hobby that matches very well with girls that love traveling… And the best part is you get her to take all the photos of your trip so you don't have to bother yourself.
When you feel comfortable, let her know your intention to visit her place and ask if she is up for some traveling together.
Meet Girls On Dating Sites
Most Thai girls turn to dating sites to find love and a relationship, but it's a great place to find a female travel companion too.
It's a good match to be your female travel companion and most probably to be your girlfriend too, at least for the vacation time.
When contacting the girls, don't ask immediately if they want to travel with you. You are a stranger, you need to connect with them first.
Introduce yourself, give a small compliment and ask a question. I've found this formula works best when trying to break the ice with girls on dating sites.
Remember to upload photos on your profile that portrait you as a fun and energetic man, girls with the travel bug tend to be attracted to that type of personalities.
When writing about you on your profile, make sure to mention that you love to travel and are looking for a like-minded companion.
I have traveled with many girls met on dating sites during the years while exploring South East Asia. So many good memories and experiences…
I warn you that it's easy to fall in love with them while traveling around, they know how to look after a man's needs. You might find yourself with a girlfriend for life.
RELATED: 3 Best Dating Sites to Meet Thai Girls Online
Recruit a Freelancer
A freelancer is a prostitute that search for customers on her own. You can find them in the streets, nightclubs, online and even in the malls.
Where ever you decide to spend your holiday in Thailand, most likely there are freelancers.
As those girls don't work for any bars or similar venue, they are free from any duty. Meaning they can go with you anywhere for any amount of time.
They are a cheaper version of an escort service, instead of charging you by the hours, they charge you by the day.
The typical price varies according to how in demand she is and how much she likes you, but an average rate is between 1.000 – 2.000 pesos per day, plus all the travel expenses.
If you would like to find a Thai travel companion this way, once in Thailand, go to an entrainment place like a nightclub or freelancer bar.
You can recognize them by the way they dress, they initiate eye contact with you or even they start the conversation. Have fun, take her back to your room and if you like her, ask to travel with you.
My good advice when traveling with freelancers is to keep an eye on your belonging, they are untrustworthy. But most importantly, wear a condom, they sleep around a lot.
Enjoy Your Holiday
Why go for a holiday with a hooker when there are women all over Thailand ready to travel with you. They are horny, sexy and want to have fun with a guy.
I understand that paying a Thai hooker to travel with you is an easy option, but is that the way to improve yourself and have life-changing experiences?
Nothing beat spending valuable holiday time with a genuine Thai girl interested in you and not your money. You can bond and build intimacy, she is going to be wet for you…
Many men don't believe is possible because they have lost confidence in themselves, probably because they are too old or out of the game for so long.
The thing is meeting a nice girl in Thailand and travel together around isn't as hard as it seems. Things work differently over there than your home country, you don't need to be young, handsome and fit to get a more youthful female travel companion. But only to be the best version of yourself.
Have fun in Thailand
RELATED ARTICLES