Angeles City Bar Girls: Prices, Tips & Best Bars
Angeles City is known for its sexy and horny bar girls. They are a lot wilder than bar girls in Manila or Cebu.
Also, bar girls in Angeles City are super friendly, and they love to have fun without many demands.
Paradise?
Maybe… You'll figure it out. But before taking a jump in the pool of lust, I'm going to tell you all the things you need to know about Angeles City bar girls to experience an unforgettable holiday.
Where To Find Bar Girls In Angeles City?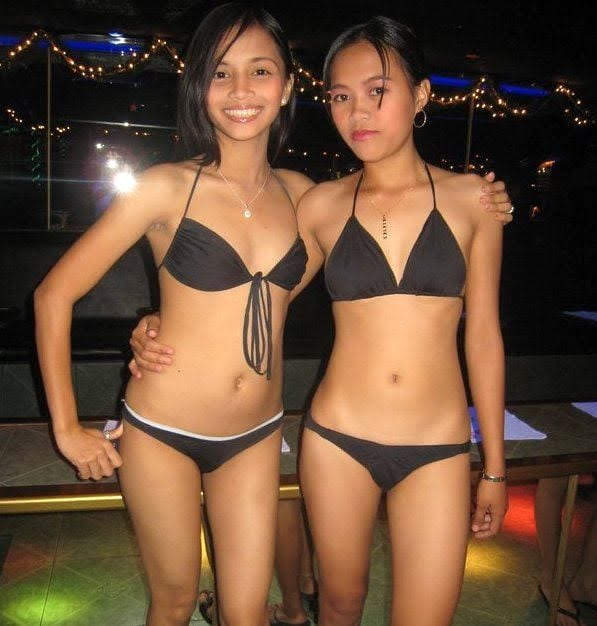 It's pretty easy because Angeles City is small, and the bars are concentrated in two streets:
~ Field Avenue – The main walking street.
~ Perimeter Bar – Located in the outskirt of the city where the "Old School" bars are located.
There are plenty of girlie bars with girls in those streets, bu thinking that only bars provide an opportunity to meet ladies for fun is a limitation.
Dating sites have plenty of Angeles City girls looking to make some extra money on the side. The good thing is those girls aren't full-time hookers but everyday girls with a regular job that struggle to make ends meet.
Unlike bar girls, girls on dating sites offer companionship and intimacy.
Instead, when you take a bar girl out of the bar she has to share her profits with the bar's owner. In other words, you pay for the girl and pay the bar owner to let her go with you.
What You Should Know About Angeles City Bar Girls
Some hot, some fat, they come in all colors – white, chocolate and brownish – and shape. A few are great in bed, but unfortunately, most are starfish. They are many!
Yes, that sounds awful but is the absolute truth… Some girls can't even give a decent handjob. So, it's essential to screen the girls carefully.
A real monger can smell out any starfish. They usually have a particular attitude, and few signs are a clear alarm you are dealing with a low-performance girl.
They can demoralize any punter, wasting precious time and money. They must be avoided at all the cost for the sake of your unforgettable holiday.
The good news is, there are a few bar girls that love having fun and indulge in sex.
Contrary to most girls working in bars, they aren't there to make only a living. They are there to please men and themselves…
You must get this type of girls if you want to have a great time in Angeles. So, the best way to do so is…

Get Mamasang To Pick Your Bar Girl
Mamasang is an older woman in charge of recruiting and managing the girls. She knows the girls intimately as a good mama should 🙂
She knows even the smallest of the secrets, the one that most Filipino girls are shy to share with friends, thinks like anal, deep throw blow jobs, bisexuality.
The primary duty of a mamasang is to recruit girls for the bar. But it is as important as to make customers happy.
She is old enough to understand that men enjoy certain activities. And if the mama can find the right girls to satisfy customer's lust, they will come back to the bar for more.
The more customers the bar gets, the happier girls and mamasang are as money flow around.
So, just explain to mamasang what you are looking for, and she will get the right girl to satisfy your desires.
Don't Let Angeles Bar Girls To Choose You
Most men visiting a bar ask a girl to join for a drink whenever she smiles at them… Or worst, the girl decides to sit and ask for a drink.
Not only you have to buy a lady drink for 200 Pesos (financial commitment), but you've cut out all the remaining girls in the bar. Yes, they are watching you.
Guys might think is just how things work in a bar, but they are dead wrong. If a bar girl smiles, it doesn't mean she is into you. Furthermore, by inviting a girl over, you are committing.
Let me ask you something: "If you don't like her, what are you going to do next? Call another girl over?"
I think you are smart enough to understand that you are digging a hole in the ground for yourself.
The second case is even worse: the girl chooses you.
It feels good to attract girls; it's the classic man's ego. Men feel powerful when a young and beautiful girl sitting next to them. But in a girlie bar, letting girl to choose is pure foolishness.
The majority of the girls who have the guts to start a conversation with a man are:
~ Disparate; no customers for a long time.
~ Have physical issue; ruin belly, or the pussy is smelly, so no one sticks around with her after one bang.
~ Gold diggers; she knows that quantity brings in the dollar, so she hit every customer in the club — the classic slut.
Whatever her reasons to sit with a guy by her choice, it isn't because she is attracted to him, but she wants the money and nothing else.
Now, that you understand a bit more about the Angeles City bar girls psychology, how you should proceed?
As I said earlier, ask mamasang for help. She knows the girls intimately.
How To Meet Angeles Bar Girls At Half The Price
When the bars close around 2 am, the leftover girls go to the nightclub or in the street to look for customers…
Don't expect to find beautiful girls, the hottest bar girls get booked pretty quickly. But they are going to be cheap.
How Much You Need To Shell Out?
In the bars, there are different categories of girls and prices. That price is all-inclusive, sex and bar fine. No extra charges, drama or surprises.
In other words, Angeles city bar girls prices are standard. If you are handsome, tall and young, the price is the same as for an old, fat and hairless guy.
Short and long time are similarly priced, so going for the long is more convenient. But the hottest girls won't go long time, but only for 2 hours.
The price for the girls ranges from 3.000 Pesos up to 7,000 Pesos for the finest, young and attractive girls. Keep in mind that is customary to give a tip to the girl if she performs well, about 500-1.000 Pesos.
How To Spend Time With Angeles City Girls
Once out of the bar, travelers have no idea where to go besides the way to their hotel room.
Asking the girls isn't going to help. They have no much idea what Angeles City offers besides the walls of her bar.
If you would like to learn more about what to do with a bar girl in Angeles City, check out the Angeles City Sex Guide under the section "Things to Do in Angeles City for Adults."
RELATED ARTICLES