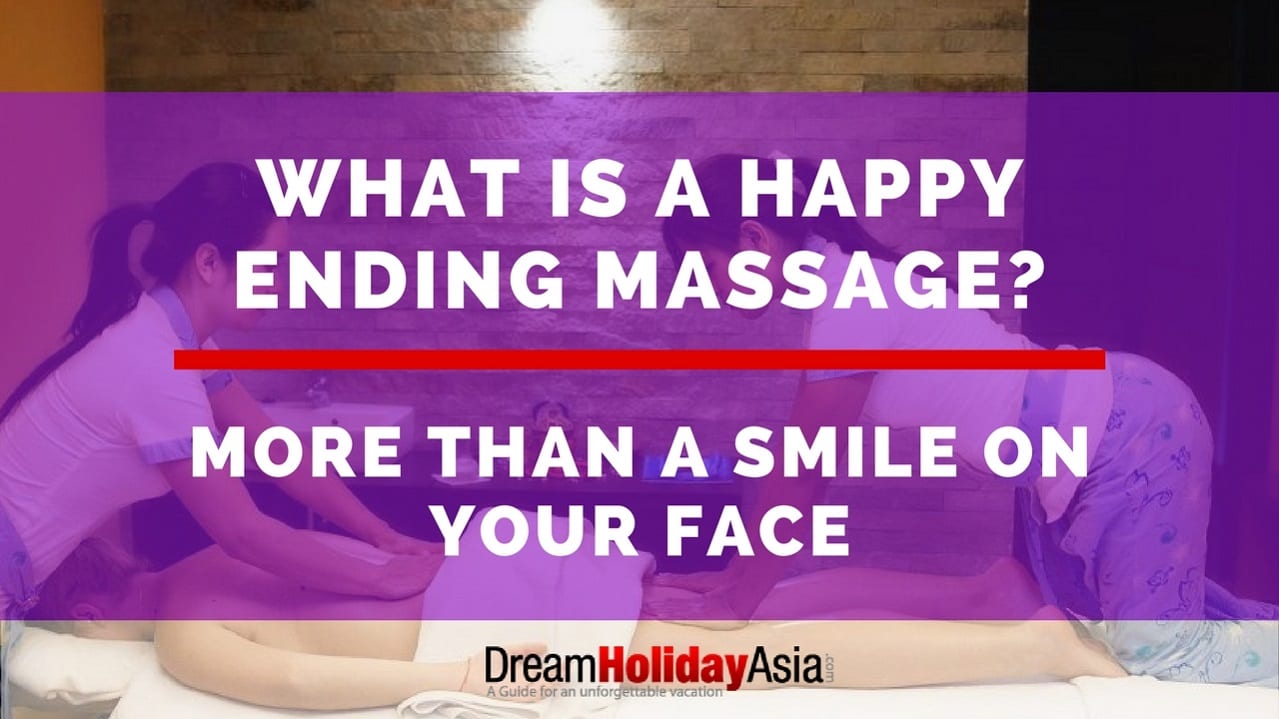 What Is A Happy Ending Massage? More Than A Smile On Your Face
Putting a Smile on the Face of Far East Travelers
The 'Happy Massages' in Asia
The euphemistic and now infamous "Happy Massage" at the climax (pun intended!) of a massage is so well-known in so many cultures around the world that it has become both a stereotype and an urban legend.
If you are one of the rare readers who might not be familiar with the term "Happy End Massage or Massage Happy Ends", the explanation is right in the phrase; it is a coy and cute way of indicating that a traditional massage, usually administered by a lady of Asian descent, will end with the male client enjoying a sexual climax, usually the result of manual stimulation.
Was that too scientific sounding?
Okay, how's this: a happy massage is a massage with a nice hand job at the end, with the customer usually paying an upfront fee for the massage and offering a hefty supplemental tip at the end for the special happy surprise.
On occasion and in most massage parlors, that hand job may turn into oral pleasure or even full-on intercourse (for a fee, of course).
But what makes a happy massage so happy is that one way or another; you are leaving the massage parlor with a smile on your face.
What is the truth about happy ending massages?
And just how common are they, especially in Asia, and particularly in the more popular tourist destinations in Indonesia, Thailand, the Philippines, and Hong Kong?
"It is honorable to give sex pleasure to a man in Asia"
First and foremost, the myth and legend are largely based on truth: many, if not most, Asian massage parlors, particularly in Asia but also in western countries, provide "massage happy ending" services for clients.
Usually, you'll find around the world Thai massage and Chinese massage offering happy ending while Balinese and Filipino massage doesn't offer extras.
This practice began, according to my study, largely as a way to skirts laws forbidding prostitution.
After all, traditional massage is a legal and lucrative field – and you do indeed get a lovely massage at any good Asian massage parlor.
But the money, of course, is in the happy ending service! In addition, many Asian cultures have very different sexual views than western cultures, and the idea of completing a massage by bringing your gentleman to a climax is considered not only normal but pleasurable.
How Common Is To Get A Massage With Happy Endings?
Well, it is hard to say for certain, because even in Asia sex for sale is against the law.
The practice is always discreet.
Especially in Thailand and Japan, at least 70% of Asian massage parlors provide happy end massage to customers.
It is a far more accepted part of the Asian culture than it is in the United States or in Europe, and it is also a very profitable enterprise.
Massage girls can charge the equivalent of $US 30-100 for only 20-30 minutes worth of work, with the massage parlor management usually taking 25%-40% of the profits.
In other words, in countries with low wages and struggling economies, these girls can easily make close to $US20-70 per hour in profit, even after paying off the massage parlor owners.
And now the question you really want to ask: when you're traveling in Asia, how do you find these establishments, how do you ask if they'll provide a massage with happy endings for you – and how do you avoid trouble?
How to Find Happy Ending Massage Parlors
First and most importantly, you should rely on word of mouth to find high-quality happy ending massages.
Word will spread from prior "happy" customers, who will be more than willing to share details about pricing and who the prettiest and most pleasurable girls maybe.
In the 21st century, you don't need to hang out in bars in the city to hear these stories – you can just go online and with a little searching, find plenty of Internet forums discussing the best places to go, all over Asia, for the happiest happy endings.
If that fails, you can always just go to the nearest well-lit and respectable looking Asian massage parlor, in whatever city you are visiting, and ask for a massage.
Go in without expectations, enjoy the rubdown – and wait.
As your time comes to an end, there is a very high likelihood your masseuse may ask you to disrobe completely or to roll over so she can reach your front.
At some point, she may subtly hint that she's willing to rub "ALL" of you, for a little bit extra money! That's your cue that you've found your happy place!
Enjoy the Ride!
If you are brave enough to give it a try, you'll find that happy ending massages are one of the best experiences while traveling in Asia.
They are frankly quite cheap when compared to similar services in America, and the girls are highly skilled at their sexy craft.
The massage alone will be a sensual delight well worth the price. And at the end, you will leave happy – and smiling!