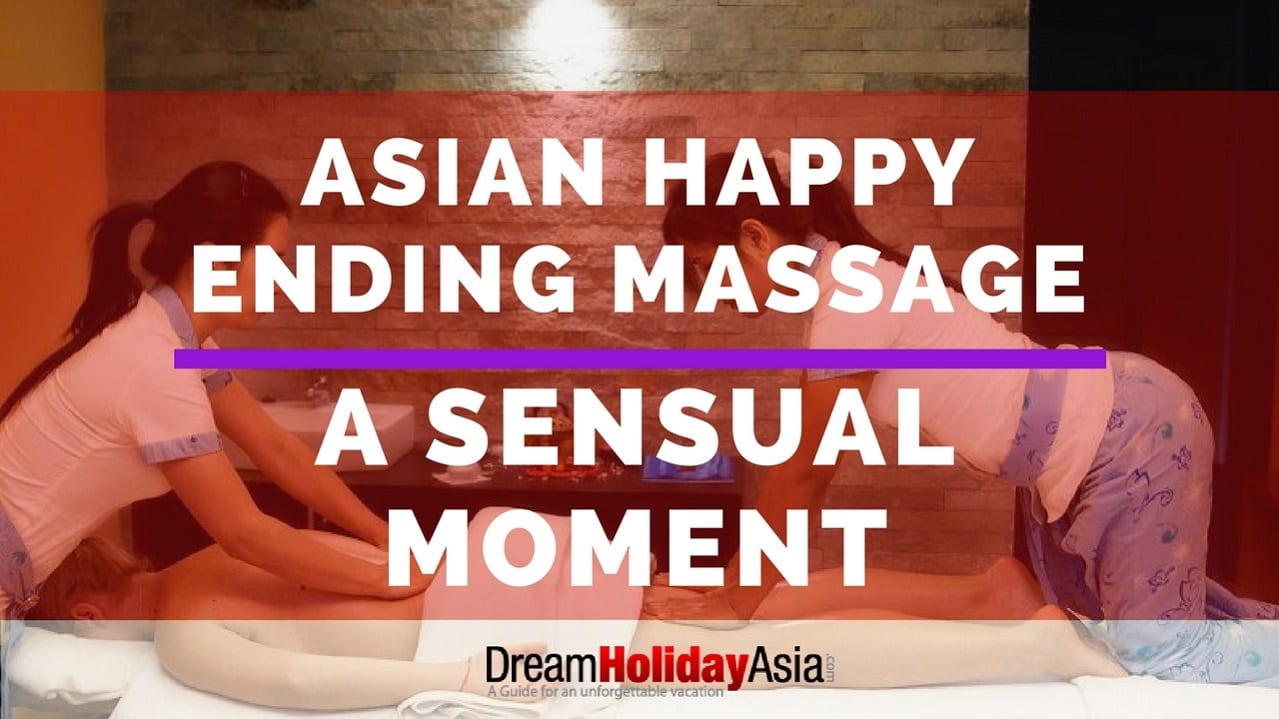 Asian Happy Ending Massage: A sensual moment
What is an Asian happy ending massage?
Asian happy ending massages are all around us, and notoriously popular in the deep underbelly of the salacious world of sensual massages.
But what are happy ending massages really?
For the less informed, an Asian happy ending massage is a massage where the girl finishes off the guy with a full blown hand job or more.
Now that is pretty exciting, and definitely a fetish straight out of a fantasy world for most men.
Imagine an exotic dark and smooth skin Thai girl massaging you with a warm and fragrant oil.
You feel relaxed in an ecstasy status.
She is making you so excited and she knows that preparing for the end of the massage asking: "anything else can I do for you?"
You have figured it out already what she might do for you but don't lose control right know.
Be relaxed in your conversation and try to agree to a price before the deed. Show confidence and calm, that will help to deal the price down.
When agreeing to a price, just sit back and enjoy! Let her master all her skill on you and remember don't be loud as there are usually other customers in the same room.
Related Articles:
What To Do And Don't 
If it is an Asian happy ending massage that you are looking for, rather than a non-sexual massage how do you know if the masseuse will offer you a happy ending when she's done working out the kinks in your back?
You don't want to ask for something extra only to find yourself thrown out onto the street wearing nothing but a towel.
To be sure of being offered extra services
Your best bet is to go for the oil massage, a body scrub is another good option, and even a traditional massage is a possibility.
Traditionally oil massages are executed naked and shouldn't be any embarrassment. Actually the opposite would be awkward.
Enjoy the oil massage and when your masseur will give the first signs of extra service (usually she will massage close to your sensitive areas or put her breast in your face pretending to massage you) then ask her if she does extras.
Don't ask for a foot or facial massage as your starter.
These massages offer no privacy and are likely to be carried out alongside another customer.
That means that your masseuse will be too shy to ask you if you require anything extra and, even if she isn't shy, she will assume that you don't even want a sex massage if you've gone for one of these first.
Don't wait for the last minute
Usually, a massage is one hour and you should ask for a happy ending before the time is over or they will charge you extra.
Where To Go For An Asian Happy Ending Massage
Most massage parlours are located near the tourist areas as restaurants and night spots.
You can find such parlours all around Asia and the most popular countries are Thailand, Philippine and Indonesia.
There is however, a very good chance that you will still be offered what you want at other, more remote, venues.
Pattaya adult massage types
Thai Soapy Massage; The Soapy Massage parlours in Thailand are world renown, I don't think there is anywhere else on earth that they are so prevalent. Surprisingly so the soapy massage in Thailand are more frequented by Thai patrons than they are tourists or foreigners.
Sexy Thai Oil massage; The Thai oil massage is my favorite type of massage – it is perfect for the morning to cure hangovers, in the afternoon to cool down and have a sleep and especially in the evening to enjoy a couple of hours without drinking beer!
Thai gay massage; massage by a member of your own sex is not uncommon, it is also not uncommon for sexual services to be included (apparently). Massage for men by a ladyboy is also fairly common.
I'll pass on my limited knowledge about such things on this page, but I'm afraid this one has to be second-hand knowledge (pardon the pun).
There are some extremes too which I personally cannot go in the pursuit of knowledge!
My First Massage With Happy Ending
I walked into the massage parlor and was introduced to a bevy of petite Asian girls, giggling and whispering.
It was really awkward, and it felt sweaty… But I guessed they wanted me to pick a girl.
About a good half an hour of massaging later, she tugged at my lion and there I was, laying there naked like I knew this girl since forever.
Just flashing her gave me a huge erection!
She seemed professional, and spoke occasionally, barely audible but sultry.
Her hands found all the right places, and gosh, this girl was talented.
She touched me in places even I didn't know has sensation, and for crying out loud, I acquainted myself with my privates often!
It felt good, and I could barely last five minutes.
Damn, she was good and I was overexcited.
She smiled at me: "You come back again, and I'll give you a surprise, okay?" she told me.
Of course, I was going to come back.
I loved the experience and feel relaxed having an Asian massage.
I tipped her twenty dollars.
She looked at the money, and she asked me if I didn't like the massage!
What? Of course I did.
I gave her another twenty: "Now you showed me you like my massage" she gleefully added.
I Am Addicted to Asian Happy Ending Massages
I had heard that Asian massages were good, but what I experienced was overwhelmingly good.
It felt nice, not like what many people say. It wasn't dirty, dingy, full of ugly women, nothing. It was a good Asian massage!
I was falling in love with the sensation of having a happy ending massage, and found myself going to her once a week.
The surprises started getting better and I found myself having sex with her every week.
I got to know her better, and we even started meeting up beyond our "professional" workspace.
She was a nice girl, and very affectionate, touchy and friendly.
At times, her surprises also included getting another girl in for the massage.
Life was good. And no bitter endings here. Life is still good!
RELATED ARTICLES