Guide To Happy Ending Massage In Thailand
It isn't that hard to get a happy massage in Thailand. There are several erotic massage parlors in any major tourist destinations like Bangkok, Pattaya, Chiang Mai, Koh Samui and Phuket.
If you're still wondering what a Thai happy ending massage is, it's simply a body to body massage or oil massage that end with an orgasm. No less, no more.
Some massage parlor operates in disguise offering regular massages. But once you are in the privacy of the massage room, the lady or the boy will ask you if you want any extras.
And then there are specialized massage parlors that offer only erotic massages with a happy ending.
The Thai happy ending massage industry is huge and with a wide selection of services. So I decided to write this guide to help you understand all the types of erotic massage services available in Thailand with relative prices.
By the end of this guide, you'll have cleared all your doubts about things like "testicle massage", "tantra massage", "soapy", and so on.
Type Of Happy Ending Massage Parlors In Thailand 
Small parlors that offer happy endings usually are located next to each other in a designed street. Whereas the big parlors which are like massive hotels are concentrated in a designed area.
For example, in Bangkok, you'll find the big parlors in Ratchadaphisek Road while the smaller parlors are in Sukhumvit Road.
The big parlors are specialized in soapy and body to body massages while the smaller parlors offer Nuru massages, testicle massage, Tantra massage and happy endings after an oil massage.
Let's see each service so you can get better what all those terms mean:
Soapy Massage
As explained in the Bangkok soapy massage guide, a soapy massage is a body to body massage where the girl uses water with soap to slip up and down your body.
The body to body massage is an erotic massage to arouse the man before he has sex with the massage girl.
The duration should be about 90 minutes but it usually lasts only 60 minutes. You pay upfront for the full service.
In Bangkok, the price for a soapy massage is between 2.200-10.000 baht while in Pattaya it's between 1.800-6.000 baht.
I've reviewed the best soapy massage parlors with prices for each destination here and here.
Nuru Massage
The Nuru massage starts with a body to body massage using an odorless gel called "Nuru". In the end, you can have sex with the therapist.
The Nuru massage in Thailand starts at 2.000 baht in the Thai own massage parlors and 4.000 baht in the Japanese own parlors.
If you want to try it out, you should head to Soi Sukhumvit 23 in Bangkok. It's an eccentric Japanese erotic massage street.
Tantra Massage
Tantra massage in Thailand isn't as therapeutic as in Germany. It supposed to be an experience to help men to overcome sexual frustration.
Yet, in Thailand massage parlors that offer Tantra massage just use the name to give an erotic massage with a happy ending. Meaning the therapist isn't trained in the Tantric's art, but only the sexual one.
Oil Massage With Happy Ending
An oil massage is given to a fully naked man by using coconut oil. It's a legitimate Thai massage thought in schools.
Yet, there are several shops that allow their therapist to offer extras to the customers at the end of the massage.
The price for an oil massage is 300-400 baht per hour. The extra service will be negotiated directly with the therapist: 500 baht for a handjob, 800 baht for BJ, and 1.000+ baht for sex.
Testicle And Prostate Massage
It's a special massage where the therapist focuses her attention on the testicle and prostrate to arouse the person.
The therapist will tease several times the person but don't let him/her climax. After 30 minutes of massage, it ends with an orgasm.
In Thailand, you can find parlors that offer this service to female and male customers.
The price is usually around 1.000 baht in the specialized parlor or 500 baht in the regular Thai parlors.
Price For An Happy Ending In Thailand 
In Thailand, you have the small massage shops that offer happy endings at extras cost while the big erotic massage parlors offer all-inclusive costs.
Prices In The Small Massage Shops
The small massage shops have girls at the front trying to get the attention of customers. And you'll see the massage prices expose on the window or on a menu stand.
You have to pay the massage price at the front desk while any extras you deal directly with the therapist.
The average prices in Thailand for a happy end are:
Handjob: 500 baht
Blow job: 700-800 baht
Full service: 1.000+ baht
There are also massage shops that offer special services and most are located in Bangkok.
The typical prices for a special massage are:
Testicle massage: 1.000 baht
Tantra massage: 1.800-2.200 baht
Body to body massage: without Nuru gel 1.800 baht, with Nuru gel 2.200 baht.
It's cheaper to head to a normal massage shop and ask for extras. You can get the therapist naked and do all sorts of shenanigans.
Prices In The Big Massage Parlors
The big massage parlors look like hotels. They provide all-inclusive services and you pay upfront directly in the reception.
Meaning you don't have to hand over money to the therapist unless you want to give a tip for the good service.
The prices vary according to the city as shown below:
Bangkok: 2.200-10.000 baht
Pattaya: 1.800-6.000 baht
Chiang Mai: 1.400-1.700 baht
Cities in Isaan: 1.700-2.000 baht
Phuket: 2.000-3.200 baht
You'll find the girls in display in the lobby, and they wear tags with different colors. Each tag has a fixed price.
Once you sit down the manager will let you know the prices.
Step By Step For An Incredible Happy Ending
1. Undress yourself
As soon as she leaves to get some oil or a towel, undress and relax.
She might have the shock of her life when she returns, but you can always say that you feel more relaxed when you are without any clothes.
Do not stop giving compliments and the chances are that you proceed one step further for a happy ending.
2. Flirting with her is important
She might be disappointed when you book only a massage session without a happy ending but in no case, you should stop flirting with her.
By paying her compliments and telling her how beautiful she is, you will be able to make her fully comfortable with you.
A good amount of sexual tension is built up when you say all these things and mean them too.
3. She must know that she turns you on
It is important to build up sexual tension by flirting with her. Continue to make her smile by showering compliments.
If you say something flattering and she responds with a smile, feel free to touch her.
When you see that she is comfortable with your touching, you can start caressing her breast too.
She might respond back while massaging your balls.
4. What is the final step?
Well, the final step is to lead her to your dick.
This is the risk that you need to take once you have caressed her enough.
Just take her hand slowly to your dick and she will be sure that she is driving you crazy and no doubt, she is going to love it.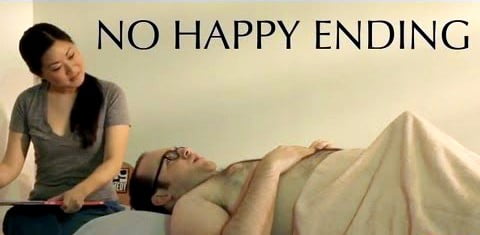 Don't feel shy to show her that you are enjoying the massage. She will feel obligated to finish off your frustration.
Do not get disheartened if your attempt to get a hand-job fails in the first attempt. It just does not matter.
If she pulls back her hand then, only pretend that nothing had happened while at the same time, continue to caress and touch her to build up some more sexual tension.
Let it go on until the time she is massaging you.
Once you have created some more sexual tension, give it one more try, and the chances are that she will do what you need.
RELATED ARTICLES