Happy Ending; Massage Parlors in Thailand
Rocco is an avid traveler that love to date local girls wherever he goes. Rocco has helped thousands of men on their journey to meet Asian women for the last 9 years.
A Mini Guide to "Happy" Massages in Thailand
"Learn how to get the ultimate sensual massage without embarrassment and breaking your bank"
The massage parlors in Thailand are simply incomparable. If you haven't visited one, then take my word, you are missing out the real fun!
Most men want to visit Asia for a sex trip.
Thailand is one place where they can enjoy the pleasure of exquisite body massage along with an incredible sex afterward.
What does the term 'Happy ending massage or Massage Happy Ends' mean?
Well, the explanation lies right in the phrase. It is a simple way of indicating that the traditional massage administered by an Asian lady will end with a sexual climax enjoyed by the male client.
Asia and in particular Thailand is home to massage parlors and the Thai soapy massage is the most popular of all.
Massage shops can be located everywhere just like one can find oil anywhere in Saudi Arabia.
The customer pays the usual fee for the massage and a hefty tip for the special surprise at the end of the massage.
In most massage parlors, occasionally, this happy ending may turn into oral sex or even full intercourse at a special fee.
But what makes it a happy massage is that it leaves a broad smile on the face of the customer when he leaves the massage parlor.
Is it common to get a massage with happy endings?
Well, it is difficult to comment on this for certain as even in the Asian continent, the law is against sex for sale. However, in fact I came to the conclusion that at least half of the massage businesses provide happy endings as extras.
Sometimes, the management is not aware of the fact that their masseurs are giving hand jobs or blow jobs or even more to earn some additional income while in other cases, the management is very well aware and shares the interest coming from such proceeds.
It is especially in Thailand where at least 70% massage parlors provide happy ending massages to their customers.
Its acceptance in the Asian culture makes it a very profitable enterprise and thousands of tourist euphoric.
Now, the question remains how to find such massage parlors where you can get happy endings.
And how do you confirm from them whether they provide a massage with happy endings or not?
And in the last but not the least how to avoid trouble which may erupt in the process?
How to find massage parlors that provide happy endings
The easiest and most dependable way to locate a happy ending massage parlor is by trusting the words of a prior happy customer.
This is the best way actually as such customers will share their insights about the parlor ranging from the prices charged to who could be the most pleasurable of all girls.
With our sex travel guides readily available, you do not need to hang around the massage parlors or bars for that matter to get a good review.
You will be able to locate the best massage parlors and their customer reviews not just for Thailand but entire Asia.
You could even get a sex travel guide wherein you can get detailed information about the best massage parlors in the city.
Imagine yourself getting naked and rubbed by a girl in her twenties. You can even select to get massaged by two girls in one go.
This choice is entirely yours. If you want to go for a happy ending without paying a price for it, then follow the given pointers mentioned below which might help you get successful in your venture.
What to do to experience happy endings without shelling out extra cash?
If your back hurts or even if you want to relax with hot stones put on your back or more so, if you want to have some paid sex, then these massage parlors are your dream come true.
They are well-known for a massage that comes with a happy ending. Well, at times you will simply want a happy ending without having to pay for it. How is that possible, you might ask?
Well, its simple, just visit the massage parlor that you like, and you will get a choice to select from a few girls that are available there.
You can take a good look at each of them and observe how they react when you smile at them.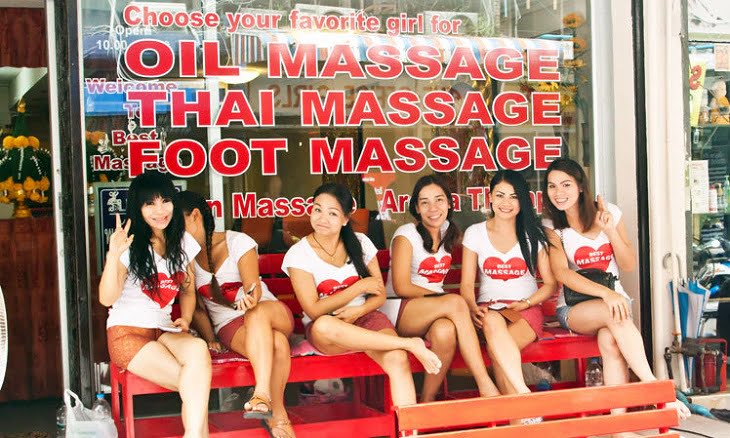 Massage Parlor in Thailand
This is the perfect massage shop to get an "happy end". Just have a look to the writing on the window, it is a clear message; "choose a girl" and "oil Massage".
These girls are happy and they love their job, this is a good sign for fun.
When I pick up two girls for a sex massage, the first one from the left and the second one from the right side. I didn't pick base on beauty because is personal, every man like different girls but I choose base on the best sex performance.
Are you wondering how I can pick the hottest girls just by looking at them?
I am not a sorcerer. I have just banged hundreds of girls and I can immediately recognize the good performer.
You will notice that there are two categories of girls who work at such massage parlors.
Some of them do not want to work there, and when you look closely, you will be able to make out that their smile is not genuine.
The other lot is of those girls who simply love their job. The girls in the latter group are the ones that are perfect for you as they will love to spend some time with you- privately!!
Have fun and enjoy!
If you have chosen to give it a try, then you will know that happy ending massages are the best experiences when you travel to Asia and Thailand in particular.
They are cheaper as compared to the same services provided in other countries, and the girls are quite skilled in this craft.
A massage in itself will be a sensual delight that you will cherish for a long time to come. And what to say when you have a happy ending!
Undress yourself
As soon as she leaves to get some oil or a towel, undress and relax.
She might have the shock of her life when she returns, but you can always say that you feel more relaxed when you are without any clothes.
Do not stop giving compliments and the chances are that you proceed one step further for a happy ending.
Flirting with her is important
She might be disappointed when you book only a massage session without a happy ending but in no case, you should stop flirting with her.
By paying her compliments and telling her how beautiful she is, you will be able to make her fully comfortable with you.
Good amount of sexual tension is built up when you say all these things and mean them too.
She must know that she turns you on
It is important to build up a sexual tension by flirting with her. Continue to make her smile by showering compliments.
If you say something flattering and she responds with a smile, feel free to touch her, on her hair or leg and when you see that she is comfortable with your touch, you can start caressing her breast too. She might respond back while massaging your balls.
What is the final step?
Well, the final step is to lead her to your dick.
This is the risk that you need to take once you have caressed her enough. Just take her hand slowly to your dick and she will be sure that she is driving you crazy and no doubt, she is going to love it.
Don't feel shy to show her that you are enjoying the massage. She will feel obligated to finish off your frustration.
Do not get disheartened if your attempt to get a hand-job fails in the first attempt. It just does not matter.
If she pulls back her hand then, only pretend that nothing had happened while at the same time, continue to caress and touch her to build up some more sexual tension.
Let it go on until the time she is massaging you. Once you have created some more sexual tension, give it one more try, and the chances are that she will do what you need.
How much do you need to pay if you cannot get a free happy ending?
Well, you have tried your best to get a free happy ending by now, but if you could not attract the masseur enough or she is pretty professional and wants money for each of her services, then the chances are that you need to pay to get a happy ending.
For the oil massage, the price is usually fixed and ranges from 150-300 baht per hour.
There are some massage parlors that will utilize the whole hour for the massage and include the happy ending too, these are called Soapy Massage.
On the other hand, there are others that will provide a weak massage for just fifteen minutes or so and then ask if you want a happy ending in the form of blowjob, handjob or sex just after this time duration.
Just so that you know, small massages are far less relaxing and must be avoided as they do not provide a good value for your money and the price that they charge for a happy ending can be exuberant.
Usually, a handjob happy ending will cost around 200-300 baht, blowjob around 500 baht and sex happy ending around 800-1200 baht over and above the basic cost of the oil massage.
These girls are pretty smart and will show as if they are unimpressed in the beginning and might even complain or make excuses. But do not worry, sooner or later, their prices will come down and may vary a lot from parlor to parlor.
It is therefore, very important to know the correct price before you enter into a negotiation. Whether you pay 300 or 2000 baht, you will be liable to get the same services. So, be careful.
What is the strategy for not paying a huge sum?
Well, money does not grow on trees and why should you end up buying any service for an exuberant amount when you can get it for less. Follow this method if you want good value for your money:
Let the massage parlor know what service you want but do not make the first offer. Stick to your offer and if the massage parlor does not agree, simply walk away.
And yes, if you really want to experience a happy ending massage and do not care about the price, then there is no need to negotiate at all.
Then, you should consider going to a parlor that has a fixed price that includes a body massage as well as sex and the price is usually fixed at 1500-2500 baht.
Well, these are a few points which if followed may give you a chance to enjoy a free happy ending.
You can also experience a happy ending by paying a small fee which is worth it!
After all, you will hold a big broad smile when it ends and it stays for a good long time too!
How to find good massage parlors?
Rocco has done all the work for you (it wasn't so hard) and visited all the best massage parlors in Bangkok.
Related Articles:
– Best Pattaya Soapy Massage Parlors
– Sex Oil Massage: The best in Pattaya
– Asian Happy Ending Massage: A sensual moment