How To Pick Up Pattaya Girls And Get Laid
The Best Ways to Pick Up Girls in Pattaya
It's Very Easy to Get Laid Here…
Girls in Pattaya are hot for action.
In this city, there's no shortage of sexy girls who are looking to get laid. In fact, Pattaya is more like the jackpot of the naughtiest women in the world.
The girls here are loose and slutty, with a strong desire to have sex…
If you can't get laid in Pattaya, you aren't going to have sex in any other part of the world. Believe me on this.
I mean, there's a huge reason why Pattaya is known as the biggest whore town or as some people like to call it: "Disneyland for adults".
In other words, sex in Pattaya is on your face any time of the day and night. The nightlife scene is amazing with countless nightclubs, go go bars, beer bars and erotic massage shops.
Without a doubt, getting laid in Pattaya is too easy if you have some money in your pocket. But what about picking up genuine girls that are into foreigners?
I'm referring to girls who have zero interest in you paying her.
To clear up some of the confusion and to help you to choose the best hot spots for single guys, here is an overview of the dating scene in Pattaya with tips on how to get laid.
Is It Hard To Hook Up?
Most girls that are found in Pattaya are usually out to get laid, so finding yourself a nice piece of ass to spend the night with is something that is quite easy.
Especially if you are a foreigner, girls are just horny for you. And I'm not referring to the hookers and bar girls, but the every day chicks. The one you meet online, in malls or in nightclubs.
If you are easy to be around and confident enough, chances are you will get laid every day during your vacation.
I went for dates with girls in Pattaya that resulted in sex after a few hours we met.
If I can do it, you can too. I'm just an average guy – not the 6 foot tall, handsome and young player.
So, what the secret?
Leading – just decide what to do and she will follow your lead.
Culturally speaking, Thai women are submissive and rarely disagree with a man. She is going to follow your lead and do whatever you ask her to do. No more, no less.
When dating in Pattaya things develop so fast that you might be wondering how you ended up sleeping with that cute girl…
This is my story how I managed to get laid in Pattaya the same day I arrived.
Just a few days before my arrival in Pattaya, I met this hot Thai girl on Thai Cupid, a dating site where Thai women hook up with foreign men.
She was a warm and kind lady who sells insurance through a local company. At just 24 years, she was at the peak of her beauty and horniness – if that is even a word.
When I first set my eyes on her as she arrived in a taxi, I was getting a boner right there, right now.
This lady was all and more than what I could dream of – slim, long legs, a thigh gap and a rounded breast.
Let's just say, she looked way better in real than on her profile photos.
We went for a coffee and a few strolls here and there until she suggested to go back to her place.
I wasn't expecting that, but I took my chance.
Her room was pretty and well-kept but nothing to brag about it. We went for the shower and we had one hell of a time.
And that's how I got laid the first day in Pattaya.
I've to admit I felt being used by her because I wasn't the one leading the date.
Not always things work out the way you want, so keep an open mind to the experience.
Tips To Score With Pattaya Girls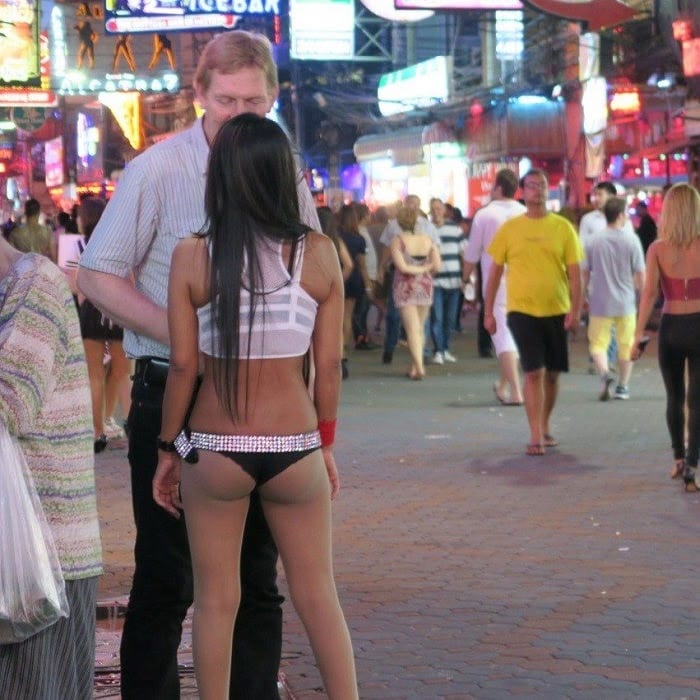 Let me give you some pointers on how you can get laid in Pattaya:
Pattaya is a resort beach town and most men go ariund in flip-flop and shorts, even in nightclubs.
Don't do that. Dress sharp with shoes and trousers to impress her.
Even if she is a hooker, be nice and avoid talking about money. That is a huge turn off for her.
Most people think that they can win girls with overly-complicated conversations, but that won't work here.
Be fun and outgoing, go with the flow and you'll end up in her bed.
Tell her how she makes you feel
Make most of the conversations glorifying her beauty. Express your feeling how she makes you feel so good, how happy you are with her and so on.
What makes Thai women the happiest is to make you feel good.
Never be afraid to go all out after you have met her. After the introduction and some conversation, just take her in private.
There's zero chance that she will turn you down. Remember, Thai women can't say "no" to a man, it's considered rude.
Best Nightlife Places To Pick Up For Singles
Let me try and give you a rundown of the best nightlife areas in Pattaya that may be worth your time.
Bars
If you want to meet girls in Pattaya over drinks, then the most sinful street in Pattaya is Soi 6. There are hundreds of girls working in beer bars ready to have sex for only 1.000 baht.
Do you prefer to avoid the red light districts? Visit Horizon rooftop bar where sexy Russians and hot Thai women hang out at night.
Nightclubs
Nightclubs in Pattaya are the best spot to pick up pro and non-pro girls at night. Some of the best nightclubs are:
Meeting girls in nightclubs is relatively easy if you are young, good-looking and confident. For the rest of us, I recommend making some contacts online before going out.
Thai Cupid
works well because most girls there are looking to meet foreigners. Unlike on Tinder, many will not mind if you are not living in Pattaya.
For this reason, you can start chatting with girls even before you arrive in Thailand and set up a few dates while you are still in your home country.
It is free to register and to look at all the girls' profiles. If you match with them, it's also free to chat.
The streets
The streets in Pattaya are packed with sexy girls, especially when the sun goes down.
If you are looking to get laid quickly without breaking the bank, go for a street hooker. Otherwise, you can pick up genuine girls out for fun in Walking Street.
Other Places To Meet Pattaya Girls
Online
There are so many pros and non-pro girls online looking to meet a nice foreign man either for a quick one or a long term relationship.
It's a great way to score a girl without feeling embarrassed or get rejected in the face. It's an easy way to find a holiday girlfriend too.
You can converse with her and arrange a date prior to your arrival and meet up after landing. That way you get the ball rolling sort of speak.
Massage Parlours
Massage parlours are like modern day brothels. In these parlours for the right price, you can get a massage, a blow job, hand job or sex.
It's a great experience to relax and get pleased. If this is your thing, check out my review of the best happy ending massage in Pattaya.
Beaches
Being that Pattaya is a coastal town, you can also meet and pick up hot girls around its beaches.
Jomtien Beach is great to hook up with Russian girls in Pattaya. If you fancy meeting Chinese or Korean babes, go for Koh Larn island.
RELATED ARTICLES