Happy Ending Massages In Bali (Day & Night)
Are you looking for an erotic massage parlor in Bali that offers happy endings? If your answer is "yes", you're in the right place.
Getting a quality naughty massage in Bali isn't an easy task. I had my fair amount of disappointments in searching for those "happy places".
There are a few spas, but they are expensive and not all of them offer a full service. You might get only a handjob or the masseur might refuse to take off the cloths.
For example, "Refrezz Spa" employs young and cute girls. But during the massage, they wear a bikini and they offer only a hand job. It screams: boring!
There isn't anything more frustrating to get massaged by a cute lady only not be allowed to undress and touch her.
Bali isn't like Pattaya where you can get a full service almost everywhere. Also, many massage shops offering extra in Bali are dirty and tend to scam customers.
However, there are a handful of happy ending massage places in Bali that operate underground but offer a decent service. They don't promote their service openly, so you need to know where they are.
And because their "extra services" are illegal, their rates are high. But don't worry if you're on a budget, besides revealing the best Spas in Bali offering happy endings, I'm going to tell you how I get private massages in my room in Jimbaran at a fraction of cost.
That way, you can get two ladies at the same price as a therapist in a "happy Spa" in your clean bed…
3 Best Spas In Bali Offering Happy Endings 
The most known "happy" massage parlor in Bali happen to be in North Kuta. But you go South, there are also a couple of erotic parlors in Jimbaran too…
1. Swell Spa Bali
It's the most popular soapy massage in Bali. Meaning you get a bath, a body to body massage and the happy ending. The happy ending consists only of hand job.
When I visited last time, not many girls (7) but enough to pick a cute girl. The entrance and reception aren't inviting. However, the room was erotic…
Price starts at 450k for 30 minutes, but the girl keeps on the bikini, a real turn off. But for 650k she takes it off. For 900k you get a 4-hand massage.
If you would like more than a hand job, consider visiting…
2. Riverview Spa
Not only you can get a vast selection of happy endings in Riverview Spa, but the place is top notch.
As you walk in, you'll notice the incredible design and lighting that makes the place relaxing…
The rooms are even better, have a big bed, jacuzzi, and a mirror to have a better look at the girl's intimate parts.
When you walk inside, a manager will explain all the options available:
Standard massage with a happy ending for 450k;
The masseur is naked, massage and full sex for 950k;
Two masseurs naked, massage and full sex for 1.7M.
Then you pick a girl and go for the massage.
During my last visit, they had 8 girls. it was hard to decide because they were all young and beautiful.
The price might seem expensive, but it reflects the quality of the girls and facilities.
And the last massage place offering happy endings is…
3. Zona Spa
This spa has a unique concept interesting especially for regular customers. The girls wear a different uniform every day: military, nurse, french maid, etc.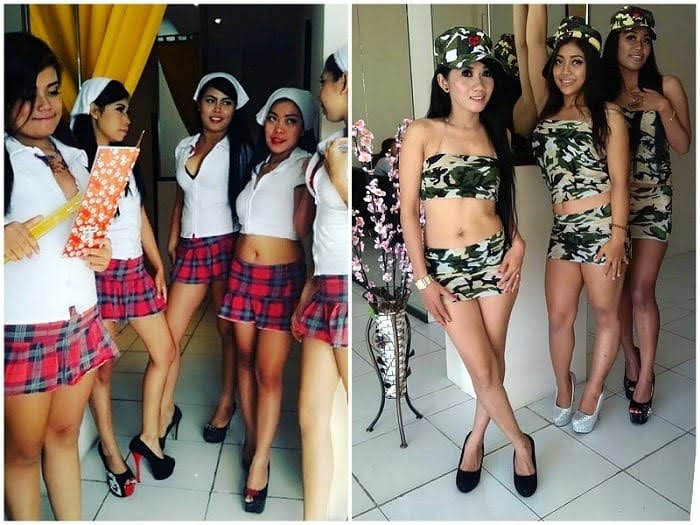 The girls are good fun and outgoing, they know how to make you happy 🙂
When I visited last time, there were 5 girls available. Not always you can find a beautiful girl, but for sure you can have a naughty girl.
The price for a massage plus a happy ending is 1 million rupiahs.
A Cheaper Alternative To Spas
Trying a happy ending massage is a fun experience, but I prefer this type of service in Thailand. The Thai massage industry is better organized with more competitive prices. And if you happen to be in Seminyak, good luck in finding an erotic massage parlor.
However, if you still want to get a happy ending massage in Bali and don't want to spend the stiff price of 1 million-plus rupiah, you can engage the services of a freelance girl for 300k.
Getting massage in the comfort of your room without bothering to go around the spas in Bali while saving money at the same time.
What can be better than a happy ending from an amateur girl directly in your room?
Maybe getting a four hands massage 😉
There are many Bali girls online willing to massage and give "extra services". During my last holiday in Bali, I made a deal with a girl met on Indonesia Cupid.
She had to visit me 3 times per week, give a relaxing massage fully naked until I finished off. A well-deserved tip of 300k for each visit.
Meaning I paid a total of 900k for 3 sessions. With that amount of money, you can get only a one-time massage in a Spa.
Also, I've found amateur girls to be more natural and fun then therapists working in the Spas. The girl I hired at first was a bit shy and reserved, but over the sessions, she became enthusiastic and willing to go extra miles to please…
I can still remember her watering mouth and soft skin on my body.
Erotic Massages In Bali For Everyone
In conclusion, you can get a happy massage in Bali at the spa or in your room.
However, there isn't anything to brag about the massage parlors that provide happy endings. The girls perform happy massages mechanically and not so enthusiastically, and for the price you pay, it isn't worth it.
If you want to get a massage, you better recruit a girl online at a fraction of the cost. Not only it's cheaper, but there are some real cutes out there.
I wish you "happy moments" in Bali.