A Complete Guide To Happy Ending Massage In Bali So You Can Ejaculate
This guide provides reviews of the best parlors in Bali offering happy endings. It also offers tips and standard prices so you can budget your experience.
Getting a quality naughty massage in Bali isn't an easy task. I had my fair amount of disappointments in searching for those "happy places".
The majority of massage shops in Bali offer only regular massages, especially in areas like Ubud and Jimbaran. But don't worry if you happen to stay there, I'm going to show you how to get a happy massage in your room with a young and hot girl.
This guide is designed to help you experience the best erotic massage available in Bali, either in your room or in the parlor.
***
Contents
Click a link to skip to that section. Don't skip any sections!
***
What Consist Of A Balinese Happy Ending Massage?
Penis massage, ball massage and more
Where To Find Happy Ending Massages in Bali
An overview of the best places to get a dirty massage
General Costs And Prices
General prices for a happy massage in Bali
Tips And Tricks
Get the most out of this experience
–
What Consist Of A Balinese Happy Ending Massage?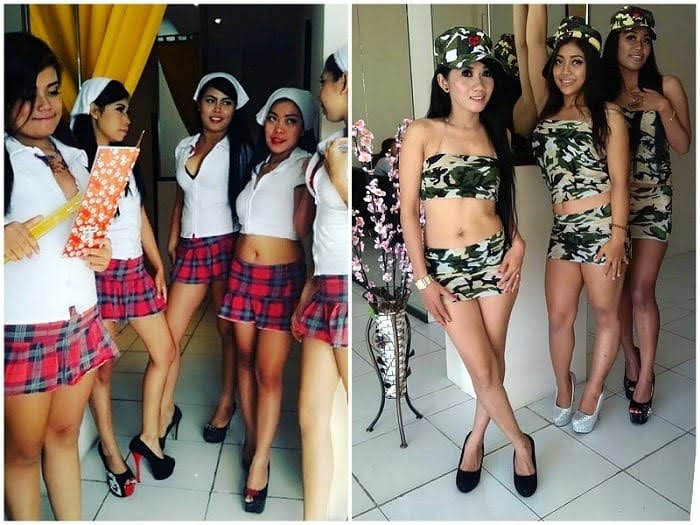 In short, it's a full body massage that ends with an orgasm. How it end depends on the size of the tip, and include manual stimulation, oral sex, or full intercourse.
When you enter a massage shop known to offer happy endings, you pay the regular massage price upfront to the business. Then during the massage, the therapist tries to arouse you and when you get hard she'll ask if you want any extras.
The massage shop has nothing to do with the extra service, it's a personal matter between you and the therapist.
There are also spas in Bali that offer all-inclusive packages like body to body massage with a nude therapist, Lingman stimulation and four hands massage. You pay the full amount upfront to the business.
They aren't cheap, so you should visit only the ones with a good reputation. I propose a few below.
Where To Find Happy Ending Massages In Bali
The most popular areas in Bali with several parlors offering happy ending massage are Kuta, Legian, Denpasar, and Seminyak. If you happen to be in Canggu, Sanur, Jimbaran or Ubud, the only way to enjoy a happy ending massage is to get girls to your room.

How To Get Girls In Your Room For Massage and Sex
There are plenty of girls in Bali eager to visit you for some "tea money". You only need to know where to look for them.
The good thing about getting served in your room is better privacy and the overall experience is more intimate and friendly.
What can be better than having a young and horny girl at your place?
During my last stay in Ubud, I made a deal with a girl met on a dating site. She had to visit me 3 times per week.
She was a bit shy at first, but over the sessions, she became enthusiastic and willing to go extra miles to please.
Just send out a bunch of messages explaining the situation and ask who is interested to massage you. You'll find several students eager to jump on the deal.

Happy Ending Massage In South Kuta
In South Kuta, you can find girls in the street offering massage and sex. On top of that, in areas like Legian, there are several massage parlors offering happy endings. Just walk the streets, and the massage girls will approach you with different offers.
Some well known erotic massage parlors in Kuta are:
Flame Spa – A spa in Legian popular for their body to body massage that finishes your session with manual release.
Delta Spa – A huge spa with a good selection of girls. You've to deal the extras directly with the therapist in the room.
River View Spa – It has several services like Tantric massage, happy ending with handjob and full body to body massage.
Happy Ending Massage In Seminyak – North Kuta
Seminyak is a high-end area where you can get a good massage but without happy endings. The only place I'm aware of offering extras is the second branch of Flame Spa.
There you can get a dirty massage with manual stimulation, oral job, and full sex.

Happy Ending Massage In Sanur
Sanur doesn't have sex massage parlors, but brothels houses. Look for houses with an "X" next to their civic number.
The girls aren't trained to give massages but they know how to make you ejaculate.
Map of Happy Ending Massage Parlors in Bali
General Costs And Prices
The price for a happy ending massage in Bali is pretty standard across the island.
Girls online and in the streets offer the cheapest sex massage in Bali. You get a rubdown with a happy ending for a mere 300k directly to your room.
But if you want to get a "professional massage" that ends with pleasure, you better off to visit an erotic spa. Masseuses are trained and do sessions every day with several men.
A body to body massage with a nude girl will cost you anywhere between 900.000 to 1.200.000 rupiahs. For a simpler massage that finishes with a handjob or blowjob, the price is 500k and 700 k respectively.
Small shops that offer happy ending massages cost less than spas. They start at 350k for a handjob up to 700k for full service.
Tips And Tricks
The naughty massage industry in Bali is improving, but there are still several massage shops not safe.
In recent years there is been a rise of working girls offering erotic rubdown to your room which ends with sex. So, here some tips and tricks for your trip to Bali:
• Get in contact with girls online – Plan ahead your trip and get in contact with girls on this app?
• Propose a deal – No matter what a girl says in her profile, they go for it. Just send several messages like: "Hey there, my name is Rocco and next soon I'll be in Bali. Do you know anyone can massage me?
• Enjoy and relax – When a girl accepts to massage you, the rest follow naturally.
• Pick the right location – You can get easily an erotic massage in Kuta and Denpasar.
• Keep your belonging near you – The therapist might put your dress and bag under the bed so she can steal the money. Fold them and lay them next to your head.
Happy Ending Massage For Everyone
You can get a happy ending massage in any part of Bali. Areas like Kuta especially in Legian and Denpasar is pretty easy to find erotic parlors.
Yet, if you happen to be areas like Sanur and Ubud where most massage parlors are legitimate, you can always get a girl to your room for some happy moments.
Bali isn't that popular for naughty massage, but only because most travelers don't have any idea where to get massage and sex.
I hope this guide gives a better reputation to the adult massage services in Bali. Have fun in Bali.
RELATED ARTICLES